How to Prepare for the Inca Trail
Top tips to survive Peru's famous century-old trek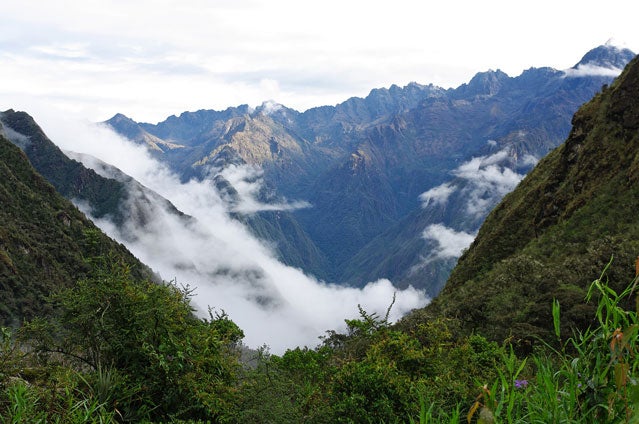 Heading out the door? Read this article on the new Outside+ app available now on iOS devices for members! Download the app.
One century ago, while exploring the South American wilderness in search of lost cities and hidden treasures, explorer Hiram Bingham battled the high altitudes, fast-flowing rivers and thick Peruvian jungle to take his first glimpse of the magnificent ruins of Machu Picchu.
Luckily, for those wanting to travel to the city by foot today the path isn't nearly as treacherous, thanks to the 26-miles of Inca Trail walking route that wind through various religious and archaeological sites on the way to Machu Picchu.
Those wanting to endure this monumental trek should allow four days and be warned that the epic journey is no walk in the park. Careful preparation is therefore required.
G Adventures are a world leader in adventure travel and offer a range of Inca Trail packages.
Here's their guide on how best to prepare for this incredible trip:
BOOK A PERMIT
Before you can even consider following in the footsteps of Hiram Bingham, you'll need to ensure you have a permit. This must booked no later than 90 days before your departure.
You can also book through a tour operator who will ensure that these details are organized on your behalf. Only 500 people are allowed on the track per day and places fill up quickly, so try to book as far ahead as you can.
HIRE A GUIDE
Out of the 500 people on the trail, only 200 are hikers. The others are porters, cooks and guides. The area along the trail and around Machu Picchu is protected by the Peruvian state, so hikers must be accompanied by a guide at all times.
If you're booking through a tour operator they can organize these for you. Porters may seem a luxury, but when you're battling the altitude and steep steps you'll be relieved to have someone who is used to the trail carrying your tent and sleeping gear.
STAY FIT
The Inca path takes visitors through rugged mountain pathways and steep inclines, so the journey can be challenging and is not for the faint hearted. It is not recommended to those with a lower fitness level.
In order to prepare your body for the physical demands of the trek it is advised to participate in regular hill walking and stair climbing in order to condition your lower body for the lengthy trail. The best training for the Inca Trail is to carry a weighted pack up and down hills.
ACCLIMATIZE TO THE ALTITUDE
Make sure you give yourself time to acclimatize to the high altitude before setting off on the Inca Trail—altitude sickness can be exhausting and is likely to hold you back on the physically demanding journey.
Spending a few days in Cusco before the hike should give your body time to acclimatize and stop you feeling breathless or dizzy during the trek.
PACK SMARTLY
The right kit means a happy, healthy and safe trekker, so make sure to pack everything that you will need without overloading yourself.
Many items can be hired in Cusco if you don't have them already. If you have opted to trek with a tour company they should have most of the larger items you need, such as a tent and food items.
For your own personal use, make sure to pack the following items:
A backpack—around 65 liters should be fine
Comfortable walking boots with good ankle support
A sleeping bag
Warm and cool clothes, for all weather eventualities
A waterproof jacket and trousers
Sun cream
Toiletries
A torch
A basic first aid kit
Insect repellent
A hat
A water bottle and water purification tables
A money belt, passport and money
Your camera
PREPARE FOR EARLY MORNINGS
As you'll be trekking for most of the day, early mornings will be required. It may be tempting to stay up late each night with your group, but it's important to make sure you've had enough sleep so you are fit and fresh to keep going the next day. The early rises are worth it though, as you can spend more time enjoying the trek and setting up camp before the sun sets in the evening. Getting up early on the final day means you can reach the Sun Gate, which offers stunning views over Machu Picchu, in time to see the rising sun peek over the mountains and through the gate.
MORE INFORMATION
Gap Adventures specializes in adventure travel and offers a range of Inca Trail packages that incorporate acclimatization time, visits to local markets and the nearby Sacred Valley, with a four-day Inca Trail. For more information visit the Peru tours page or call 0844-272-0000.