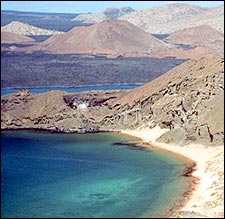 Heading out the door? Read this article on the new Outside+ app available now on iOS devices for members! Download the app.
Marine iguanas? Yes. Tourist crowding? No.: Bartolome Island in the Galapagos
Q: I'm looking for a Latin American vacation spot with great snorkeling and rock climbing and not too many tourists. Any ideas?
— Carrie, Portland, Oregon
Adventure Advisor:
A: The first place that comes to mind is Ecuador, where you can give equal time to rocks and reefs without sacrificing quality in either. From Quito, outfitters will shuttle you into the highlands for single or multi-day climbs. A four-hour drive through the Avenida de los Volcanes takes you to 20,561-foot Chimborazo, where you can boulder at the base or secure a guide and brave the ten-hour route to the summit. Hot springs are on the way home.
So far as snorkeling goes, there are few spots on the planet more wildlife-rich than the Galapagos (ahem, heard of Darwin?). The expense of getting there has the intended effect of keeping tourism at bay. Think of it as Survival of the Richest; the prize for those who make the trip is unclogged access to more critters than you could hope to count.
For a lower-budget option, try Guatemala and Belize, where you can scale limestone in the western highlands before moving on to snorkel the world's second largest barrier reef off the Caribbean coast. I'd suggest starting in Antigua. It's far from tourist-free, but it's a great place to wander the cobblestone streets while tracking down a climbing guide (no difficult feat). When you're ready to swap your harness for some flippers, head northeast and cross the border to the southern Belize port of Placencia. From here you can catch boats to Belize's less-visited cays and some of the best snorkeling in the Western Hemisphere.