Meet The Neighbors
South America contains the Amazon, the Andes, 19,000 miles of coastline, and arguably more adventure than any other continent. So where to start? These ten perfect trips, from exploratory rafting in Peru to skiing in Chile to beach-hopping Brazil.
Photo by Joao Canziani
Heading out the door? Read this article on the new Outside+ app available now on iOS devices for members! Download the app.
Viva South America!
Where the adventure comes in one size: grande
THAT'S NICE, your little Alaska. One-fifth the size of Brazil, but maybe you like modest. The ocean off Hawaii is pretty; too bad the biomass is all in the Galápagos. Nevada has a lot going for it—but not the 11 languages of similar-sized Ecuador.
You don't really want middling and monochrome, do you? No. You'd prefer large. ("Dude, Iguaçú is almost three Niagaras!") If you're going to have penguins, why not 500,000 on one beach? (It's called Punta Tombo, Argentina.) You'd like a surfing coast with twice the waves and half the boards? (Southern Ecuador to northern Chile. Not to mention Brazil and Uruguay.)
Yup, for a real adventure, you need an expanse of earth. Something bigger than your dreams. A place where the phrase No es posible still translates as "Oh yeah? Watch this." Call me when you reach the real America—the one they call South.
You couldn't build this place in SimEarth: Adventure Travel Edition. South America is an immense continent, yet it has the coherence and culture of an island. It is ends-of-the-earth remote, but you can get there in an old VW bus. The cultures are exotic, but they're not incomprehensibly alien. Same for the languages: even five words badly pronounced will get you treated like a hero.
And there's always more of it: scores of islands from Chile to Colombia, a dozen countries, hundreds of indigenous nations, and uncountable dirt roads going to places unknown, at least to you. It is cleaner and greener than North America, at least outside the cities. You don't know what visibility is until you've watched ripples on Lake Titicaca through ten miles of thin air. Speak to me of whitewater when you can pronounce Futaleufú.
I've hitched the plains of Patagonia, horsed it over the Continental Divide in Chile, and floated remote corners of the Amazon. I drove a motorcycle from Buenos Aires to Lima once and even back again. I also drove a few nails into the cabin I started near the trout rivers of Esquel, Argentina. I've had a lost city in the clouds (Kuelap, Peru) all to myself. In the Galápagos, I learned that you stop being scared sometime around the 100th shark. Even Hugo Chávez can't keep me out. (Los Roques or bust!) And after 20 years of grazing, I'm still hungry: the 12,000-foot Altiplano, a plateau of northern Argentina, is on my list, along with the wildlife in Brazil's Mato Grosso. Cartagena, Colombia, sounds fun. I've still never made it to Tierra del Fuego. I dream about studying capoeira on the beach in Itacaré, Brazil, where the dancing martial art was born.
Fortunately, the place keeps getting bigger. Much of South America is only now opening up; paradoxically, as better economies and new infrastructure have arisen, the supply of places to be discovered has surpassed the demand. There are more turnoffs, more trailheads, more lost corners. There's unpeopled wilderness (Suriname, anyone?) and booty-shaking masses (see: Maracanã Stadium, Rio). And, yes, in South America they can bring the comfy. You don't have to suffer.
There's a rueful old joke down South America way. God is making the world, and he gives South America too much. He starts with 4,000 miles of cloud-splitting Andes, adds the biggest rainforest in the world and then the largest river by volume. He sticks gold, silver, and oil everywhere. He fills up the oceans. Even the deserts are superlative. (Driest! Highest!) Finally, Saint Peter cries out, "God, slow down. You're giving them way too much!"
The punch line—"Don't worry," God says, "wait till you see the poor people"—is funny to self-deprecating South Americans. But the setup is what matters to us. Somebody made this other half of America too big, too good. Where else is adventure getting better all the time?
Explore the Amazon
Rio Aucayacu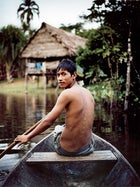 Life on the Amazon's Aucayacu
One of the best ways to experience the Amazon's incredible array of diversity is at Ecuador's little-known Huaorani Ecolodge, a solar-powered oasis in the heart of the 1.7 million acres of Amazon owned by the Huaorani, the tribe at the center of Joe Kane's 1995 book Savages. After a 40-minute flight from the small town of Shell—already the edge of civilization—you'll land in the village of Quehueri'ono (translation: Cannibal River, but don't be alarmed). Your guide will pole you down the slow-moving Shiripuno in a dugout canoe to the lodge, a traditional palm-thatched dining room surrounded by five simple cabins. There, you'll learn how to use a blowgun, perfect your machete swing, set traps for monkeys and peccaries, drink the banana-smoothie-like concoction called chucula, and meet the tribe's visionary leader, Moi Eno­menga. High points: spotting a jaguar on the riverbank while camping on a remote platform under the stars, then getting up before dawn to swim beneath a towering waterfall. Not many tourists have seen the Amazon this way. In fact, two branches of the Huaorani still live in virtual isolation downriver—and prefer it that way. Five days, $860 per person, double occupancy; huaorani.com
Fly-Fish Argentina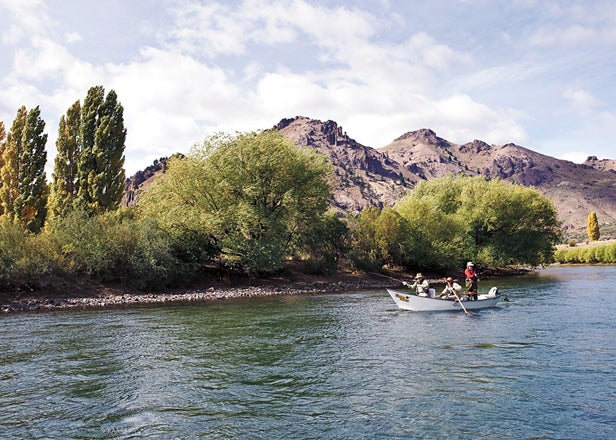 You could pay an American outfitter five grand to helicopter you to a remote river in Patagonia, point out a fat wild brown trout, and hold your hand while you cast. Or you could throw a decent six-weight fly rod, boots, and some leaders (2x to 5x) in a pack, book a flight to Bariloche, Argentina (Delta and Continental fly through Buenos Aires), and do it yourself. The trout here are big—seven, eight, ten, twelve pounds—and the beauty of the place is the dizzying amount of options within a day's reach. For easy access, the big Rio Limay flows out of the eastern shore of 250-square-mile Lago Nahuel Huapi (day floats with Bariloche-based Outfitters Patagonia, $370; outfitterspatagonia.com; bring Woolly Buggers with rubber legs). Want to cast dry flies to rising 16-to-24-inch fish in the vicinity of exactly no one? Book a three-day, 40-mile float on the pristine Rio Caleufu ($1,050 with Outfitters Patagonia). If you'd rather wade-fish without a guide, drive two hours north to the Rio Malleo with a hatful of Parachute Adams and Pheasant-Tail Nymphs. Or drive two hours south of Bariloche and float remote Fonck Lake, where you'll catch as many 20-inch browns as you wish. (Just don't go the day after it rains—the road will resemble a milkshake.) If you don't have access to a boat, make for Espejo Chico Lake, walk around the shoreline, strip Woolly Buggers along the steep ledges, and wait for your rod to do a very big double take.
Climb Bolivia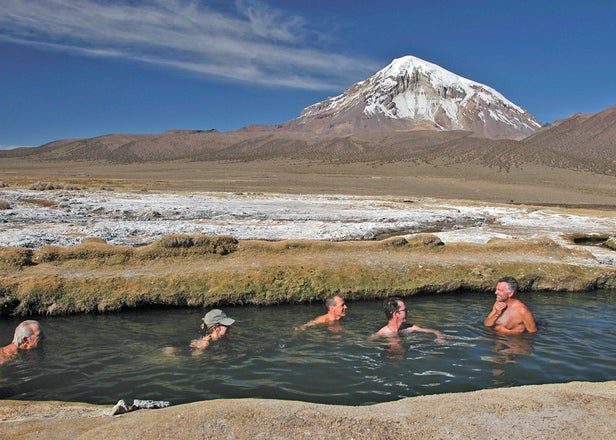 When talk turns to mountaineering in South America, one peak comes to mind—Argentina's 22,834-foot Aconcagua. But that ignores the spectacular peaks of Bolivia. Mountaineers gravitate toward this country for the same reasons they head to Nepal: One, it's got soul. And two, with its elevated Altiplano, deep blue skies, and big glaciers, Bolivia feels Hima­layan in scope. Deplane in the 16th-century capital of La Paz and you're already at nearly 12,000 feet. There, meet your group of Berg Adventures International guides for a 16-day expedition. After five days of trekking and acclimatizing (and getting blessed by an Aymara witch doctor) on Isla del Sol, in Lake Titicaca—where you'll see the same balsa-wood boats Thor Heyerdahl modeled Kon-Tiki after—you'll travel to base camp at the edge of a pristine mountain lake in western Bolivia's Cordillera Real. Depending on weather conditions, avalanche hazard, and the group's experience, the local guides will choose up to four climbs, from the steep summit ridge of 17,618-foot Pequeño Alpamayo to the relatively straightforward ascent of Bolivia's highest peak, 21,463-foot Sajama. If Sajama is a success, attempt 18,700-foot Cabeza de Condor, the Bolivian Matterhorn. Your reward? A soak in nearby hot springs. $3,200; bergadventures.com
Bonefish in Venezuela
Los Roques, Venezuela

Snorkeling Los Roques, Venezuela
Welcome to the best place in the world to bonefish: the flats of Los Roques, an old-style Caribbean paradise 80 miles off the coast of Venezuela. Here's why: only 1,500 people inhabit the 350-island chain, and the surrounding turquoise waters—packed with coral reefs, mangrove forests, and sea-grass beds—are the protected Los Roques Archipelago National Park. Hurricanes rarely land here, and with year-round temperatures averaging 81 degrees, there's never a bad time to cast. Did we mention that during high-tide season, between October and December, you're likely to catch permit, tarpon, and bonefish all in the same day? When you're not fishing, kick back deckside at the simple, sophisticated Pez Raton Lodge, a five-bedroom inn with a chef who cooks up a mean lobster. The lodge is just far enough from Gran Roque, the islands' main village, that you can enjoy solitude or walk to the town square for the islanders' endless stream of fiestas. For your first visit, go with an experienced fishing outfitter like Frontiers Travel, which, besides leading you to the best fish, can also help you navigate Hugo Chávez territory. After all, you're in Venezuela—it's not dangerous, but traveling can be logistically tricky. Five-night, four-day trips, from $2,795 per person; frontierstravel.com
Raft Epic Whitewater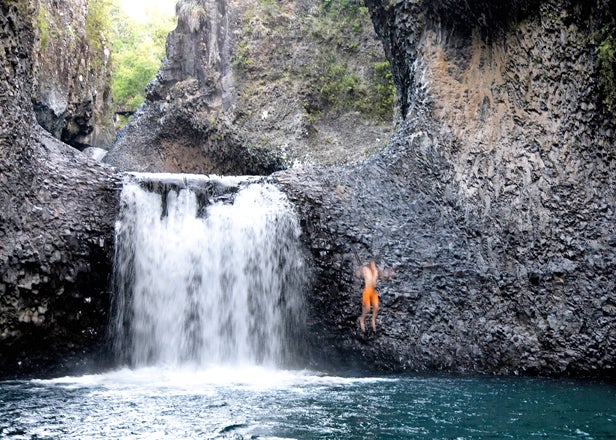 The Andes Mountains rise to heights exceeded only by the Himalayas. Here, 5,000-foot canyons seem to dot the countryside like footprints in a sandbox. At the bottom of nearly all of those canyons is a wild, primeval, tempestuous river—a whitewater fanatic's paradise. Peru, with its combination of native cultures and remote rivers feeding into the Amazon rainforest, is ground zero for exploratory raft trips, where you encounter wildlife—parrots, giant river otters, condors—that is much less surprised to see you than the indigenous locals are (you wave, they stare). Eventually the rafts round the bend and drop in on another set of Class IV rapids. It's all very civilized, in a Gods Must Be Crazy sort of way. Global Descents offers multi-day trips on the (relatively) easily accessed but still remote Rio Apurimac, near Cusco ($3,500, including an Inca Trail trek; globaldescents.com). Earth River Expeditions has a new trip this year exploring the practically undiscovered Rio Yavero, where Peru's highlands transform into Amazonian rainforest in a less-than-100-mile stretch ($3,300; earthriver.com). South America's most renowned whitewater classic, though, is Chile's Futaleufú. The Fu, as it is known, has the unique trifecta of being impossibly clear, massively powerful, and refreshingly brisk. While plenty of companies lead trips on the Fu, only Earth River offers multi-day outings that involve wooden hot tubs, five-star meals, and a night spent above the forest floor in a handcrafted treehouse ($3,300; earthriver.com).
Find Colombian Ruins
Think of ruins in South America and you think Machu Picchu. Think again. La Ciudad Perdida (the Lost City), in northern Colombia, is one of the most prominent archaeological sites on the continent. And while it's true that Colombia has had its safety problems—in 2003, eight trekkers were kidnapped at La Ciudad Perdida by the National Liberation Army and held for 101 days—the U.S. State Department reports that security has markedly improved in the past decade. (Just be aware that certain parts of the country remain unsafe, like the border areas and eastern Colombia.) Book a guided tour of the Lost City with Turcol outfitters and you'll rest easier. I met my guides in the faded coastal colonial town of Santa Marta and began the trek to La Ciudad Perdida, a not-for-the-faint-of-heart five-day, 30-mile journey into the jungled and steep Sierra Nevada de Santa Marta. Our group was small—just six of us, a guide, and a few porters. We slept in hammocks at night and trekked through farmland, swam under waterfalls, and crossed the Rio Buritaca nine times (no bridges) before we reached the gateway to the ruins: 1,200 jagged and moss-covered stone steps. We spent two nights at La Ciudad Perdida and were the only ones there. As I stood mud-soaked on the grassy terraces built in the late eighth century that once teemed with the city's residents, I realized that if La Ciudad Perdida were anywhere but Colombia, it would have thousands of visitors per year. From $270 per person; turcol.i8.com
Sail The Galápagos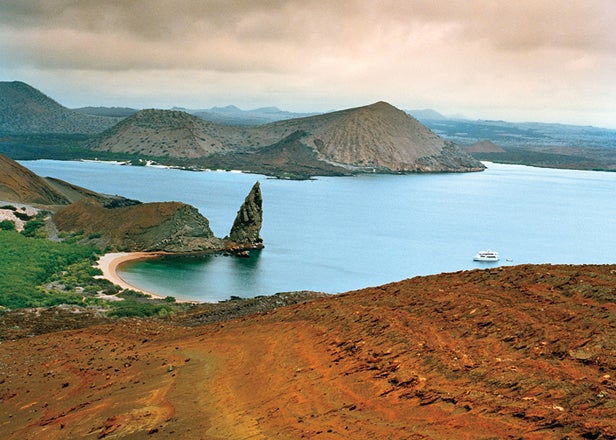 Believe the hype. Six hundred miles off the coast of Ecuador, the Galápagos Islands are like the Garden of Eden before the Fall. With its high concentration of endemic species and virtually zero predators, the wildlife on this archipelago is so at ease that a Nazca booby might waddle up to peck your camera lens. There's plenty of controversy over the most PC way to see the islands. Hidden Places, owned by writer Maria Coffey and her husband, Dag Goering, has crafted an 11-day itinerary that's as eco-conscious as they come, thanks to the couple's local connections and commitment to environmental integrity. You begin in Ecuador's colonial capital of Quito, where you'll stay in a family-owned boutique hotel. Once in the islands, you'll cruise on a locally owned 90-foot yacht that holds only 16 guests, has a state-of-the-art waste-management system, and uses biodegradable products. Your guide, Ernesto Vaca, has been working as a park naturalist since 1989. Along the cliffs of Española Island, he might point out a pair of waved albatrosses engaged in their mating ritual: clacking their beaks together like swords. You'll also visit pirate sites, eat barbecue with one of the original Galápagos settler families, and watch tiny penguins zip past your snorkeling mask. Doubles from $4,850; hiddenplaces.net
Beach-Hop Brazil
Bahia, Brazil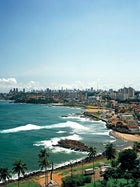 Beach life in Bahia, Brazil
Need to dig your toes in the sand? Take a couple of weeks and beach-hop in Bahia, a northeastern Brazilian state with 685 miles of pristine Atlantic coastline. This colorful region of wild, endless beaches brought the world the martial art of capoeira and the Afro-Brazilian samba. Get a feel for the culture in Salvador, the "happiness capital of Brazil," a lively 16th-century city where you'll find laid-back locals, pastel colonial Portuguese casas, and 31 miles of beaches (Busca Vida is a local favorite). Nearby Boipeba, a sleepy island with palm-lined white-sand shores and fishing villages founded by Jesuit priests in 1537, is the perfect place to do nothing but drink fresh coconut water in a beachside hammock at your inexpensive posada between swims. If you want more action, the bustling surf town of Itacaré has a nonstop party atmosphere with plenty of caipirinhas, a drink made from potent cachaça, sugar, and lime. Gorge on freshly grilled dorado on spectacular Itacarezinho beach or surf any number of breaks with Easy Drop Surf Camp (easydrop.com). Feel like splurging? The small village of Trancoso is paradise on earth and a low-key vacation spot for the world's fashionistas. Uxua Casa Hotel (one-bedrooms from $750 per night; uxua.com) has nine eclectic casas surrounding the town's square, all within an easy walk of Trancoso's eight beaches. Dine at Restaurante Da Silvana, which serves up the best authen­tic Bahian dishes in town.
Ski The Andes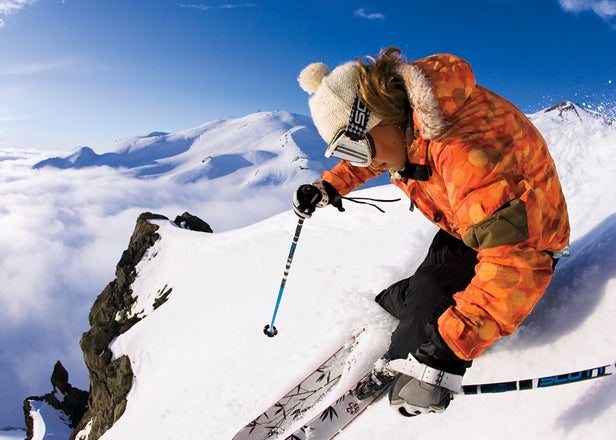 It's every serious skier's summer fantasy to make a pilgrimage to Chile, with its intense steeps, untracked powder, and abundant red wine. Book your trip now for the first three weeks in August, after the Chilean July holidays wrap up, leaving the ski areas empty. Start in Portillo—where each season the massive yellow Hotel Portillo hosts an eccentric cast of Brazilian heiresses and Austrian ski racers—and then head south toward the Lake District. Along the way you'll find Nevados de Chillán, where you can ski off-piste powder past hissing, steaming blowholes on an active volcano and tap into the open bowls of Valle Nevado, El Colorado, and La Parva, where hidden gullies shelter powder long after storms. There, if you rent a car, you have the flexibility to do road laps (think DIY cat-skiing). Don't forget the actual snowcat operation at wild, untamed Arpa, a low-key yin to Portillo's luxe yang. For a great introduction to Andes skiing, check out professional skier Chris Davenport's Ski with the Superstars week in Portillo, which features personalized coaching by some of the biggest names in freeskiing, including Mike Douglas, Olympian Wendy Fisher, and Davenport himself ($2,150; steepskiing.com). Admire your lines from the best ski-lunch spot on earth—the deck of Tío Bob's, an old stone shepherd's hut perched on the edge of a rocky ridge surrounded by the jagged Andes.
Road-Trip Ruta 40
Imagine Route 66 before development—hell, before pavement—and you'll begin to understand the iconic and oddly pristine nature of Argentina's Ruta 40 (or La Cuarenta, as it's locally known). In its entirety, Ruta 40 stretches from the Bolivian border all the way down to the continent's little toe, in Cabo Vírgenes—3,100-plus miles of gorgeous, unpredictable road-tripping that bounces past 18 rivers and 20 national parks, including the Moab-like Calchaqui Valley (home to the ancient ruins of Quilmes) and Talampaya, sometimes called Argentina's Grand Canyon. Drive it all, or follow the 1,200-mile, weeklong slice I did with a couple of friends a few years back in a rented VW Gol we picked up in the colonial city of Salta. The road skirts the Andes for miles on end, so impromptu jags led us to hikes and trout-filled streams. Often there'll be nothing for hours, and then the reward of a mirage proves real: the mystically lush valley town of Barreal or the petroglyphs at Talampaya National Park. Do not miss Posada San Eduardo, a charming, modest estate owned by a former Formula One driver in Barreal (Av. San Martín at Los Enamorados; no phone or website) and La Palmera restaurant, home to the best chivito (roast baby goat) on earth (Ruta 15 at Ruta 40, Villa Union, near Talampaya National Park, no phone or website). Near the finish line, allow for a couple of days in the fecund region around Mendoza, where—I can happily report—you'll find wines delicious and cheap enough to bring any road trip to a sudden, gluttonous end.