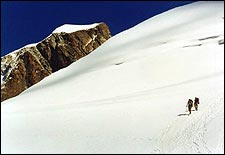 Heading out the door? Read this article on the new Outside+ app available now on iOS devices for members! Download the app.

Breathe easy: descending Peru's 19,870-foot Huayna Potosi
Q: A friend and I are looking to take a two-month trip through South America this June and July. We would like to spend time in Peru, Chile, Bolivia, and Argentina, and are very interested in finding some active trips rather than traveling from city to city. We would love some recommendations of good outdoor adventures that are open during the South American winter. Thanks!

— Alison Williams, New York City



Adventure Advisor:

A: The first thing you should know about the South American "winter" is that in many places, such as Peru and Bolivia, winter is actually summer. While we in the Northern Hemisphere tend to think of the antipodal seasons being reversed from ours, the people in the Andes call their true winter (June through August) summer, and their true summer (December through February) winter. That's because it all boils down to weather, and the June-through-July period in the Peruvian and Bolivian Andes is actually more like summer. That also makes it the best time for you to go. It's the dry season, and skies will be mostly blue. Two months may seem like a good amount of time now but you could easily blow all that in the areas around Huaraz and Cuzco, Peru, and La Paz, Bolivia. Patagonia is out of commission this time of year, so don't even bother heading that far south. Northern Chile will be pleasant, but the only real adventure destination there is the Atacama Desert—a remarkable place for sure, but local lore has it that rain hasn't fallen in parts of it for more than 400 years. Iguazu Falls in northern Argentina would be a nice final stop, and it will be the dry season there in June and July.

There are scores of areas to hike around Huaraz, which I think of as the Interlaken of South America. Huascaran National Park is at your doorstep and a hike into the Quebrada Demanda offers great views of Andean giants, like Huascaran, Huandoy, Chacraraju, and Pisco. You can also count on a day of rafting along the Santa River.

From Cuzco, you could trek to Machu Picchu along the ever-popular (and often crowded) Inca Trail, but a better option would be to hike to the ruins via Mollepata and Mount Salkantay. You'll find hot springs along the way and fantastic views of 20,000-foot peaks in this little-traveled region. A seven-day trek around 20,948-foot Mount Ausengate is a must-do. There are scores of local outfitters scattered around Cuzco's Plaza de Armas that can give you more information or organize treks with llamas carrying your gear. A guidebook called Peru and Bolivia: The Bradt Trekking Guide ($17.95) is well worth the money. The hiking times are a little off, but it's a solid source for directions.

After you're finished in Cuzco, I recommend catching the train south to Puno, where you can then take a bus to La Paz. It's a slow ride, but the scenery is remarkable. Plan on spending the night in Puno, and be sure to go down to the market to try some fresh trout ceviche from the fishermen.

Once in La Paz, you can sign up for mountaineering trips up peaks like Huayna Potosi, at just under 20,000 feet. The main route up doesn't have much technical climbing, but the altitude will kick your butt, so take it slowly. The views into the Amazon and Lake Titicaca are unbeatable. Again, there are loads of agencies in La Paz along Calle Sagárnaga that can arrange trips. The folks at Gravity Assisted Mountain Biking (www.gravitybolivia.com) down on the Prado (La Paz's main drag) are a great source of information on outfitters offering the best services. These guys also offer some of the more unique trips in Bolivia on mountain bikes. Do a few days with them and you'll rack up more than 50,000 feet of downhill action, including some secret singletrack that only the knowledgeable Kiwi owner, Alistair, knows about.