The Sporty 40
From mountain biking in Mexico to snorkeling in Panama...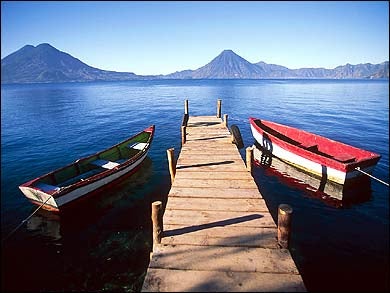 Heading out the door? Read this article on the new Outside+ app available now on iOS devices for members! Download the app.
We found the top 20 spots for bueno times south of the border


¡VAMANOS!



1-4: Todos Santos, Copper Canyon, Villa Amor, Oaxaca


5-8: San Sebastián, Alta Mira, Cuajimoloyas, Tulum


9-12: Tikal, Antigua, Long Caye, Cangrejal River



13-16: Parque Nacional el Imposible, Little Corn Island, Tabacón, Pacuare Lodge



17-20: Monteverde, Punta Uva, Sendero de los Quetzales, Bocas Inn


15 More Ways to Lose Yourself Way Down South


Five Java-Lovers' Dreams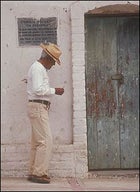 Ignore your mamma's warnings and grow up to be a cowboy in Mexico's answer to the Grand Canyon.
1. Tacoed in Baja
Todos Santos, Mexico
My nine-foot Bear surfboard picked up speed as I dropped down the face, alone on a perfect Pacific wave at Los Cerritos Beach, in Baja California Sur. The tube held for a second, then it sectioned, crushing me into the water and breaking my leash. I found the Bear, washed up on the beach with a nasty gash. I then did what so many before me had done when overwhelmed by BajaÂ's wild side: I sought refuge in Todos Santos.
Nestled on the coast along the western slope of the Sierra de la Laguna, Todos Santos has for centuries been an outlet for escapists: Jesuit missionaries fleeing angry locals, the wealthy elite of La Paz seeking release from the blistering heat on the Gulf side. In Todos Santos, a crowd is two people you donÂ't recognize. Sea turtles lay eggs on the beaches and a fishermenÂ's cooperative sells its catch on the sand that fronts the town. ItÂ's that Baja.
Surfers have long been drawn by the consistent breaks—like Los Cerritos, La Pastora, and San Pedrito—beyond town. Now, as then, one-lane dirt tracks angle off Mexico 19, wind through palo verde and mesquite, and spit you out on the beach. Development never really took hold, and expat artists and writers began dribbling down in the mid-eighties, attracted by the cheap hacienda rentals and the sunsets over the Pacific that radiate sky-wide.
Today, the 21st century has arrived in Todos Santos—barely. You can check your e-mail at the Internet café if you must, but it's still best to leave your watch at home.
DETAILS: Stay in a poolside cabana ($35 for the first person, $5 each additional person) at Pescadero Surf Camp (011-52-612-130-3032, www.pescaderosurf.com), seven miles south of town. On site is the areaÂ's most reliable surf shop (board rentals, $12 per day).
—JEFF SPURRIER
2. Grand Canyon South
Copper Canyon, Mexico
"This young man will take care of you," the hotel van driver announced as he dropped us off at the trailhead, where our guide awaited. We were at the edge of Tararecua Canyon—part of the gargantuan seven-gorge Copper Canyon network—in the care of a "young man" who clearly wasnÂ't a day older than 11. Mountain bikers and hikers, ourselves included, are both enthralled and intimidated by the accessibility (an eight-hour drive south from El Paso) and vastness of CopperÂ's chasms, ranging from 3,000 to 6,000 feet deep. The canyons are crisscrossed with logging roads and footpaths, most worn by the Tarahumara Indians over the past several hundred years.
Hence the need for a local guide. Unlike us gringos, in our wicking fabrics and trail-runners, ours wore a loose white shirt and huaraches. The boy took off silently and surefootedly down the steep, boulder-strewn path, and my friends and I followed closely, if somewhat skeptically. At each fork, he paused before choosing a direction. But my worries of becoming lost in the labyrinth were unfounded: A couple of sweaty hours and less than five miles later we were soaking in a warm natural spring near the bottom. When our leader started back up, we scrambled to follow, knowing that other surprises—a hidden waterfall, an abandoned silver mine—might lie beyond the next creek.
DETAILS: Find guides, bike rentals, and trail access to Tararecua in Creel. Stay in town at Margarita's Plaza Mexicana (doubles, $46; 011-52-635-456-0245). The folks there can also set you up with guides for about $20 per day.
—DIANNA DELLING
3. Your Own Private Pacific
Villa Amor, Mexico
There's a rumor going around that Sayulita is a town on the verge—on the verge of becoming a glossy beach 'burb of Puerto Vallarta. But on a four-day surf escape, all I found was a quiet Pacific fishing village with a crescent-shaped sweep of sand and some very friendly locals. Forty-five minutes north of PV, we turned onto a narrow dirt street and passed from the one-square-block commercial center into the resort district: several inns tucked behind wrought-iron gates, one of which was a find called Villa Amor.
Built into the side of a steep hillside overlooking Sayulita Bay, it seems to flow upward, each of the 23 open-air villas etched into its own private terrace. Except for the fact that all have wide verandas and staggering Pacific views and are reached by climbing dozens of stone steps, no two are alike. The one I stayed in had a plunge pool, two bedrooms with ceiling fans and gauzy mosquito nets, a kitchen, outdoor sitting room, and the thick trunk of a red papelillo tree growing through an artfully cut hole in the floor—tropical living at its finest. Were it not for stellar breaks just offshore—beloved by roving surf hounds for their consistent swells, sand bottoms, and long rides—it would be all too easy to settle into a wicker lounge chair and hide out there forever.
DETAILS: Suites at Villa Amor (011-52-329-291-3010, www.villaamor.com) range from $50 per night for the simplest cabana to $250 for a two-bedroom palace.
—KATIE ARNOLD
4. Slip SlidinÂ'
Oaxaca, Mexico
Because he'd overslept and caused us to miss the only bus to our next destination, my boyfriend, Joaquin, was charged with the task of filling our last day in Oaxaca. He redeemed himself by calling Destinos Naturales, a local outfitter. Guides Igor Arango and Luis Valeriano picked us up at our pension and we were off—driving north 15 minutes into the Sierra Juarez to rappel down a waterfall.
First, we hiked. We followed goat paths through meadows and bramble patches, then rock-hopped uphill along a rushing stream through temperate forests. We scrambled over rocky outcrops and climbed up the walls of El Tubo—a 30-foot granite flume covered in moss and flanked with bromeliads.
Two hours later we reached the top of La Encantada, a 144-foot waterfall. Joaquin and I put on helmets and harnesses and got a rappelling lesson: "This is the brake hand—donÂ't let go." Igor attached rope from a sturdy tree trunk to my harness, and I dropped down the middle of the thundering waterfall. The force of the water meant that letting go of the brake was easier than muscling the rope upward through its belaying device, but we managed and emerged drenched and ecstatic at the bottom. Wringing our clothes out was pointless, because a steady drizzle had begun. So after waiting to let our hearts stop racing, we sloshed back down the mountain, happy to have stayed in Oaxaca after all.
DETAILS: An all-day hiking and rappelling adventure with Destinos Naturales (011-52-951-518-7277, e-mail destinosnaturales@hotmail.com) costs $39 per person.
—MEGAN MILLER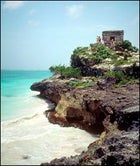 Worship the Sun: Tikal
5. A Gold Mine in the Silver City
San Sebastián, Mexico
At a gallery opening in Puerto Vallarta, an older gentleman named Bud Acord overheard me whining about the sunburned tourists taking over the city.
"Listen," he said, "I have a little hotel up in the mountains. Hell, that village hasn't changed in a hundred years."
The two-and-a-half-hour drive up to San Sebastián del Oeste from Puerto Vallarta is on a road so rutted that my seat belt was the only thing stopping me from being propelled through the roof. As we crested the 5,500-foot ridge in the Sierra Madre above town, the whitewashed, red-tile-roofed buildings, central square, and Spanish church resembled a mythical city. Founded in 1605, San Sebastián was once so prosperous from silver mining that, by the mid-19th century, the region had swelled to nearly 20,000 people. (The town now has about 600 residents.)
Most of the palatial haciendas built during the town's zenith have fallen into ruin, but Bud Acord saved one. An artist from California, Acord was among the first wave of gringos to "discover" San Sebastián in the early sixties. He bought the seven-room Hacienda Jalisco, which dates from 1854, and restored the place to its original state—which means there's no electricity but plenty of grandeur.
The next day I hiked to an abandoned mine with a guide. He let me in on the local lore: In the past, mine owners buried their silver to hide it from bandidos, saying, "When it is safe, we will return." They never did. So the silver remains—along with much else worth seeking out.
DETAILS: A room at Hacienda Jalisco costs $75 per person per night, with breakfast and dinner. Book through Pamela Thompson (011-52-322-223-1695, e-mail pmt@prodigy.net.mx).
—KENT BLACK
6. No Amenities Required
Alta Mira, Mexico
I knew I'd found an escape the second the taxi exited the two-lane coastal road from Puerto Escondido and drove my girlfriend and me into the village of Mazunte, on Mexico's Oaxacan coast. After dodging two dogs snoozing in the road and kids playing stickball, the taxi turned onto an eroded dirt track, navigated a steep hill, and pulled up at our hotel, the Alta Mira. It was unassuming—our jaws didn't drop until we stepped out on the restaurant terrace, where we glimpsed the sun setting over the Pacific and ten bungalows tumbling down the hillside, lost in the trees.
This would be Vacation Central for the next five days: an airy room with a palm-thatch roof, hand-hewn wooden furniture, and a wide porch with a cotton hammock and more ocean vistas. It lacked hot water, a telephone, and electricity, which was fine. We soon discovered that the only amenities we needed were candles and the mosquito netting draped over our four-poster bed. A set of stairs took us down to the beach—a spotless curve of sand and surf pounding at a steady tempo yet hardly any other people. Down the beach toward the village, we found a cluster of palapa-style restaurants for snacking on fish tacos and squeezing lime wedges into Pacificos. As the days went by, we visited the Centro Mexicano de la Tortuga, in Mazunte, to see the sea turtles that the research institute is devoted to, made the 30-minute hike to the dramatic breaker-slapped cliffs of nearby Punta Cometa, and went crocodile-spotting on a mangrove swamp tour up the coast, in Ventanilla—all great. After each excursion, though, we couldn't wait to get back to our terrace perch, where the clock seemed to stand still.
DETAILS: Bungalows at Alta Mira start at $40 per night and can be booked through its sister hotel, La Buena Vista (011-52-958- 584-3104, www.labuenavista.com/alta_mira), in Puerto Angel.
—GRANVILLE GREENE
7. The One-Phone Wonder
Cuajimoloyas, Mexico
ThereÂ's only one phone in the mountain village of Cuajimoloyas. It was ringing like an ambulance siren when we drove into town, so I listened for the loudspeaker announcement: "Margarita Suarez," it echoed through the dusty roads, "tienes una llamada… "
A fitting introduction to Cuajimoloyas's other surprises—and this peaceful outpost northeast of Oaxaca has plenty of them. Like walking into a dilapidated building to find a small fleet of dual-suspension mountain bikes. Or finding out that "ecotourism guide" is an official town-government post. Or realizing that the lucky man who occupies that job, Joél Contreres, moonlights as a researcher for a French scientist studying the region's enormous mushrooms. (This I learned when we were blazing down a trail and, without warning, Joél threw down his bike, dove into the trees, and popped out of the woods with a porcini bigger than my head.)
Over 10,000 feet high, with towering pines and peaks as far as you can see, Cuajimoloyas is a community of small farmers and woodworkers whose Zapotec heritage and pine-and-plaster structures bear few signs of Spanish influence. Cuajimoloyas and seven nearby villages constitute the Pueblos Mancomunados, a 28-year-old organization of mountain dwellers dedicated to protecting their forests and preserving their traditions. Tourism could be the regionÂ's best defense, with hope hinging on the more than 60 miles of hiking and biking trails built on former logging roads and ancient paths that connect the villages. All eight now have basic lodges for bikers, birders, and backpackers.
On my visit, I saw no one on the trails. Joél fried up his prized mushroom for our lunch; I promised I'd be back and that next time I'd bring dessert.
DETAILS: Tierra Dentro (011-52-951-514-9284, www.tierradentro.com) leads two-day, all-inclusive hiking or biking tours ($85-$95).
—KIMBERLY LISAGOR
8. TodayÂ's Special: The Beach-Ruins Combo
Tulum, Mexico
We were naked all right—as jaybirds. And we frolicked in the Caribbean with the august ruins of Tulum, a long-abandoned Maya port, looming behind us. Carla and I were honeymooning about 40 miles up the Yucatán coast, in Playa del Carmen, but we couldn't miss "one of the most beautiful beaches in the world," as a friend had described the cliffside fantasy of silky sand and warm waves.
So there we were, at the base of Tulum's 40-foot-high limestone bluff, on a gorgeous expanse of sandy seclusion. I counted just three other couples, and some fat iguanas, sharing our beach. All those not in the know—or not brave enough to swim around a rock outcropping, as we had—were lounging less provocatively on a beach to the north.
Though conspicuously short on imposing pyramids, this pre-Columbian city once sprawled along the coast for almost four miles and, appropriately, is thought to have been built for sun worship. Crowning the natural wall at our backs was the site's tallest temple, the 25-foot-high Castillo, perfectly situated to greet the Mexican dawn—and thronged with turistas clutching their kitschy sombreros in the powerful ocean breezes.
A Spanish expedition that sailed past Tulum in 1518 was duly impressed by the sprawling trade center and military base, one of the few Maya cities known to have been inhabited at the time of the arrival of the conquistadores. The ruins attest to the spirit of the Maya, and are worth exploring, but afterward make sure you get wet.
DETAILS: The entry fee for the ruins and beach is $4. Four miles south, Cabañas Ana y Jose (doubles, $85-$145; 011-52-998-887-5470, www.anayjose.com) is a great place to hang your towel and eat your fill of red snapper.
—JEREMY SPENCER
The Gear Guy's Favorite Things
Victorinox Climber Knife ($30; www.swissarmy.com)
HOLIDAY SWEEPSTAKES
CLICK HERE
for your chance to win one of eight Victorinox Climber knives, as well as throw your name into the hat for the next seven days of sweepstakes mania!

In recent years the so-called "multi-tool" has become an item de rigueur in many a hiker's pack. And it's true that many of these gadgets offer useful features (in particular, the pliers function). But they're heavy! And, expensive—$50 and up.


Then there is the original multi-tool: The Swiss Army knife. Light, compact, loaded with useful features—it's no surprise that the Swiss Army knife has become a synonym for, well, a very useful thing. To me, the Swiss Army knife of Swiss Army knives is the Victorinox Climber, made by the company that pioneered the Swiss Army knife. The Climber has ten tools that are useful a dozen times a day—two knife blades, can/bottle opener, two screwdrivers, wire stripper, scissors, reamer with sewing eye, corkscrew, hook, toothpick, and tweezers. It fits easily into any pocket, or attaches to a belt or climbing harness with a lanyard ring.


I can't even recall when I got my first Swiss Army knife—probably 20 years ago. And I've never been without one since. For field repairs on balky stoves, cutting blister pads, whittling kindling for a fire (only where allowed, of course!), or picking teeth after a tasty meal of freeze-dried…whatever, there is simply NO match for the Climber.


For your chance to win one of these indispensable Jack-o'-all-trades, ENTER YOUR NAME into our sweepstakes contest. And, check back tomorrow to see what's next in the Gear Guy's rundown of the all-star Hall of Gear!



The Gear Guy's Favorite Things
Dragon Rake Sunglasses ($85; www.dragonoptical.com)
HOLIDAY SWEEPSTAKES
CLICK HERE
for your chance to win one of five pairs of Dragon Rake shades, as well as throw your name into the hat for the next four days of sweepstakes mania!

OK, there are lots of good eyeglasses on the market. But the Dragon Rakes are among the best I've ever used. From their grippy, flexible temples to the precise placement of two air vents in each lens, the Rakes reek of careful thought. I wear mine mostly for bicycle riding, and they're ideal for high-speed activities. But they're equally useful for just about any outdoor pursuit—hiking, kayaking, skiing, you name it.


The wrap design offers good eye protection and blocks plenty of sun, and the UV-blocking, polycarbonate lenses are fairly easily snapped out for interchangeability to a yellow or clear lens from the fair-weather bronze. And when I'm not really using them, they still look pretty good just perched atop my head.


There are five pairs of these smokin' shades up for grabs! For your chance to win, ENTER YOUR NAME into our sweepstakes contest. Check back on Tuesday for the next piece of the Gear Guy's favorite gear!

The Gear Guy's Favorite Things
Mountain Hardwear Waypoint 2 ($250; www.mountainhardwear.com)
HOLIDAY SWEEPSTAKES
CLICK HERE
for your chance to win one of four Waypoint 2 tents, as well as throw your name into the hat for the next three days of sweepstakes mania!

Like many people, I'm interested in shaving pounds from my pack. But I don't want to sacrifice a lot while doing so. As a result, while I was keenly interested in the two-person Waypoint 2's light weight (three pounds, seven ounces) I was also a little skeptical about how well it would work. After all, the Waypoint is a single-wall tent that doesn't even try to use any super-exotic fabrics to vent moisture from its occupants' exhalations. Its silicon-coated fabric is totally waterproof, so the Waypoint relies on clever engineering and vent placement to ensure that moist air gets out before it condenses on the tent fabric.


And it works—fabulously well. I first used the Waypoint for a May climb of Mount Stuart in the central Washington Cascades. We camped in the snow, on a damp evening with occasional rain showers. Perfect conditions for a wet night in the tent, but in the morning we had just the lightest touch of condensation inside the tent. This past fall, the Waypoint was the tent I took for my weeklong bicycle trek through Montana. It set up quickly, packed down neatly, didn't weigh much, and best of all kept us dry during some truly thunderous downpours. In short, a great tent for about half the weight of most two-person, three-season models.


We have four Waypoint tents to give away! For your chance to win, ENTER YOUR NAME into our sweepstakes contest. And, check back tomorrow to see what's next in the Gear Guy's rundown of the all-star Hall of Gear!



The Gear Guy's Favorite Things
Dana Terraplane LTW ($399; www.danadesign.com)
HOLIDAY SWEEPSTAKES
CLICK HERE
for your chance to win a Dana Design Terraplane pack!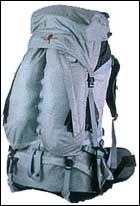 In my garage hangs a faded turquoise Dana Design Terraplane. This pack has been through thick and thin with me for more than a decade—up Denali, hauling monster loads for long trips in the Enchantment Lakes area, getting tossed from helicopters during mountain rescue operations, you name it. During that time a lot of fine packs have hit the market, but I have yet to see or try one that really convinces me there is any reason to trade in my Terraplane. To me, it's simply the best big pack on the market, regardless of price.


What makes the Terraplane so good? The bag design, for one thing. It's simple and clean, with a big central compartment divided into a lower sleeping bag area (the divider can be stowed out of the way). Two big outside pockets run vertically down the back, separated by a handy daisy chain. Topping it all off is a roomy top lid pocket, plus a just-right assortment of wand pockets and tool loops. It's ideal for both mountaineering and backpacking.


Then there's that famous Dana Design suspension, little changed for 25 years for good reason—it was right the first time. Its clever mix of polyethylene frame sheet, aluminum stays, and hipbelt do a fabulous job of putting the load right where you want it—on your hips, on the shoulders, or spread in between. Fifty pounds in this pack feels like 40 in others; I once lugged 70 pounds in mine, and while I was miserable from the effort, the pack hardly sagged. Now called the Terraplane LTW, the pack has shaved off a few ounces in its latest iteration and has lighter but tougher fabrics than my aged model.


To become the lucky winner of one Dana Terraplane pack, ENTER YOUR NAME into our sweepstakes contest, the grand prize to be drawn on Monday, December 15.