These Treehouses Are Even Better in Winter
Capture the placid perfection of a winter forest by staying in one of these arboreal lofts. Not only are they specifically made to weather the cold, but they're cozy too.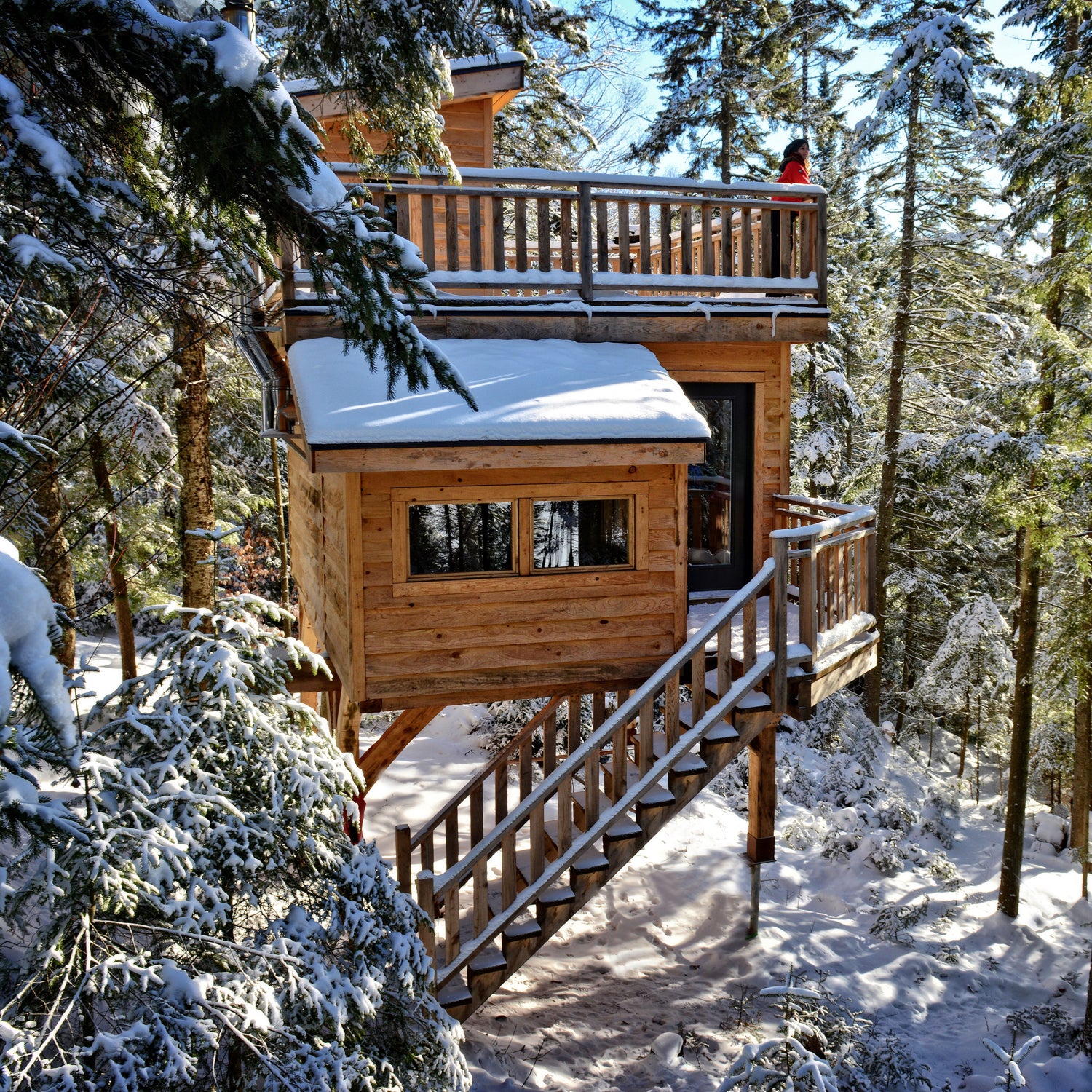 Courtesy of Les Refuges Perchés(Photo)
Heading out the door? Read this article on the new Outside+ app available now on iOS devices for members! Download the app.
You might think sleeping in a treehouse is tailor-made for summer (hello cool breezes and rustling of leaves), but if you go in winter you're in for a treat. A cozy fireplace perched above the forest floor makes the experience of waking up among the branches a surreal experience. And, bonus—winter rates tend to be 40 percent lower than those in the peak of summer.
And there are more options than ever. Online directory Glamping Getaway offers 41 treehouse destination and Airbnb has approximately 550 listings. Airbnb spokesperson, Molly Graizzaro, says the company has tracked a 150 percent increase in treehouse bookings since this time last year, and is "seeing the treehouse trend pop up in places all over the world." They've even added Trees & Zzzs—a specific treehouse page—dedicated to Airbnb's top ranked treehouses.
Despite there being more beds in trees than ever before, booking a treehouse in winter can be tricky. Why? North American properties, not located in the warmer regions of the country, tend to close when it gets too cold. But not all shut down. In fact, some are even better if you go in the snowier months. But, which? Try these five.
Enjoy All the Creature Comforts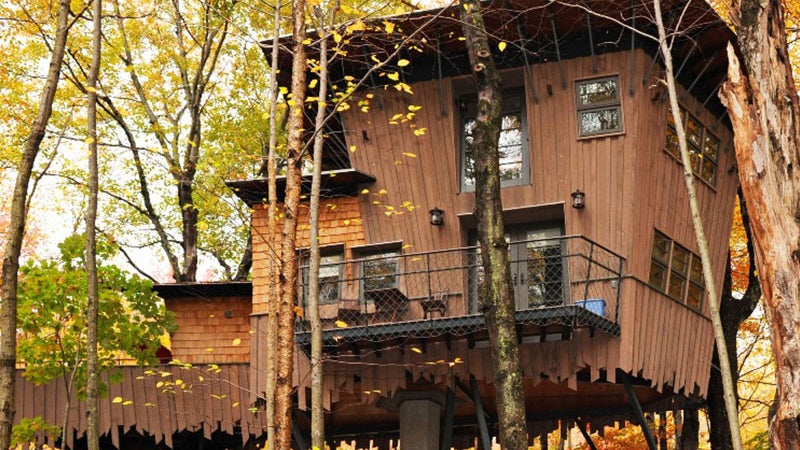 Winvian (Litchfield, Connecticut)

Up High: Between the slanted walls of sustainable architect John Connell's luxurious 780-square-foot treehouse, cozy elements like gas and wood-burning fireplaces, a Jacuzzi tub, steam shower and a well-stocked bar help guests shake off the winter blues.
Down Low: You'll be lured down 35-feet out of the maple trees by an exceptional farm-to-table feast in the main house (or at locals' favorites Community Table and Arethusa). Roam the 113-acre property on snowshoes, or take a walk in the 4,000-acre private White Memorial Nature Preserve an eight-minute car ride up the road. Better yet, skip the drive and enjoy a scenic 20-minute trip through New England's winter wonderland on the hotel's mountain bikes. Once you arrive at the preserve, follow the blue blazed Mattatuck Trail, an easy 6.5-mile path that you'll find mostly empty in winter.
Access: Winvian is a two-hour drive from New York and Boston. The resort is also directly accessible via helicopter.
---
Toboggan In, Toboggan Out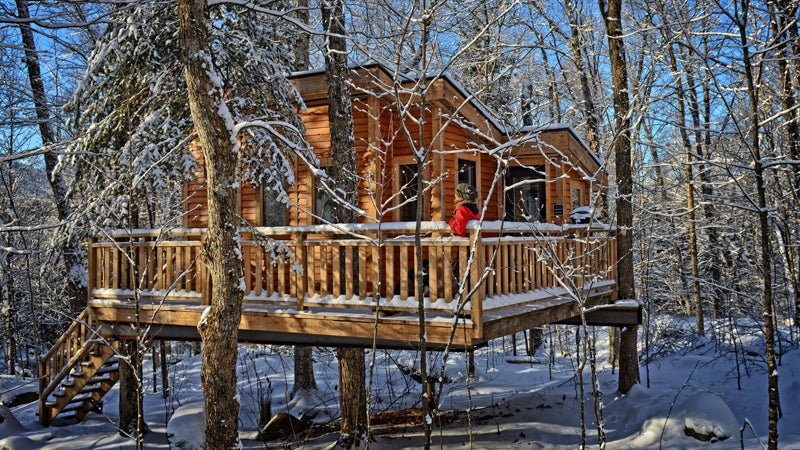 Refuges Perchés (Mont-Tremblant, Canada)
Up High: Opened in the summer of 2014 in a 2,000-acre protected regional park in the Laurentides region, Les Refuges Perchés is comprised of 10 four-season treehouses—with names like The Bee and The Rockhouse, a 240-square-foot structure wedged between two boulders and accessed by a suspended bridge—stretched out along the shores of Lac du Cordon. Upon your arrival at the main lodge, snowshoes and a toboggan will be waiting for you to load up your gear and head out through the woods to the various 13-foot-tall treehouses within a quarter to half mile away. Bring sleeping bags, groceries and all the portable batteries you can muster if you want to watch movies on your device, as there are no electrical outlets in your treehouse. Though you have to go to the main lodge to recharge and shower, at the treehouse you can count on free Wi-Fi, cell reception, outdoor fireplaces, a wood stove and a BBQ. Come nightfall, you'll sit with a beer by a big bay window or on a rooftop porch and let the stars take hold.
Down Low: Spend your days snowshoeing and cross-country skiing the park's 22 miles of backcountry trails.
Access: Les Refuges Perchés is an hour and 30-minute drive from Montréal-Pierre Elliott Trudeau International Airport. Specific directions to the treehouses are sent to guests following a reservation. From $99 per night in winter.
---
Instagram the Killer Views From Bed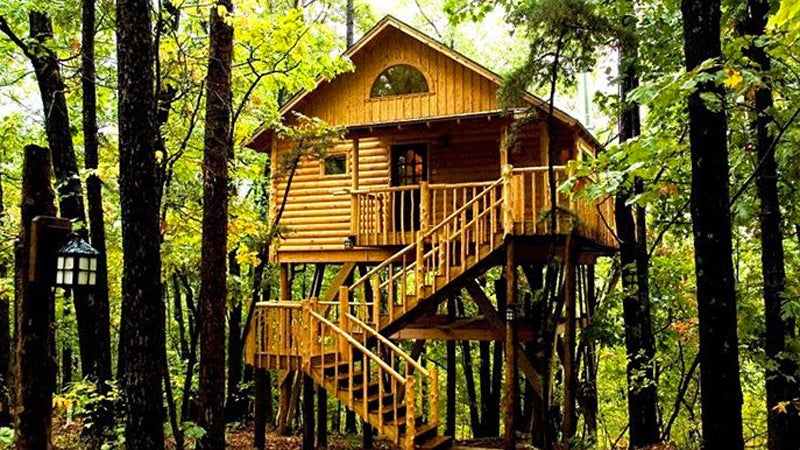 The Original Treehouse Cottages (Eureka Springs, Arkansas)
Up High: In a 33-acre tall pine forest, a mile out of Eureka Springs, you'll find The Original Treehouse Cottages, which operates seven treehouses. We suggest booking the 24-foot-high Bungalow Treehouse as it's the only one where you can watch the sun rise through a giant floor to ceiling window. Come winter, the treehouse's heated hardwood floors, plush king bed, and stone fireplace are a warm welcome. Around early afternoon, while you wait for the grill to heat up, snack on the hotel's homemade pumpkin nut bread and bird watch—you'll spot chipping sparrow, downy woodpecker, indigo bunting, and rose-breasted grosbeak—from the wraparound deck. End the day with champagne and chocolates in the heart-shaped Jacuzzi, a potentially corny feature you'll learn to overlook because it comes with panoramic views of the surrounding pine forest.
Down Low: Experience the beauty of the Ozarks while hiking the 24-mile Hidden Diversity Trail in Hobbs State Park, a 30-minute drive from the treehouse.
Access: The Original Treehouse Cottages is a 3.5-hour drive from Little Rock National Airport.
---
Have the Ultimate Romantic Weekend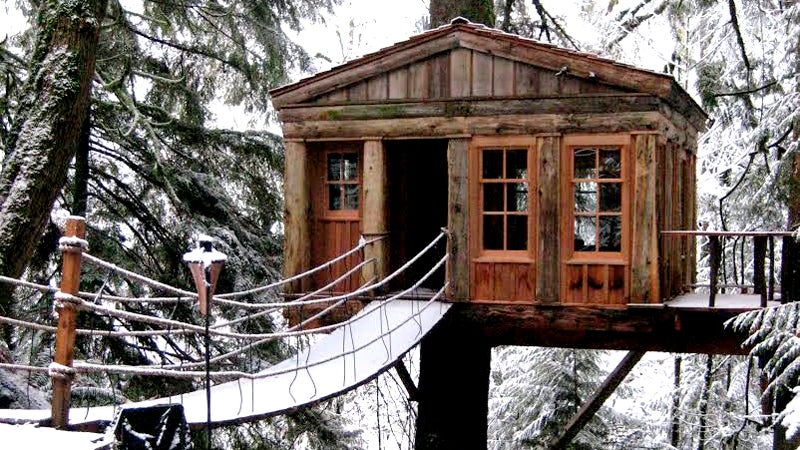 Treehouse Point (Fall City, Washington)
Up High: At Treehouse Point, there are eight 10-to 21-foot-high treehouses spread out around the property, created by Peter Nelson host of the Animal Planet show Treehouse Masters. Whether you book the popular original treehouse Temple of the Blue Moon, the more secluded Burl, or the Trillium treehouse—which features a lofted bedroom and 80 windows—you'll have spectacular views of a lush evergreen forest in Snoqualmie Valley, just 25 minutes outside the city.
Down Low: Eat a continental breakfast of sweet and savory scones, granola and fruit at the lodge, then get out early to hike the Mt. Si trail, a steep eight-mile trek with 3,150 feet of elevation gain and stunning views of Mt. Rainier and Seattle. Refuel at Fall City Bistro before slipping back into the four-acre forest to skip rocks in the river, relax in a shared hammock and roast s'mores over the outdoor fire pit.
Access: Treehouse Point is a 30-minute drive from Seattle-Tacoma International Airport.
---
Get Off the Grid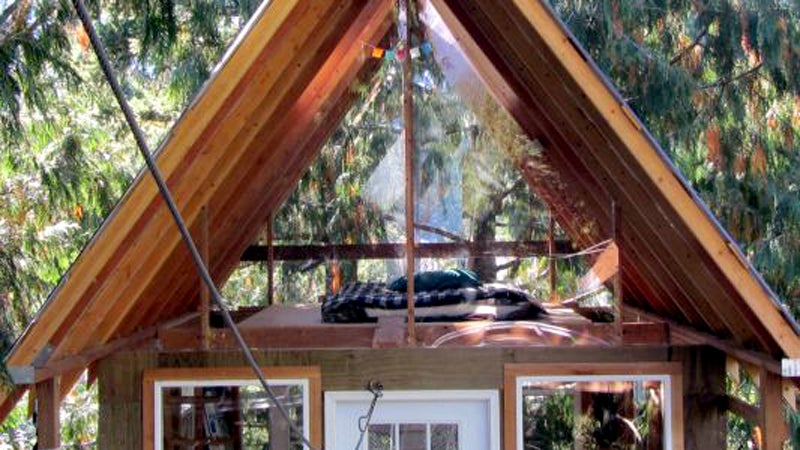 Cedar Creek Treehouse (Ashford, Washington)
Up High: "There's a whole other world way up high in the tree canopy," says Bill Compher, on why he opened his solar-paneled Cedar Creek Treehouse to guests 18 years ago. The property, which includes a Treehouse Observatory, was grandfathered in on private land within Gifford Peinchot National Forest, part of the Mount Rainier Forest Reserve. There are no outlets, cell service is vague at best, and you have to go to Compher's neighboring home to get Wi-Fi. But once you've climbed the five-story stairwell and settled into the rustic sun-drenched treehouse, some 60 feet up and built around a 250-year-old Western Redcedar, you'll discover the thrill of being off the grid for a few days. The snug one bedroom treehouse is ideal for spontaneous couples as Compher only accepts reservations a week in advance in the winter.
Down Low: The treehouse is located 10 miles from Mount Rainier National Park's Nisqually River entrance—one of only two entrances open in the winter. Many guests will head out on a ranger-guided snowshoe walk so bring your snowshoes or rent them for $14.50 at the park's Longmire General Store. "During the winter, one of the best views of the mountain can be achieved at the Nisqually Vista. The 1.4-mile hike/snowshoe/cross country ski route takes the visitor to a cliff, which overlooks the Nisqually Glacier and river," said Ranger Scott McLean, who leads snowshoe tours on weekends. "Glancing up, you can surmise the 14,410' majesty of Mount Rainier."
Access: Cedar Creek Treehouse is an hour and 30-minute from Seattle-Tacoma International Airport. For $650 for two nights.
Lead Photo: Courtesy of Les Refuges Perchés