The Top 10 Things to Do in Tofino
Heading out the door? Read this article on the new Outside+ app available now on iOS devices for members! Download the app.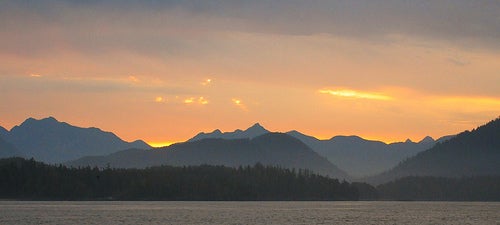 Photo Courtesy of Flickr
At the end of the Trans Canada Highway, surrounded on three sides by water, lies Tofino, a town of 1,500 people. It's a beautiful place—old-growth cedar, migrating whales, a rich native history—packed full of adventure options. I hit up the town for the O'Neill Coldwater Classic Canada surf contest, and came back with a list of the best things to do.
Best Surf Shop
10) Storm: A salt-encrusted little surf shop with lots of Canadian character. The shop is surfer owned and operated, making for good local advice and knowledge. They're friendly too, which can be something of a rarity in a localized surf world. They also offer some of the better rental deals in town. (Boards; $20 a day, Wetsuit; $20 a day)
Best Surf School
9) Pacific Surf School: You'd be surprised at how many surf schools can be in such a small town. Pacific offers the most comprehensive programs. They cover everything from beginner surf etiquette to progressive surf technique. To go along with the variety, the BCASI-certified teachers are attentive to students' needs and offer multi-day lessons. (Three hours; $75)
Best Places to Stay
8) Whaler's on the Point Guesthouse: If you're searching for a budget hub for your Tofino adventures look no further than this hostel, located just off the center of town. Barbeque on the patio, play a game of pool, or hang out in the sauna after a long day of surfing. Be sure to make a reservation—this is a popular spot with many a wandering traveler. (4-6 person share; $32/night)
7) Long Beach Lodge: You can't beat the location of this upscale, yet laid-back resort perched right on the sand of Cox Bay. You can eat the continental breakfast—fresh pastries and house-cooked granola—overlooking the morning surf. Dinners of local, sustainable cuisine and a glass of wine are only a few steps from your room. Looking for something a little more private? You can rent a two-room cabin tucked back into the temperate rainforst behind the hotel. (Ocean-view rooms; $219/night)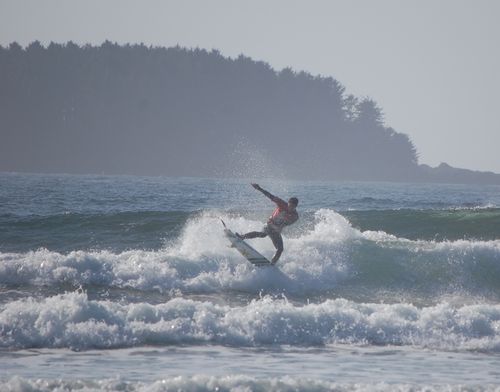 Nathaniel Curran goes finless at the O'Neill Coldwater Classic Canada. Photo by Will Taylor
Best Places to Eat
6) Shelter restaurant: Shelter offers fresh local cuisine and a great Northwestern atmosphere. Eat outdoors under heat lamps in the warmly lit wood interior. I recommend the lingcod burger, but you can't go wrong—all of the local seafood is fresh and delicious. It's also a good place for a party—the surfers celebrated here after the contest wrapped up. 
5) Tacofino: For a slightly cheaper, yet equally delicious option, find the bright orange taco truck with Our Lady of Guadalupe painted on the side. It's located in a plaza near the southern edge of town and serves the best fish tacos around. 

Best Things to Do
4) Hike Schooner Cove: A nice, easy hike with a lot to see: big trees, beautiful eagles, and teeming tide pools. A boardwalk makes this walk easy for most anyone. Head south and pop out on Long Beach, a great spot for strolling and surfing.
3) Tla-ook Cultural Adventures: Take a tour in a traditional First Nations (Canadian natives) dugout canoe or follow a native guide through the old growth forest. You'll hear about traditional culture, customs, and the history of the area, all while getting a workout. Dress appropriately, the weather is temperamental in this neck of the woods. ($55; 2-2.5 hr paddle, $74; 4 hr hike)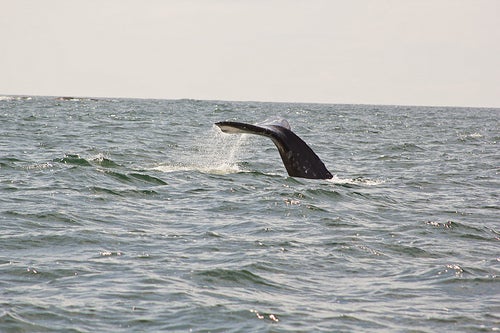 Photo Courtesy of Flickr
2/1) Whale Watching/Hot Spring Combo: Head to The Whale Centre for a six to seven hour excursion in search of whales and warmth. After an hour-and-a-half zodiac trip to Hot Springs Cove searching for whales, otters, eagles, and porpoises, walk twenty minutes to warm up in the hot springs. Bonus: check out a cascading waterfall in the old growth rainforest. ($94)
–Will Taylor
Trending on Outside Online