Tough Luxe
If British Columbia didn't invent the adventure lodge, the province sure has perfected the genre. Here are four that do it right, with a twist: You can't drive to any of them.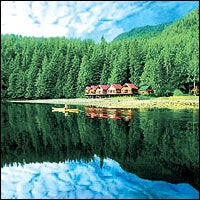 Heading out the door? Read this article on the new Outside+ app available now on iOS devices for members! Download the app.
Wilderness Outpost, Clayoquot Wilderness Resorts & Spa
ACCESS & RESOURCES
WILDERNESS OUTPOST
All-inclusive packages from Vancouver start at US,500 per person for three nights. (888-333-5405,
www.wildretreat.com
)
NIMMO BAY
Four-night, all-inclusive Heli Ventures package costs US,995 per person. (800-837-4354,
www.nimmobay.com
)
ELISI SPA
All-inclusive daily rate of US0 per person includes two spa treatments. (250-789-9494,
www.elisispa.com
)
BUGABOO LODGE Three-night, all-inclusive summer packages from US
,595 per person. (800-661-0252,
www.canadianmountainholidays.com
)
british columbia adventure lodges

SOUP'S ON: a peek inside the dining tent at the Wilderness Outpost
british columbia adventure lodges

AERIAL VIEW: In a forest beside the Bedwell River, a dozen wood-framed safari tents connected by cedar-plank walkways link dining and massage tents and a fjordside spa. THE PROGRAM: Guides can take you hiking, horseback riding, mountain biking on old mining roads, and sea kayaking in placid Bedwell Sound. BONUS: Sack out on a four-poster bed beneath a down comforter listening to the river just beyond your private wooden deck. GETTING THERE: From Tofino, on Vancouver Island's western coast, it's a 30-minute boat ride to Clayoquot Wilderness Resort, then another 20 minutes to the Outpost.

Nimmo Bay Resort
AERIAL VIEW: On a remote mainland fjord, eight spacious chalets and cabins connect via a floating dock to the main lodge. THE PROGRAM: Expect everything from heli-glacier-trekking to heli-fishing for wild coho salmon to heli-kayaking amid the orcas of Johnstone Strait. BONUS: Two hot tubs sit beside the terminus of a waterfall that tumbles out of the spruce forest. GETTING THERE: From Port Hardy, on the north end of Vancouver Island, it's a 25-minute chopper ride to Nimmo Bay.

Elisi Spa and Wilderness Resort at Sleeping Chief
AERIAL VIEW: Two cottages and an eight-room log-cabin-style lodge on the edge of 2,570-square-mile Northern Rockies Provincial Park, in B.C.'s far north. THE PROGRAM: On a hike or on horseback, watch for megafauna like elk and grizzlies. Or fish for Dolly Varden trout and grayling in the Muskwa River. BONUS: Melt muscles and soften the epidermis with a special two-and-a-half-hour, guys-only spa treatment. GETTING THERE: From Fort St. John, take a one-hour charter flight.

Bugaboo Lodge
AERIAL VIEW: A 35-room chalet in southeastern B.C.'s Bugaboo Range. THE PROGRAM: Guided climbs and heli-hiking among Matterhorn look-alikes. BONUS: An action-packed, chopper-fueled schedule. GETTING THERE: Canadian Mountain Holidays buses you two and a half hours from Banff, Alberta, for the eight-minute chopper flight to the lodge.