In Tobago, It's All Good
Exploring the oldest protected rainforest, the soft coral reefs, and the all-night fêtes of the Caribbean's farthest reaches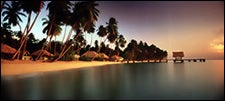 Heading out the door? Read this article on the new Outside+ app available now on iOS devices for members! Download the app.
Have you heard the cry of the mighty chachalaca? Well, neither had I. But over our heads at least a dozen of the turkey-size, maniacally loud birds were shifting about on bromeliad-bearded branches, shrieking Co-co-rico! Co-co-rico! Something equally strident answered with a Tarzan-movie cry: Hur-rah hur-rah hur-rah! Excellent for us. After snaking through bamboo and head-butting banana leaves, we were under the canopy of Tobago's Main Ridge rainforest, in sun-freckled, flower-scented shade. I'd never been so immersed in deafening biodiversity, and yet we'd hardly hiked a hundred feet uphill from a deserted beach on the island's wild northeast coast. One of our group, a Danish travel agent, jokingly suggested to our Tobagonian guide that maybe we were already lost—engulfed, as it were, by the forest. The guide whooped with laughter and wagged his finger at her: "No, no, no, gal, you cannot get lost in Tobago! Wherever you go, it's all good!"

Pigeon Point, a Tobagonian megalopolis
True to his promise, we soon struck an old Carib hunting track that took us, with many serendipitous forkings, deep into the Forest Reserve, the oldest protected land in the Western Hemisphere, a living ark of species carried out to sea when Tobago broke away from the South American mainland at the end of the last Ice Age. The trail seemed both seldom traveled and well trodden, like a carpet path scuffed through the rooms of a long-abandoned home. We hiked up steep switchbacks between ancient samaan and banyan trees and clambered down gullies where razor grass spikes up high along the trail and mango and cashew trees form a fruitful canopy.
When you think of Trinidad and Tobago (or T-and-T, as the southernmost republic in the Caribbean is called for short), you probably think of a crowded melting pot of humanity, of steel-drum bands and human peacocks parading in a carnival bash that rivals Rio's. But that's Trinidad, really. Postage-stamp-size Tobago (26 miles long and seven miles wide) lies 21 miles to the north across a deep-water gulf. It's much less populous (about 50,000 Tobagonians compared to nearly two million Trinidadians) and in large part pristine. The island has its own party spirit, to be sure: "Liming," or hanging out with friends, and "wining," the voluptuous dancing that's the ultimate goal of every good lime, are the two slang terms every visitor learns. Tobago's nightlife—and most of its tourism—are concentrated in the developed western tip of the island around the Crown Point resorts and the nearby town of Scarborough.
Tourism, however, is beginning to take a stronger hold over tiny Tobago: Four new megaresorts are breaking ground in the west end, while the wilder east-end coastline is sporting a growing number of green, grassroots-style accommodations. These changes promise to restore to the island its precolonial title as the most coveted real estate in the West Indies—with tourist dollars supplanting sugarcane—but right now the renaissance is still in its infancy, and travel is open to interpretation as never before. You can invent your own roving itinerary, circumnavigating by jeep or bike or kayak, camping on the beach or overnighting in the host homes you'll find in most villages just by asking around. Or bed down in the small eco-lodges that are springing up in lush coastal locales with some of the most diverse diving in the Caribbean—from shallow coral gardens to high-speed drift diving—in addition to beguiling beaches, and easy forays into the rainforest. Just don't forget to mark your trail, or the strangler vines and primeval tree ferns might swallow you up and never spit you back out.
Caribbean Bays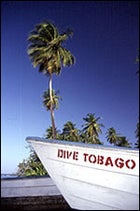 Pigeon Point dive boat
A glance at a map of Tobago reveals an ample Caribbean coast that squiggles toward the northeast in a series of protected bays and ends with some dramatic rocky islets out in the open Atlantic. Given that you're practically there when you step off the plane at Crown Point International, check out storied Store Bay first—about a five-minute walk from the runway—where the beachside shacks of Miss Esmee and Miss Jean serve up some of Tobago's best cuisine, like crab and dumplin' or curry goat and callaloo (made from the local dasheen leaf), served with okra in coconut milk. Then pay brief homage to Pigeon Point, the favorite beach of vacationing Trinidadians, chockablock with the full panoply of resort sports and salty characters, from sleek upper-class Trinis to raggedy beach boys. Strangely, the vast majority of tourists don't trouble themselves to travel any farther than Pigeon Point, figuring, I suppose, that it's where they already are, and so is everyone else.
Well, let 'em stay put. As far as you're concerned, it's open season on the rest of the island. Just follow the coast east: When you come to Castara Bay, you've found the best of Tobago, I think. Here tourism has established a light and graceful beachhead and the residents, nourished on fish stew, fried green bananas, and cod, routinely live to be 100. Or so the story goes. It's easy to believe. Castara Bay's beach is a perfect fingernail crescent of coarse yellow sand, bisected by the mouth of a mountain stream and half-shaded by trees through which flit flocks of wild blue parrots. The forest proper begins hard against a cricket ground, where a ten-minute walk on singletrack leads to a waterfall and a chilly pool. An ambitious hiker could continue up the steep 2,000-foot Main Ridge and clear on to the other side of Tobago without ever leaving the shade.
In the dry season (December to June) Castara Bay is superlatively clear, with a healthy coral reef beginning about 50 yards offshore. You can follow the rocky headland as far as mask and fins will take you, exploring caverns and deep stone pools flush with silversides, parrot fish, and the occasional solitary barracuda, while pelicans plunge in to pick up lunch right beside you.
Castara makes a pretty darn paradisiacal (and very affordable) base camp, ideally positioned in the middle of the north coast for excursions to any other part of Tobago. Keep an eye peeled just east of Castara for the old wooden sign marking Englishman's Bay, hidden from the paved road by deep bush. A venerable stand of bamboo some 60 feet tall shades the dirt track to the strand, which is exquisite and utterly undeveloped, except for Eula's refreshment stall (try the mango smoothie).
Just to the north, past pint-size Parlatuvier, the main coast road turns south to cut across the island, leaving behind a ragged paved spur perfect for rambling up the north coast. Above Bloody Bay, accessible only by hiking a near-vertical trail down to the mouth of the aptly named Dead Man River, this aggregate of potholes becomes a simple, brain-rattling dirt track. The next ten miles are true coastal wilderness; though a four-wheel-drive can tackle the "road," it deserves to be mountain-biked, or better yet hiked, to savor the view (from about 1,000 feet up) of the wind-tossed sea and rugged offshore rocks.
When you emerge from the backwoods you'll be in the easternmost point of civilization, Charlotteville, on Man O' War Bay. This is Tobago's main fishing town and a great place to charter a pirogue to fish for mahimahi and marlin or to scuba dive at those boulders, known as The Sisters, you spied way out to sea on the trip into town. The vigorous colliding of Caribbean and Atlantic currents attracts barracuda, dolphins, kingfish, and whale sharks to this end of Tobago. Man Friday Diving makes daily excursions to sites like London Bridge—a natural stone arch you can dive through—and the wave-washed seamounts around St. Giles Island. The outfitter also rents one- and two-person sea kayaks for exploring the deserted coast back toward Bloody Bay or on around the nearly uninhabited eastern point. A sandy path at the east end of town climbs among pink and yellow houses and then descends a hundred concrete steps to Pirate's Bay, the last idyllic beach on the edge of the Antilles. Next stop, the coast of Africa.
The Forest Reserve

For the huge profits it produced for a handful of souls, Tobago was the Silicon Valley of its day. "Rich as a Tobago planter," envious eighteenth-century English folk used to say. Rapacious sugar barons, felling trees for fields and fuel, meant to exploit every acre, chopping from the Crown Point lowlands to the top of the Main Ridge spine. And they would have felled every tree if not for a man named Soame Jenyns. The Lord Commissioner for Trade and Plantations, Jenyns was a student of the British scientist Stephen Hales, who hypothesized the relationship between trees and rainfall, and rainfall and deserts, and predicted that Tobago was on its way to becoming a mound of burning sand. It took Jenyns ten years of lobbying, but in 1776 the Crown Reserve was established, setting aside 10,000 acres as the perpetual heart and lungs of Tobago.
Today, expanded to 14,000 acres, the Reserve is home to 1,500 species of flowering plants, 210 kinds of birds, 23 types of butterflies, 17 different bats, and the manicou crab, among other invertebrates. Though Hurricane Flora wreaked catastrophic damage to wildlife and trees in 1963, the forest has renewed itself spectacularly and old growth stands of teak and mahogany still remain. The Parlatuvier-Roxborough Road, which crosses the Main Ridge, will take you straight to the trailheads. Look for a large stone slab and a forestry hut marking Gilpin Trail, a moderate hike that skirts several small waterfalls. The Atlantic Trail, which meanders down to the windward coast, is much longer—up to six hours—and more challenging. Hiring a guide is a good idea, since trained eyes will point out more rufous-tailed jacamars and blue-crowned mot-mots than you'd ever spot on your own. Plus, it's easy to get lost.
The Atlantic Side
Circumnavigating Tobago clockwise through Charlotteville, you pick up the Windward Road (that would be the only road) at the south end of town and take a short jaunt over the ridge down to Speyside on the Atlantic coast. The view across Tyrell's Bay of Little Tobago Island is no scenic slouch, but it's better experienced underwater with dive gear. Here the mighty Guyana Current sweeps by carrying a soup of nutrients all the way from the Orinoco River delta, which attracts the whole damn food chain, from schooling sprats and black jacks to sizable sharks and Speyside's specialty, the overly friendly manta ray.
If your timing is right, finish up your round-trip in Buccoo Town with Sunday School, the weekend's "bashment," a last bust-out party. A soaring steel-drum orchestra performance is followed by a down-and-dirty reggae street wine, where, among just about the entire island population, you'll meet some of the travelers you might've seen hiking, biking, or snorkeling in the opposite direction. After all that, it's about time you got down to a little bump-and-grind. Like the man said, it's all good.
Tobago or Not Tobago?: Negotiating 182 square miles of tropical Eden, no question about it

Tobago has a rainy season, from August to December, though rainfall is usually of the sudden, brief, and voluminous frog-choker variety, not an all-day soaking. But come September—Tobago's Indian summer—you'll find a welcome break in the rains and reasonable off-season airfares.
GETTING THERE: From the United States you'll fly through San Juan, Puerto Rico, or straight into Trinidad, where you'll catch a BWIA shuttle (800-538-2942) to Tobago. Round-trip fares from Miami to Tobago's Crown Point via San Juan on American Airlines (800-433-7300) range from $580 in the high season (December through March) to $460 in the off-season.
LODGING: There's a dizzying variety of options, but none is as potentially fun and informative as simply asking locals in the smaller towns about who has a room or two to let, and then bargaining. As far as hotels go, if you want luxury with a clean green conscience, try Footprints Eco Resort, in Culloden, midway from Crown Point to Castara Bay (doubles, $115; 868-660-0118). For simplicity, there's Man O' War Cottages on Man O' War Bay (one to four bedrooms, $65­$135; 868-660-4327). Typical of Tobago's informal approach to lodging, Belle Aire Cottage, farther down the bay, is a house with individual rooms to let (about $25; 868-660-5984). Manta Lodge, in Speyside, is diver central, with an on-site dive operation (doubles, $135; 868-660-5268).
GUIDES: Just about anybody without pressing engagements is a potential guide in kicked-back Tobago. But officially licensed guides are the best way to go. Naturalist Michael Frank, of Frankie Tours and Rentals (868-639-4527), located in the center of the island at Mason Hall, specializes in guided hikes to waterfalls. For diving and sea kayaking excursions, call Charlotteville's Man Friday Diving (868-660-4676). David Rooks, of Carnbee, is an ornithologist and nature guide of international repute (868-639-4276). Argyle Tours (868-660-4154) leads all-day tramps through the Reserve, Argyle Falls, and Buccoo Marsh (a good birding spot). Call Trinidad & Tobago Tourism (868-639-4333) for a complete list of licensed guides.
Jumbie Love: A guide to the island's mystical cryptozoology
More than mere superstition, tobago's folklore springs from a deep knowledge of nature and centuries of dangerous living where the wild things are. Down by the sea and up in the jungle, the mysterious is routine and the inexplicable is an honest facing of the fact that we don't know squat about where we came from or where we're headed. So it goes with the island's multifarious jumbies or evil spirits, who stand with one human foot in society and one cloven hoof in the jungle. The seductive Diablesse, for instance, is said to show up at parties in French colonial attire and lure some poor swain to take a fatal stroll with her out back; the douens, faceless ghosts of unbaptized children, have backward-facing feet, always poised to head for the bush with unwary youngsters in tow. And those who answer the call of the wild a little too willingly by, say, moving to the forest's edge, may be suspected of becoming Soucouyant—a vampire that flies by night in the form of a fireball. The lesson? Watch your step, and the footprints of your traveling companions, so you don't end up in some lost episode of In Search Of….