Tribe of Pain
Bike racing's most hellish climb isn't L'Alpe d'Huez or Mont Ventoux; it's New Hampshire's Mount Washington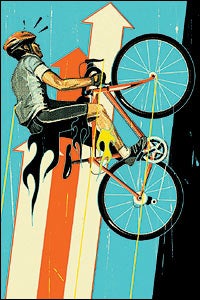 Heading out the door? Read this article on the new Outside+ app available now on iOS devices for members! Download the app.
FIVE A.M. on Mount Washington, near Gorham, New Hampshire. The sun has yet to rise, but hundreds of gear-stuffed cars with out-of-state license plates cram a makeshift parking lot at the foot of New England's highest peak. I am aware of a large mountain lurking out there somewhere, but it's the buzzing foreground that holds my attention: Clans of cyclists—fathers and sons, husbands and wives, club riders, elite pros—sit on stationary trainers, the robust hum of spinning wheels filling the air. For the 600 riders who are about to start "racing" at four miles per hour—the average pace of the Volkswagen Mt. Washington Auto Road Hillclimb—going nowhere in the dark is an appropriate prelude.
Mountain Biking Up Mount Washington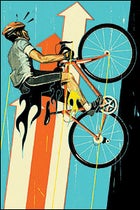 Illustration by Tavis Coburn

The Rockpile, as Mount Washington is unromantically nicknamed, towers 6,288 feet above sea level. We'll be climbing the uppermost 4,727 feet, over a mere 7.6 miles. (For perspective, one of the toughest races in the Rockies, the Mount Evans hill climb, near Denver, rises 7,000 feet over 28 miles.) With an average grade of 12 percent and sustained stretches of 18 percent (highway grades rarely exceed 7 percent), Mount Washington is steeper than L'Alpe d'Huez or any other climb in the Tour de France, Spain's Vuelta, or the Giro d'Italia. Mile for mile, it is arguably the toughest one-day bike race on the planet.

There are a whopping 72 turns on the Auto Road course, and the longest straightaway is only a few hundred yards—on dirt. Most hill climbs ease off at the top, allowing riders to drop into a more muscular gear and enjoy a burst of acceleration. Not on Washington. In the final 100 yards—a section alternately called the Corkscrew, the Ladder, and the Wall—the grade steepens to a horrifying 22 percent.

"The last pitch throws you over backward," cautions a post on the popular Racers Forum section of the race's official Web site, www.tinmtn.org. "Without very low gears it is a series of linked track stands and wheelies."

I have come to race for the first time with my friend and neighbor Neil Stanton, both of us being part of the amateur hill tribe who hurl themselves against this course for no greater glory than to see if it can be done. Heightening the mystique, the privately owned Auto Road is open to cyclists only twice a year: for a practice run in July and on race day, in mid-August.

These days, dozens of uphill bike races scattered across the U.S. cater to a burgeoning number of climbing fanatics, inspired in part by American superstars like Tyler Hamilton and Lance Armstrong, whose pain-seared faces and gutsy triumphs in the mountains have provided irresistible viewing. For cyclists who crave a heaping spoonful of this suffering, Mount Washington is Mecca.

Since its inauguration, in 1973, the Mount Washington event has drawn a core of top racers, but mostly this is a party for the people. They come by the hundreds from all over the U.S. They include Calvinistic northeasterners for whom painful penance never fails to seem enchanting. They are folks like Donna Smyers, 46, who did the annual footrace up Washington a month earlier. They are Alan Johnson and Michael Arciero, forty-something hardbodies who have coached cycling at the U.S. Military Academy, at West Point.

"This is fun for us," Arciero told me when I met him at the July 2003 practice day, attempting to explain why he drove ten hours, slept in a campsite, and arrived predawn with the intent of riding the course twice.

The tribe also draws a large number of zealous would-be exercise physiologists who offer an array of theories aimed at solving the only problem racers really care about: getting your (m)ass up this insanely steep incline. Floating around the Hillclimb Web site are Ph.D.-level insights on "overgearing" (training in big gears, bike racing's version of weight lifting); eight-month cardio workout regimens; and even deep-diving techniques to enhance lung capacity. Though the Hillclimb may be the most analyzed 6,288 feet in cycling history, one veteran Forum participant has the key: "Just fucking train."

By first light on race day, the sky is clear, and it's already pushing 80 degrees. By 6:30 I'm anxious about how my legs feel: For months I've lavished attention on them with fire-tower climbs, town-line sprints, and scenic day trips in the hills far from my home in Beverly, Massachusetts. Now I look, I knead, and then I try to put them away till later, like a freshly ironed shirt.

Soon enough, we assemble at the starting line. Promptly at 7:40, the start is signaled by a broadside from a Civil War–era cannon. By 7:42 the majority of the field understands Washington's harsh reputation: The pavement tilts up abruptly and the click-click-click of shifters shifting sounds like a plague of cicadas. We are, in the slowest possible sense of the word, under way.
AT THE FRONT are the pros, including the men's and women's course record setters, Tom Danielson, 25, and Canadian Genevieve Jeanson, 21. I'm in the claustrophobic middle of the throng, flanked by Neil on one side and Ross Kennedy—a.k.a. Spamman, a 43-year-old financial adviser from Boston and a hero to the Forum junkies—on the other.

Spamman's presence is considerable. For the last three years, on weekends before the race, he and people with cybernames like Spankyman, Canoli, Way2Big, and Midlifecrisis have rendezvoused at other difficult paved climbs in New England, from Mount Ascutney, in Vermont, to Pack Monadnock, in New Hampshire. Afterwards, club members flood their Web pages with ride reports, details on gearing experiments, and pictures of postworkout pub-crawling debacles.

This year, Spamman has gotten serious. He's 37 pounds lighter than his 2002 heft of 205 (thanks in part to marriage troubles) and sits atop a rig that looks as if it's been filched from another galaxy: a gorgeous 13-pound Dave Lloyd track bike painted a deep admiral blue, stripped to a single, perfect gear. Bowing to the every-pound-costs-you-30-seconds rule, the bike is also brakeless.

"What do I need brakes for?" he had announced to his rapt public as we rolled off the starting line. "We're only going up!"

As Spamman knows, the effort to gain a mechanical advantage ascending Washington has a rich, if mixed, history. In 1861, horse-drawn wagons clip-clopped to the top of the newly completed carriage road in a plodding three hours. At the turn of the century, auto manufacturers like Mercedes and Stanley brought their fastest cars to the mountain and wheezed to the top in two hours. By the time the Hillclimb was introduced, in '73, the public's fascination had shifted back to human power. The first winner was John Allis, a three-time U.S. Olympic cyclist who completed the ride in one hour and 15 minutes.

Held in October that year, the race saw below-freezing temperatures at the base and a howling nor'easter above tree line, at 4,000 feet. The next year, under better conditions, Allis shattered his mark by almost 14 minutes. In 1980, the record fell again when Olympic road cyclist Dale Stetina finished in 57 minutes and 41 seconds, a time that stood for the next 17 years.

Then along came a kid named Tyler.

"There's B.T and A.T.," says Richard Fries, 43, a field reporter for the Outdoor Life Network and editor of The Ride, a regional racing magazine based in Boston. "Before Tyler, Washington was a good local hill climb. After Tyler, it has become the unofficial world championship of hill climbing."

In 1997, Hamilton, fresh from a spectacular Tour de France debut with the U.S. Postal Service team, arrived at Mount Washington and stomped to the top in 51 minutes and 56 seconds, obliterating Stetina's 17-year-old mark by almost six minutes. Afterward, Hamilton said the climb more than equaled anything he'd ridden in the Tour, a declaration that attracted international racers like French superstar Jeannie Longo.

Hamilton's endorsement also lured the best from the West, aspiring pros and climbing specialists who knew that a good performance on Washington could help launch a career. "Last year my agent e-mailed some of the teams we were talking with and told them I was going to break Tyler's record," Tom Danielson, a pro cyclist from Durango, Colorado, told me. "I was like, 'Jeez, what are you thinking? I've never even seen the course.' I was pretty uptight for a while." The last two winners—Danielson, who did set the current record in 2002 with a time of 49:24, and Tim Johnson, who won the Hillclimb in 2000 and 2001—both now race for Division I European teams.


WELL BELOW the badasses, I'm grinding along with the tribe. I hit the Horn, the midway point, at 43 minutes, on track to finish under my goal of one hour and 30 minutes and perhaps under the magic 1:20 "top-notch" time, an honorific earned by only 77 men and three women in 2002. Long views stretch in every direction, especially to the northeast, over the Great Gulf Wilderness. On practice day, at this same spot, a veteran rider tricked me into believing I was near the top.

"You're not far now," she deadpanned, setting me up for a demoralizing final 3.8 miles. I'm wiser now but can't help feeling excited that I'm zipping along in such ideal conditions, pushing toward a stellar time in my first race.

By Five Mile Grade, a brutal section heightened by an unimpeded view of the entire ridge, the road starts taking its toll. Riders on the upper slopes have tossed everything they don't need—packs, clothes, food, spent water bottles. Around me, polite small talk has been replaced by muttered expletives and the occasional wry observation: "You know you're going slow," says the man next to me, "when the blackflies catch you."

Weather has always been Mount Washington's X factor. The highest sustained surface wind speed on earth, 231 miles per hour, was recorded on Washington's summit in 1934, and during 30 years of the Hillclimb, there have been some epic days. In 1986, icy roads cut the race distance in half. In 1990, the temperature dipped below freezing, with 30-mile-per-hour winds. (This is in August, remember.) Two years in a row, in '93 and '94, the whole thing was just plain canceled. The last three years were remarkably nice, but this year the veterans have been skeptical.

"People are getting a bit spoiled," Andy Orsini, the chiseled 43-year-old race director, warned at the pre-race meeting. "If you ask me, we're definitely overdue."

He's right. The punishment is unleashed on the last switchback of Five Mile Grade, where I plunge into the hostile world of fog and wind. It's impossible to see, difficult to stay on the bike, and suicidal to take a hand off the handlebar to grab a water bottle.

As Spamman knows, everyone is humbled by the mountain. One year he pedaled so furiously in the first half-mile that his crank fell off four times. Another time he had to enliven his excruciatingly slow progress by singing the Supremes' "Ain't No Mountain High Enough." Finally, there was the day in 2002 when he heard a croaky voice behind him: "Keep a straight line, sonny!" Spamman figured he was about to be passed by some speedy young whippet, but the voice belonged to a gray-haired woman.

"I couldn't hold her wheel," he laments. "Granny dropped me."

Pedaling into the gale, Spamman is determined to stay on his bike, worried about his $4,000 investment getting kited into the beyond. Neil alternately walks and rides, giving in to the elements. Fantasizing that I am locked in an Everestian battle for survival, I dig out a packet of Gu, tear it open with my teeth, gulp down the contents, and feel a surge of energy hit my legs.

Much of the field is going nowhere. Dozens of spent riders are walking, standing, and, in some cases, lying on the road. A 120-pound woman named Debbie will later report that she was blown over four times in the space of a mile. My goals are now elemental: Don't get knocked off the bike. Don't stop.
LANCE ARMSTRONG has said that in the final stages of a climb, he is half delirious, driven onward by fear and predatory instinct. "The beauty of a difficult hill climb," says veteran U.S. cyclist Drew Miller, "is that tactically there is not a lot going on. Everything is in your control. You throw down what you have, and the strongest guy is going to be there at the end."

For almost two miles, with the mountain's upper 1,500 feet shrouded in mist, the steadily isolating effect of a difficult climb becomes complete. Riders are invisible to one another, the road a blur, the end nonexistent. Then, somewhere ahead, you hear a light ding-ding-ding coming through the atmospheric quagmire, then a shriek, then you see a few shadowy figures jumping and waving. A gap of silence follows—a bend in the road—and finally there's a large crowd in front of you, screaming, with ghostly, parka-clad figures pointing at where you should go, where you shouldn't go, but mostly yelling, "PUUUUSH!"

Later, at the finish, there is excited chatter about all the riders who were flung off their bikes when crosswinds caught them on the Wall. One of them is the women's winner, Genevieve Jeanson, who finished third overall with a time of 59:58, six minutes off her course-record time. "I tried to get back on my bike, but the road was too steep," Jeanson tells the press corps. "I had to walk."

Danielson, on the other hand, has swept upward with grace and grit, completing the course in 51 minutes and five seconds—a minute and a half shy of his own record from the year before. Philip Wong finishes second in 55:23, a performance that earns him rider-to-watch honors and an invitation to race with Fiordifrutta, the nation's premier amateur cycling team. "I just got interviewed by OLN," he gushes. "Cool."

Farther down the list comes Spamman, who improves his personal best by five minutes and sets his sights on an elite 1:20 next year. Alan Johnson, one of the West Point guys, beats his previous time by ten minutes. Johnson is so energized at the finish that he charges up the last climb and accelerates the last few yards—when he suddenly remembers he's riding a bike without brakes.

"I was screaming, 'No brakes!' thinking I was going to run somebody down," he says. "But I was only crawling, and some folks reeled me in. My mind was wasted; maybe I thought I was roaring along at this huge speed."
AS FOR ME, out of the mistaken belief that the top-notch cutoff time is 1:30 and not 1:20, I push myself the last 2.5 miles with dreams of grandeur. I finish in 1:30:56 for a non-dreamy 201st place. Still, the fact that every finisher is received like a survivor from some misbegotten Arctic expedition is nice. Neil, disoriented, misses the summit turn and is headed into the roadside crowd when his 12-year-old daughter catches up with him, steers him back on course, and runs with him across the finish line.

There are dozens of crash tales, rumors of dogs and squirrels wind-driven into the air like old leaves, and the specter of not one but two finishers vomiting on the race announcers. Many riders acknowledge being ripped off their bikes in the last mile. Well past the three-hour all-clear time, there are still folks on the course weaving precariously between descending cars.

A few months ago, when I told a friend who once ran to the top of Mount Washington that I planned to enter the cycling race, he offered some advice. You will look for the top of the hill, he said. It is natural. It is human. But it will kill you. Don't look up, he warned, because the top won't come.

At 9:12 a.m., I'm wearing a warm fleece blanket and an Olympic-style medal around my neck. I look up at the last 100 yards of the mountain, but still can't see the top through the fog. It doesn't matter. For me, the other commoners, and several pros, there is a new and wonderfully preoccupying thought: Next year.