Upscale Camping for Any Budget
Sleeping in the wilderness is great. Not so great: making camp and dealing with the inevitable missing stake. So we've got recommendations for tent-free wilderness digs on any budget.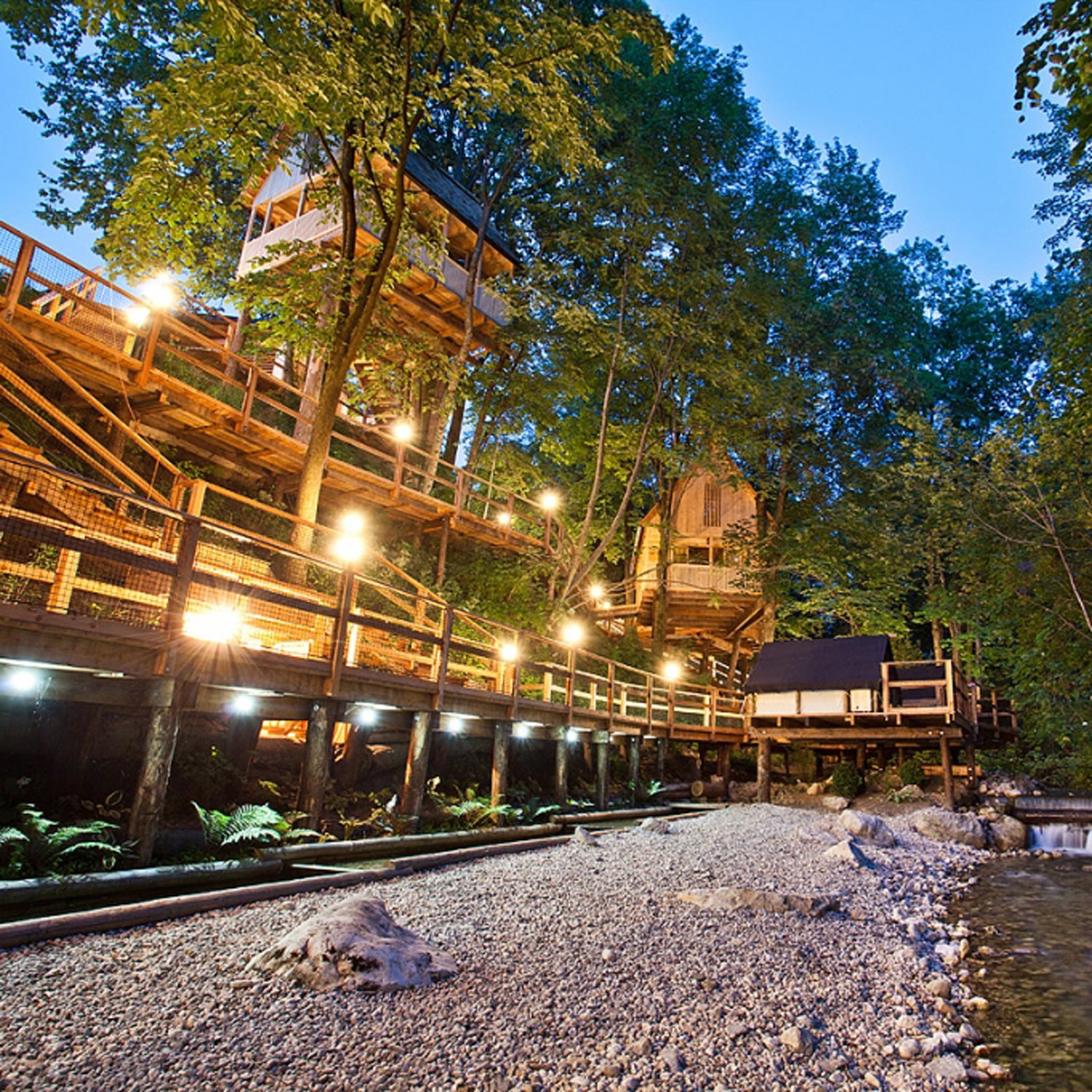 Heading out the door? Read this article on the new Outside+ app available now on iOS devices for members! Download the app.
So you're not in the mood to fuss with a tent, but you still want an awesome outdoor escape. Try one of these quirky lodges: From treehouses to yurts, there's no hassle with setup, and they put you smack-dab in the middle of nature, with easy access to climbing, cycling, fishing, hiking, rafting, and surfing.
In a Yurt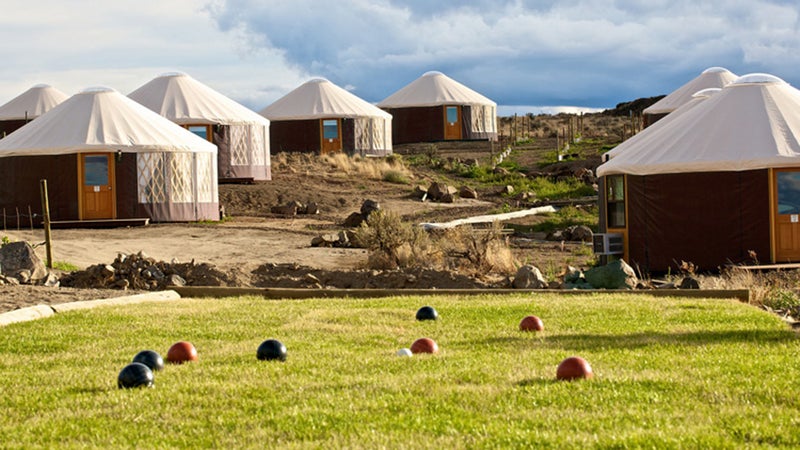 SPLURGE 
Cave B Inn and Spa, Quincy, Washington
Price: From $229 per night.
Digs: The Cave B Inn and Spa, in Washington's Columbia River wine country, features 25 Douglas fir–framed yurts set among vineyards. You won't miss roughing it too much when you're gazing up at the stars through the skydome above your bed.
Out and About: Just outside of your yurt, you'll find a 3.5-mile trail loop that passes a waterfall. More challenging hikes, such as the Ancient Lakes Trail in Quincy Wildlife Recreation Area, are a short drive away. Cave B partners with Worley-Bugger Fly Co. to arrange fly-fishing excursions on the nearby Yakima River. Climbers will want to tackle the short basalt columns called the Feathers on the hiking trails in Frenchman Coulee. And, of course, there's only one way to end the day in wine country: a tour and tasting at Cave B Estate ($20).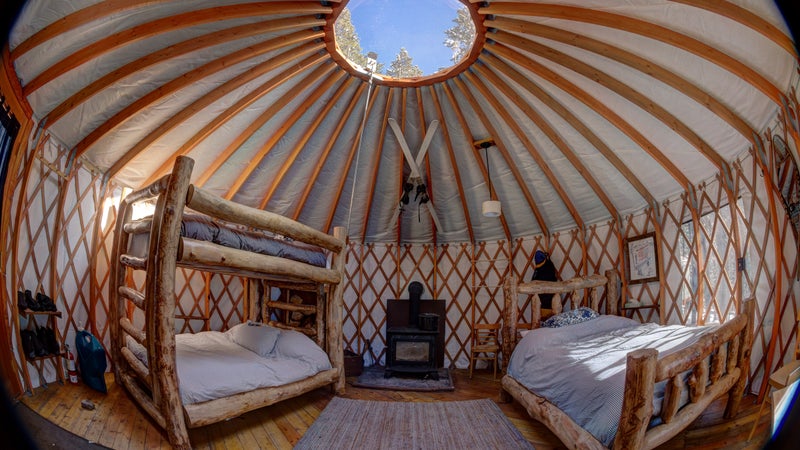 SAVE
Tennessee Pass Sleep Yurts, Tennessee Pass, Colorado
Price: From $225 per night for up to six guests (that's $37.50 a night per person).
Digs: Overlooking the towering peaks of the Sawatch Range, these yurts are a 1.3-mile hike from the Tennessee Pass Nordic Center. Each yurt has handcrafted log beds with down comforters, plus thoughtful amenities like playing cards and checkers. Precut firewood is supplied to stoke the soapstone woodstove. Kitchenettes come stocked with pots, pans, sugar, coffee, and hot chocolate mix.
Out and About: Foodies will want to call in advance for a dinner reservation at the Cookhouse, which serves four-course meals of Rocky Mountain cuisine, like grilled elk tenderloin with smashed potatoes, Colorado rack of lamb with herb gremolata, and homemade fruit pie, for $85 a person. Don't worry—you'll burn off the indulgence on the trails the next day.
---
In a Tipi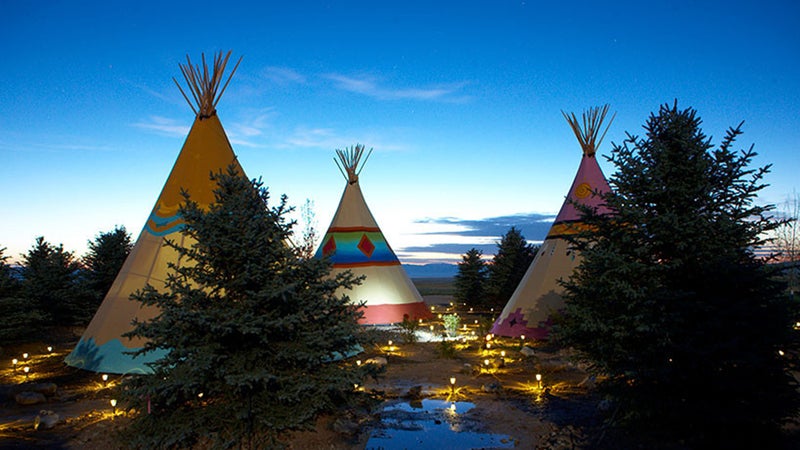 SPLURGE
Mustang Monument Eco-Resort and Preserve, Wells, Nevada
Price: From $1,200 a night, minimum four-night stay, includes meals and most activities.
Digs: The ten bright, hand-painted tipis at Mustang Monument were designed for the cowboy and cowgirl with five-star taste. Inside the 300-square-foot tipis, you'll find hardwood floors and a Pendleton-meets-West Elm aesthetic of leather chairs, custom-made beds, and western Americana. The real draw are the 650 rescued mustangs that roam this sanctuary in the Nevada Desert.
Out and About: Experienced riders can saddle up with resident cowboys Clay and Marcus and gallop alongside America's wild horses. For a slower pace, hop on a 4×4 and embark on a wild mustang safari that passes through old gold-mining settlements.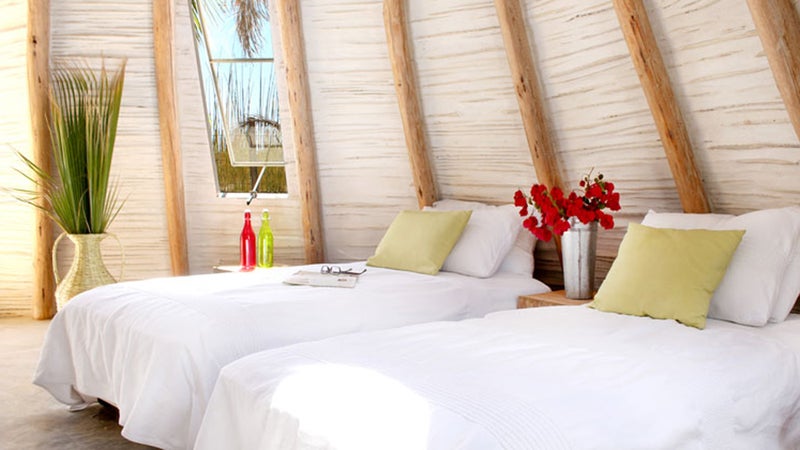 SAVE
Pachamama, Todos Santos, Mexico
Price: From $130 a night.
Digs: Pachamama appears like a mirage on the beach, just five minutes beyond Todos Santos, Mexico. The hotel's seven adobe tipis were designed with windows so you can take in views of the Pacific and the Sierra de la Laguna. The tipi village has its own sun-drenched hammock lounge.
Out and About: Pachamama offers frequent yoga retreats, and all guests have access to the outdoor yoga deck, meditation room, and temazcal (sweat lodge). Staff can direct you to local surf breaks, and mountain bike rentals are available in town at Tres Santos Baja. 
---
In a Treehouse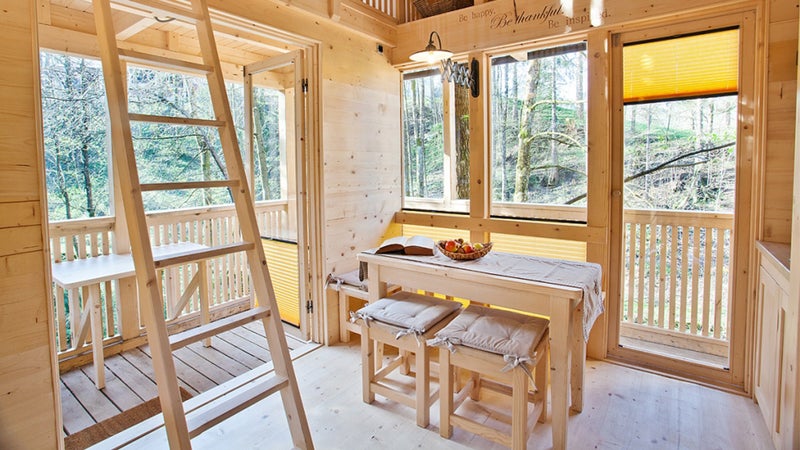 SPLURGE
Garden Village Bled, Bled, Slovenia
Price: From $320 per night.
Digs: Slovenia is one of Europe's least-explored gems—think food, fishing, and parts of the Alps nobody you know has ever seen. Base at this garden-to-table foodie fantasyland that opened last summer. It features six treehouses connected by a system of suspension bridges. Each treetop home sleeps four and includes modern amenities such as minibars, TV, and Wi-Fi, and most have hammocks. The enormous on-site garden is the source of most of the ingredients used at the restaurant.
Out and About: It's an easy bike ride to Lake Bled, where you can SUP to a church that sits on an island in the middle of the water. Or rent a fishing rod and cast for pike, carp, and trout. Staff can help arrange half-day trips to nearby Vintgar Gorge  for stunning pools and waterfalls or full-day hiking excursions to Triglav National Park in the Slovenian Alps.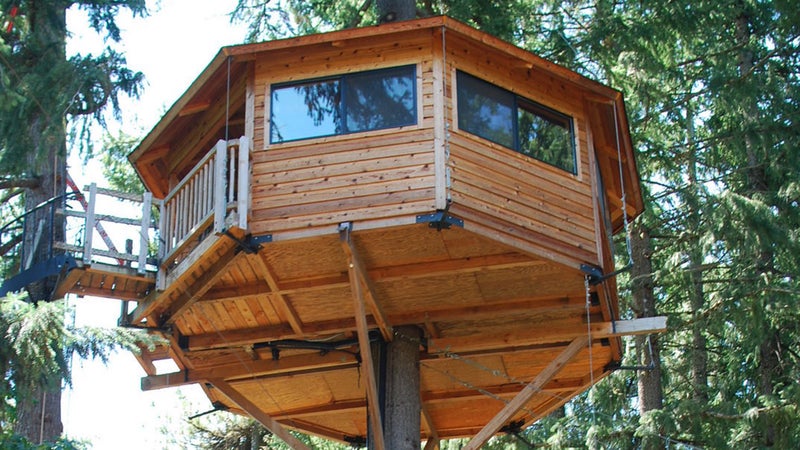 SAVE
Out 'n' About Treesort, Cave Junction, Oregon 
Price: From $130 per night, including breakfast.
Digs: Channel your inner Tarzan in the trees at Out 'n' About Treesort. Swinging bridges and a network of zip lines connect a village of treehouses that can accommodate between two to five people. Made-to-order eggs, waffles, quiche, and still-warm muffins are part of the complimentary breakfast each morning.
Out and About: Day excursions range from whitewater rafting the Rouge and Klamath Rivers with Liquid Expeditions Rafting to horseback rides to nearby Mount Elijah above Oregon Caves National Monument.
---
In a Cabin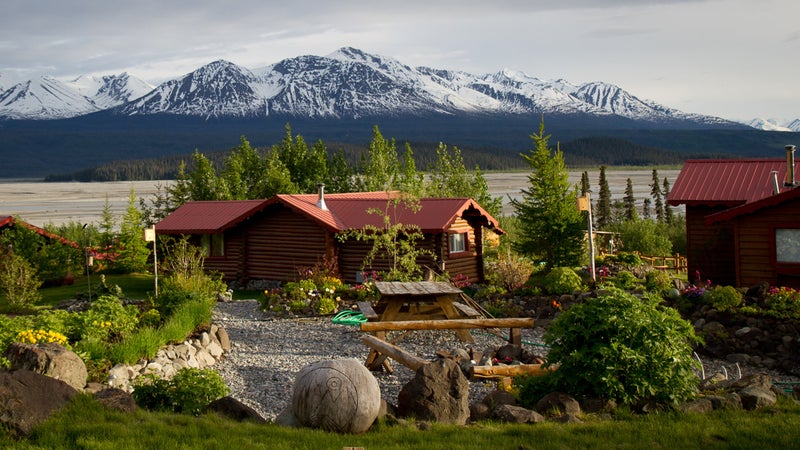 SPLURGE
Ultima Thule Lodge, Chitina, Alaska
Price: From $1,700 per night, minimum three-night stay, includes meals and activities. 
Digs: Accessible only by plane, this Alaskan wilderness retreat deep in Wrangell–St. Elias National Park and Preserve boasts that it's 100 miles away from the nearest paved road. The five two-bedroom cabins are exceptionally comfy, with king-size feather beds, wrought-iron stoves, Craftsman furniture, and unbeatable views of the Chitina River and surrounding peaks.
Out and About: There's no itinerary here. Guests choose from a laundry list of adventures, such as air safaris, glacier hikes, trout fishing, and bear viewing, and then return to a dinner of wild game and veggies straight from the organic on-site garden.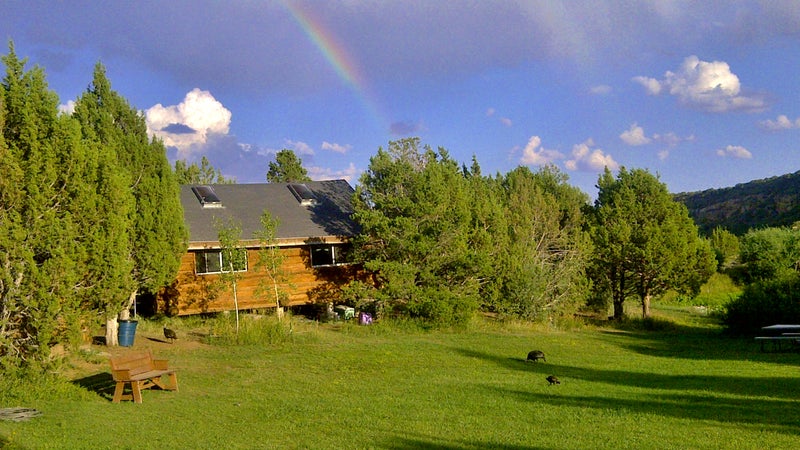 SAVE
Abajo Haven Guest Cabins, Blanding, Utah
Price: From $79 per night. 
Digs: Four one-bedroom cabins run on solar power and come with one king and two twin-size beds, basic cooking utensils, and complimentary coffee. Each cabin has its own outdoor cooking area. Abajo can also provide preordered barbecue dinners that include ribs, chicken, and sides for $38 for two people.
Out and About: The location puts you at the doorstep of Arches National Park, Canyonlands, and Monument Valley, which means days are spent exploring Native American archaeology sites, climbing slot canyons, mountain biking, road biking, and getting lost on miles of hiking trails.
Lead Photo: Garden Village Bled