5 Adventurous TV Show Locations You Can Visit
The beautiful scenery in popular TV series like 'Yellowstone' and 'The White Lotus' has sparked a tourism trend. Here are our five favorite locations to travel to and fun adventures nearby.
Gary Yeowell/Getty
Heading out the door? Read this article on the new Outside+ app available now on iOS devices for members! Download the app.
Consider the opening scene of Yellowstone's pilot episode, which depicts a bloody car crash, but in the background of all that chaos is an expansive ranch glowing with the soft yellow leaves of autumn in Montana. I wanted the camera to pan wide and expose more of that beauty.
With most TV shows today, location plays a large part in the storyline. Sure, The White Lotus is complex and groundbreaking, and the Game of Thrones' prequel, House of the Dragon, is epic, but their locations are equally enticing, from the glistening waters of the Mediterranean in season two of White Lotus to the moody beaches near King's Landing, shot in Croatia, in Game of Thrones.
Yellowstone spends the next several seasons delivering on that initial tantalizing sample, offering sweeping views of cattle grazing in broad pastures, characters fishing in idyllic streams, and massive log ranches framed by snowcapped peaks.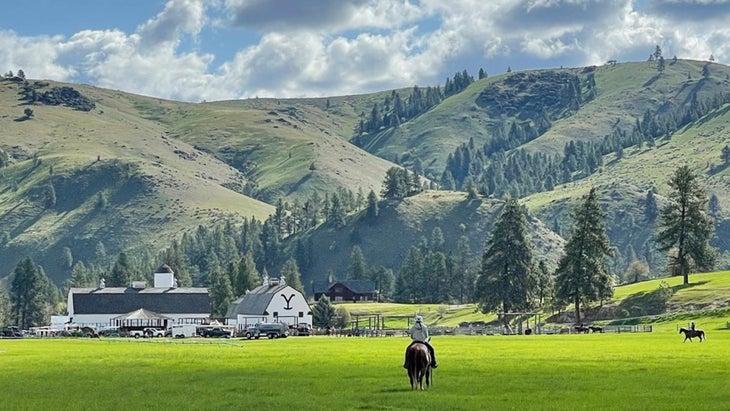 Such scenery has sparked a tourism trend, as superfans seek out the beautiful and adventurous locales on their screens. A February report on global-travel trends produced by American Express noted that 64 percent of the 3,000 people interviewed in an online survey were inspired to travel to a destination after seeing it on TV or in a movie.
This movement isn't entirely new. Remember the brilliant series Breaking Bad, which ran from 2008 to 2013? It launched national awareness of Albuquerque, New Mexico, gave rise to tours and merchandise, and was embraced by the city's visitors bureau, which still offers information. Croatia, the primary filming location for the fictional city of Westeros in Game of Thrones, reported a $200 million bump in tourism during the show's five-year run, according to the country's tourism bureau. And both of the hotels featured in the first two seasons of The White Lotus enjoyed a boost in bookings after each aired—in fact, web interest in the Four Seasons Resort Maui jumped 425 percent after the first season, according to the property.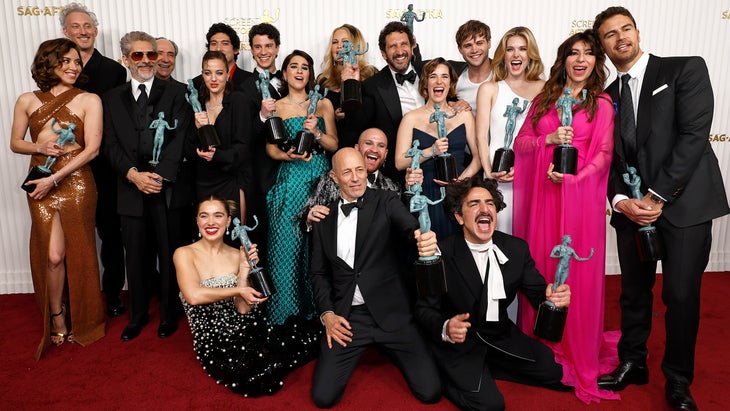 About ten years ago, busloads of hikers on Hunger Games tours descended on the trailheads of DuPont State Forest and Pisgah National Forest, in my home state of North Carolina, where waterfalls and caves were shot to serve as the setting for the resourceful archer Katniss. At the peak of the movie's popularity, Joe Moerschbaecher, owner of Pura Vida Adventures, led tours to sites in the film and even offered a survival-skills package, teaching participants tasks like shelter-building and fire-starting before having them compete against each other in the wilderness.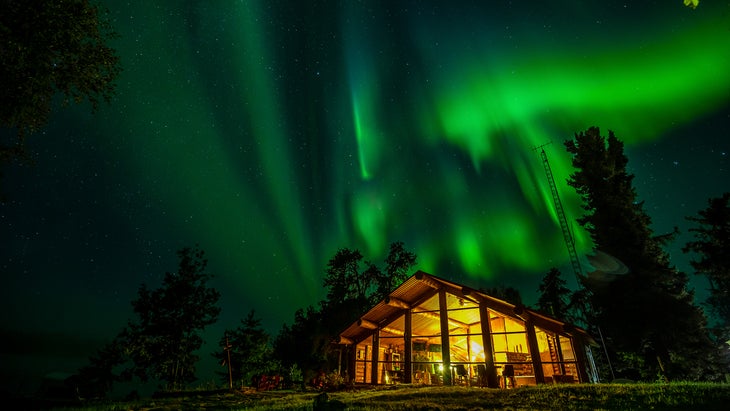 "These shows and movies give people a chance to escape, and being able to visit the place on the screen gives fans a chance to connect with those characters or that story even more," Moerschbaecher says. "It's a model we've seen for a long time. That's what Disney World is based on, right? Everyone can go and live the dream."
Want to plan a visit to the dream? We've mapped out how to see the most dramatic locations for five irresistible TV shows.
Yellowstone: Montana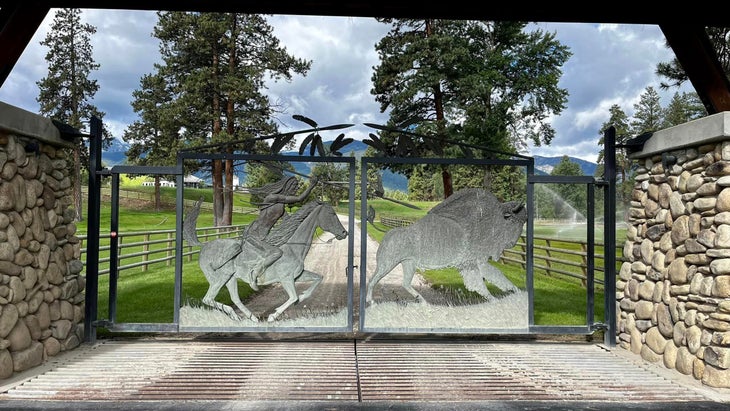 This hourlong soap opera on Paramount+ follows the Duttons, led by the patriarch, John (played by Kevin Costner), as they try to hang onto their family ranch. Violence and drama ensue, but there's nothing more dramatic than the location, which Costner has called a "postcard for Montana." The show, now in its fifth season, has been filmed in multiple locations in Montana and Utah, but the Bitterroot Valley, south of Missoula and flanked by the Bitterroot and Sapphire Ranges, is the true star.
See It for Yourself: The Dutton's Yellowstone Ranch is an actual working cattle ranch in the valley called Chief Joseph Ranch. Since Yellowstone premiered in 2018, the ranch's owners have allowed fans to rent cabins featured in the show and given tours of the property. Sadly, the family is taking a break from visitors in 2023, so you'll have to get your dude-ranch experience nearby. We suggest the Triple Creek Ranch, also in the Bitterroot Valley, with views of Trapper Peak and access to the Bitterroot River (from $1,800 a night, all-inclusive). You can ride horses or take part in a cattle drive. Or sign up for a guided float and casting adventure down the Bitterroot with the outfitter Fly Fishing Always (from $480).
The White Lotus: Sicily, Italy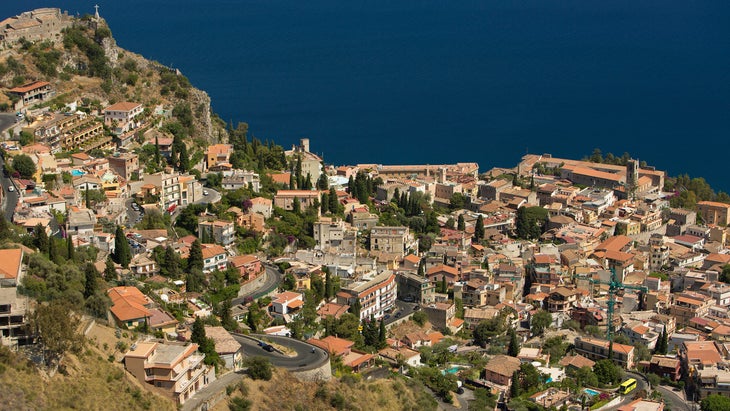 This HBO series follows wealthy guests as they travel to luxury White Lotus–branded resorts and wrestle with issues of class, privilege, and desire. Each season has been set at a Four Seasons property—the first in Maui, the second in Taormina, Sicily. Rumor has it that the next season will be set in Thailand, but where exactly hasn't been revealed yet.
See It for Yourself: Why not bounce around the island of Sicily as the characters in season two did, by foot, boat, and Vespa. Book a room at the Four Seasons San Domenico Palace in the coastal community of Taormina (from $2,620). The stunning property, formerly a convent, is perched on the edge of a cliff, boasting views of the Ionian Sea and Mount Etna, Europe's most active volcano. A few companies offer comprehensive White Lotus tours, including the LGBTQ+-centric Quiiky, with a nine-day exploration that takes in featured locations like the towns of Noto and Palermo ($7,550, including two nights at the Four Seasons). Or be your own guide. Rent a Vespa and cruise the serpentine streets of Taormina, just like the distressed Tanya in her better moments. Definitely make a detour to Isola Bella, which features prominently throughout the second season.
House of the Dragon: England, Portugal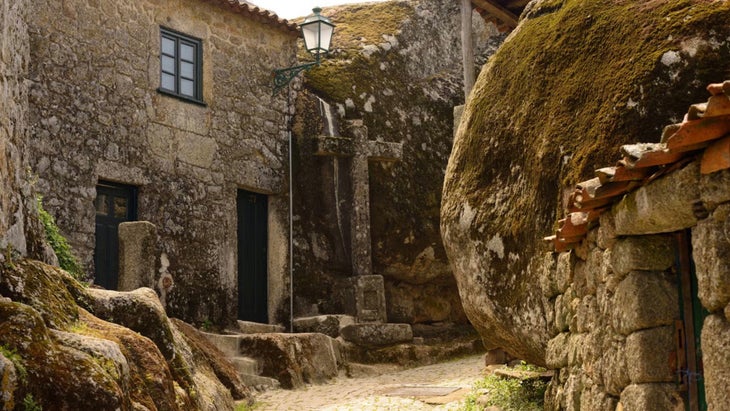 HBO's House of the Dragon is the prequel series to Game of Thrones, taking place more than a century earlier but covering similar territory: medieval characters fighting over power and, ultimately, the throne. The original GOT was filmed in Ireland, Croatia, and Iceland, and House of the Dragon follows the same pattern, bouncing around walled stone towns and wild lands in Spain, Portugal, and England.
See It for Yourself: There's not much opportunity to mimic the lifestyle you see on House of the Dragon because, you know, swords and dragons aren't really part of our day-to-day, but there are a number of set locations that you can—and should—visit. Try an inexpensive day tour of Monsanto, Portugal, a city whose houses are built around massive boulders; this setting is home to the fictional House Targaryen's ancestral home.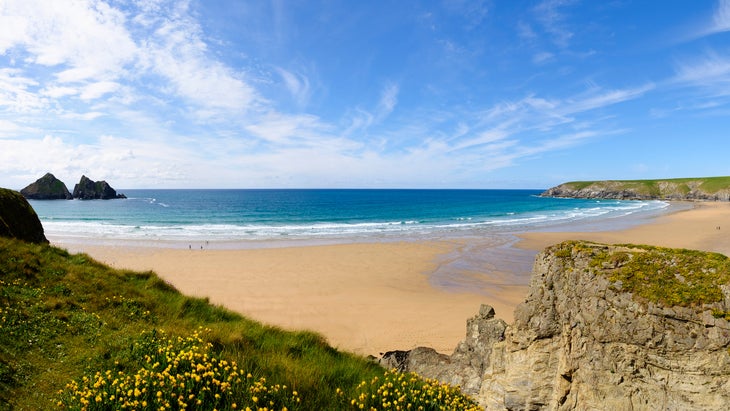 In Cornwall, England, the dramatic coast factors into a number of scenes throughout the first season. Check out Holywell Bay Beach, a sandy strip of coast marked by crags and caves that serves as the backdrop for a crucial scene involving Rhaenyra Targaryen and Prince Daemon. The surfing here is pretty good, too. For more adventure, head into Derbyshire to Peak District National Park, and hike the area you might recognize as the Vale of Arryn, a rugged expanse of peaks ruled by the show's House Arryn.
Alone: Saskatchewan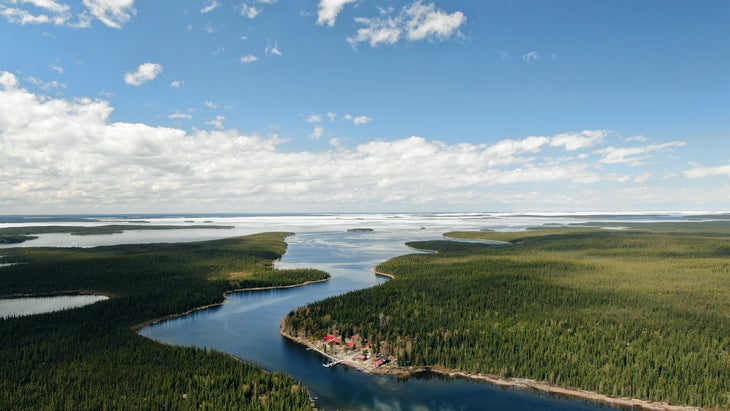 While the other shows on this list offer up fictional characters and storylines, the drama on History Channel's Alone is very real. This reality show pits ten contestants against each other in a game of survival in extreme locales; whoever can stay alive by themselves the longest wins $500,000. Over the past nine seasons, the contestants have been dropped off everywhere from Vancouver Island, British Columbia, to northern Mongolia and Patagonia. Season ten premiered on June 8 and has contestants attempting to survive on the shores of Reindeer Lake in Saskatchewan.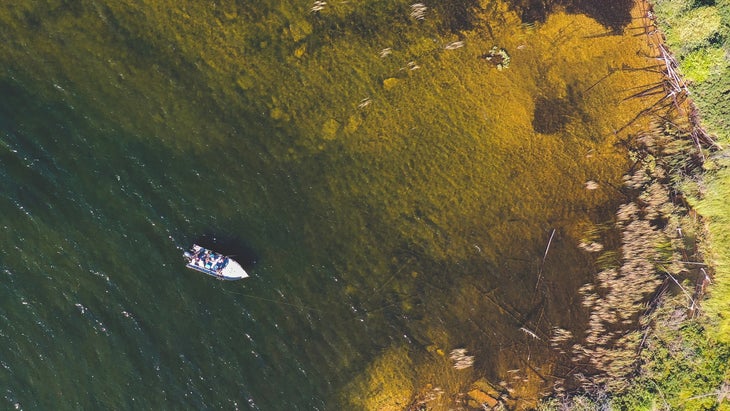 See It for Yourself: The 2,568-acre Reindeer Lake straddles the border of Saskatchewan and Manitoba and is surrounded by a lush boreal forest. It's known for its world-class pike fishing and robust black bear population (with more than 40,000 of them in the area). The exact Alone filming locations haven't been disclosed, but viewers saw the contestants get dropped off by seaplane at a lakeside lodge and camp out in canvas tents for a week before starting the competition.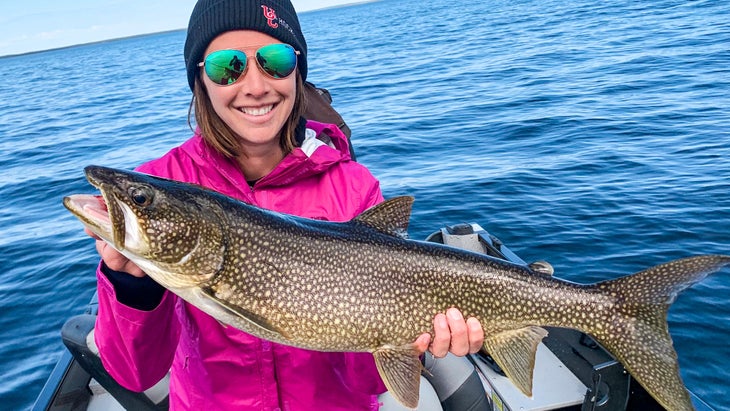 Book a cabin at the Arctic Lodge, and you'll be navigating the same terrain as your favorite contestant but without the suffering (four-day packages start at $5,395, all-inclusive). Cabins at the lodge are hand-built, with woodstoves and hot showers. Instead of trying to trap wild game for dinner, you'll be fed generously by a chef. Spend your days fishing Reindeer Lake with a guide (cost included in your stay), who will put you on pike, walleye, or lake trout, and prepare a fresh shore lunch with your catch.
Succession: Norway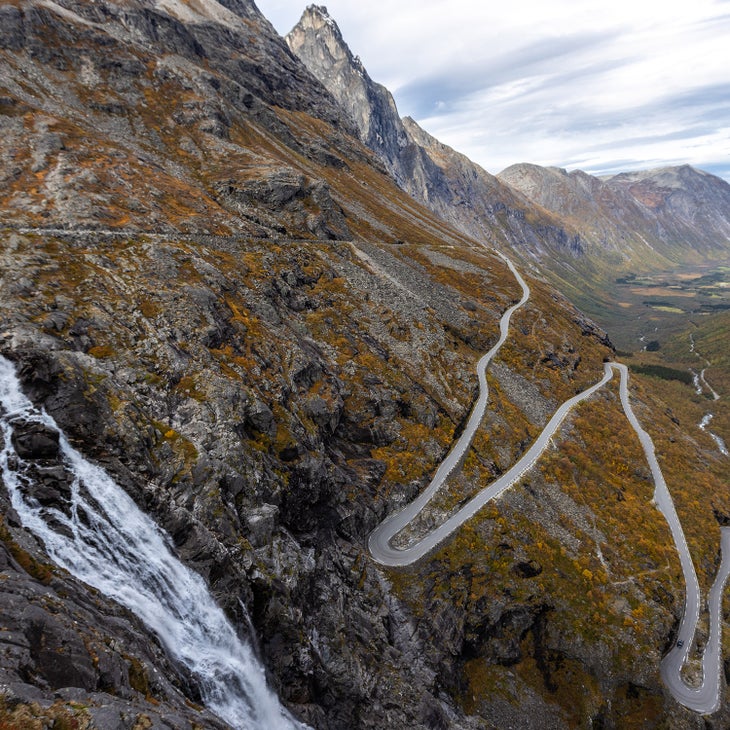 OK, Succession has officially ended, but our enthusiasm for the show endures. We were emotionally invested in watching members of the Roy family vie for power within the Waystar RoyCo empire. Most of the show was filmed in New York City, but because we're talking about mega millionaires, the show featured plenty of jet-setting to remote British castles, Iceland, Croatia, and Italy. Oh to be a media mogul.
See It for Yourself: As wonderful as it would be to follow the family's travels and hit every hot spot, we don't all have an inheritance to burn. So focus on Norway, where the Roys experience some of the country's most iconic and luxurious highlights. Reserve a room in coastal Valldal at the Juvet Landscape Hotel, whose all-glass exterior walls expose a wilderness of mossy boulders, hardwoods, and rushing rivers (from $436 a night, including breakfast and dinner).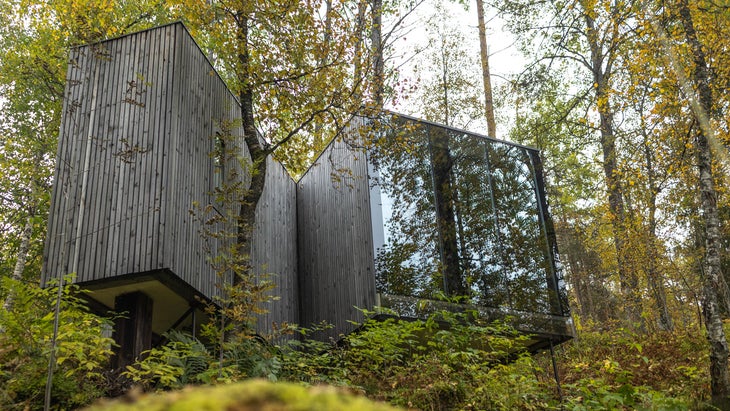 The Juvet will also put you close to Trollstigen ("the troll ladder"), a crazy-beautiful mountain road that climbs almost 3,000 feet via 11 hairpin switchbacks, passing waterfalls and rocky outcroppings. While the Roys traverse this road in a car, it would be more fun on two wheels; this is a classic road-bike climb (or you might ride it on an e-bike now) but one that comes with risk, as you're sharing the road with motorists enjoying the scenery.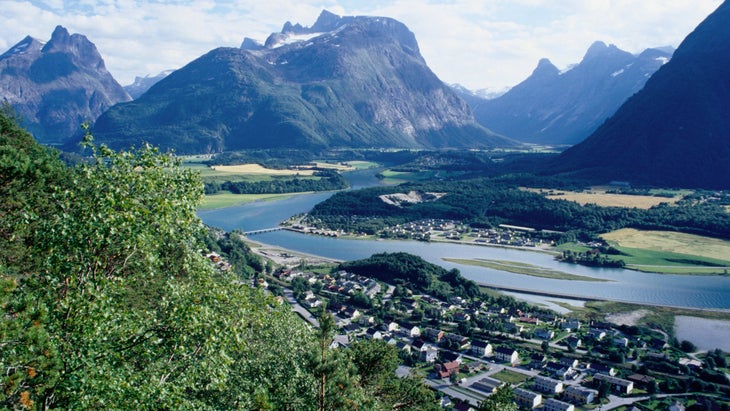 Another must-see site from Succession is the 22-mile Atlantic Road, dubbed the world's most beautiful drive, as it connects Averoy Island with mainland Norway via a series of bridges and islets. Grab a drink at Eggen, a restaurant atop Nesaksla, the mountain where negotiations for the media empire take place. You can either take the Romsdalen gondola to the summit (like the Roys) or hike two hours to the top.
And then come back down to earth.
Graham Averill is Outside magazine's National Parks columnist. He watches way more TV than he probably should, so it's nice to justify it for work. Traveling to the locations of his favorite shows sounds nice, but if it's at all possible, he'd rather just hang out in the van from The A-Team.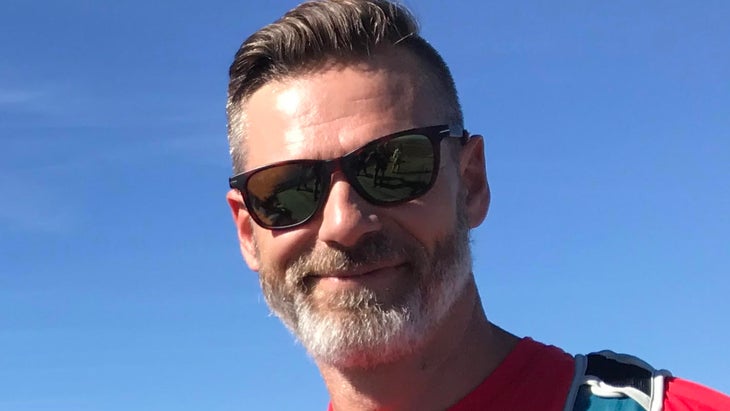 Lead Photo: Gary Yeowell/Getty