Wrecked
When ultracyclist Bob Breedlove fatally collided with a pickup truck during the 2005 Race Across America, law-enforcement officials in Trinidad, Colorado, called it a tragic accident—and nothing more. But friends and family have been investigating his death ever since, and they're making some disturbing allegations. Can they prove their case, or are th
Heading out the door? Read this article on the new Outside+ app available now on iOS devices for members! Download the app.
Caller: Somebody just got hit…[sobbing] Oh, fuck… we were driving down the road, and this biker, on a pedal bike I think—he passed out or something, and he came into our lane when we were right there. I hit the brakes, and I went off the road a little bit. But I still hit him.
Gretchen Breedlove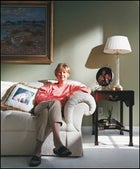 Gretchen Breedlove at home in Des Moines, Iowa, August 2006
Dispatcher: OK, does he need an ambulance?
Caller: Yes. Very bad.
—911 call from Joseph Rael, June 23, 2005
Athlete and healer, man of science and sweat, Bob Breedlove knew what his body needed and when. On the fifth day of the 2005 Race Across America, ultracycling's ultimate grind, he wanted three things: water, a PowerBar, and to get the hell out of the mountains, which were killing his time.
He told his crew as much when he caught up with them along the Highway of Legends—the tourist name for Colorado State Highway 12, a dipping, twisting, two-lane scenic byway that follows the Purgatoire River east to Trinidad, a proud but faded coal town 14 miles from the New Mexico state line. Since starting out from San Diego, Breedlove had endured brain-frying desert heat, stupefying headwinds, and endless elevation gain. Now it was time to get back in the race.
A short, stocky ex-wrestler with the thighs of an irradiated superhero, Breedlove figured the worst was over. The Rockies, and three Colorado passes that rise more than 9,000 feet, were behind him. The night before, he'd climbed La Veta Pass in the headlights of his support vehicle, almost making it to the top before collapsing into four hours of sleep.
That was a profligate snooze for a RAAM rider; among the veterans, anything longer than 90 minutes is considered sleeping in. But Breedlove understood what it takes to pedal some 3,000 miles across the United States in eight or nine days: He'd done it five times before. In an endurance contest as punishing as RAAM, the race often goes not to the young and studly but the weathered and crafty. At 53, Breedlove was the oldest competitor in the solo division, running 12th in a starting field of 25, but he didn't see any reason he couldn't finish in the top five. If history was a guide, half the riders would be felled by saddle sores, strained muscles, and exhaustion long before the finish line in Atlantic City.
Breedlove sailed down from La Veta in the early-morning light, huffed up Cucharas Pass, and then aimed his bike toward Stonewall, a rustic settlement tucked among cottonwoods below the Sangre de Cristo Mountains. Thirty miles ahead was the time station at Trinidad, and beyond that lay the eastern Colorado grasslands and Kansas. Breedlove was a flatland rider at heart; his home turf stretched between Kewanee, Illinois, where he was born, and Des Moines, Iowa, where he and his wife, Gretchen, had raised four children while he built a thriving practice in orthopedic surgery.
Shortly after 10 a.m., Breedlove took a break. His three-man chase crew was waiting for him at a turnoff from Highway 12. At night, in accordance with RAAM rules, the crew's red Volkswagen van stayed right behind him, but during the day Breedlove and his crew often leapfrogged each other when the road lacked shoulders or a pullout, the van driver letting him get a few miles ahead before catching up and passing him. Flanked by ditches on both sides and no more than 25 feet across, Highway 12 was just such a road.
"We'd see the rookie riders, and their teams would be following them all the time, regardless of what road they were on," says 65-year-old Reuben Aukee, who crewed for Breedlove during six transcontinental rides. "Bob wouldn't let us do that. He believed it was easier for cars to avoid him than to avoid a slow-moving van."
Bob Breedlove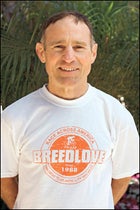 Bob in San Diego, before the start of RAAM 2005
By the time Breedlove passed through Stonewall, he'd been iding for close to five hours. He got off his pumpkin-orange Trek Pilot for three minutes, washed down a PowerBar, and saddled up for Trinidad. The crew gave him a 15-minute head start. They were about to leave when a battered white Chevy pickup came barreling in from the east, the driver honking and screeching to a halt. An agitated, heavyset young man in a football jersey jumped out of the passenger side and started yelling.
"We just hit one of your bikers," he said. "He's dead! He veered right in front of us. Right in front of us!"
The driver, a thin teenager, sat motionless behind the wheel, saying nothing. The truck's windshield and headlight were smashed on his side. Crew member Jerel Merical, 55, asked if the pair had called an ambulance. They hadn't. Cell coverage in the area was terrible, as Merical discovered when he tried to use his own phone. Merical told the young men to go get help. The passenger got back in the truck and the driver peeled off to the west. The crew raced east.
The accident site was less than two miles ahead, a stretch of gently upsloping straightaway just before an S-curve. There was a white church in the distance, and the scene had a lonely, postcard-from-the-heartland quality—or would have, if not for the body in the road. Breedlove was lying facedown in the eastbound lane, his head a few feet from the centerline. He'd bled profusely from his nose and mouth. His cracked helmet and one shoe were scattered on the other side of the highway. His left leg was broken and badly swollen, but most of the damage to his body—skull fractures and cuts, broken ribs, and a shattered jaw—couldn't be seen in his present position. Merical, a medical technician who worked in the same hospital as Breedlove, checked his vitals.
There was no pulse, no sign of respiration. Bob was gone.
---
Some of Breedlove's support team had gone ahead to a Trinidad hotel to prepare for a crew change. Bob's twin brother, Bill, who'd crewed for him on all his races, was grabbing a quick shower when the call came in. Crew chief Bill Magie answered the phone, and then pulled Bill Breedlove out of the stall to tell him there'd been an accident. He didn't repeat the part about Bob not having a pulse. The two sped to the scene, arriving shortly after the ambulance and two Colorado State Patrol cars. Covered by a blanket, Bob's body was still in the road, traffic creeping around him in the other lane.
Magie stopped close to the body. Shirtless, Bill Breedlove pushed past Sergeant Anthony Mattie, the CSP officer in charge of the investigation, and rushed to his brother, yelling, "Oh, God. What the fuck happened? Who hit him? Oh, no. Fuck, no!"
Mattie ordered Magie to move his vehicle, which was blocking traffic. "The traffic can go to hell," Magie said. "That's my best friend and his twin brother laying there."
Bob Breedlove

Sergeant Mattie in his office at CSP headquarters in Trinidad
Another trooper, Jorge Leal, intervened, and the situation escalated into a shouting match. When Leal tried to handcuff him, Magie struggled. Within moments, the 58-year-old Vietnam vet, plumber, and Episcopal minister was tumbling down an embankment with a cop on his back. He landed with one hand impaled on a barbed-wire fence but still managed to kick Leal in the face, breaking his glasses, before he was cuffed and put in a patrol car.
"I'm not usually like that," Magie says, recalling the day. "The trauma of his body laying there, with a pool of blood streaming across the pavement, it just…I didn't need any authority figures telling me what I was going to do."
After Magie calmed down, he apologized. Mattie, a 29-year veteran who's seen his share of meltdowns, decided to release him without charges. But Magie is haunted by the possibility that his outburst tainted what followed.
"After that, I don't think they did any real investigation at all," he says. "They hauled the body off, opened the road, and that was it. It was botched, and I can't help but think that my getting them stirred up may have contributed to that."
As it turned out, the ugly brawl was only the first round in a fractious battle between Trinidad authorities and Breedlove's family and friends. The official accident report, compiled by the Colorado State Patrol and accepted by the local district attorney, placed the blame for the crash on Breedlove himself, concluding that he'd careered into the truck's lane, making it impossible for the driver, 15-year-old Joseph Rael, to avoid hitting him. Later that day, in a statement given to officers at the scene, Rael described the bicyclist as "slumped over the handlebars" and weaving into his lane. "He looked like he was past [sic] out," he wrote.
Bob Breedlove

The accident site on Colorado's Highway 12, looking west
Within weeks, Breedlove's camp started challenging that version of events, launching their own investigation into how Bob died. Led by Bill Breedlove, the family soon found themselves at odds with RAAM officials, whom they considered too quick to accept that Breedlove was at fault; with errant media reports; and most of all, with the law-enforcement officials in charge of investigating the accident.
News articles about the crash suggested that Breedlove had fainted or had a heart attack. RAAM organizer Lon Haldeman, a longtime friend of Breedlove's, told The Des Moines Register that "a farmer in the field" had seen Bob weaving, "and it sounded like it was happening for several hundred feet before the accident." But Haldeman had never talked to the farmer; he says he heard about him from a state trooper who was at the accident scene. No statement from any farmer appears in the accident report, and Sergeant Mattie says the only eyewitnesses he knows about are Rael and his passenger, Michael Ross, 22.
Yet rumors persisted—especially among RAAM buffs who discussed the case online—that Breedlove had somehow gone haywire. "His electrolyte levels were out of whack, perhaps approaching a bonk," one theorized in a posting on RAAM's Web site.
When the Breedloves hired their own private investigators to look into the matter, they didn't find the elusive farmer—or any physiological reason for Bob's supposed collapse. What they did find were facts and possibilities that Trinidad officials apparently never explored. One mystery concerns the forensic evidence at the crash site. The Breedloves' investigators—and, later, an independent accident-reconstruction expert who examined the evidence pro bono for Outside—looked at the same set of clues and concluded that the accident hadn't happened the way state troopers said it did. Both dismissed the official investigation as sloppy and incomplete.
With Bob Breedlove dead in the road, his crew member Bill Magie got in a fight with Colorado state troopers, ending with him cuffed inside a patrol car. "The trauma of his body laying there…" Magie recalls. "I didn't need any authority figures telling me what I was going to do."
Another question has to do with the high school student driving the truck. Though it was never mentioned during the initial investigation or subsequent hearing, Joseph Rael had been involved in a previous accident on the same stretch of road. Seven months prior to the Breedlove crash and just two miles away, Rael had rolled a Hyundai sedan 60 feet off Highway 12 and left it there. The car had no vehicle identification number, and authorities couldn't determine whether it had been stolen or simply abandoned.
Contacted by a state trooper at school, Rael gave varying accounts of that accident. He claimed he hadn't called the police because he was scared; he and some friends had just been "messing around" with a car that was no good, he said. He also admitted to drinking a beer before driving. He was charged with reckless driving, failing to report an accident, driving without a license, and failing to display proof of insurance. In a routine deal for a first-time offense, all four charges were dismissed by the local DA's office a month before Breedlove's death. Although Rael didn't have a valid driving permit to begin with, his driving privileges were suspended and he was required to take a driver-education course.
The story was disturbing—but, then, so was much of what the Breedloves discovered as they kept digging. Along the way they rattled cages, pursued their own leads, and bumped heads, because, from their standpoint, there was no other choice.
"We're looking for the truth," says Bill Breedlove. "Not only to clear Bob's name but for generations of Breedloves who are going to ask, 'What happened to Uncle Bob, the cyclist?'"
---
Anthony Mattie is a dark-eyed, broad-shouldered man of quiet enthusiasms and emphatic hand gestures. He speaks with pride about his three decades on the Colorado State Patrol and, at 54, just as warmly about his pending retirement. Any suggestion that his investigation of the Breedlove case was skewed is met with a patient but passionate response. "Our job isn't to choose sides," he says. "It seems like the Breedloves are saying, 'Let's find facts to support what our belief is.' "
Mattie denies that the altercation with Magie had any influence on the investigation, calling the fight "just an unnecessary delay." It certainly wasn't the only distraction Mattie faced that morning. After calling 911, Rael and Ross returned to the scene about a half-hour after the accident with their employer, a local woman named Sandy DeNinno. But at first the authorities didn't know they were waiting inside her vehicle to be interviewed, and reports that the driver had taken off sent a trooper shooting down Highway 12 in search of a possible hit-and-run.
Bob Breedlove

LaJean and Bill Breedlove in Des Moines
As more RAAM people arrived, Mattie realized this would be a high-profile case, but he also had to keep the traffic moving. With the body in the eastbound lane awaiting the coroner, that meant opening the westbound lane—and compromising the presumed "debris path" of the collision. Charting where objects end up in relation to one another is crucial to figuring out how an accident like this unfolded. Although the troopers photographed the scene and spray-painted the locations of a few pieces of evidence, other items had been moved before they arrived—including the broken remains of Breedlove's bike and, of course, the truck itself.
Even so, after taking photos and measurements, interviewing Rael and Ross, and turning the body over to the local coroner, the troopers thought they had a pretty clear idea of what had happened. Rael was driving down the ten-mile stretch from Weston to Stonewall, where he and Ross did odd jobs for DeNinno. Rael was behind the wheel, despite his age and lack of a license, because Ross had taken painkillers for an injured foot. They were heading west on 12, traveling approximately 55 miles an hour in a 60-mile-per-hour zone. Breedlove was heading east when—"for unknown reasons," the accident report states—he crossed into the westbound lane. Rael said he hit the brakes and steered right, leaving a skid that stretched more than 100 feet. The bike collided with the front driver's-side corner of the truck, hurling Breedlove into the windshield and knocking him back into his own lane.
"It was just one of those unfortunate things that happen," Mattie says. "I don't know how else to explain it."
Other locals, though, have heaped the blame on race planners, Breedlove's crew, and anyone else who thought putting a solo rider on Highway 12 was a good idea. Joseph Rael's father, John Rael, has lived beside Highway 12 all his life. He says it's crazy for RAAM riders not to have a car following them at all times, what with the trucks, the occasional rockslide, and other hazards.
"This is a bad road," he told me during a phone conversation this spring. "The big trucks don't slow down, and these bikers—they don't care. They go right in front of people or they're in the middle of the road half the time. This guy was left alone. There was nobody with him to see if something was wrong with him."
John, who says he's unemployed and has been on disability for the past ten years, has not let his son speak to journalists. He claims that Joseph, now 17, is an unacknowledged victim in the case, and that interviews would simply retraumatize him. "It's a screwed-up situation," he says. "He quit school. I don't know what to do. He won't talk about it. He's been in a lot of fights. Caught drinking. It's just been ongoing, back and forth to the courts."
From John's point of view, things could hardly be more unfair. First, this bicyclist comes hurtling at your kid. The boy tries to get out of the way, but the bike just keeps coming. The man dies. Your kid has that to deal with. And then court. And then the biker's family, who sends private investigators to talk to your neighbors, ask questions all over the place. Why? Because they want it to be your kid's fault. They don't believe him or the kid he was with. Or the state troopers.
Bob Breedlove

Bill Magie, with one of Bob Breedlove's racing bikes
For their part, the Breedloves found the official story unconvincing on several counts, starting with the description of their guy losing control of his bike. Why would Breedlove, a famously cautious and fit rider, a man who dressed like a human traffic cone, be weaving in the wrong lane?
"I don't believe it," Bill Breedlove says simply. "To say that he just drifts over to the other lane, on a perfectly sunny morning, for no reason, when his crew saw him 15 minutes earlier and he was fine—none of it adds up."
Once he read the autopsy report and talked to Las Animas County coroner Robert Bukovac, Bill completely dismissed the stories about Bob weaving for several hundred feet. Pathologists routinely look for other health factors that may have contributed to a death, and the autopsy found no evidence of an aneurysm or a heart attack; in fact, Bob's heart was in exceptional shape for a man in his fifties. A standard drug screen turned up only a trace of caffeine. Bukovac says he doesn't know what caused the collision, but he considers a dizzy spell, seizure, or other medical emergency highly unlikely—almost as unlikely as a cyclist riding uphill while passed out.
"It's hard for me to believe this gentleman was able to balance a bike and pedal if he was unconscious," he says.
At first the Breedloves were hopeful the autopsy results would prompt a closer look at the crash. But they say they received little additional information about the investigation in the weeks that followed and little assistance from Laurel Byrnes, the assigned prosecutor.
"She refused to meet with the family, she refused to talk to me about additional facts we might have, and she refused to postpone the kid's arraignment so we could get some more facts on the table," says Shawn Gillum, the Breedloves' Denver-based attorney. "Her whole attitude was completely dismissive."
Byrnes, who's since left to work in a larger jurisdiction, says her office provided Gillum with copies of all relevant records. She adds that the case was one of dozens of traffic offenses she was handling on a daily basis in an understaffed office.
The Breedloves' frustration boiled over when they learned how the case had been settled. Joseph Rael was issued a ticket for driving while his privileges were suspended and for driving without a valid license or insurance. At a September 2005 court hearing, he pleaded guilty to a single charge of not having a license and was sentenced to six months' unsupervised probation and 24 hours of community service. He was fined $35; with court costs and other fees, the total penalty came to less than $200. Bob Breedlove's name isn't even mentioned in the transcript of the three-minute hearing that took place. The district attorney's office didn't tell the judge, Bruce Billings, that the case involved a fatality.
---
Shortly before Bob Breedlove's last race, he and Gretchen went to a dinner party in Des Moines. "It's Breedlove, the biking legend," someone greeted him.
"I think you have to be dead to be a legend," Bob replied.
Two weeks later, he was. Breedlove's death made headlines in Des Moines and quickly became the talk of the ultracycling world. The initial shock gave way to a flood of memories about an intensely disciplined athlete and gifted physician, one who seemed to have treated every bum knee in central Iowa.
Breedlove had discovered long-distance cycling relatively late in life. He'd been a star wrestler in high school, but then came college and medical school and marriage to Gretchen, whom he'd known from childhood in Kewanee. And then, in short order, three daughters, Molly, Ann, and Erika, and a son, Bill.
In the early eighties, still eager to stay in shape and compete, Breedlove ran marathons, but he threw himself into cycling when he decided it was easier on the joints. In 1988, when he told Gretchen he wanted to tackle RAAM—which had started in 1982 with only four competitors—she was skeptical, but his eventual emergence as one of the race's most durable riders didn't surprise her.
"I can't think of anything Bob put his mind to that he didn't do—and do well," she says. "He loved to set goals."
"This is a bad road," says John Rael, whose son Joseph was driving the truck that hit and killed Breedlove. "These bikers, they don't care. They go right in front of people." In his opinion, the unacknowledged victim in this situation is Joseph himself.
Breedlove finished seventh in his first RAAM. He came back in 1989 to pursue a new objective, one that thrust him into the sport's elite. He rode from St. Louis to Irvine, California, the starting line of that year's RAAM, pushed on to the race's conclusion in New York City, finishing third—and then turned around and biked back to St. Louis. He did it in 22 days, 13 hours, and 36 minutes, shattering Lon Haldeman's double-transcontinental record by a day and a half. In Breedlove's next three RAAMs, he finished first in the tandem division two times and second in the 1994 solo division, a scant 93 minutes behind his perpetual rival, Rob Kish.
Breedlove never dominated the race like Kish, who won three solo titles in the nineties. But he was usually close behind and exhibited an exceptional toughness—always upbeat, always finishing. In 1999, on a tandem, he did a cross-county ride with his son, then 14. In 2002, in the wake of 9/11, he completed a transcontinental ride to raise money for the families of emergency-response workers killed in the line of duty, setting a cross-country speed record for a cyclist over age 50. Each time, he was backed by a seasoned crew, led by Magie and Bill Breedlove, who ran a sporting-goods store in Kewanee and had always been his brother's biggest fan.
During all this—hundreds of thousands of miles on a bike—Breedlove never suffered a serious accident. Stuart Stevens, an Outside contributor who rode with Breedlove for years and helped pay for the family's investigation, says his friend was an "annoyingly safe rider." The orange outfits were only the most obvious signs of his safety mania, as Stevens saw firsthand in 2003, when the two rode the 750-mile Paris Brest Paris on a tandem.
"Bob wouldn't draft anybody, because he thought the person in front of him wasn't as good a rider as he was," Stevens recalls. "He's the kind of guy who would brake all the way downhill. It drove me crazy."
Brian Duffy, editorial cartoonist for The Des Moines Register and a longtime riding buddy of Breedlove's, says he never saw his friend cross the centerline. "Never, ever, ever," he insists. "He always rode within four or five inches of the edge of the road. Never even in the center of his lane."
Following behind Breedlove in a van for tens of thousands of miles, Magie never saw him cross the line, either. But he did see him fall over twice as he pedaled toward New York City during the double transcontinental, clearly fighting sleep. "That's the worst I've ever seen him," Magie says. "At the top of a hill, we put him in a lawn chair and put ice bags on his head."
Bob Breedlove

A general store in Weston, Colorado
The fact that Breedlove managed to collapse in his own lane on those falls is hardly reassuring. And all his precautions didn't allay Gretchen's fears about what could happen to him. She joined the road crew once, for one of Bob's first RAAMs. It didn't go well; after a couple of days, she called her sister to come get her. "I was a nervous wreck," she says. "These semis are whooshing by him, and I'm thinking, Oh, my God. That's the love of my life."
RAAM's reputation for pushing limits encouraged such fears. An experiment in how much agonizing mileage a body can take, RAAM requires its solo riders to cover a third more distance than the Tour de France in half the time. In 25 years of RAAM, a mere 176 solo riders have actually completed the race. There have been a few serious smash-ups—dating back to a 1985 nighttime encounter with a hit-and-run driver in New Mexico, which left a Canadian named Wayne Phillips paralyzed—but Breedlove's death was only the second in RAAM's history. In 2003, in another New Mexico mishap, 30-year-old Brett Malin was killed at night on U.S. 60; while letting another member of four-man Team Vail Go Fast take over his position, he made a U-turn near the crest of a hill, just as an 18-wheeler came over the top.
Living on a bike for eight to 12 days can do obscene things to the body, but the most common problem may be sleep deprivation. After a few days, some riders hallucinate. Jure Robic, the gonzo Slovenian who won back-to-back RAAMs in 2004 and 2005, has reported being shadowed by bears, aliens, and bearded horsemen. Muffy Ritz, who finished second in the women's division three times, has said she saw imaginary flea markets along the roadside for miles.
When something goes wrong during RAAM, it's widely assumed that lack of sleep had something to do with it. More than a year after the accident, VeloNews blamed Breedlove's death on the familiar malady: "It is surmised that he had fallen asleep on his bicycle." But sleep deprivation usually manifests late in the race. Bill Breedlove doesn't think it was a factor in Bob's death, given the sumptuous nap he took the night before and how fresh he appeared just minutes before the collision. Still, there's little doubt that anyone who enters RAAM is taking a chance just by signing up.
After every RAAM, Bob would declare he was done, but he always wound up racing again. Gretchen was usually the last to find out, through a stray e-mail or chance remark. She wasn't thrilled to discover he was training for RAAM in 2005. But Bob could always come up with a reason to ride; Rob Kish was going to be there, he told her, and he had to defend his over-50 record against Kish and other graying veterans.
To his children, he preached the importance of grabbing life by the horns. In recent years his Christmas presents had tended toward the conceptual, such as challenging his family to read the Bible or keep a journal. One year he gave everyone an empty bag. The point was to take a break from material concerns and focus on who and what they loved.
His gift to himself was one last RAAM. As always, he carried a walkie-talkie during the 2005 race so he could speak to his crew along the way. Over the first four days he used it frequently, and he was in a reflective mood.
"He was remembering all the great rides he had and all the great people he'd met through biking," Aukee says. "I told Jerel, 'He never talked like this before.' I think he just knew this was his last hurrah. His career was coming to an end."
---
"Did you lose something?"
It's a blazing day in June 2006. I'm walking the ditch beside Highway 12, pacing off distances around the accident site, when a bearded man in jeans comes out from his yard. Pedestrians are scarce here, and a person on foot gets noticed.
We talk about the accident. The man introduces himself, and I recognize the name. Someone told me he was the first to reach the scene after the pickup rolled away, and that he voluntarily directed traffic until the police arrived. But today his story is different. No, he didn't see the crash. He was away when it happened. Maybe the people in the next house would know more.
Those people, it turns out, are his relatives. No, they didn't see anything. But the first man—maybe he did.
"He says he didn't," I reply.
"Is he fried today?" one man asks, his hand tilting back an imaginary cold one. It's a rhetorical question; the man turns back to eating a bowl of something beefy and says no more.
It's roughly 900 miles from a surgeon's life in Des Moines to the Highway of Legends, but the trip requires a few adjustments in psyche as well as time zone. To those just passing through—tourists, truckers, RAAM riders—the town of Trinidad, population 9,078, looms as just another pit stop. Situated halfway between Santa Fe and Denver, Trinidad took off in the late 1800s, when southern Colorado could boast some of the most productive coal mines west of the Mississippi. But the mines played out, and the past three decades have been a long twilight, as the town and surrounding Las Animas County have struggled for reinvention as a locus of tourism and small-town geniality.
Bob Breedlove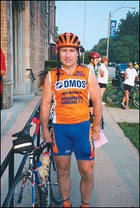 Breedlove, dressed to be seen, at a 2002 race in Kewanee, Illinois
Adaptability has been Trinidad's strong suit, but it's been in short supply among the scattering of communities west of town, along the river and Highway 12. What's left of Cokedale, Segundo, Weston, Vigil, and the rest of the old settlements has blurred into a procession of weathered homes and double-wides occupied by second- and third-generation descendants of the original miners. To many folks in Trinidad, these are the "river people," an insular group that shares few of the townies' concerns about civic improvement.
In recent years, big energy companies have returned to the area, drilling for methane in the coalbeds. The gas boom has brought welcome cash, but it's still a hardscrabble existence for many residents, who keep a few chickens or cows and a wary eye on the heavy-equipment trucks roaring by their front doors. Out here, almost any activity requires driving, and the surge in highway traffic has become a favorite gripe.
On the morning of the accident, Joseph Rael and Michael Ross were on their way to unload building supplies at Sandy DeNinno's place. The Chevy truck belonged to Ross's family and, according to police, was not insured. Rael told troopers he'd never driven it on the highway before, just on back roads. After the accident, Rael and Ross drove nearly five miles to DeNinno's house before calling 911. DeNinno returned them to the scene in her truck, and Sergeant Luke Armstrong, an accident-reconstruction expert for the CSP, went to her house to examine the Chevy.
John Rael rushed to the scene of the accident as soon as he heard about it. His son was "pretty shook up," he says, but from what Joseph and the troopers told him, there was nothing that could have been done. The way he heard it, his son "had pulled off the road, and the guy more or less ran into him."
The Breedloves boiled over when they learned how the case was settled. Joseph Rael lost his driving privileges, and paid a small fine. Bob's name wasn't even mentioned in the three-minute hearing, and the DA didn't bother to tell the judge the case involved a fatality.
End of story? Not to the Breedloves, who scoured the state patrol's reports, photos, and diagrams of the accident and decided that entire chunks of the narrative were missing. There was no statement from DeNinno or from neighbors who might have witnessed the accident. There was no explanation why neither of the guys had stayed with the body. No drug or alcohol tests were done on the driver or the passenger, despite Ross's admission about having taken pain medication.
To the state troopers, the questions seemed beside the point. They don't perform sobriety tests without probable cause, and Rael wasn't exhibiting any signs of intoxication. As for witnesses not interviewed, Sergeant Mattie says he probably should have knocked on a few more doors. But the investigators had a set of fresh 100-foot skid marks, going from the truck's lane into the grassy ditch beside the road, that matched perfectly with the driver's account of seeing the bicyclist, hitting the brakes, and steering to the right in an effort to avoid him.
"There's no point to further investigation," Mattie says. "It's not going to change things. All of the evasive action, the tire marks, the debris pattern, and such are in the westbound lane. The skid marks start near the center of the lane and continue off to the right side of the road."
To Mattie it couldn't have been clearer: "I believe the doctor, for whatever reason, was on the wrong side of the road."
---
Tony Becker isn't so sure. Shortly after Rael's sentencing, the Breedloves hired Becker Consulting, an accident-reconstruction firm based in Normal, Illinois, to perform a crash study. A former police officer and deputy coroner, Becker, 47, has been doing such studies for more than 20 years. During a trip to the accident site in November 2005, he took measurements at the scene, then analyzed the troopers' photos and taped together the pieces of Bob's bike (which had been returned to the family) in an effort to determine the path of impact. He didn't have access to the truck.
Becker was intrigued by several discrepancies in the accident report. For example, one trooper stated that Rael had told him he first saw the bicyclist in the eastbound lane, while another reported that Rael first saw him in the westbound lane. He was troubled that so much of the physical evidence had been moved or obliterated and that no scuff marks or paint-to-pavement transfers from the bicycle were found in the reputed debris path. But most of all, he was baffled by the CSP's declaration that the point of impact was six feet from the north edge of the highway. For Breedlove to get in the path of the truck at that point, he would have had to sail across both lanes to catch the left front of the truck as it was already skidding off the road.
The major damage to the bicycle, Becker discovered, had occurred from the front tire to the front fork; the rear tire hadn't even been deflated. The damage to the truck was distributed along a straight line on the driver's side, from the front bumper to the base of the windshield, with several contact areas along the way, including a broken antenna. If Breedlove had been weaving erratically across the path of the truck, the damage to both vehicles would have been quite different—and there would have been massive damage to the right side of Breedlove's body. But most of the injuries were on his left side. To Becker, a soft-spoken, methodical investigator, the physical evidence was thoroughly consistent with a head-on collision with the truck's front left corner.
A head-on doesn't fit with the account of Breedlove weaving on the road, Becker insists, and it couldn't have occurred at the point of impact that the official report indicated. If the collision had been that close to the edge of the road, you'd expect to find the body in the ditch, where the truck came to rest, not in the opposite lane. "If it happened anywhere along those skid marks, common sense and physics tells you the body is going to move in the direction the truck's moving," Becker says.
Becker went further. What if the skid marks didn't belong to the truck at all? Two of the troopers had seen the bicycle lying on the south edge of the road, adjacent to Bob's lane, when they first arrived at the scene. If bike and body ended up on that side of the road, Becker argues, it's possible that the accident had occurred in the bicyclist's lane.
But there are problems with that scenario, too. Three witnesses who arrived before the troopers say the bicycle was in the truck's lane at that point. Armstrong, the state patrol's reconstruction expert, insists that he measured the width of the skid and matched it to the Chevy tires—even though there's no mention of that detail in his report.
Nonetheless, Becker's central assertion—that the official point of impact is in error—has been seconded by an independent accident-reconstruction expert consulted by Outside: John Smith, of Raymond Smith and Associates, a firm in Parker, Colorado.
"Let's start with what we know is true," says Smith, 45, who reviewed the investigation file and photos as well as Becker's report. "The story that the bicycle is weaving all over the place doesn't make any sense."
Smith has reconstructed more than 1,500 collisions. Like Becker, he believes the damage to the truck and the bike reflects an in-line collision. Although Breedlove was hurled to the left of the truck, Smith doubts the body would have enough lateral velocity to propel it halfway across the highway from the indicated point of impact. Because so much evidence was either moved or never located, he says, it's possible the collision occurred earlier in the skid or even before the skid began. "It's hard to explain how the body got that far from the truck," he says.
A colonel in the Army Reserve whose father was a state trooper, Smith is witheringly critical of the CSP's investigation. The troopers didn't have enough evidence, he insists, to place the impact where they did. If they didn't find even a scuff mark on the road at the point where the bike supposedly hit the truck, or other marks to indicate where the body first hit the pavement, it may have been because they were looking in the wrong place. They failed to interview key witnesses and failed to adequately assess Rael's previous driving record. The evident sympathy for the 15-year-old driver in Mattie's report ("it was clear and obvious that the younger boy who identified himself as the driver was very emotional") might seem commendable, but to Smith it suggests a bias in favor of the local motorist and against Breedlove and his combative supporters.
"This was a very, very poor investigation," Smith says. "I get the feeling they were particularly careless. I'd say he got hometowned."
John Smith, a veteran accident-reconstruction expert from Colorado, is withering in his criticism of the CSP report on Breedlove's death. "This was a very, very poor investigation," he says. "They were particularly careless. I'd say he got hometowned."
The CSP's Armstrong says his calculations reflect an "area of impact" rather than a precise location, working from the point where the truck came to rest in the grass—established by mounds of dirt plowed by the skidding tires—and the body's position. Given the differences in mass and velocity, he suggests, it's possible a head-on collision could result in the body ending up on one side of the road and the truck on the other.
"The evidence is the evidence," Armstrong declares. "He could have landed on the centerline and rolled to where he was."
Mattie says the laws of physics don't allow for the accident to have occurred in the bicyclist's lane, before the skid begins in the truck's lane. "The kid did everything that was in his power to do," he says. "He attempted to reduce his speed. He tried to surrender his position on the road by moving to his right. The only thing he did wrong was be there. He shouldn't have been driving. But the circumstances would be no different if you had a carload of nuns in that vehicle."
---
Last April 11, members of the Breedlove family, including Gretchen, Bill, Bill's wife, LaJean, and Bob's 26-year-old daughter, Ann, along with attorney Shawn Gillum and Tony Becker, met with officials in Trinidad, hoping to get the case reopened. Bill expected the troopers to be defensive, but their intransigence in the face of the family's material was, in his view, shocking.
He asked Sergeant Armstrong if he'd read the autopsy report. Armstrong told him he didn't need to read it, that the accident reconstruction and the determination of cause of death were entirely separate functions. "He almost got mad at me," Breedlove recalls. "That guy looked me in the eye and told me he didn't need that information."
Becker got a chillier reception when he asked for documentation to establish that the skid marks had been matched to the truck. "I got the impression I might as well pack my bags and go," he says. "They each gave a five-minute spiel about how they got it all right: 'This is the way it happened, and you people need to deal with it.'"
Mattie and Armstrong were adamant. Whatever the investigation's flaws—not that they were admitting any—the skid marks indicated the accident occurred in Rael's lane, and they didn't see any evidence to the contrary. District Attorney Lee Hawke declined to reopen the case.
Hawke tells Outside he would have handled the case differently from the way his assistant did and would have told the judge that a fatality was involved. But he's satisfied that justice was served. "No one has suggested anything inappropriate about the 15-year-old's driving from day one," he says. "I thought it was an open-and-shut deal. But I'm not an accident reconstructionist."
Mattie thinks the Breedloves are making too much out of the more cryptic phrases in the troopers' interviews with Rael and Ross. "I think it's just a misunderstanding," he says. "What the kids meant when they said 'He crossed in front of us' is that he came from his assigned lane. That's all."
It's a curious line of reasoning. Here's the chief investigator of the accident telling us what the witnesses really meant, when he barely questioned them himself. The written statement of Joseph Rael amounts to 100 words; there's no formal statement by Michael Ross.
Like Joseph Rael, Ross declined to be interviewed by Outside. Among the people living along the river, there's a weariness with further questions about the matter, which many consider closed. Rael paid his fine. What more do the Breedloves want?
"We want people to recognize that there are big holes in this investigation," Bill says. "I still have people coming to see me, over a year later, asking, 'What ever happened to that case?' It's embarrassing to have to say, 'Nothing, really.' "
The Breedloves have discussed an ever-dwindling pool of options, including offering a reward for new witnesses to come forward. Civil suits sometimes serve to leverage information, but Bill says his family won't consider that. "We're not after this kid," he says. "The world's going to be uphill most of his life anyway. We want the biking world to know the truth, or at least something closer to it than what the police came up with."
Just taking part in RAAM is risky—racers cover some 3,000 miles in eight or nine days, and sleep deprivation is a serious problem. Despite Breedlove's long record as "an annoyingly safe rider," his wife wasn't thrilled to discover he was racing again in 2005.
If Bill could, he'd take anyone interested out to where his brother died, so they could draw their own conclusions. Highway 12 is tattooed with skid marks, thanks to the kind of heavy braking that occurs when a pickup doing 60 or 70 whips around a curve and almost parks in the back of a dump truck doing 35. Most of the heavy truck traffic is several miles east of where Breedlove died, but this stretch has its dangers, too. The curve Rael took just before spotting the bike banks slightly, and fast-moving westbound vehicles have a tendency to drift toward the center of the road. One clear spring afternoon, I watched as roughly every third car rode on or crossed the double yellow.
Fewer than 50 yards from where the body was found, two black stripes scar the north-facing wall of a farmhouse. According to the homeowner, they mark the spot where a Toyota truck came to rest after the driver lost control going around the curve. The truck slid across the road, rumbled through the ditch, and literally tried to climb up the side of the house.
Gretchen Breedlove has driven that curve and felt her car tug to the left. "In my mind, I know what happened," she says. "When you're going fast, you pull to the center. I will stick by that until the day I meet Bob in heaven and he tells me different."
---
Despite two fatalities in three years, RAAM went on in 2006, albeit with notable changes. After Breedlove's death, race director Jim Pitre considered canceling the event, but he and RAAM founder Lon Haldeman settled on a rule change that would require solo riders to take mandatory rest stops totaling a minimum of 40 hours. The idea drew immediate fire from race purists and rankled the Breedloves' supporters, who resented the implication that Bob had died as a result of lack of sleep.
In the end, the opposition to mandatory rest periods forced the organizers to compromise. This year's race offered the traditional solo division and a new Enduro division, with designated rest stops spread along the route. The solution didn't placate the Breedlove loyalists, though. Many of them felt that, instead of changing the race, RAAM's leadership should have been more active in investigating Breedlove's death.
"I am exceedingly disappointed with the way they've reacted to this," says Stuart Stevens. "They've never made an attempt to find out what happened. It's as if they're protecting the brand—they don't want it associated with a death."
Pitre seems baffled by such comments. "I've had masses of e-mails criticizing RAAM and me for not taking a stronger position," he says. "I hesitate to be more vocal when the information I have is piecemeal. I don't guess we'll ever know what went on out there."
Haldeman, who has kept close track of the investigation, has decided over time that the boys may have been at fault. "All it is is speculation," he says. "But it's very probable the impact occurred in Bob's lane."
Overall, organizers considered RAAM 2006 a success. The solo field was divided equally between traditional riders like this year's winner, 36-year-old Daniel Wyss, and those in the Enduro division, which was won by 50-year-old Jonathan Boyer, 21 years after his first RAAM victory. One rider, Daniel Maegerle, was hospitalized in St. Louis with broken ribs and damage to his lungs and liver after a collision with a truck in the rain.
For the most part, the route was the same as last year, traveling many of the narrow secondary roads, with little or no shoulder, that used to worry Bob's crew. The route through southern Colorado was the same one Breedlove had done several times and loved: Wolf Creek Pass, La Veta Pass, Cucharas Pass, Trinidad.
Heading east on Highway 12, near mile marker 42, the cyclists passed a small white cross by the side of the road, marking the last ride of a legend.
Lead Photo: Michael Lewis