Double Park It
Combine your next visit to a national park with a bonus raid on a great state park or national forest—and get twice the escape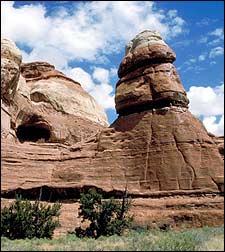 Heading out the door? Read this article on the new Outside+ app available now on iOS devices for members! Download the app.
Maine:
national parks, state parks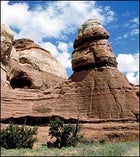 American Splendor: Canyonlands National Park
Acadia National Park + Cutler Coast Public Reserve Land



Utah:

Canyonlands National Park + Goblin Valley State Park



Michigan/Minnesota:

Isle Royale National Park + Superior National Forest



Tennessee/North Carolina:

Great Smoky Mountains National Park + Nantahala National Forest



Colorado:

Rocky Mountain National Park + Routt National Park



Washington:

Olympic National Park + Ross Lake National Recreation Area



California:

Yosemite National Park + Stanislaus National Forest



PLUS:

The Country's Five Best National Monuments




Acadia National Park, Cutler Coast Public Reserve Land
Access and Resources
ACADIA NATIONAL PARK
ACRES:
46,000
ANNUAL VISITS:
2,800,000 (high: August, 658,747; low: January, 35,682)
CONTACT:
207-288-3338,
www.nps.gov/acad
MILES FROM NEAREST MAJOR AIRPORT:
50 (Bangor)
DON'T MISS:
Tea and popovers on the lawn at the park's Jordan Pond House restaurant on Mount Desert Island or blueberry pie at Helen's Restaurant in Machias.
CUTLER COAST PUBLIC RESERVE LAND
ACRES:
12,100
ANNUAL VISITS:
About 3,000
CONTACT:
207-827-1818,
www.state.me.us
national parks, state parks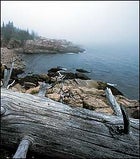 The coastal calm of Acadia National Park
ACADIA
THE NORTHEAST'S ONLY NATIONAL PARK, Acadia manages to shoehorn some 2.8 million annual visits into its compact landscape, mostly on Mount Desert Island (with smaller tracts on Isle au Haut and nearby Schoodic Peninsula). The finest way to lose the crowds and take in the park's cymbal-crash surf, craggy stone-shored islets, and requisite clifftop lighthouses is to venture out of bounds by SEA-KAYAKING. Put in at the public boat ramp in Manset, located on the southern end of Mount Desert Island, and mosey up Somes Sound, the only bona fide fjord in the lower 48, for a five-hour voyage through the Maine that sets watercolorists' hearts aflutter. Watch for porpoises, seals, and the mountains, which rise more than 400 feet in elevation from the shore. (And do yourself a favor, Cap'n: Time it so that you're paddling in and out of Somes Sound with the tides.) Another day's ocean ramble begins at Seal Harbor beach and aims south for the Cranberry Isles; Little Cranberry, with the Islesford Historical Museum and classic seafood served at the Islesford Dock restaurant, makes a fine spot to stretch your sea legs. The most reliable marine-mammal ogling goes down in Frenchman Bay, off Bar Harbor, where you can paddle around Bar Island and the magnificent and uninhabited Porcupine Islands. Keep a polite distance from the seal ledges, please. Hazardous conditions in these parts can include 55-degree water, 12-foot tides, persistent fog, and currents; unless your kayak schooling includes a master's in wet exits, hire a guide. For group trips and boat rentals, contact an outfitter: Try Acadia Bike and Coastal Kayaking (800-526-8615, www.acadiafun.com) or Aquaterra Adventures (207-288-0007, www.aquaterra-adventures.com). Post-adventure, the Inn at Bay Ledge (doubles, $160–$375; 207-288-4204, www.innatbayledge.com), perched atop an 80-foot cliff overlooking Frenchman Bay, makes a most civilized base camp.

CUTLER COAST PUBLIC RESERVE LAND
Acadia's watery splendors are a mere warm-up for the astounding sea views you'll encounter on the Bold Coast, two hours north of the park on routes 3, 1, and 191. Spend two days BACKPACKING one of the East Coast's longest seaside trails, the ten-mile Fairy Head Loop, opened seven years ago. Few people take in the raw beauty of this unpolished coast. See for yourself on a figure-eight loop that combines the Coastal Trail with the Inland Trail. The path meanders through blueberry heaths and boardwalked swamplands before opening up atop 70-foot cliffs jagging out over Cobscook Bay. You'll hike through fog-nourished spruce woods, in and out of seal coves, and to Black Point Beach, littered with sea urchins, a good spot for a 50-degree cold plunge (beware of currents). Watch for eagles overhead and sprays on the horizon from the whales that cruise past from May to October. At Fairy Head, the farthest point of the loop, you'll find three designated campsites tucked into the woods atop the cliffs. From here, Canada's Grand Manan Island looks otherworldly in the orange blush of sunrise. Maps are at the trailhead, and you can pick up supplies in Machias.
Canyonlands National Park, Goblin Valley State Park
Access and Resources
CANYONLANDS NATIONAL PARK
ACRES:
337,598
ANNUAL VISITS:
367,078 (high: May, 58,935; low: January, 4,093)
CONTACT:
435-719-2100,
www.nps.gov/cany
MILES FROM NEAREST MAJOR AIRPORT:
110 (Grand Junction, Colorado)
DON'T MISS:
Melons—juicy, sweet, and the preferred late-summer thirst quencher—grown around the town of Green River, off I-70.
GOBLIN VALLEY STATE PARK
ACRES:
3,564
ANNUAL VISITS:
85,000
(high: April, 13,088; low: December, 927)
CONTACT:
435-564-3633,
www.stateparks.utah.gov
national parks, state parks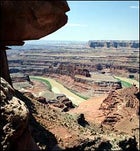 Utah's Labyrinth: Canyonlands National Park
CANYONLANDS NATIONAL PARK RENAISSANCE FUNHOGS, BRACE YOURSELVES: This trip, combining three days of MOUNTAIN BIKING with five days of WHITEWATER RAFTING on the Colorado River, may be the tastiest pairing since chocolate and cabernet. It takes you straight into the heart of Canyonlands' high-desert rock garden, defined by the goosenecking canyons of the Green and Colorado rivers and an almost hallucinogenic symphony of spires, buttes, mesas, hoodoos, fins, arches, and slickrock. Phase one: a two-wheeled thrill ride on most of the 100-mile White Rim Trail, a celebrated track that requires a four-wheel-drive support vehicle to tote food and gear. Aim counterclockwise, along the Green River in the Island in the Sky district, and take a side trail at Lathrop Canyon or Potash to your prearranged meeting with your rafting guides. Here you embark on phase two: epic Southwest whitewater. A few miles below the confluence of the Green and the Colorado roars Cataract Canyon, a chain of about 25 Class III–V rapids that some claim trump those in the Grand Canyon, at least in the high-water months of May and June. O.A.R.S. Moab guides raft trips ($1,227, return flight from Lake Powell included; 800-342-5938, www.oars.com/htdocs/utah).

GOBLIN VALLEY STATE PARK
Now for the soft side of your adventure: NARROWS HIKING. While you might feel hoodooed out, you'll be awestruck anew by the whimsical sandstone gargoyles and skull-shaped gremlins of this state park. Goblin Valley, less than two hours from Canyonlands via U.S. 191, I-70, and U.S. 24, noses up to the southern end of the San Rafael Swell—an oval-shaped 3,000-foot fold of sandstone and shale wedged onto the northern edge of the Colorado Plateau. The land is so fantastic that it's siphoning Moab loyalists—fast. These are the salient geological features: a 75-mile-long by 30-mile-wide rock dome, riddled with red-wall canyons, which meets a reef, a ring of nearly vertical eroded strata studded with slot canyons. Your hike into this alien land: the seven-mile Ding and Dang Loop, which in some sections carves through the reef via a slot that's only as wide as a person. There's plenty of scenic camping to be had all along the swell—if you travel light and can squeeze your backpack through the narrows. A more comfortable alternative is to do the route as a day hike and then set up your tent at the park's 24-site campground (for reservations, call 800-322-3770).
Isle Royale National Park, Superior National Forest
Access and Resources
ISLE ROYALE NATIONAL PARK
ACRES:
571,790
ANNUAL VISITS:
19,463
(high: August, 6,848; low: October, 252)
CONTACT:
906-482-0984,
www.nps.gov/isro
MILES FROM NEAREST MAJOR AIRPORT:
300 (Minneapolis)
DON'T MISS:
Angry Trout Cafe, waterside in Grand Marais, serves whitefish, salmon, and lake trout.
SUPERIOR NATIONAL FOREST
ACRES:
2,172,662
ANNUAL VISITS:
209,000
CONTACT:
218-626-4300,
www.superiornationalforest.org
national parks, state parks

Floating Kingdoms: Isle Royale National Park
ISLE ROYALE NATIONAL PARK
Kayakers come to this roadless, carless Lake Superior island for its rocky shoreline; fishermen and canoeists, for its 47 inland lakes; and backpackers, for its wooded basaltic ridges populated by moose and timber wolves. A savvy and intrepid handful of park visitors know how to really get lost here: Venture below the lake's forbidding surface for SHIPWRECK DIVING. Ten major vessels have come to rest in park waters in the last 127 years, and the same frigid 40-degree water that forces divers to don drysuits has drastically slowed the wrecks' decomposition. Visibility is often so good you can survey a ship's exterior 40 feet down without a light. The shallower remains are most popular, such as the America, a package freighter that sank in 1928 and whose bow lies just a few feet below the surface. Others sit deeper; the Kamloops, a Canadian freighter not located until 50 years after it succumbed to a blizzard in 1927, lies between 175 and 260 feet under. Join an outfitter—Superior Trips (763-785-9516, www.superiortrips.com) or RLT Divers Inc. (507-238-4671, www.rltdivers.com)—and spend a week diving and living off a boat. Isle Royale is open mid-April through October; the ferry from Grand Portage, Minnesota, takes three hours.

SUPERIOR NATIONAL FOREST
Just as Isle Royale island fever sets in, the ferry hops you back to Grand Portage, on the doorstep of the wet wonderland of Superior National Forest. This vast two-million-acre area is home to the Boundary Waters Canoe Area Wilderness and its 1,500 miles of routes on silvery lakes and streams choked with northern pike and walleye. But here's the surprise: Superior also hosts some fine MOUNTAIN BIKING, particularly in the rolling, moose-trodden highlands above Tofte and Lutsen. Minnesota's Cook County is composed almost entirely of public lands, which translates to more than 500 miles of rideable forest gravel roads, two-track logging roads, and ski trails. (You may want to carry an inflatable pool toy to float your bike across deep water.) Start by driving an hour from Grand Portage on Highway 61 south to Grand Marais, your base for fat-tire fun; the Pincushion Bed & Breakfast (doubles, $95–$120; 800-922-5000, www.pincushionbb.com) is a piney retreat overlooking Lake Superior. Try the 25-mile Devil's Track Lake Loop, which starts out from the nearby campground on County Road 8. Superior North Outdoor Center (218-387-2186) has rentals and maps, and outfits inn-to-inn rides.


Great Smoky Mountains, Nantahala National Forest
Access and Resources
GREAT SMOKY MOUNTAINS NATIONAL PARK
ACRES:
521,490
ANNUAL VISITS:
9,300,000 (high: July, 1,326,666; low: January, 305,430)
CONTACT:
865-436-1200,
www.nps.gov/grsm
MILES FROM NEAREST MAJOR AIRPORT:
30 (Knoxville)
DON'T MISS:
Turtleback Falls on Horse Pasture River near Highlands. This 30-foot stretch of rock slabs, topped with fast water, makes for some high-speed bare-butt glissading that ends in the pool at the fall's base.
NANTAHALA NATIONAL FOREST
ACRES:
530,202
ANNUAL VISITS:
2,100,000
CONTACT:
828-257-4200,
www.cs.unca.edu/nfsnc/

Appalachian Adrenaline: Great Smoky Mountains National Park
GREAT SMOKY MOUNTAINS NATIONAL PARK
IN THE SMOKIES, THE NUMBERS TELL good news and bad: 800 miles of trails, almost 700 miles of fishable streams, hazy blue ridges topping out above 6,000 feet (some of the highest east of the Rockies), 5,600 species of plants, more than 60 of native mammals … and upwards of nine million humans every year. So head where the masses aren't—the Greenbrier area, on the Tennessee side—for three sweet and soothing days of HIKING and FLY-FISHING. Start hoofing it at the Porters Creek trailhead, reached by entering the park off U.S. 321 east of Gatlinburg. Follow the wide creek for 3.6 miles until you reach Campsite 31, gaining about 1,500 feet of elevation in the process—good reason to stop and wet a line along the way. Casting is easier here than in many of the park's cramped, brush-banked streams, and you can catch rainbow trout. Next morning, backtrack 2.7 miles from your campsite to the Brushy Mountain Trail. You'll cross trout streams and roam through tulip trees, hemlocks, rhododendrons, and mountain laurels. Bunk that night at the Mount LeConte shelter, a three-sided stone structure at 6,440 feet (free; reserve through the backcountry office at 865-436-1297). Or book a slot at the LeConte Lodge, a rustic haven reachable only by trail and lit by kerosene lamps (cabins and group lodges start at $83.50 per adult per night; 865-429-5704, www.leconte-lodge.com). On the third day, march six more miles on the Boulevard Trail, encountering many a heart-stopping mountain vista, to another shelter, at Icewater Springs near the Appalachian Trail (70 miles of which traverse the park). Finally, a 2.7-mile taste of the AT takes you to Newfound Gap Road, where you thoughtfully arranged for a shuttle to pick you up ($32 for up to five people; A Walk in the Woods, 865-436-8283).

NANTAHALA NATIONAL FOREST
Shake off the quiet of the past few days with high-intensity WHITEWATER RAFTING on the Chattooga near Nantahala National Forest. South of the national park, off highways 441 and 76, there's easy access to the river's sections three and four, a rumble strip of phenomenal Class III-V rapids. You'll see nary a trace of man except your paddle mates, and it's easy to get Deliverance-spooked while navigating rapids that ribbon through hemlock forest and echoing gorges, and dipping into holes ringed with eerie rock formations. After taming the first ten miles, set up camp at Woodall Shoals, where diversions include rope-swing acrobatics. Day two gets burlier, with 4.5 romping miles graciously followed by two calming miles of lake waters. Old Creek Lodge (cabins for two, $89–$229; 800-895-6343, www.oldcreeklodge.com), in the artsy town of Highlands, is your post- paddle roost. Spin out your rafting legs by MOUNTAIN-BIKING the 6.6-mile, rhododendron-choked Blue Valley Loop Trail; from Highlands, access the trailhead via Clear Creek Road and Forest Road 367. Squeeze in a two-mile hike to the gray-cliff summit of 4,986-foot Whiteside Mountain, off Highway 64 between Highlands and Cashiers, for views of the rolling hills of North Carolina and Georgia. The Nantahala Outdoor Center (800-232-7238, www.noc.com) leads overnight trips on the Chattooga and rents mountain bikes.


Rocky Mountain National Park, Routt National Forest
Access and Resources
ROCKY MOUNTAIN NATIONAL PARK
ACRES:
265,828
ANNUAL VISITS:
3,200,000 (high: July, 695,250; low: February, 54,877)
CONTACT:
970-586-1206,
www.nps.gov/romo
MILES FROM NEAREST MAJOR AIRPORT:
65 (Denver)
DON'T MISS:
Unkink your biking calves or indulge in a massage at Strawberry Park Hot Springs, a natural spa seven miles north of Steamboat Springs that's built around steaming creeks.
ROUTT NATIONAL FOREST
ACRES:
1,126,346
ANNUAL VISITS:
1,689,000
PARK HEADQUARTERS:
970-879-1870,
www.fs.fed.us/r2/mbr/
national parks, state parks

Colorado Sick-Track: Rocky Mountain National Park
ROCKY MOUNTAIN NATIONAL PARK
JUST AN HOUR AND A HALF'S DRIVE from Denver and less than an hour from Boulder, Rocky Mountain National Park draws legions of Front Range residents with its elk meadows, hikes to chilly alpine lakes, and Trail Ridge Road, the Divide-straddling highway. Less appreciated is that when it comes to CLIMBING, the park's got something for every subculture: alpine routes, sport climbs, bouldering, and ice climbs. At 14,255 feet, Longs Peak is "the granddaddy of the fourteeners," says Jim Detterline, a ranger who's summited Longs 220 times and counting. Thousands of other people also reach the top each year, most of them by the Keyhole Route (the most popular path), and most in July or August. Very few brave the Stettner's Ledges route on the mountain's east face. Their loss. Rich with alpine history, the climb, rated a Grade III, 5.7-5.8, was first ascended in 1927 by a pair of German-American brothers from Illinois; at the time, it was among the country's toughest routes, and it's still no gimme, even for those acclimatized to high altitude. Stettner's entails a pre-climb backcountry bivouac, a glacier crossing, and six pitches over fractured granite, chimneys, cracks, and ledges, all capped by another 600-foot scramble to the top. Typically, this means six to eight hours of heroics after a 4 a.m. start to avoid afternoon lightning. But you'll still want to pause to catch your breath and take in your surroundings, which include a close-up view of the Diamond, an 800-foot-tall face. Contact the Colorado Mountain School in Estes Park (970-586-5758) for lessons and guided climbs.

ROUTT NATIONAL FOREST
ONE OF Colorado's greatest untrampled MOUNTAIN-BIKING play spots is tucked away in the northernmost reaches of high-elevation Routt National Forest, two hours from Rocky Mountain National Park. For three days of wheeled heaven, head west from the park on Highway 40 (you'll hit the Continental Divide at Rabbit Ears Pass) and continue north of Steamboat Springs to Routt, named for the state's first governor. The formidable Nipple Peak/Lopez Creek Loop, accessed via Forest Road 487, near Hahn's Lake will humble even hardcore riders. This 16-mile burner follows nappy Trail 1156 through dense conifers and lupine-sprinkled meadows before a four-mile grind to the saddle near 10,324-foot Nipple Peak. Then it's up over a divide, down along Willow Creek, and onto Trail 1147. Call it a day at the Hinman Park Campground, next to the Elk River, east of the town of Clark. It's a delightful, lodgepole-pine-dappled camp, somewhat less used than its neighbor sites in the area. The following day, your riding agenda focuses on the Big Red Park/Manzanares Trail, which wraps along Big Red Park, a large mountain meadow, and has stellar views of the Mount Zirkel Wilderness Area next door. If you've got juice left, there's still the Hinman Trail, also known as Trail 1177, near your campsite, which unleashes seven miles of aspen-fringed, rolling singletrack studded with roots, rocks, downed trees, and—just for extra credit—a couple of stream crossings. In Steamboat Springs, Sore Saddle Cyclery (970-879-1675, www.soresaddle.com) has bikes and maps.


Olympic National Park, Rose Lake National Recreation Area
Access and Resources
OLYMPIC NATIONAL PARK
ACRES:
922,651
ANNUAL VISITS:
4,126,219 (high: August, 629,463; low: November, 27,853)
CONTACT:
360-565-3130,
www.nps.gov/olym
MILES FROM NEAREST MAJOR AIRPORT:
90 (Seattle-Tacoma)
DON'T MISS:
The local berry bonanza at Cascadian Farm, a roadside stand just west of Marblemount on State Route 20. The jumbo blueberries and quarter-size raspberries are addictive.
ROSS LAKE NATIONAL RECREATION AREA
ACRES:
117,575
ANNUAL VISITS:
387,936
CONTACT:
360-856-5700,
www.nps.gov/rola
national parks, state parks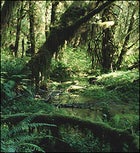 Washington's Never-Never Land: Olympic National Park
OLYMPIC NATIONAL PARK
FEW NATIONAL PARKS MAKE PICKING your poison so gut-wrenching as Olympic does: Should you light out for the 7,000-foot-and-higher peaks and sparkling lakes of the Olympic Peninsula's interior? The rugged headlands and tide pools of the 65-mile Coastal section, a lengthy ribbon of primitive coastline? Or the moist air and brooding old growth of the temperate rainforest? Tough call, but this should help: For a gratifying combo of remoteness, adventure, and greenery so lush you'd swear you can hear the plants breathing, set aside three or four days to BACKPACK part of the 15-mile out-and-back Queets River Trail, in the park's southwestern area. To reach the trailhead, drive 45 minutes from Highway 101 along a one-lane gravel washboard, and then ford two rivers, the shallow Sams and the trickier Queets. (Use caution on the Queets; the riverbed is rocky, uneven, slimy in spots, and unpassable at times in spring and early summer.) The trail wanders among Sitka spruces and red cedars, with riverside sandbars inviting quick dunks in the martini-cold Queets and well-situated tent sites. Elk herds have been known to make a cameo. Pick up your wilderness permit ($5, plus a camping fee of $2 per person per night) at any ranger station or information center.

ROSS LAKE NATIONAL RECREATION AREA
Shortcut across Puget Sound to your second destination: Ross Lake National Recreation Area, hard by the Canadian border. Drive north on Highway 101 along the coast to Port Townsend, where it's a 30-minute ferry ride to Whidbey Island and the cozy Captain Whidbey Inn (doubles, $150–$295; 800-366-4097, www.captainwhidbey.com). Next day, drive three hours on State Route 20 to 24-mile-long Ross Lake and the captivating Ross Lake Resort (doubles, $92–$197; 206-386-4437, www.rosslakeresort.com). First, there's one more transportation leg: Ditch your car at milepost 134 on State Route 20 and hike a mile to the water, where a resort boat will ferry you to one of 15 floating cabins. Mellow Ross Lake, home to beavers and beatniks, has premier LAKE PADDLING, with 20 designated boat-in campsites if you want to sleep out (pick up a free backcountry permit at the Wilderness Information Center on State Route 20 on your way in; 360-873-4590; the resort rents canoes and kayaks). Afternoon winds tend to blow strongly uplake, so move in the morning. Your warm-up: Paddle the four miles up and down the Ruby Arm inlet. Or ride a motorboat to the trailhead for 6,100-foot Desolation Peak. It's a 4.7-mile, 4,300-foot billy-goat hoof up to the lookout, where Jack Kerouac is rumored to have camped for 63 days. The views—of glacier-capped peaks and glistening Ross Lake—are nothing short of majestic.


Olympic National Park, Rose Lake National Recreation Area
Access and Resources
YOSEMITE NATIONAL PARK
ACRES:
747,969
ANNUAL VISITS:
3,475,315 (high: August, 611,500; low: February, 115,713)
CONTACT:
209-372-0200,
www.nps.gov/yose
MILES FROM NEAREST MAJOR AIRPORT:
190 (San Francisco)
DON'T MISS:
The charbroiled burgers and pool table at Dorrington's Lube Room Saloon, northeast of Murphys.
STANISLAUS NATIONAL FOREST
ACRES:
898,100
ANNUAL VISITS:
5,000,000
CONTACT:
209-532-3671,
www.fs.fed.us/r5/stanislaus
national parks, state parks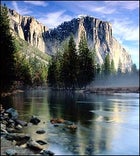 Oh Capitan, My Capitan: Yosemite National Park
YOSEMITE NATIONAL PARK
QUICK—TRY TO THINK OF A NATIONAL PARK whose icons are more familiar than Yosemite's masterpieces of rock and water: Half Dome, El Capitan, Tuolumne Meadows, Yosemite Falls. No park comes close to this one's abundant glacier-polished granite, a veritable shrine of ROCK CLIMBING. For those with aid-climbing skills, the tip of Lost Arrow Spire is an electrifying place to rise above the fray, quite literally, with outrageous views of Half Dome and Yosemite Valley. The spire is a tapering finger of rock that parallels the main Yosemite Falls wall, with an adrenalinizing twist: Although you climb only 200 feet on the spire, there's some 2,500 feet between you and the valley floor below, more than enough to get you mumbling incoherently about your own mortality. By the numbers the climb is Grade III, 5.7, C.2; if any of that sounds like quantum physics, you're not ready for Lost Arrow. (Instead, scamper up classic but less serious climbs like two-pitch Bishops Terrace, a 5.8.) There are two ways to approach the spire; we suggest making it a weekend trip either way, camping off-trail the nights before and after the climb. If you have ample sweat to spill, hike the four steep miles from the Valley on Yosemite Falls Trail via Yosemite Point. (Payoff: At about 6,500 feet, upper Yosemite Falls makes spectacular trail company.) For details of Yosemite routes and great climbing history, check out climber Chris McNamara's Web site at www.supertopo.com. For lessons or guided climbs, contact Yosemite Mountaineering School (209-372-8435, www.yosemitemountaineering.com).

STANISLAUS NATIONAL FOREST
Hugging Yosemite's northwest shoulder is the strikingly similar terrain of the Stanislaus National Forest, with more than 800 miles of rivers and streams, 1,470 designated campsites, and plenty of wilderness access points for sublime RAFTING and MOUNTAIN BIKING. Allow two hours to drive from Yosemite to a choice stretch of unpopulated whitewater, the North Fork of the Stanislaus, a steep, narrow canyon best run in May and June. Here await six miles of relentless whitewater, California's longest continuous Class IV stretch. En route to this trove, spend a night at Murphys Historic Hotel in Murphys, a charismatic Gold Rush town off Highway 4 (doubles, $65–$100; 800-532-7684). Then start the wild ride at Sourgrass Crossing, about 20 miles from Murphys, navigating massive drops, boulder slaloms, and stair-step waterfalls, into Calaveras Big Trees State Park. O.A.R.S. offers daylong rafting adventures ($117–$143 per person; 800-346-6277, www.oars.com). Next up: Continue on Highway 4 to Bear Valley, trade your paddle for knobbies, and tackle the Bear Valley/Lake Alpine route, ten miles of rock-hopping singletrack. Bear Valley Adventure Company (209-753-2834) has maps, guides, and rentals. With a sunset-facing deck and knotty timbered cabins, Lake Alpine Lodge (one-bedroom cabins from $120; 209-753-6358, www.lakealpinelodge.com) is your serene base camp. Don't dawdle: Highway 4 could be the state's next scenic byway.


Ramp It Up
BMX: Lake Ferris, California
Brandon Nicholls, now 14 years old, got his first for-real BMX bike on his seventh Christmas. "I just started riding from there," he says in a voice so newly dropped to baritone that he uses it slowly and carefully. Where he rode to was BMX glory. Last December, Brandon became the number-one–ranked amateur rider in the American Bicycle Association, BMX's leading sanctioning body.

At five-foot-nine and 170 pounds, Brandon is fast growing into his voice. On a Sunday after lunch in Moreno Valley, California, 70 miles east of L.A., he wheels his $1,900 aluminum-frame GT Speed Series UltraBox, provided as part of his sponsorship deal with the GT/Panasonic Shock Wave BMX Team, to the family minivan. Brandon, his parents, and his brother Kyle are about to decamp to the nearby Lake Perris BMX course, as it has on nearly every Sunday afternoon for the last seven years. Brandon's parents, Bill and Marci, will help officiate while their boy cranks out lap after lap in a local-level race, hurdling dirt-packed jumps and 25-foot-long stretches of dirt lined with 15 one- to two-foot bumps.

Once rolling, the Nicholls van takes on the glow shared by all family vehicles on the way to uplift and togetherness. "I think it's important to do things with them, not just drop them off and pick them up later," says Marci, a zaftig motherly sunbeam who works as a state truck inspector. (In lieu of a nametag, she's wearing a T-shirt that proclaims her to be Brandon's Mom.) Bill, a contractor who grew up in nearby Huntington Beach, brags about the preeminence of BMX here in the suburbifying drylands of Riverside County, the sport's Fertile Crescent. In fact, BMX was born in these parts in the early 1970s as bicycle motocross, a nonmotorized version of motocross that pits eight torso-armored racers against one another in one-lap heats, or "motos," on the 1,100 to 1,300-foot-long tracks.

Bill's own recreational background—he used to race Baja buggies and motorcycles—says a lot about why this is BMX country. Daddies here share a predilection for things that burn gas and go like hell. Motorless kiddie motorsport, then, is a natural. Some dads turn to BMX when their kids get hooked, and the 60,000-member-strong ABA is more than accommodating: Age groups range from five-and-under to 56-and-over, with the 13-and-14-year-old division the biggest. Yet despite its competitive bent, BMX boasts a thriving recreational side, too: Nonracers flock to homemade dirt courses—outfitted with short, swooping downhills and steep jumps—in parks all across the United States.

Today at Lake Perris, Brandon Nicholls is in his element. He rockets down the starting hill, looking like a steelhead swimming with catfish. "Check this moto right here," machine-guns the announcer, somebody's dad being unhinged. "Check out Brandon Nicholls!" Kids who hope for BMX fame can see it in their midst, while parental hope is spelled out on the side of the Chevy pickup that belongs to the guy who runs the track: Keeping kids clean in the dirt.

The Dirt: More than a dozen L.A. suburbs have BMX tracks. Armoring up for your first moto requires ABA membership ($35 per year). At the Lake Perris track, practice times and races are scheduled throughout the week; call 909-657-4917 for details.

SPECIALIZED FATBOY HEMI

VITALS: $600; 800-245-3462; www.specialized.com
WEIGHT: 4 pounds frame, 24.7 pounds complete
FRAME: No tubes, just an aluminum monocoque
FORK: Stout, chrome-moly unicrown
COMPONENT HIGHLIGHTS: A smattering of Specialized's own parts (cranks, tires, handlebars) built to handle the high-flying rigors of the BMX track
THE RIDE: Whether you're perfecting a gate-start at the track or simply hamming it up on the local trails, at $600 the Fatboy Hemi is cheap enough that you and Junior can think about getting matching bikes to work on your double-jumps together. (Sure beats hucking fastballs at each other.) The Hemi's trademark monocoque construction makes it stiffer than most BMX frames, and it comes adorned with nice touches like a built-in pad on top of the frame—which, when you come up short on that double-jump, means Junior won't necessarily be an only child.

S&M KRIS BENNETT

VITALS: $915; 714-835-3400; www.sandmbmx.com
WEIGHT: 6.95 pounds frame; 25.7 pounds complete
FRAME: Chrome-moly steel
FRAME: Stout, chrome-moly unicrown
COMPONENT HIGHLIGHTS: Pricey Profile three-piece cranks are worth every penny for their balance of durability and light weight
THE RIDE: Show up at any BMX street scene or dirt-lot jump astride the Bennett—named after the famed racer—and the local competition will immediately classify you as one of two breeds: dark horse threat or witless poser. You are, after all, riding the signature bike of one of the best "dirt-jumpers" in the country. Haven't heard of Bennett or his niche MTV-style sport? You're obviously not a threat. But that's OK because the Bennett, with construction and componentry designed to handle the impact of the occasional flat landing on hardpacked dirt, is tough enough to be ridden away from all but the worst rookie-beaters. —ANDREW JUSKAITIS