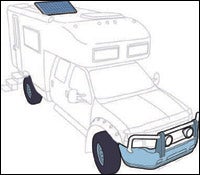 Heading out the door? Read this article on the new Outside+ app available now on iOS devices for members! Download the app.
High-end RVs deliver comfort and convenience, but they typically keep you tethered to pavement and plug-ins—and often have you sacking out among snoring retirees. Enter the EarthRoamer XV-LT, a $155,000 built-to-order luxury rig designed for charging off the grid in grand enviro style. Powered by a Ford F-450 4×4 diesel pickup that can run on clean-burning biodiesel, this base-camp suite will bump and grind on mud, gravel, snow, and every other rough track en route to your remote outpost. Once there, stay awhile. The EarthRoamer has high-efficiency solar panels to provide energy, plus a pumping-and-purifying system that can make potable agua from any freshwater source. Who says you can't take it with you?
earthroamer

earthroamer


THE INTERIOR

1. Kick back in the California king bed that juts over the cab and watch DVDs on the 15-inch FLAT-SCREEN TV, synced with a customizable sound system. 2. An adjacent CONTROL PANEL keeps tabs on power levels and water supply. 3. With a diesel-heated CERAMIC STOVETOP and seven square feet of GRANITE COUNTER SPACE, Paul Prudhomme would have room to operate in this kitchen. A furnace can heat the interior to 70 degrees, even in below-zero temps. 4. The seven-cubic-foot REFRIGIRATOR/FREEZER runs on electric power (as opposed to propane, the RV standard), so you never have to turn it off. 5. Bake apple pie or reheat kung pao chicken in the ELECTRIC CONVECTION MICROWAVE. 6. Wash away the day's grit and grime in the SHOWER/HEAD. Twelve gallons of hot water are available. Modest guests can open both bathroom and closet doors, then latch them together to make a private changing room.


THE EXTERIOR

A. Gnarly 37-inch-diameter tires team up with nitro-charged shocks to eat up any terrain.
B. A pair of 185-watt solar panels feed two monster batteries with enough juice to power the electrical appliances—plus your Xbox.
C. Thirsty? Connect a hose to the integrated filtration system and fill the 50- gallon water tank from a stream, river, or lake.
D. The six-liter, 325-horsepower turbo diesel engine can muscle you up loose inclines and keep you in the passing lane.
E. Halogen spotlights and high-intensity discharge lights lower the roadkill count. A 15,000-pound winch saves you from off-road jams.