The Edge of Infinity
From sailing the Society Islands and surfing killer Fijian waves to going native on the Marquesas, we've navigated the South Seas' biggest adventures for you in our far-flung, sun-soaked, beyond-belief guide to the Pacific's boundless blue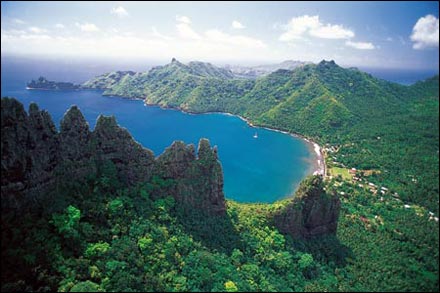 Heading out the door? Read this article on the new Outside+ app available now on iOS devices for members! Download the app.

The Marquesas: Let's Get Lost

Access & Resources
Getting There:
Air Tahiti offers round-trip tickets to Nuku Hiva or Hiva Oa from Papeete for 2. It also sells a four-way island pass from Tahiti to Nuku Hiva, Hiva Oa, Ua Huka, and Ua Pou for 1. 011-689-86-42-42,
www.airtahiti.aero
Where to Stay:
On Nuku Hiva, Keikahanui Pearl Lodge's 20 luxury bungalows sit on stilts a few hundred yards above the black-sand beach and village of Taiohae. The resort's restaurant, Le Pua Enana, takes advantage of the abundant sea life below. Doubles from 3, not including meals; 800-657-3275,
www.pearlresorts.com
. Hiva Oa's Hanakee Pearl Lodge faces the craggy outline of 3,903-foot Mount Te Metiu. The …
Beating about a savage and sublime paradise
It's high noon on the island of Hiva Oa, and I'm marinating in the sweet stench of fermenting mangoes, papayas, breadfruits, and bananas that hang in the dense jungle air like perfumed exhaust. I'm so buzzed that when I hear the sound of a moose's bellow, it doesn't immediately register that moose wouldn't inhabit the world's most remote archipelago, 850 miles northeast of Tahiti. The "aaa-oooogh-aaah" grows louder as my guide, Bob Suggs, one of the world's foremost experts on the Marquesas, leads us toward a stone platform—once used for human sacrifice—at the base of a basalt cliff, upon which a dozen or so ripped natives are dancing to drums, horns, and nose flutes. They surround a chief with a feathery headdress who's chasing a frizzy-haired, bare-chested man wearing nothing but a loincloth. Doc Suggs leans over and interprets that Loincloth Man represents a female fairy tern—a symbol of Marquesan love—and the warriors represent its feuding suitors. In reality the fairy tern is the bartender at the Hiva Oa Pearl Resort, the luxury bungalows in the town of Atuona, where I'm staying. In the Marquesas, however, reality is a loose term: This is a land where men with head-to-toe body tattoos still race one another in handmade outrigger canoes, the telephone didn't arrive until the 1980s, and, in the old days, there were two ways to please the island gods: sexual exhibition or sacrifice.
There's a reason Mark Burnett filmed a season of Survivor in the Marquesas: Paradise couldn't come with more caveats. Sure, the chain of ten islands possesses the rugged volcanic beauty of Molokai, more than 20 varieties of breadfruit, and the standard laissez-faire of island life. But if you're looking for loping crescents of white sand with nothing but a pink-umbrella drink between you and a dip in the azure water, stop off in Bora-Bora. The Marquesas—even the largest, most modernized islands of Nuku Hiva and Hiva Oa—are paradise in the raw, where the fun comes in communing with the islands' primal past.
Rose Corser, a 69-year-old American-expat art historian who's lived on Nuku Hiva since 1979, explains the islands' appeal this way: "I love the Marquesans because their life is their art, yet they were cannibals." This sublime-savage juxtaposition has attracted Western writers and artists for more than a century: Here, Robert Louis Stevenson wrote his best poetry, Herman Melville was inspired to write his classic adventure Typee by a run-in with cannibals on Nuku Hiva, Jack London witnessed the haunting tubercular coughs of the lepers, and Paul Gauguin was so smitten that he moved to Hiva Oa in 1901 and built his infamous House of Pleasure, a tropical version of Studio 54—without the disco. In addition to his endless stream of concubines and hazy morphine bouts, Gauguin kept a fishing rod dangling from his second-story studio, to fish out wine bottles cooling in the well below.
These days, most of the Marquesas' roughly 3,200 annual pilgrims are less interested in replicating Gauguin's public display of decadence and more interested in trying to piece together Polynesian life as it was hundreds of years ago. Unless you've booked a berth on the Aranui 3, the passenger freighter that stops at all six inhabited islands, you're not likely to get to the smaller islands like Fatu Hiva and Tahuata, which internal flights don't access.
But Nuku Hiva and Hiva Oa—with their jagged volcanic peaks, rugged jungle interior, and overabundance of coconut palms, crashing surf, and sultry air—are plenty. Both are riddled with ancient ceremonial sites where the crumbled remains of stone tikis grimace at you through thick layers of moss. Interspersed with four-wheeled excursions to archaeological ruins, there's time to hike to hundred-foot-high waterfalls or sunbathe on an isolated half-moon beach. And to experience a little living history, stop for lunch at village restaurants along the way, where you'll feast on breaded wahoo, shrimp, cassava, breadfruit, and mashed banana while you watch a villager cool off his horse in the surf or whittle an intricate tiki.
Luckily, it seems the only ancient practice that doesn't still exist is cannibalism. But even that ritual sacrifice wouldn't feel so out of line in a culture where the greatest desire was to please fickle gods and the ruling emotion is still passion. And as I bushwhack through the jungle with Doc Suggs, who points out skull repositories, embalming platforms, and stone tikis with frightening faces and fat bellies, I almost wish the song "Time Stops in the Marquesas," by Belgian singer Jacques Brel, who was buried here in 1978, were true. After all, what would you rather be? A bartender or a majestic bird?
Frigate: Surf Whale Country
Falling for Fiji's open-ocean breaks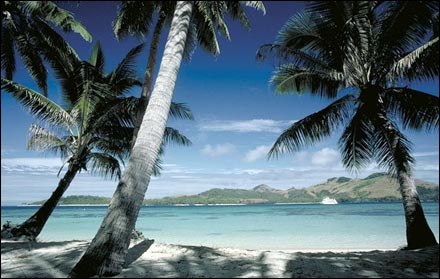 Access & Resources
Getting There:
Air New Zealand (800-262-1234,
www.airnewzealand.com/usa
) flies from LAX to Nadi starting at $806 round-trip. Air Pacific (800-227-4446,
www.airpacificusa.com
) flies from LAX to Nadi starting at $900.
Where to Stay:
Batiluva Beach Resort (011-679-345-0384,
www.batiluva.com
) runs $89 per person, including meals and surf transfers. Transfers from the Nadi airport are also available.
MY GIRLFRIEND, SIAN, watches me fall in love with another, and she smiles. She knew this would happen, which is why, as I leap from the boat into the South Pacific and start paddling toward one of Fiji's best breaks, she says, "Have fun." It's not a big day out at Frigate Pass—the waves are head high—but 50-yard lefts reel across the reef, the water is an inviting 78 degrees, and with only four other surfers out, the lineup might as well be empty. I paddle for a wave, pop up, and glide down the face. In a postcard paradise of brilliant sunshine and white-sand beaches, some beauty defies a postage stamp.
The open ocean is an unlikely place for a surf break. Frigate sits 14 miles south of Fiji's main island, Viti Levu, and seven miles southeast of the closest inhabited island, Yanuca. But thanks to a reef system that plummets 3,300 feet in just over two miles (a drop comparable to that from the Grand Canyon's South Rim to the Colorado River), Frigate rumbles across a stretch of wild sea locals call "whale country." It's not a beginners' break—the wave can unleash 20-foot faces and just as quickly send you to the hospital as offer the ride of your life—but it's worth the challenge for experienced surfers. In an archipelago of more than 300 islands, with world-class breaks like Restaurants, Namotu Lefts, and Cloudbreak, Frigate is one of Fiji's best.
For the next five hours I gorge myself. Small, playful waves that have traveled thousands of miles from the Southern Ocean offer themselves up in their waning moments. The Salty Dog, a 35-foot boat from the Batiluva Beach Resort (my home for ten days), bobs patiently, anchored in the channel. A single 40-horsepower engine propels the craft with all the strength of a sedated sea turtle; still, she's a star—built for the Hollywood movie Anacondas: The Hunt for the Blood Orchid, she was cinematically destroyed by a giant snake and resuscitated into our present-day surf charter. As she chugs the 75 minutes back to Batiluva, on Yanuca Island, we catch a yellowfin tuna; a few hours later, chef and co-owner Sharen Todd, 49, serves it as a sashimi appetizer with a sweet soy-ginger sauce. Grilled Spanish mackerel follows. Life is simple at Batiluva. "Eat, sleep, surf," says Dan Thorn, Todd's 57-year-old business partner, "and have a beer in between."
The two Americans opened Batiluva, which sits on six and a half beachfront acres, in August 2003. Besides the guests at another small resort in a neighboring bay, the only people on the 800-acre island are the roughly 300 locals. Batiluva is a simple camp that sleeps 14 in two multi-room bungalows, with shared bathrooms and rain-fed showers. We eat fantastic buffet dinners at a long communal table, perfect for reliving the day's war stories; coconuts fall regularly, and banana trees droop with 50-pound bunches. The staff won't just take you spearfishing; they'll cook your catch, too. If you time your stay at Batiluva right, you'll find Thorn grilling lobster tail for dinner. "This is what Fiji should look like," he says as he regales us with a story of a 30-pound grouper he once speared. As I swing in a hammock, watching the sunset pour red over the Pacific, it's hard to argue.
Even when we don't surf, our days start early, as soon as the 7 a.m. sunlight sneaks through the gaps of our wooden-planked walls. Sian and I lounge on the sand, kayak around the island, or snorkel the reef just off the beach. Some days we head back out to Frigate to snorkel and freedive, while others explore with scuba gear. On two separate occasions I snorkel next to a pair of three-foot whitetip reef sharks—mellow and curious, they're the Labrador retrievers of the sea. Eventually I swim over more than a hundred coral species and see huge groupers, a hawksbill turtle, and dolphins. Paddy Ryan, author of Fiji's Natural Heritage, calls diving around Frigate "a real buzz. There's a feeling of space and movement and depth," he says, "that gives you that extra little bit of excitement, a feeling that something big can come in."
And not just underwater. A perfect day at Frigate is big and hollow—12-foot faces throwing barrels wide enough to drive a Volkswagen through—and elusive. Though I never see it in top form, I realize that what's special about the break is how fun it is, even in poor conditions. One morning, with a small swell and the wrong wind, I paddle out anyway, and 30 minutes later I'm on a shoulder-high wave, zooming over a turquoise blur of coral a few feet below. I brush my hand along the face of the wave as it throws over me, and I find myself standing in the middle of the barrel, in the middle of the ocean, in the middle of a love affair.
Society Islands: Sail the Sous-le-Vent
Setting blissfully adrift in French Polynesia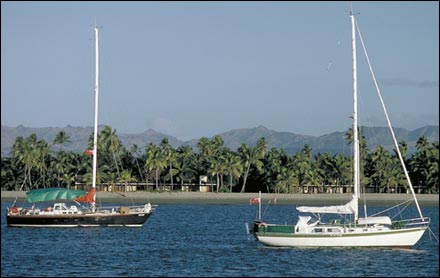 Access & Resources
Getting There:
Air Tahiti Nui (877-824-4846,
www.airtahitinui-usa.com
) flies nonstop to Papeete from LAX (from $923 round-trip) or JFK (from $1,223). Air Tahiti (011-68986-42-42,
www.airtahiti.aero
) flies from Papeete to Raiatea (from $240 round-trip).
Charters:
Sunsail (800-327-2276;
www.sunsail.com
) offers 37-to-57-foot yachts. Bareboat charters start at $2,500 per week. Full charters start at $14,000 per week. The Moorings (800-535-7289,
www.moorings.com
), based on Raiatea, offers 36-to-50-foot yachts for a minimum five-day sail….
SAILING IS THE ONLY FORM OF TRAVEL on which my family agrees. Despite the close quarters, squabbles between my mother, father, brother James, and me diminish on board a boat. We've seen a fair amount of the world this way. Or at least a fair amount of water.
In search of new winds, we find ourselves in Tahiti, the central hub of the Society Islands. With a prevailing easterly averaging 15 to 20 knots, the Societies make for an ideal cruising ground. The 14-island archipelago is divided into two groups, the Windward Islands and the Leeward Islands. We like the sound of the latter in French (Les Îles Sous-le-Vent), so we take the hour flight from Tahiti to Raiatea, the home port for Sunsail, our charter company. After a quick stop to provision in the capital of Uturoa, we're under way on Tourteau, a 47-foot Beneteau we'll call home for the next two weeks as we make a round-trip circuit of the Societies.
On our three-hour shakedown sail to Tahaa, Mum gasps, "Look at the color of this water!" It's true: The sea beneath us is becoming a lighter blue. Alarm bells go off—changing colors indicate changing depths. And although we should be in the channel, I can see the ocean floor.
"Wait, we're in French waters," my father yells from the helm. (The buoy system in French Polynesia is the opposite of that in American waters.) We make it to Tahaa without running aground, then dinghy ashore for a sunset dinner at Marina Iti. There's no menu, and we're the only people in the beachside restaurant. We eat cheese soufflé and mahi-mahi stuffed with shrimp and drink rum and wine.
Tahaa is known as the Vanilla Island, owing to the fragrance of its numerous vanilla plantations. Most of the residents are full-blooded Tahitians, but there is a visible French influence—the mailboxes are designed for baguette, not post, delivery.
The next morning, the sky keeps clouding over, and hail drives us below. After several false starts, we finally make a break downwind for the fabled island of Bora-Bora. When my father was a lad living in the outskirts of London, he thought Bora-Bora the farthest, most exotic place in the world, and so although some of the more rugged sailors advise we skip this "glitzy" island, we are too close not to have a look. It's a glorious five-hour journey under full sail.
Bora-Bora may be developed by Tahitian standards, but we find it magnificent, with lush Mount Otemanu stretching up 2,385 feet in the center. Over the next few days, we visit the famous Bloody Mary's for its eponymous drink and sit out a small cyclone before sailing back to Tahaa. Upon entering the lagoon, we're surrounded by some 50 dolphins. Had I been born into a godly family, we would have claimed the presence of the divine. We simply grin idiotically and say "wow" a lot.
After exploring Tahaa, we chart a course for Huahine, 25 nautical miles away. There is some grumbling on board arising from the fact that we are down to cheese and . . . cheese. We haven't showered in a few days, because we've run out of water. James is the smelliest, as he's refused to swim since the morning a harmless reef shark circled the anchored boat.
Once we procure steaks and water in Huahine's main village of Fare, we head south to the bay of Avea, ringed with perfect white-sand beaches. Here we rest for a few days, doing somersaults in the water and floating on our backs. In the evenings, James and I dinghy ashore to play poker and talk wind with the locals in a sand-floored beach bar. James throws down a full house and announces he's quitting his job at a Manhattan law firm. (He did—and is now penniless in Santiago, Chile.)
We spend the rest of our time exploring the bays of Huahine before finally returning to Raiatea. Once back at base, we gulp down the last of the Hinano (the local beer) and say goodbyes. Faces forlorn, we remember the famous French sailor Bernard Moitessier, who, instead of turning north to Britain from Cape Horn to win the Golden Globe race in 1968, kept on sailing, his course set for French Polynesia. We understand why.