The Daily Rally
Heather Ellis Trusts It Will All Work Out
Getting through a harrowing motorcycle adventure across Africa convinced the journalist that she can survive just about anything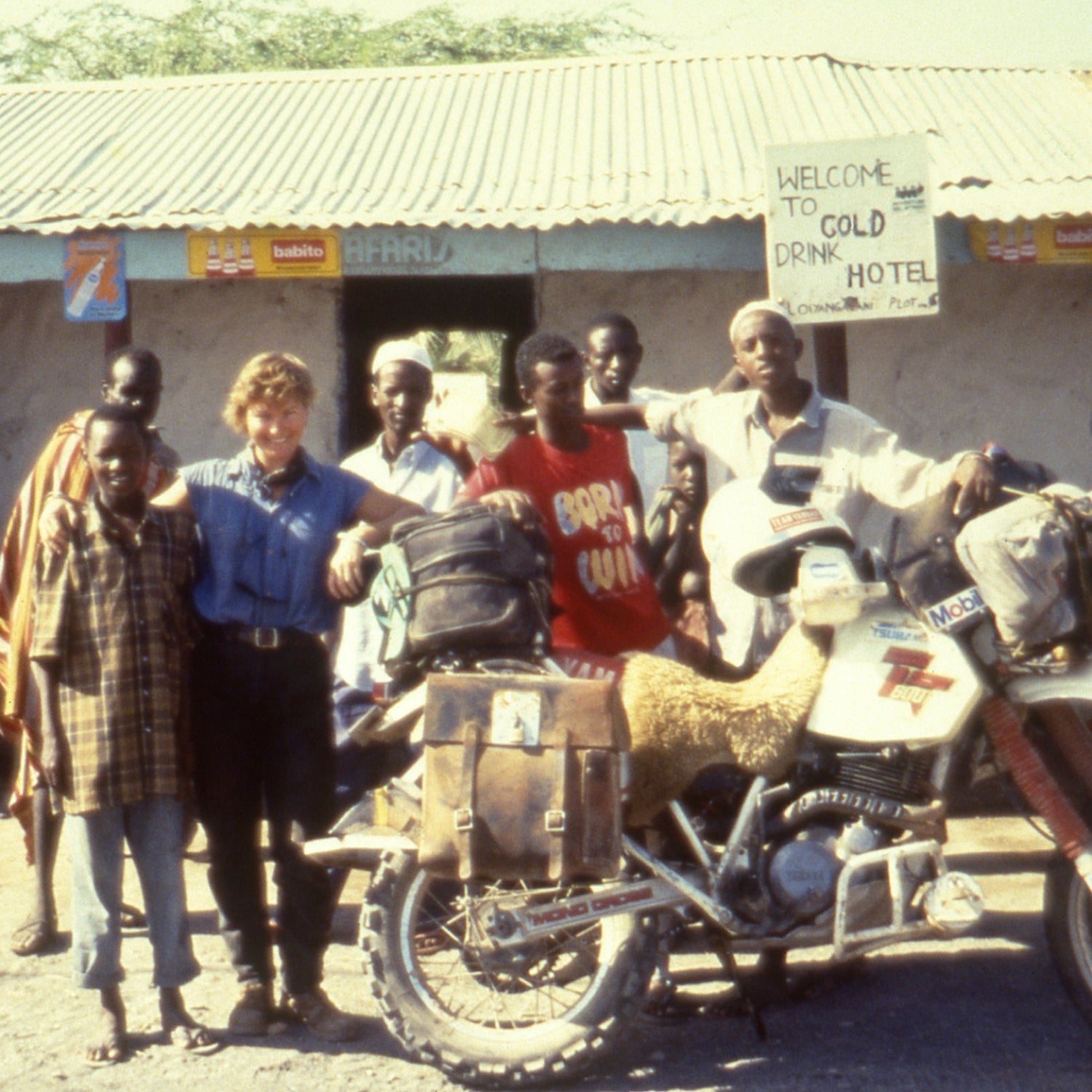 Courtesy Heather Ellis
Heading out the door? Read this article on the new Outside+ app available now on iOS devices for members! Download the app.
Heather Ellis told her story to producer Lushik Lotus Lee for an episode of The Daily Rally podcast. It has been edited for length and clarity.
The moment where I really thought I was going to die would've been about two days after leaving. It was the area where the sapphires were supposed to be. Because we'd run out of all our water by this time. And then I just said, "Look, this is it. We have to go back to the lake. The main thing we need is water." You can't survive in this territory without water.
I'm from Australia. I live in the Outer Ranges. I'm a writer, an author, and a motorcycle adventurer who traveled through Africa and then from London to Hanoi along the Silk Road and through China.
I think the attraction of Africa is that it's the cradle of humanity. This is where we all came from.
So to go to Sibiloi National Park, I was in a town called Loiyangalani on the fringe of Lake Turkana, and the people there said to me, "Don't go alone. You need to take a guide." Because it's a very isolated desert area. Roads aren't well marked, they're very sandy, and if anything went wrong nobody would be there to help me.
So I hired a guide. But he said, "I really wanna go and look for these sapphires." It's a short, 50- kilometer detour off this sandy track. So, I said, Oh, OK then.
I took about four days of food and lots of fuel. I could go about 450 kilometers. The whole trip was maybe 80 to 100 kilometers. We took this detour to look for these sapphires, and it was eight days of being lost in the desert.
This is very hot country. You go through water very quickly. So I was very concerned about the water. He kept telling me there was a road to get to Allia Bay in Sibiloi National Park which never existed. That next day, we were running out of water. My motorcycle got bogged in the sand. And I just thought, I just can't go on. I can't do this anymore. It was just a state of sheer exhaustion and dehydration.
When you lay down, you're not really thinking about anything. You get to that point where you just don't want to do anything. You don't want to move. You don't want to engage with thoughts or feelings. You just want to lay down and close your eyes, and whatever happens, happens.
I could not go any further. I just thought that this was it. And I said, "Leave me here. Leave me here." But fortunately, my guide forced me to move and get to the lake. He really saved me, and pushed me on to get up and walk to the lake.
We had nothing left. We had no food left. Nothing, not even tea or coffee or sugar or anything left. So walking to the lake that night was like one foot in front of the other, and it felt like we were walking for hours and hours.
Lake Turkana is full of big saltwater crocodiles that grow to a huge size, 6 meters long, and apparently there's like 40,000 crocodiles in Lake Turkana. This is at night. I was so thirsty. I walked into the lake, and just opened my mouth and drank and drank and drank. My guide said to me, "Oh, you're going to get eaten by a crocodile." And I'm like, "I don't care." I mean, this is what happens when you're just so thirsty, to the extent that your tongue is starting to swell up in your mouth. Really getting dehydrated.
So the next morning this boat sails past in the distance. My guide came running over to me and said, "There's a boat, quick, quick, there's a boat!"
They sailed past, and land further down the lake, maybe a kilometer away. I ran as fast as I could through all this swampy area. There was a big swoosh in front of me, which was a massive crocodile I'd nearly stepped on.
So I kept running and running and running, because I was worried they were gonna get on their boat and take off and we would be left. It wasn't like there were boats sailing past all the time.  And I got to them.
I got to the boat. Then we got on over to the other side of the lake, and I got onto my motorcycle, and off I went back to Nairobi. For as I'm riding back to Nairobi, I'm thinking, You know, I nearly died. What am I gonna do? Am I gonna go back home? Am I gonna continue my motorcycle journey across Africa? And it was just a split second and I thought, I'm not stopping this.
I felt after surviving the desert and the crocodiles, I could survive anything. And that did really change my life in a huge way. Just giving me the courage and the confidence to know that things will work out.
And in fact, that's the philosophy I lived by when I traveled, and even today, that things will work out. We worry too much about what may happen or may not happen. From that moment right throughout my journey…like people will come to you, they can help you with that idea or objects that might help you with that idea, or situations or opportunities, whether it's in your career or traveling or starting a business.
Things always worked out for me. I just had this sense of trust and faith that, like yesterday everything worked out. Today everything has worked out for me. Therefore, tomorrow will work out.
Heather Ellis is an Australian journalist who has ridden her motorcycle on epic global adventures. She lives with AIDS and works for Positive Women Victoria, which is a support and advocacy group for women living with HIV.
You can follow The Daily Rally on Spotify, Apple Podcasts, Stitcher, or wherever you like to listen, and nominate someone to be featured on the show here.
Lead Photo: Courtesy Heather Ellis
Trending on Outside Online