Murder in the Moroccan Mountains
Last winter, Moroccan officials found two hikers dead on the trail to the highest peak in the Atlas Mountains. The international investigation that followed revealed the fragility of the adventure travel economy, as well as what happens when a small tourist hub is suddenly made strange by violence.
Heading out the door? Read this article on the new Outside+ app available now on iOS devices for members! Download the app.
The narrow, rutted road leading into Imlil, the gateway town to Morocco's High Atlas Mountains, usually rumbles with activity. On a typical day, sand-colored taxis bringing day-trippers up from Marrakech, 56 miles to the north, share the road with hulking tour buses and snub-nosed vans with Transport Touristique written in script across their hoods. Taxis crammed with budget-minded backpackers trundle behind luxury SUVs from the nearby Kasbah Tamadot, Richard Branson's luxury retreat, where rooms cost more than $600 a night. In warm weather, German motorcyclists riding BMWs laden with gearboxes zoom past cyclists in bright helmets powering up the twisty mountain road.
Imlil, the central town in a valley with around 10,000 inhabitants, was once a sleepy out-of-the-way place, little known even to Moroccans. In recent years, though, as more hikers attempt to summit 13,671-foot Mount Toubkal, northern Africa's highest peak, Imlil has become something of an adventure travel hot spot. For residents, the regular hum of traffic is reassuring. It's the sound of more people coming to spend money in a region where most locals now derive their income from tourism.
The town has undergone an astonishing transformation since the first time I visited, in 2006, when I was living in Morocco as a Fulbright fellow. Back then, the valley was adjusting to electricity, which it had just acquired for the first time. Now it has well over 100 Airbnb listings. This spring, when I walked through Imlil with guide and guesthouse owner Mohammed Idhali, he pointed out the businesses that had opened since my last visit: the argan-oil cooperative, the orange-juice stand, the carpet shop, that guide outfitter, that other guide outfitter, the pizzeria-creperie. Outside a tea shop, a half-dozen local guides wearing North Face jackets and secondhand boots awaited their clients, shouting out greetings to passing friends: Ya, Rashid! Ya, Omar! Muleteers let their animals graze the stray roadside grass before loading them up for treks into the mountains. "Everyone works, so it's better now," Hassan Azdour, another guide and guesthouse owner, told me. "And everyone works with tourists. Out of every 100 people in the village, only five don't work with tourists."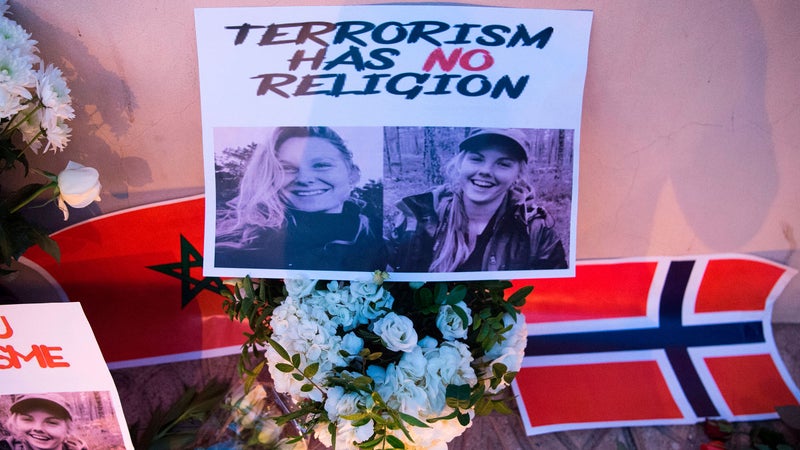 But on a winter day last year, all that bustling energy came to a sudden halt. On the morning of December 17, vehicles with government insignias sped along the road leading into Imlil, while the center of town remained eerily devoid of action. By midmorning, word of something terrible had begun to spread through the community: hikers—two young women, one from Denmark and the other from Norway—had been found dead on the trail leading up to Mount Toubkal, less than ten miles south of Imlil. Phones buzzed with rumors and assumptions. Perhaps, some people thought, the women had lit their camp stove in their tent and died of carbon-monoxide poisoning. But as more information emerged, it became clear that the deaths were not accidental. The women had died violently.
Four law-enforcement helicopters from Marrakech descended onto the rocky riverbed near the Toubkal trailhead. A team of investigators from the Central Bureau of Judicial Investigations (BCIJ), Morocco's equivalent of the FBI, arrived on scene. Clusters of Imlil locals watched anxiously. The dominant emotion was shock, with a strong undercurrent of fear. They said the kinds of things that people often say when their home is made strange by the sudden incursion of violence: How could this have happened here? Who could've done something like this? And what will happen now?
---
A month earlier, on November 21, Louisa Jespersen, 24, posted a question to her Facebook followers: "Dear friends, I'm going to Morocco in December. Any of you guys who's around by then or any mountain friends who knows something about Mount Toubkal?"
Jespersen's friends called her Lulu, a nickname that suited her playful personality and abundant appetite for life. Jespersen, who was from Denmark, described herself in a YouTube video as "very enthusiastic about outdoors and outdoor activities." Her social-media presence bears this out: there's Lulu doing a handstand on a beach, and hoisting an ice ax in the air, and pumping out push-ups, and whitewater kayaking, and diving off a rock into a blue pool of water. She liked to mug for the camera, sticking out her tongue and twisting her face into silly shapes; in photographs she's often captured laughing in a wide-open way. Her former boyfriend, Glen Martin, who remained close with Jespersen even after they broke up, described her on social media as a "bundle of joy." She was as tough as she was cheery. On a 2018 trip to Australia, she tried surfing for the first time. "I'm ready to fall a thousand more times on this board if it means that I one day will be able to stand on it," she wrote on Instagram. The year before, Jespersen had applied to be part of a grueling polar expedition sponsored by Swedish apparel company Fjällräven. In her video application, she explains her hunger to experience "the magnificent, untamed Arctic."
Like Jespersen, Maren Ueland was working toward a degree in outdoor life, culture, and ecophilosophy at the University of Southeastern Norway, in Boe. Ueland was from a small lakeside town in Norway, where she spent her childhood immersed in the outdoors. Shy as a child, she grew into an adventurous, idealistic young woman who cared deeply about others. She lived her life "both spontaneously and purposefully," her parish priest would say later. She dreamed of working in outdoor therapy, according to her mother, a career that would've engaged her interest in nature and nursing. (I reached out to friends and family members of Jespersen and Ueland, but they all declined to comment.)
Ueland didn't care much for Christmas—all that holiday materialism put a bad taste in her mouth—and often traveled over winter break. Morocco, with its winter sunshine and abundant trekking opportunities, was an appealing destination for the two frequent travelers and aspiring outdoor guides, who'd recently become friends. On December 8, Jespersen and Ueland arrived in Morocco. They planned to stay a month.
---
In the past decade, Morocco has become one of the most popular tourist destinations in Africa. As other countries in the Middle East and North Africa have been riven by political conflict and instability following the Arab Spring, Morocco has traded on its reputation as a safe and tourist-friendly vacation spot. The country's sporty 55-year-old monarch, King Mohammed VI, has prioritized tourism, and the country has set the ambitious goal of becoming one of the top 20 travel destinations in the world by next year. In 2018, more than 12 million foreign tourists traveled to Morocco, setting a new record. Most visitors stick to Morocco's cities—Marrakech, Fès, Tangier—which are justifiably famous for their mazelike medinas and carpet-haggling opportunities. But over the past decade, as tourists have increasingly sought outdoor experiences and local culture, a growing number have also begun to visit Morocco's countryside.
Like many outdoorsy adventurers, Jespersen and Ueland were drawn to Morocco's High Atlas, or Idraren Draren—Mountains of Mountains—as they are known in the Berber language. The range extends from the Atlantic Ocean toward the Algerian border, and it's rugged enough that Martin Scorsese used it as a stand-in for the Himalayas when he filmed his 1997 epic, Kundun. The two-day trek up Toubkal is one of the most popular hikes in the region, not only because it offers peak-bagging bragging rights but also because it's a nontechnical climb that's accessible to fit hikers. Earlier this year, CNN deemed it one of the world's best trails.
To guide Mohamed Idhali, the valley he knew so well felt suddenly strange, full of unseen menace. For the first time in his life, he was scared to walk home in the dark.
Jespersen and Ueland arrived in Imlil by taxi, according to local sources, and soon set off for the hike to the summit. They opted not to enlist a guide. "If you have considerable experience reading maps in mountain regions, you may not need a guide from a navigational point of view," Lonely Planet Morocco advises, "but you should seriously consider engaging one anyway… If for no other reason than to be your translator, your chaperone… deal-getter and vocal guidebook…. If something were to go wrong, a local guide will be the quickest route to getting help." That said, local guides told me that experienced, well-equipped hikers who were fit enough that they didn't need a pack mule to lug their gear—hikers like Jespersen and Ueland—often opted to climb the peak unaccompanied.
In December, wind, snow, and below-freezing temperatures dissuade some visitors from the High Atlas, but Toubkal remains popular. After leaving Imlil, Jespersen and Ueland would've first ascended a narrow mule trail that crossed a rocky floodplain near the village of Aroumd, which marks the official start of the trail. From there, the path snakes steadily upward. Despite the sharp-edged mountain faces rising in front of them, the two friends likely wouldn't have felt as though they were in a notably remote or desolate place. They shared the path with a number of trekkers, guides, and muleteers, several of whom later remembered the women as smiling and friendly. If they felt a sudden craving for a tin of Pringles or a package of wafer cookies or, for that matter, a Toubkal T-shirt, they could've stopped at one of the small shops—known as hanouts, in Moroccan Arabic—scattered along the lower elevations. After a couple hours of walking, they could've paused for mint tea at a café in the small settlement of Sidi Chamarouche, where the trail briefly levels out near a series of cascading waterfalls. From there, the path continues another three and a half miles to the Refuge du Toubkal, a mountain hostel at 10,521 feet. Hikers typically spend the night there, taking advantage of its basic restaurant and hot showers, before waking up before sunrise to tackle the summit the next day.
Above the refuge, the hike gets more serious, with crampons a necessity well into April. In December, snow cover can make it easier to navigate Toubkal's notorious scree slopes—dubbed "heartbreaking" and "awful" by one TripAdvisor reviewer—but biting winds make the winter journey more arduous than many expect, although presumably the conditions were nothing surprising for two Scandinavian women with glacier-climbing experience. The broad, rocky summit is often crowded with hikers taking triumphant selfies in front of the pyramidal peak marker. On a clear day, if you squint at the horizon, you might be able to spot the shining dunes of the Sahara Desert.
---
At the same time Jespersen and Ueland were navigating the Toubkal trail, four men from the outskirts of Marrakech were approaching the peak from the opposite direction. At one of the mountain passes, the men crossed paths with Brahim Baakenna, a local guide who was accompanying two Danish tourists. The encounter seemed unremarkable at the time. Baakenna exchanged greetings with the men, who appeared to be in their twenties and thirties, then pointed out the path leading up to the refuge. Perhaps unprepared for the snowy conditions, the men didn't make it to the refuge and remained on the lower-elevation trails. They had a brief, cordial conversation with a hanout owner (who asked to remain anonymous for this story) and, according to Moroccan security services, they also spoke with a British hiker, asking him if he was Muslim. He reportedly said that he was.
According to local sources (who could not confirm whether the women summited), on their way down the mountain, the pair didn't pass by the refuge until sometime after 4 P.M., significantly later than most descending hikers. Guidebooks note that it takes around three or four hours to make it from the refuge back to Imlil, and starting early is particularly important in December, when the sun sets around 6:30. The man who runs the hanout closest to the trailhead shuttered his store around four, then headed home without having seen the women. By the time Jespersen and Ueland reached his shop, it would've been near sunset, if not already dark. If they had continued to walk another half-hour or so downhill, they would have reached the village of Aroumd, where they could've rented a room and eaten a hot meal. Instead they opted to pitch their tent on a flat piece of ground next to the hanout and spend one more night on the mountain.
The men from Marrakech spotted them around 7 P.M., after the women had set up camp. They pitched their own tent a couple hundred feet downslope. They now numbered three, one member of their party having already headed back to the city in order to find a safe house, according to security officials. At midnight, the three men, armed with knives, approached Jespersen and Ueland's camp. One of the women (authorities still haven't said which) was stabbed to death in the tent and another just outside it. Shortly after the attack, the three men fled the scene, leaving their tent behind.
The next morning, two French tourists staying in Imlil set out for an early-morning hike. After about an hour, they reached the hanout and discovered the two bodies. They ran down the mountain to report the crime. "We saw a tent and that it was open, and we saw the two girls," one of the hikers later told a Danish television channel. "It was horrible. They were broken. We warned everyone we saw in Imlil not to go up there. I did not want more to see what we had seen."
Soon the mountain was swarming with emergency medical technicians and forensic investigators. Residents of Imlil clustered near the trailhead, trying to make sense of what had happened. Some surmised that the killers had come from Sidi Chamarouche. The small community on the mountain is centered around a shrine honoring a saint reputed to cure mental illness. Perhaps someone mentally unwell had caused what they were all starting to call, with horrific understatement, "the problem." It was unthinkable to imagine that such a crime had been committed by a member of their close-knit community. An attack on a tourist was also an attack on the underlying economy of the entire valley. "You would rather hurt yourself than hurt a tourist," Mohammed Idhali told me, "because if you hurt a tourist, you hurt everyone."
By Wednesday, two days after the bodies were discovered, a disturbing video was circulating on Facebook. Over the course of its 76 seconds, it purportedly showed the stabbing and decapitation of one of the women. In the background, a man declares that the murders are revenge for ISIS defeats in Syria. When the video popped up on local guide Baakenna's feed, he realized that he had met the killers on the hiking trails above Imlil. "I was crying," he told me. "I was very afraid."
---
Moroccans were stunned by the murders, which the prime minister called a "stab in the back of Morocco and Moroccans." For some, they provoked flashbacks to the country's last terrorist attack, a 2011 bombing at a popular café in Marrakech's central square that left 17 dead, most of them European tourists. "I was in Marrakech in the immediate aftermath of [the 2011 attack], and that was quite striking," says Amine Ghoulidi, a researcher at King's College in London who focuses on geopolitics and security in North Africa. "The city was very much deserted, the hotels were empty, the mood was down. That was not a good sight for a city that's usually pretty vibrant and that's very dependent on tourist activity."
The Saturday after Jespersen and Ueland's bodies were discovered, hundreds of Moroccans gathered for candlelight vigils outside the Danish and Norwegian embassies. In Marrakech, tour guides convened to collectively condemn the murders. (All this despite the fact that Morocco has had notably fewer domestic terror attacks than the U.S. or most EU countries.) Nonetheless, the gruesome details of the murders—and the visceral horror of the video—were fodder for racist agitators. On Ueland's Facebook memorial page, some people uploaded photos of her bloodied body alongside comments advocating that all Moroccans be expelled from the EU.
Morocco's security forces moved quickly in the wake of the attack. A few hours after the bodies were discovered, law enforcement arrested a 33-year-old plumber named Abderrahim Khayali in Marrakech. Three days later, three other suspects were arrested as they attempted to travel by bus out of Marrakech, with the murder weapons still in their possession, according to investigators from the BCIJ. They allegedly hoped to travel to Libya to join ISIS.
The four men, aged 25 to 33, lived in neighborhoods marked by high rates of poverty and unemployment on the outskirts of Marrakech. That city, Morocco's biggest tourist destination, "is a victim of its own success," Ghoulidi told me. "It attracts millions of people every year, and it's become quite gentrified. Prices are not accessible to the average Moroccan, so families move more toward the periphery of the city, which creates more isolation and stimulates grievances that might have shaped these people's perception of 'the other.'"
"Tourism is an extremely fragile industry," says Amine Ghoulidi, a researcher at King's College in London who focuses on geopolitics and security in North Africa.
The men had low educational levels and marginal jobs, according to Boubker Sabik, a Moroccan intelligence spokesman. Abdessamad Ejjoud, the alleged ringleader of the group, had previously been caught attempting to travel to Syria to link up with ISIS, and he spent a year in prison. Afterward, he became part of this plot closer to home, one allegedly targeting "security services or foreign tourists." A week before the murders, the four men filmed themselves pledging allegiance to the Islamic State, although Sabik insists that they were "lone wolves" who did not coordinate in advance with ISIS. (ISIS has not taken credit for Jespersen and Ueland's murders, although the group doesn't tend to claim attacks when the perpetrators are in custody.)
The men "were part of a terrorist cell meeting regularly to plan attacks in Morocco," Abdelhak El Khiam, director of the BCIJ, told me. The group's strategy allegedly included potential attacks against a synagogue in Marrakech and the Gnaoua World Music Festival, in the coastal city Essaouira. "But the four men decided to detach themselves from the rest of the group and take action immediately," El Khiam says. The men suspected correctly that their group was being surveilled by Moroccan security services, and "Imlil was the perfect remote location to evade the surveillance and finally take action," he says.
"We've already dismantled some terrorist cells that were much more dangerous and more organized, with many more resources than this one," El Khiam says. "There is a change in the terrorist profile, not only here in Morocco but everywhere else in the world. They're now taking action with only their own small resources. That was the case in Imlil—just four people and cheap knives."
The three main suspects who were present for the murders admitted to the crime in a trial this spring. On July 18, they were sentenced to death, while Khayali, who'd reportedly left before the attack, was sentenced to life in prison. Twenty-one other Moroccans, allegedly part of the terrorist cell, remain on trial. The group includes a Spanish-Swiss citizen named Kevin Zoller Guervos. Guervos had a number of run-ins with the law as a teenager before converting to Islam in 2011. Guervos, who now goes by Abdellah and lives in Marrakech, was accused of recruiting the four men and teaching them how to use encrypted communications and fire a gun. According to investigators, he targeted "ignorant people who have nothing." (Guervos pleaded guilty to all charges in court.) In Denmark, 14 people—including two children under age 15—were charged for sharing the video filmed at the scene of the crime. That video, circulated widely among right-wing networks, was subsequently used as ammunition to condemn Islam and even to mock the victims' tolerant views.
After the arrests, the murders continued to trouble the small community where they took place. The hanout owner, disturbed that his shop had been the site of such brutality, left it shuttered for more than two weeks. To guide and outfitter Mohamed Idhali, the valley he knew so well felt suddenly strange, full of unseen menace. For the first time in his life, he was scared to walk home in the dark. The fear coursing through the Imlil Valley wasn't just visceral; it was also economic. A family from Denmark had reserved Idhali's entire guesthouse for three days over New Year's. After the murders, they cancelled, as did other groups. Imlil's economy was increasingly entwined with tourism, and it seemed possible that the attacks, and the international publicity they received, could shatter the town. "I worried! I worried about the future," Idhali says.
He had reason to be concerned. "Tunisia used to be the example in the region, the 'good student' that everyone looked to," Amine Ghoulidi told me. "The quality of hotels was outstanding, the service was impressive." More than 400,000 British tourists visited Tunisia in 2014, but after a handful of widely publicized terrorist attacks, that number plummeted to just 28,000 in 2017. Egypt, where tourism was a cornerstone of the economy, saw visitation drop by two-thirds after the Arab Spring and subsequent political unrest. "Tourism is an extremely fragile industry," Ghoulidi says.
On January 21, Maren Ueland's funeral was held at her hometown's local parish church in Norway. Her family's dog, an enormous Leonberger named Alf Herman, sat quietly in the front row. The country's minister of health, Bent Hoie, addressed the gathering. "We must continue to climb the mountains and paddle in the rivers," he said. "We must continue to move freely and fearlessly into the world…like Maren did."
---
By April—high season in the High Atlas—fears of a decimated tourism industry seemed unfounded. The Berber Family Lodge, Idhali's guesthouse, was at capacity, and its owner bustled around the living room, stressed but smiling, a man keenly aware that he was at the mercy of TripAdvisor reviews. His guests that week included a pair of fit, efficient Germans; two Romanians working in Canada; and a Russian "digital nomad" who, after living in the Yucatán for the past five years, now identified as Mexican. Most of them had booked their trips before Jespersen and Ueland's murders.
"Bad things happen all the time," says Octavian Grecu, one of the Romanians. But he also admitted that he'd become preoccupied with the women's murders. "I started reading a lot about terrorist cells and ISIS," he says. "It got stuck in my head a little." He'd decided to bring his bear spray with him from Canada to Morocco "for people, not bears. It's good to have it on me. It makes me more relaxed."
Grecu and several others had planned on hiking Toubkal the next day without a guide and were alarmed when Idhali informed them that they would not be allowed to climb the mountain without official accompaniment.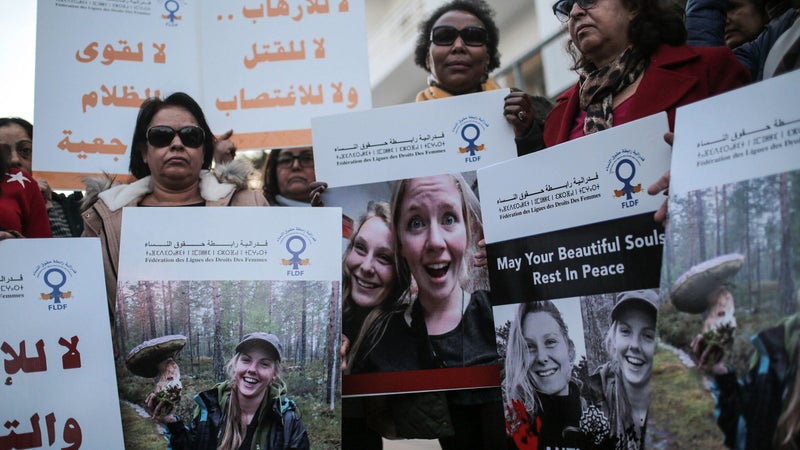 "It should be free, it's an open mountain!" Grecu said.
"An open mountain…with cutthroats," another guest chimed in darkly.
"But if you want to dare it," Grecu replied.
Idhali shook his head. There were officials stationed at all the mountain approaches, he explained. Everyone in the village knew one another. If the guards saw an unaccompanied foreigner, or a Moroccan they didn't recognize, they'd call the gendarmerie. A guide was an absolute necessity.
"Since when?" Grecu asked.
"Since…the problem," Idhali said.
In recent years, Morocco has responded to threats against tourists by ramping up security. The police's Brigade Touristique patrols areas popular with visitors, checking identity cards and arresting Moroccans for public drunkenness, theft, begging, and not having a guide license. After the murders in Imlil, authorities decreed that any foreigners who wanted to walk the Toubkal path would have to enlist a guide, even for short day hikes. There are now four checkpoints along the trail to the summit, mandatory stops where a uniformed official records your passport information and confirms your guide's credentials. It's also no longer possible to sleep in a tent on the mountain as Jespersen and Ueland did.
The strictness isn't limited to Toubkal; there's a new police checkpoint on the road leading into town, where gendarmes hand out tickets to people who aren't wearing their seat belts. The stepped-up police presence has made Moroccans more conscientious about conforming to local laws lest they face hefty fines. The new requirements were causing headaches, with many more visitors than available guides. That night, Idhali was on the phone for hours, attempting to line up a guide for Grecu and the others. (He finally found someone at 10 P.M.)
Generally speaking, the residents of Imlil preferred not to discuss the murders that had shaken their small community. "We try all the time to forget," guide Lahcen Amerda told me. Even if it wasn't spoken of, though, Imlil has changed in other, more subtle ways since "the problem." Locals admitted to feeling a new wariness toward unfamiliar Moroccans. "It's like we were sleeping before," says Amerda. Now "if you see someone and he is not from the valley, you see where he is going. If you see something that's not normal, you can call the police." I heard a story about a couple of Moroccan men on motorbikes who stopped a local man. They explained that they didn't have the proper registration for their bikes and wanted to know if there was a way to evade the checkpoint at the entrance to town so they wouldn't get a ticket. The local man demurred. When the strangers were out of sight, he called the cops on them.
On a bright spring day, I traced Jespersen and Ueland's steps from Imlil to Sidi Chamarouche. As per the new regulations, Idhali agreed to act as my guide. The path was packed with hikers of various ages and abilities, as well as mules laden with bags of gravel—construction materials for another new police checkpoint being erected along the trail.
There was no marker or memorial commemorating the place where the women had been killed, just a few tables where a handful of hikers sat drinking orange juice and looking out over the valley where birds swooped down between very old mountains. Idhali chatted with the hanout owner as I sat and thought about the last time I had been on this path. In 2007, when I was the same age as Jespersen, I spent a year living in Morocco. The most eventful moment of my hike up Toubkal that summer was when my two friends and I witnessed the birth of a baby goat. We rushed ahead to alert the goatherd, who seemed amused at our wonder. I remember the slowly dawning realization that goat births were not as momentous for Moroccan goatherds as they were for American tourists. It was one of those travel moments when the world, in all its mundane dailiness, seemed suddenly new. Sometimes it felt as though I spent that whole year learning over and over again that I knew less than I thought I did.
Idhali stood up, ready to press on down the path, but I wanted to stay and think a little bit longer about Jespersen and Ueland—how open they seemed to the world, and how the saddest legacy would be if their deaths left the world more rigid, more suspicious, and more unlike them.
Lead Photo: Alisha Bube/iStock