Years After My Mentor Died in the Backcountry, I Retraced His Final Footsteps
Faced with risk and loss in the mountains, our writer grapples with what it means to lead a life well-lived.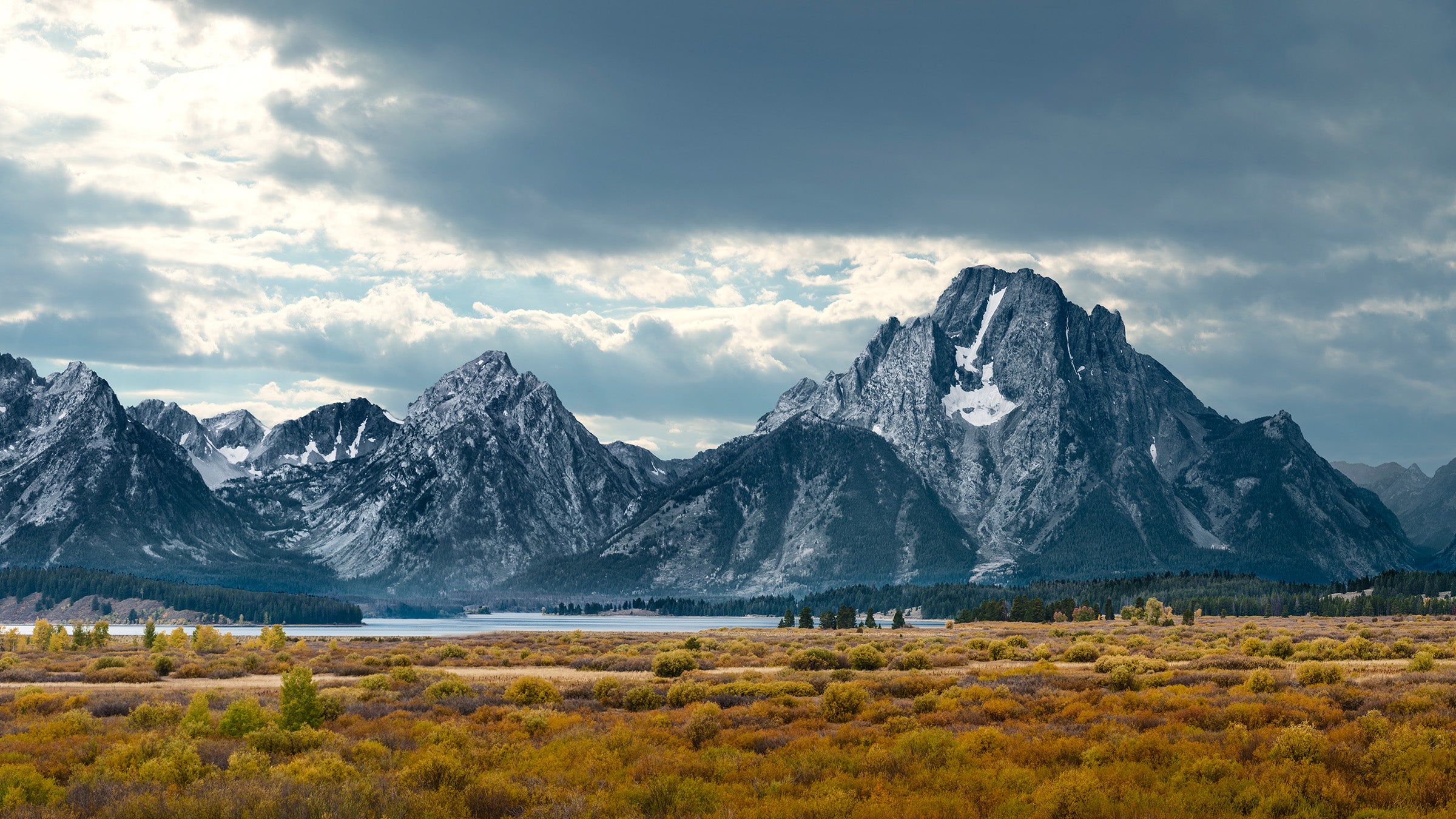 Heading out the door? Read this article on the new Outside+ app available now on iOS devices for members! Download the app.
When my alarm split open the darkness at 1:00 AM on July 10, 2021, I wondered vaguely if this was the day I was going to die.

In my ten years as a climber, I've done a lot of dangerous things, and the climb I was about to do—the Grand Traverse of the Teton Range—was hardly the riskiest. But here, ghosts lurked in the shadows. This was the climb that had killed my mentor. A piece of me wondered if I was doomed to the same.

I forced the thought away and pushed myself to my feet. My climbing partner, Noah, was already stirring in the back of the van. Dawn would be coming soon enough. It was time to go.  

The Grand Traverse is a massive, 18-mile, 12,000 vertical-foot linkup of all seven major peaks in the Teton Range, from Teewinot to Nez Perce. It would involve some snow traverses, nebulous route-finding, some scrambling, and a bit of technical climbing. Noah and I knew it was well within our ability—the only catch was that neither of us had spent much time in the Tetons. Navigating in unfamiliar alpine terrain is notoriously tricky. We told ourselves we were aiming for 24 hours, but in the backs of our minds, we were more or less planning for it to turn into an epic. 
Scrambling the exposed, fourth-class stretch to the summit of Teewinot, a section that two hikers had died on a few years prior, I remembered something my dad had always said to me growing up. It was a mantra I'd always fallen back on when I had a goal that scared me: "Do what you love, and the rest will follow." I glanced down at the airy void beneath my feet, and I wondered if this was what he'd had in mind.  
I lifted my gaze across the valley. The sun was coming up, glowing red through a smoky haze from fires to the west. On the hike up, I'd glanced over my shoulder every hour or so for a glimpse of the headlamps bobbing along trails to our right and left. It was comforting to know other people were out there; even standing next to a good friend, it's lonely to be awake before the rest of the world. It's lonelier still when you're following the footsteps of a friend long dead, wondering at every turn if he was lonely, too. 
I turned back to the trail, shivered, and rehearsed the route beta again in my mind. Anything to keep my mind off of Alexander.

I met Alexander Kenan my freshman year of college. He was long-legged and pale, with a sharp sense of humor and a nervous laugh. He had beautiful hair—a roguish mop of brown curls. In the years when we were friends, I used to have nightmares that he'd gone bald.
In college, we were only ever friends, always dating other people—but we were both enamored with the outdoors. Whip-smart and earnest with a good head for mountain travel, Alexander became my first mentor. We spent every weekend backpacking the Appalachians. After we graduated, he set off to hike the PCT, doing it not only against the grain and southbound, but tagging 21 peaks above 9,000 feet, most of them technical, along the way: Baker, Shuksan, Goode, Glacier Peak, Rainier, Little Tahoma, Adams, Hood, Jefferson, Three-Fingered Jack, the Three Sisters, Shasta, Lassen Peak, Conness, Thunderbolt, Starlight, North Palisade, Polemonium, and Sill. He was the first known person to connect all these peaks on foot. 
Focused on the goal, as he always was, Alexander took only one extended break from the trail: to meet me in Yosemite for four days in October of 2015. 
I remember seeing him, skinny and bearded, step out of his tiny rented car at the airport. It was the first time I'd seen him since he'd graduated that spring. In the time since, I'd moved to Colorado for an internship, then to North Carolina to finish up my degree and work at a remote biological field station. I'd started a new career. I'd had my heart broken by a boy out west.

So much had happened in those five months. We'd both grown up a little. For a moment at the airport, we stood there, looking at each other. It felt like meeting an old friend. It felt like meeting someone new.  
After the trip, I returned to my work in North Carolina. The next week, love letters started arriving in the mail from general delivery addresses along the PCT. As soon as he finished, Alexander flew straight home from the trail's southern terminus, got in a car, and drove to see me. I opened the door of my field station bunkhouse to find him standing there, after dark, in the rain, holding flowers. I couldn't stop smiling. It felt like a dream.

We started dating. We moved to Colorado. We climbed and hiked. We stayed up late, making each other laugh and dreaming big dreams. Eventually, I moved in. It was bliss.

At first.
Like many climbers, Alexander had a rational, analytical mind, something I'd always admired about him. It made him a skilled adventurer—and an excellent chemist. Like many brilliant men, his refuge was in the lab, where the interactions of every chemical were scripted and reactions could be controlled. After a while, we started quarreling about feelings as if they were math problems. We settled into a new routine filled with far more arguments than adventures, and eventually our relationship fell apart.

In January of 2017, I was working as a freelance writer and drove from an assignment in Western Colorado. When I arrived at our rented house, it was quiet. There was no one home. I walked into the little basement room Alexander and I shared. Cold sunlight shone through the tattered blue towel we used as a curtain. There was a letter on the mattress on the floor. I read the first page, then the second with shaking hands.
Alexander had been a friend, a mentor, a boyfriend, a roommate. An ex, an adversary, and then, in the end, a voice of reason, a sound of hope. For five years, he'd stood at the center of my universe.
"I think I still love you." The letter said a lot of things, but that's how it concluded. For a while, I sat on the floor, sobbing. When Alexander got home from work, I ended things. 
Alexander left town a few weeks later for an 18-month road trip we'd planned to do together. He'd decided to continue with the plan, just without me. For a while, we didn't talk at all. Then we started exchanging letters, each of them meaner than the last. Over time, we said what we needed to say, and all our pent-up pain seemed to work itself out.

By early August of 2017, we had called a ceasefire, and found something closer to the friendship we'd once had. We spoke on the phone for the first time in months. I told him I'd always love him and that I wanted to be friends. He told me he'd be driving back to Colorado soon, after a brief trip to the Tetons. He said he wanted to see me.

A few weeks later, on August 26, 2017, I got a call from Alexander's sister. I was driving at the time. I smiled when I picked up the phone.

"Hey Anna! How are you?" 
For a moment, she was silent.

"There was a climbing accident," Anna said, barely getting the words out. "Alexander didn't make it."
Alexander had been a friend, a mentor, a boyfriend, a roommate. An ex, an adversary, and then, in the end, a voice of reason, a sound of hope. For five years, he'd stood at the center of my universe. Then, just like that, he was gone.

I could hear Anna swallowing on the other end of the phone. My vision spun. I couldn't breathe. I hung up and called a mutual friend and repeated Anna's words to him, verbatim.

"Alexander's dead," he said. His tone was distant, at the cold edge of unraveling. I couldn't bear the words. "Alexander's dead," he said again. And again.
I pulled over and sat on a curb and cried.

I couldn't understand it at a physical level, or at a cosmic one. How could this have happened? He had been doing everything right. Even the mantra that had always led me, he'd followed to the letter.
Do what you love, and the rest will follow. 
Alexander had been told something similar at some point in his life, either by his loving parents or some mountain philosopher in the books he read. He had taken the advice to its furthest reaches, mastering technical skills with a clockwork rigor and spending every spare moment hiking, running, and climbing—all while working as a chemist and applying to medical school. And yet, despite all his diligence, something had gone wrong that day in the mountains. 

He'd slid off the end of his rope during a routine rappel, tumbling 65 feet onto the rocks below. One end of the rope had been longer than the other. This was unusual; every rappeller—Alexander included—knows to check that the ends are even, or else put stopper knots in both, to insure against a catastrophic slip-up. I couldn't make sense of what had happened. Maybe one end had been caught up in a gust of wind or gotten snared in a rock crevice. Maybe the guidebook had been misleading, or the terrain difficult to read—it was impossible to know.

The rangers guessed that he died instantly. 
"A freak accident," people said after his death. It was the same analysis I'd heard when a hiker went missing on Colorado's Longs Peak last year, and when rockfall killed yet another friend of mine in Wyoming's  Wind River Range a few years prior. 
The assessment scared me. If freak accidents could happen to experienced adventurers—if they could happen to my mentor—then who was immune? It could happen to anyone. It could happen to me. 
At the time, I tried to take comfort in that hollow idea of "dying well." When a person dies in the mountains, people regard them like a war hero. They mention the name of the deceased, and it echoes with a dark sense of awe. We revere them. That's the ghastly truth. So, in the days after Alexander's passing, I said the same, horrible thing everyone always says when someone dies too young: He died doing what he loved. 
When I said this to  Alexander's dad in an email, he bristled. I knew that he had felt both pride and fear about Alexander's climbing in the past, but now his response cut straight through the bullshit.
"He had so many other talents, and now we will never have the chance to see him become one of the world's greats in any of those areas," Dan wrote back. "It seems like such an unimaginable waste of his life and his potential to change the world and to help innumerable people."
Alexander had been told something similar at some point in his life, either by his loving parents or some mountain philosopher in the books he read. He had taken the advice to its furthest reaches, mastering technical skills with a clockwork rigor and spending every spare moment hiking, running, and climbing—all while working as a chemist and applying to medical school.
At Alexander's memorial service, I remember my own father—the confident jokester, the outdoorsman—gripping my shoulder. He stared me down, grim.

"This should be a lesson," he said. It was the first time I'd ever seen him scared. 
Three months later, in December of 2017, my father had an unexpected heart attack. I was 24, in Colorado at the time, preparing for a multi-pitch ice climb in the Rockies. But when I got the call, I scrapped the plan. A few days later, I flew to Atlanta to see him. It would be the first of many visits to the ICU. 
I remember walking into his hospital room one day in February. I know it was only bright in there because of the harsh fluorescents, and the blinking lights that reflected against the slick plastic tubing like streetlights on pavement after rain. But when I peer into the memory, it feels bright with sunshine.
My dad was dying. I didn't know it, but I think he did. I sat by his side, on a little stool by the hospital bed. 
There was hockey on TV. I remember the muffled, fast-talking baritone of the announcers, the dull, tinny roar of the crowd. A terrarium of joyful humanity, somewhere else, somewhere far away. 
"I'm sorry I told you that you couldn't be a hockey player when you were younger," my dad said. It was a wheeze through parched lips. By this point it was hard to decipher his facial expressions. His face was so sunken, his skin like folded yellow paper. It had been a few weeks since the heart attack, and he'd been on and off life support for a while. But his eyes were smirking, just a little. Same old dad. 
Inside, he was the same man—the man who had taught me how to hike and run and care about trees and spend long days outside in the Georgia woods. Maybe that's why it never occurred to me that he could be dying. 
"That's OK," I laughed.
We joked a little more but didn't talk about much else. There was too much to say to say much of anything. When I left the hospital that day, I told my dad to get better, OK? When he looked at me, all trace of that smirk was gone.

"Do what you love," he said. It landed heavy, like a big statement, like he was desperate to get it out. I think I only nodded, or said something off-hand: "Of course." 
It was the last time I ever saw him. He was 53.

He believed the highest calling of a human being—scientist or athlete, it didn't matter—was to push the limits of human potential. This, he'd said, is why we climb mountains.  
The night before my dad's funeral, I lay awake staring at the ceiling, wondering. Had my dad done everything with his life that he had wanted to? Compared to Alexander, he'd played it safe—married young, bought a house, had kids, worked long hours at a corporate job. Ate healthy, ran five miles every morning. He led the kind of life the statisticians tell you will make you live forever. I knew he wanted to travel more, ski more, maybe try mountain biking. He'd just never had the time. 
I thought back to Dan's email to me, which had also said this: "I am awed by the 10,000+ photos recovered from [Alexander's] shattered phone that document 3+ years of living a life that took him to innumerable remote places of unimaginable beauty. Who gets to do that? Who even dares to do that?"
On the top of Teewinot, as the sun cast the snow-streaked ridges of the Grand Teton in silver and pale rose, and the whole range unfurled beneath it in silent grandeur, I wondered. My dad died before he could do everything he wanted to do. Alexander died young doing exactly the things he'd always dreamed of. Which was worse? 
I didn't stop too long to ponder; we had too many miles to cover before dark. 
As the sun finished its rise, Noah and I picked our way around the side of Mt. Teewinot, shuffling through talus and boulders. We were quiet then. The next summit on our journey was Peak 11,840. This is the one I'd come for. 
When I'd first proposed the idea of the Grand Traverse to Noah, I hadn't mentioned that Peak 11,840 was my true objective. It was the last descent Alexander had ever done. It was the rappel he'd died on. 
Analysis of Alexander's phone data reveals that he got about four hours of sleep the night before his attempt of the Grand Traverse. Over the preceding two days, he'd driven more than 15 hours on his way back from climbing in Alberta. He'd reached Jackson after dark on August 21 and searched for beta and pictures of the route. He'd searched its fastest known time.
Of course he did, I'd thought when Dan revealed all this to me. That was Alexander's MO: Why do something if you weren't going to really try? Why climb a mountain if you couldn't be the first? Why hike a trail if you couldn't do it faster than the person who tried it before? Alexander was a researcher. He thrived on the cutting edge. He believed the highest calling of a human being—scientist or athlete, it didn't matter—was to push the limits of human potential. This, he'd said, is why we climb mountains.  
As for me? I'd always been afraid of the unknown. I was scared when I was a backpacker, scared when I got into mountaineering, and scared still when I started competing internationally as an ice climber. 
Fear never seemed to touch Alexander. But for me, it never left. My method was to ignore it, to put my head down and keep charging, keep training—keep running. I knew if I paused too long to truly consider the risks I took, I wouldn't be able to face them. I was afraid I'd stop right there on the mountainside, turn back, go home, get married, have two kids, and watch the rest of my life unfold in a tick-tock rhythm, as settled and boring as the old American Dream. I was afraid I'd end up living the life my dad had lived. 
Of course, I never stopped long enough to ponder this, either. There are always too many miles to cover. And the darkness always comes for us too soon.
On the morning of August 22, 2017, on the southwest face of Peak 11,840, Alexander threaded his rope through two metal rings. It was the last in a series of three rappels. He knotted one end of the rope but not the other—a common shortcut on alpine objectives of this magnitude—and he threw the ends over the rocky bulge beneath him. He clipped his rappel device to the rope's two strands and prepared to descend.
Then, in the hazy twilight, he glided down, quickly, effortlessly, thinking no doubt about the peaks that lay ahead. The East Prong. Mt. Owen. The Grand Teton. 
Then, suddenly, he was falling.
Rangers found Alexander's left hand raw with rope-burn. For at least a few moments, he'd known exactly what was happening. He'd known that one end of the rope was longer than the other and that the short end—the one without the knot—had slipped straight through his rappel device, unraveling the whole system in a blur of snaking nylon. He'd grabbed the rope as he felt it slip free, desperate to hold on. Maybe his eyes flew wide when he realized. Maybe he cried out as his hand was burning. 
This is the scene that played through my mind when we eased down onto the ledge where the first of the three rappels began.    
"How are you feeling?" Noah asked. 
"Nervous."

It was just after sunrise. As I threaded the rope through the rings, I could suddenly picture Alexander's hands doing the same. Long fingers, chewed fingernails, knuckles with dirt in the creases. Hands I hadn't seen or touched or held in years. 
In silence, Noah and I descended. 
At the second rappel, I realized I'd started shaking. I threaded the rope, checked and double-checked my rappel device. This time, my mind flashed with an image of Alexander's helmet, colored orange and striped in permanent marker in honor of his PCT trail name: Tiger. In my mind, I saw his curly hair. His shoulders twisting as he cast a glance out over the landscape, over the pale light that still reflected pink off the snow. 
Noah and I descended. 
At the third and final rappel, I took a deep breath. Noah gripped my arm, maybe reminded me to breathe. I don't fully remember. I only had eyes for the red and blue webbing that wrapped the stone in front of us, and the metal rings that were to hold our rope.
I had spent my entire adventure career following in Alexander's footsteps. This was the end of the road. This was the first time I'd taken one step further than he'd ever been able to go. 
This time I could see Alexander's face. A flash of remembered smile, a melody of remembered laugh. Another flash, and I could see him shattered on the rocks. Ropes twisted around him on the talus like scorch marks. Rope-burn on his hands. 
I shook my head to clear the image, and took a deep breath to still my shaking shoulders. I held on tight as I threaded my device, pulled up both rope ends, and measured them carefully. My fingers twitched as I tied the first knot, then the second. 
I threw them. I watched the ends twist and flicker in slow motion as they sailed through the air, down the gully, and swung below the bulge. I watched as they came to rest just out of sight, and blinked, taken aback. There was no crack to ensnare the ropes. Tucked into a corner, the rappel was sheltered from the wind.
How could he have missed this?  I thought, staring at the shape of the rock, the invisible rope ends, the ground that was clearly so far below. 
This was a textbook example of a circumstance in which you're supposed to take extra safety precautions during a rappel. Like hanging a bear bag in the Rockies or filtering water near pastureland. It was obvious. It was a situation Alexander and I had both studied when we were young and learning how to explore in the mountains. 
Alexander's fall wasn't a freak accident, I suddenly realized. He'd made a mistake. A rookie mistake. 
In that moment, I could feel everything start to unravel. This man I'd worshiped as a mentor, a hero, a partner, a prodigy had made a thoughtless error. My head was reeling, but I didn't know how to feel. Should I feel comforted? Or angry? Did this make it easier to accept his death—or more impossible than ever? 
As soon as I landed on the ground below, I started crying. All of a sudden, everything hurt. I wanted to shake Alexander. I wanted to squeeze my dad's hand and tell him that we were wrong, that the accident was preventable and I knew now how to prevent it. That I was going to be OK. I cried because I'd never get the chance to speak to either of them again.
And I cried because I suddenly felt lost. I had spent my entire adventure career following in Alexander's footsteps. This was the end of the road. This was the first time I'd taken one step further than he'd ever been able to go. 
After Peak 11,840, Noah and I continued on to Mt. Owen and the Grand Teton, completing almost half the Traverse. We were about 400 feet short of the summit of the Grand when the sun started to near the horizon and fatigue started to gnaw at our bones. 
Together, we looked at the sky, entertained a brief discussion. Then we both nodded, and turned back around the way we'd come. Before descending, we took a bail selfie, both of us grinning from ear to ear.

"Here's to making good decisions in the alpine," Noah said. 
I nodded, and wondered: If not for the tone of the day, how far would we have kept going? What would we have risked? Maybe Alexander was still teaching me lessons after all. 
My Grand Traverse attempt was over a year ago now. These days, I don't spend much time in the mountains. I keep telling myself I'll get back into it. That I'll plan another long fastpacking mission, link up some Fourteeners, maybe even go back to technical alpine climbing. 
But the truth is, I haven't missed it. My ice climbing competition season last year wore me down. I had more friends and acquaintances die in avalanches or under rockfall. More "freak accidents." More mistakes. I was tired.
So, I turned my back on the mountains. I spent the summer hiking below treeline and learning how to dance. I thought about getting married. I thought about buying a house. One piece of me felt free. The other piece felt like a failure.

Then, the other day, I re-read an old email from Dan that he'd sent me when I was 24, still obsessed with climbing and intoxicated with ideas of glory. At the time, I'd brushed off the email as the chiding of an old man—the same way I'd brushed off my dad's fear when he tried to warn me at the funeral.

Even through the email, I could hear Dan's voice. Raw and frayed and earnest.
"I sincerely hope that others take away from this tragedy a more acute sense of their own mortality," it read. "And that even someone who was so compulsively safety-conscious as Alexander could make a fatal mistake. And that being sleep-deprived and calorie-deprived degrade one's ability to engage in risky activities. And that a mistake during a climb might not only cost them their life, but would also cause unimaginable pain to those family and friends that they love the most. And that the greatest pleasures in life come not only from pushing, but also from being still."
But also from being still.

It wasn't until I re-read Dan's email that I realized that stepping away from something you once loved isn't necessarily a failure. It's a way of opening the door to something new. Maybe, in this case, something better.

I will never know if Alexander's short, fast, beautiful life was better or worse than the way my dad chose to live his. I can't tell you if you should take more risks, or fewer. I can't tell you what will make you happy. I can't tell you the recipe for a life well-lived because there isn't one.
But I can tell you that you have a choice. My dad made one, and Alexander made another. And now, I'm making my own, carving out a path somewhere between the rugged spires of the Tetons and the safe green hills of Georgia.
I sat back in my chair. I read Dan's words again, and this time I heard echoes of my father's. Do what you love. 
Suddenly, I knew what he meant.
Lead Photo: Ed Freeman / Stone via Getty Images