The Magical Lake Where Nick Offerman Learned to Hit His Brother in the Face with a Fish
Nick Offerman's annual family trip was always to the same lake in Minnesota, where he was taught things that really matter.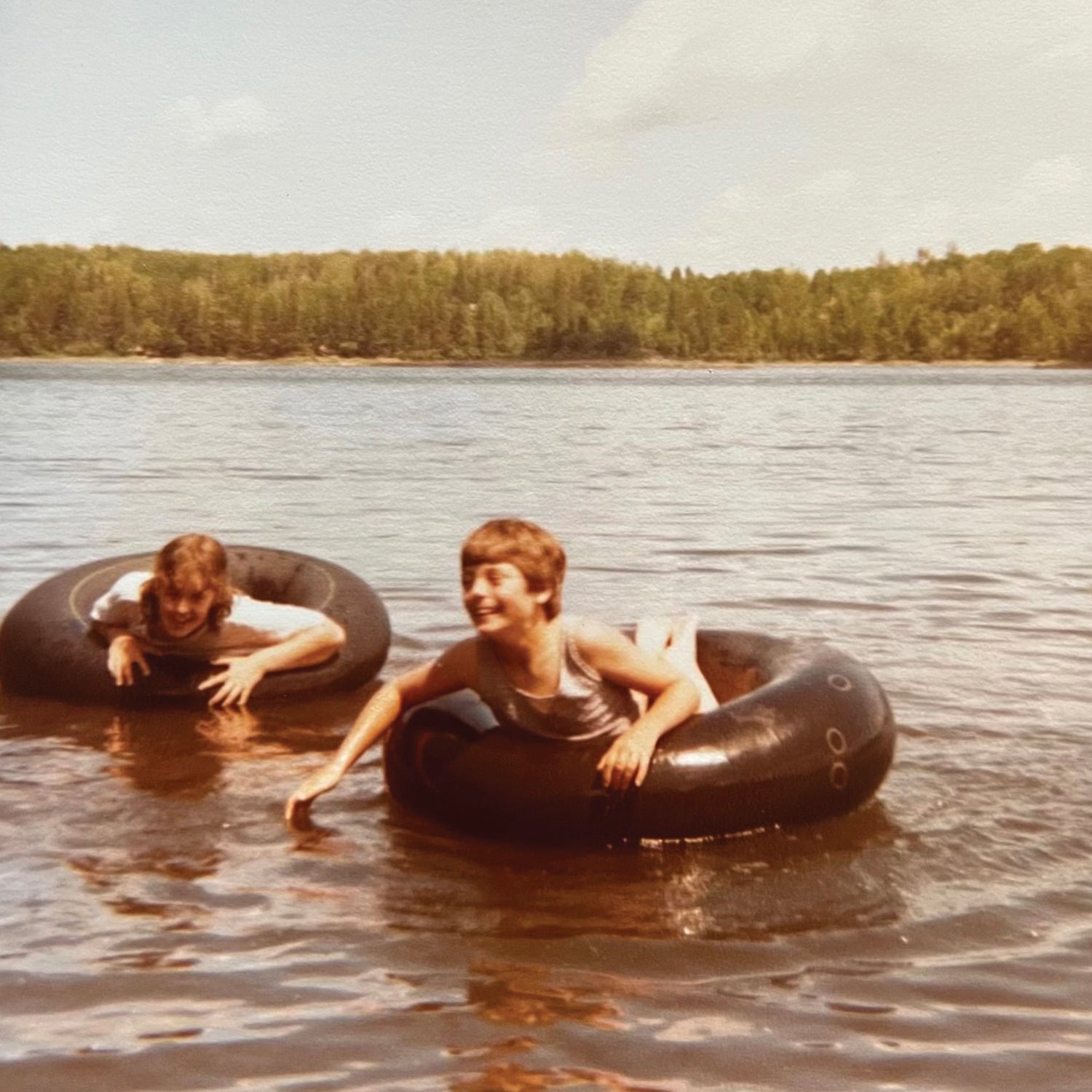 Courtesy the Offerman family
Heading out the door? Read this article on the new Outside+ app available now on iOS devices for members! Download the app.
One summer day a few years ago, I was enjoying a lazy solo paddle on the far end of a midwestern lake my family has been going to for decades, idling a couple of miles from our dock, marinating in the robust silence. Sitting in my kayak, I could hear the steady drone of cicadas and tree frogs nestled beneath overhanging boughs of pine, oak, maple, and birch. I was, as they say, blissing out. It was almost as if I'd smoked a joint or downed a powerful Belgian ale, but all I had ingested was breakfast and coffee. I'd never before heard this suggested, but I think I just might have been high on… nature? Life? Nah, couldn't be.
Unfortunately, my delight was short-lived. The wind picked up, and I looked back toward our dock to see a dark thunderhead rolling in. Oh shit.
My anxiety was eased by the sight and sound of our rented pontoon boat, buzzing expediently in my direction like a big, boxy june bug, with my dad at the helm. With his trademark prudence, Dad had (a) known to watch for the storm, and (b) set out in front of it to collect his flower child. At first I stubbornly refused to be saved, but he wouldn't give in, despite all the powers of persuasion that came with my bachelor of fine arts degree. So I hauled my kayak onto the pontoon and he throttled us back across the lake.
An absolutely opaque wall of rain was approaching and—here it is!—we were now being pissed on. Dad steered the june bug into the teeth of the wind as I perched on the prow, holding the running light like that guy with the lantern in the gatefold to Led Zeppelin IV. I could see maybe 20 feet in front of me, squinting as hard as I could to look out for the shoreline or another boat as thunder cracked all around.
This was not the first time Dad and I had braved a lake-weather tantrum. The Offermans have been making an annual pilgrimage to Long Lost Lake in northwest Minnesota since I was five, and this treasured ritual remains the one part of the year that I don't let Hollywood touch. The entire family drives about 12 hours from Illinois, while I fly from California to Fargo, North Dakota, and then drive east and north for 90 minutes until I reach the lake—a beautiful, evergreen-ringed body of water that covers nearly 500 acres. When we arrive, there's always a moment after we've unloaded the groceries when we gaze out and feel the breeze and think to say something about the breathtaking scenery. But instead we slap our necks to kill the first of many large mosquitoes and say, "Son of a bitch! Where's the spray?"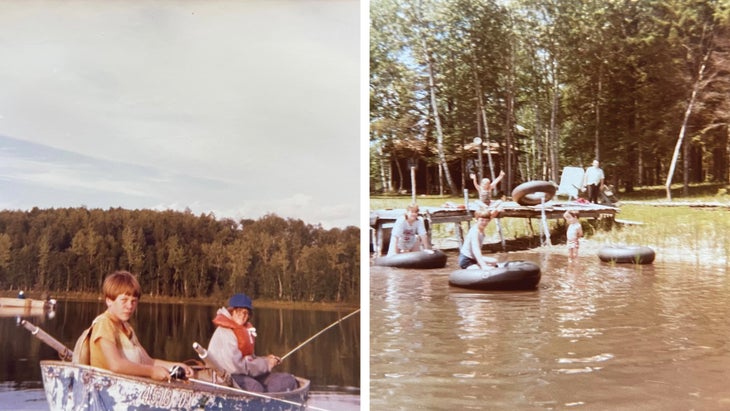 There are usually around 20 of us, spanning three or four generations, and we stay in a few ramshackle cabins that meet our basic needs: sleeping, cooking, and card playing. The real attraction is the lake, because we Offermans are plum nutty when it comes to messing about in boats. Fishing, tubing, paddling, sailing, or just floating—our family knows what we love to do, and we've found the perfect place to do it.
Our original guide on the lake is long gone now, alas, but I'll never forget him: a bent, eldritch man named Bill, who I only ever saw in his 16-foot fishing skiff. This was during the mid-1970s, way before fancy, gadget-filled bass boats started showing up. Bill sat on a rear bench, where he ran everything using an assortment of Rube Goldberg rope and pulley systems. From this position he could drop or retrieve any or all of his three anchors, as well as adjust the speed on a large outboard motor and a smaller electric trolling motor, both of which were mounted behind him and could be retracted in shallow water.
Bill knew every divot in the lake bed where a walleye might lurk, and on outings together we tempted them with his favorite lure: a combination of bright beads, a small spinning spoon, and an Eagle Claw hook threading the fat half of a night crawler. Bill would finish off the rigging of each diminutive masterpiece with a thick splort of tobacco juice from the wad of longleaf in his cheek.
Dad's first boat was like Bill's, and as we kids got older, we added more thrilling options to the armada. But please hang on just a second for some important lessons on water safety and protocols. When you're boating with the Offermans, you can do one of two things. You can fish, or you can fuck around. If you want to fuck around, you'll be well advised to locate a safe distance from the people who are fishing. Our severe and somber intensity can be traced back to the early years, when we would fill a couple of coolers with our catch and take them home to our deep-freeze, providing dozens of frugal meals over the coming year.
While we still manage to take home some fish—and hold a big fish fry at the cabin on Tuesday nights—these days we usually catch and release. So one fun thing to do, if Dad isn't looking, is to "release" your fish by lobbing it at your brother's head. Ideally, it will softly slap across his cheek on its journey back to the lake.
Also, depending on the company assembled on your vessel, there are ways to enjoy a tinkle without heading back to shore. If everyone is OK with it, heads can be turned while the tinkler—say, that brother again—stands at the prow and waters the water. This is exactly when you want to "accidentally" drop a pair of pliers, catching them before they hit the bottom of the boat—which scares fish off—but rocking the boat as you violently "save the day" by catching the pliers. This gives your brother an intolerable fright and, you hope, causes him to wet his pants.
Fishing, tubing, paddling, sailing, or just floating—our family knows what we love to do, and we've found the perfect place to do it.
When I was only a wee first mate, my Grandpa Mike bought a little nine-foot aluminum dory from his brother, its blue paint peeling enough to reveal the white base coat. Over the years, we attached different electric trolling motors to the transom, but I preferred to row that thing all over the place. Mom and Dad would cut me loose, the only rules being: wear a life jacket and stay in sight of the cabin. That gave me about a square mile of lake to explore, and I'd throw my back into rowing at top child speed. Having an entire boat under my command was absolutely bewitching. The sounds of the water lapping against the hull and the breeze in the leaves when floating along the shore filled my ears as I scanned my surroundings for bald eagles, blue and gray herons, ospreys, and, most important, the mystical loons.
Those adventures came with some hard lessons about the speed of Mother Nature's wrath. One day when I was ten, out in a rowboat without a care in the world, a darkness on the horizon quickly became a roiling mass of charcoal cumulonimbus rumbling over the lake. The wind whipped the chop up to a punishing three feet or so, much more force than I could hope to overcome. But still I tried, turning the boat into the swells and rowing against the growing whitecaps—even as they forced me ever farther from our dock and cabin.
Suddenly and cinematically, our muscular teenage neighbors Sven and Curt appeared out of nowhere, zipping neatly up next to me in a simple fishing boat with a beefy outboard motor. Sven nimbly vaulted into my boat, turned the bow toward the shore, and rowed like an Olympian, speeding us to safety in a matter of minutes. I was extremely grateful, as was my family, who had seen me in danger and were about to have kittens.
During our years on the lake, we've done our best to avoid trouble, but sometimes it sneaks up on you. On that day when Dad rescued me in my kayak, motoring the pontoon through the blinding downpour, I was glad that we were in this together. We'd always been a strong team, working in concert to achieve what was required, like one directing the other when backing a trailer into a shed.
This time was more fraught, but I wasn't worried, because Dad was driving, and he doesn't miss. Eventually, I was able to make out the horizontal band of forest along the shore, and we reckoned we were just a couple of hundred yards starboard from the dock. Cutting hard to port, we maintained a safe cushion along the shore until relief flooded our senses: we could see our dock. Once we'd securely lashed the pontoon in place, I suggested we remind ourselves why single-malt Scotch was such an invaluable elixir, because that boat ride was scary.
"I wasn't worried," Dad said. "You were navigating, and you don't miss!"
Trending on Outside Online