Burning Man Meets REI
Outpost wants to disrupt the outdoor gear trade show business. Our writer descended on its California festival last fall to check out the felt hat–wearing, Bulleit bourbon–sipping crowd and to find out whether the buzzy experience is anything more than an Instagram-ready fad.
Heading out the door? Read this article on the new Outside+ app available now on iOS devices for members! Download the app.
I'm crouched on a riverbank deep in the redwoods of Mendocino County, stacking pebbles on top of each other. This is harder than it sounds—particularly at 7:30 a.m. on a Saturday, in clammy 40-degree weather, before coffee, and with a cold. Yet here I am, doing a so-called rock meditation under the guidance of artist Travis Ruskus, a 28-year-old native of Boulder, Colorado, who has turned this thing you didn't know was a thing into an avocation. Select a stone, place it on another one, press down gently to balance it, breathe, repeat. Ruskus is surrounded by his own creations—a dozen stone towers so impossibly balanced that you'd swear they were glued—while coaching a small group of students, including one very slow learner with hopelessly clogged nostrils.
It's the first full day of Outpost, a three-day event that aims to reimagine how outdoor companies sell gear in the age of e-commerce and social media. Since its founding in 2016, Outpost has developed a reputation for being "REI meets Burning Man," as a fellow attendee described it to me. The event brings social media influencers and journalists—and, for the first time, 40 members of the public, who pay $720 apiece—to wild venues to test products during activities like hikes, floats, and survival skills workshops. Companies including Merrell, Harley-Davidson, Bulleit, and Verve Coffee Roasters serve as sponsors; smaller businesses such as outfitter West Coast Falconry and solo entrepreneurs like Ruskus volunteer to gain exposure. It's a bonanza of so-called experiential marketing, with nighttime performances—live music, comedians, films—creating a festival vibe that's goosed by booze sponsors and, in another first this fall, weed and weed extracts. Attendees post like crazy to their social media accounts. At least that's the hope.
Outpost got its start three years ago after Jeff Wolfe, a music industry professional working on experiential marketing events, and Caleb Morairty, a former music and entertainment executive, grew weary of traditional trade shows. For the past three decades, most endemic outdoor brands have displayed their latest wares at these events, typically held in hulking urban convention centers, where buyers for brick-and-mortar retailers seek new products and journalists look for new stories. They're still a massive business; the outdoor industry's largest, Outdoor Retailer, had more than 21,000 total attendees, including more than 880 brands and 5,700 buyers, at its Snow Show event, held the last weekend of January. But none of those people were actual consumers. And in 2019, brands want more opportunities to talk to their customers directly—or at least through social media intermediaries at photogenic venues. "Brands are trying to touch more consumers, especially some that are outside the usual-suspect circle," says Kenji Haroutunian, who consults on marketing and business development in the outdoor industry and is the former director of Outdoor Retailer. "And they're looking for ways to tell their story authentically." That's one reason these trade shows increasingly seem like relics of another era, with brands opting instead to host their own bespoke "experiences"—or (the cheaper alternative) joining boutique events like Outpost.
Upon arriving at his first Outdoor Retailer, Wolfe remembers being wracked with "an immense amount of anxiety. It was so loud, there were so many people, and it just wasn't a good place to stop, think, and focus on growing my business." He walked out the door and rescheduled all his meetings in a bar across the street. Along with Morairty and Eric Bach, co-founder of Hipcamp, the Airbnb of bookable campsites, Wolfe decided to try something different: Bring together brands for a big outdoor event on private land. "Get out of the fucking warehouse," as Bach, now COO of Outpost, puts it.
The company set out to create what Wolfe calls "a really strong network of people, whether they be editors or cool creative folks that are filmmakers, photographers, filmmakers, musicians, or artists." For the first Outpost, in October 2016, they invited 150 people to the 380-acre Chanslor Ranch in Bodega Bay, California. "We had woodworking and sake tasting and surfing in the ocean," Bach says. "Really it was just us throwing it out there and getting a ton of feedback and slowly optimizing the model."
For the past two Septembers, Outpost has held its flagship show at Camp Navarro, three hours north of the Bay Area. Blog entries and news articles from the events have highlighted hot tub networking sessions and desert trail runs with beer-packed fridges stashed along the route; Instagram posts have captured glowingly gorgeous participants, often in felt hats and drinking copious amounts of boutique Bulleit whiskey.
The size of Outpost events has steadily increased. In 2018, when I attended, more than 900 people descended on Navarro, almost twice as many as the year before. The company has developed its own experiential marketing agency and plans to host additional Outpost gatherings around on both coasts this year. Wolfe has also speculated about the possibility of an Outpost retail store at future events, stocked with discounted products from brands the company works with.
Four years into their tradeshow-disruption experiment, the Outpost's founders still appear to be knee-deep in optimizing the model. They're trading in services with buzzy names such as "experience strategy" and "community building," which are among the offerings on their website. In interviews, they've contemplated tweaking the events by going smaller, going more urban, inviting more members of the public, inviting fewer members of the public. I've come to Navarro in search of a proof of concept, and to find out whether the Outpost is onto a new model of selling gear to millennials or merely riding the wave of today's marketing bait.
---
When I started signing up for activities on Outpost's scheduling app a week before the event, I grew dizzy with preemptive FOMO. The menu of options brought flashbacks to summer camp, with the addition of adult beverages. Eat artisanal s'mores or learn to pair whiskey and coffee? Take a sound bath or brew kombucha? If I spent an hour tie-dying my underwear, would I lose out on the quality-of-life enhancement sure to come from blending my own bug spray?
Unlike other events I've attended in recent years, there would be no cell service, no official app, and no name badges. There would purportedly be Wi-Fi, because how else would we fulfill our—and the event's—social media needs? But the idea is that we'll mostly be talking to each other instead of gazing hypnotically at our phones.
And is the Instagram-ready type of interaction with nature that's encouraged here actually meaningful in the way outdoor excursions traditionally have been?
When I arrive at check-in in the Navarro parking lot, we're all offered new loaner sleeping bags and verbal directions to our accommodations—a smattering of cabins (including mine for the weekend), teepees set up by Outpost organizers, and sites for pitching tents. Down the hill from my cabin, in a grassy area ringed by 200-foot trees, a small expo is in full swing. With all but a few of the 71 brands that have converged for the weekend displaying their gear, it looks like a mini trade show, minus all the fluorescence and concrete. The booth for Millican, a British company making its Outpost debut, is abuzz with people stroking its canvas-blend rucksacks. "We tried Outdoor Retailer twice, and it didn't really work for us," says Jeffrey Bowman, the company's creative director. "We wanted to come here for a more chill vibe and to connect with customers." By this he means influencers, journalists, PR people, and retail buyers.
Experiential marketing hinges on a trifecta of supposed millennial priorities: social media, authenticity, and social responsibility. It's all about beautifying, then commodifying, a moment. Firms invite a small group of social media influencers and journalists to an event; attendees post about it in articles and on social media, ideally to their sizable followings. Hopefully, one of the posts goes viral. "Even if you invite 100 people, if they're talking about it to a million people, that's a pretty big lever," Haroutunian says.  
One key appeal of experiential is the possibility of freebies: The event itself is typically gratis (lodging, meals, guides), and participating brands sometimes give out schwag. Regardless of age, "everyone is always excited to get their hands on something," says Dana Saperstein, an event manager for Los Angeles–based experiential marketing firm Sparks who worked as a volunteer at Navarro.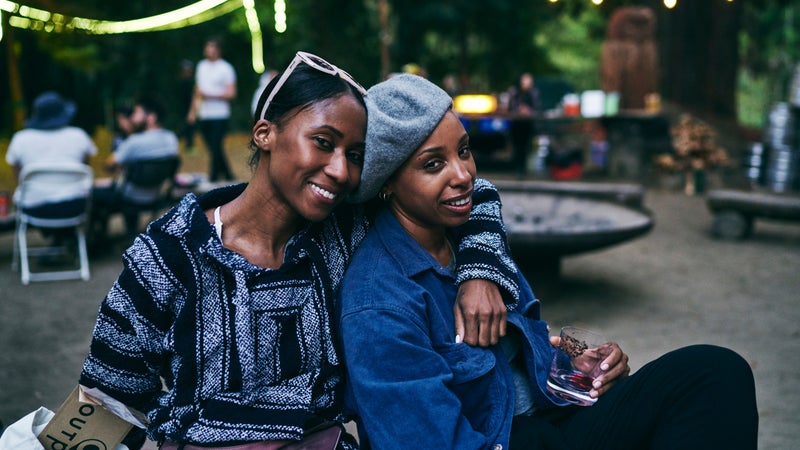 For the past decade, experiential has boomed across all industries, spurred by the decline of traditional media, the spread of social media, and a panic within the advertising and marketing industries regarding millennials' distrust of traditional advertising and desire to do things rather than buy things. Outdoor brands like Teva, Red Bull, and The North Face have recently hosted experiential marketing events, but on the whole, the outdoor industry is "still in a pretty basic phase" when it comes to the field, Haroutunian says. "It's definitely going to keep growing, and in my view, it's going to mature."
At Outpost, brands underwrite the cost of the event by paying for booths at the expo and hosting parties and workshops; the cost ranges from "the low four figures" to "large integrated sponsorship opportunities in the six figures," Wolfe says. "We rely heavily on partners, like a trade show does, but it's selling experiences rather than square footage," Bach says. Outpost's organizers consider social media to be "part of the puzzle," Wolfe says. And while they're not overtly courting millennials, they're at least catering to them.
On the social responsibility front, Outpost has invited the likes of nonprofits 1% for the Planet and Lighthouse for the Blind, as well as conservationist Topher White, to give talks and participate in panel discussions at Navarro, and the company plans to bring businesses with an emphasis on social and environmental responsibility to a Los Angeles event in June.
Outpost's timing might be ideal for harnessing trade show fatigue and skepticism. "All brands are examining the ROI on trade shows, because it's been very hard to measure," Haroutunian says. In the past, a primary purpose of the shows was for brands to debut and take orders for new products they'd already manufactured. But now, brands often send regional sales reps out to retailers armed with prototypes, and they manufacture only what's ordered. So, most orders are placed pre-show, which means the days are gone when brands can simply subtract how much they spend on a show from the orders they receive to determine the investment return. (Fees at Outdoor Retailer are about $12,000 to $15,000 for an average-size booth; building out the booths is an additional, often significant, expense.)
But ROI calculations for experiential marketing are also slippery. A third of brand-side marketing professionals surveyed last year by experiential marketing group AgencyEA said proving ROI on their events was a major challenge. Outpost's co-founders say their primary goal is to foster "authentic" social connections among attendees. "All of a sudden, they're new friends, and that will be way more fruitful, in my estimation, than the 15 minutes you might have at a trade show booth," Wolfe says. "It's a bit less targeted, a bit more 'let's find something that can be the spark of something new for your business.'" For brands, there's "some level of guaranteed deliverables," he says. "They are going to meet press, they are going to meet some of these social media influencers, and they should be able to walk away with some tangible returns. But I think the intangible is really what defines us."
---
The sound bath has been canceled or moved. No one really seems to know. I've just finished my rock meditation, eaten breakfast, and spent a few minutes loitering in the Verve coffee tent, where attendees are nursing hangovers and bonding over topics like the best style of overalls (baggy and dirty). I head for the guest services office to partake of Outpost's Wi-Fi. Since checking in at 3 p.m. the previous day, I've been able to get online only a couple of times and never when I wanted to. I'm all for scaling back my internet usage, especially when I'm hiking or camping, but like everyone here, I'm also working. Once again, I find the Wi-Fi to be down. I can't post a lick to my Instagram account or even check my email.
Instead, I jump into Merrell's redwoods hike as it departs the meadow and soon fall into conversation with Greg, who works in conflict resolution and lives in Washington, D.C., and is here with a friend. "It's fun," he says, venturing deeper into the forest in his loaner Merrells. "We're in one of the little teepees." Did he buy a ticket, I ask?
"I'm-not-paying-a-fucking-thousand-dollars-for-this-are-you-out-of-your-mind?" Greg blurts out. He quickly apologizes, explaining that his work in conflict resolution requires brutal honesty. But his reaction does make me wonder whether this particular experiential venue could ever be viable for the general public—a question Outpost organizers themselves were still pondering right after the Navarro weekend.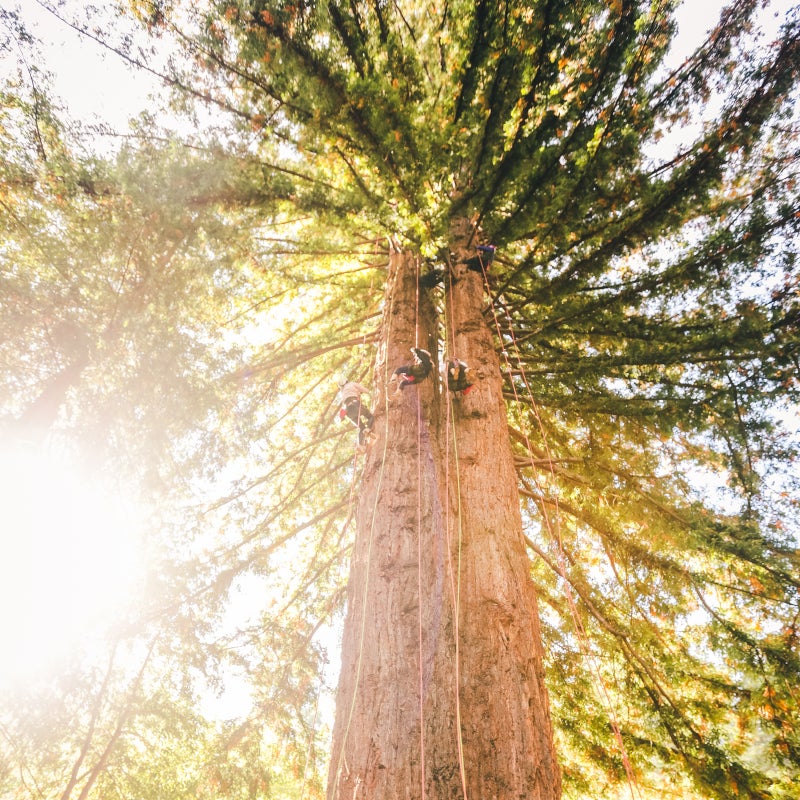 When I get back to the meadow, I meet Red Rainey, the event's podcast producer, who is busily preparing for an interview at his al fresco radio booth: a mic set up on a picnic table. He's wearing glacier glasses, a khaki T-shirt and pants, bulky brown boots, and a hairstyle he clearly pioneered—fauxhawk with a man bun—and he's searching for his lost copper mug.
Navarro 2017 was Rainey's first Outpost, and he "was just absolutely floored by the environment, quality of production, programming, and curation of people," he says. "It's just fucking brilliant. The people who are here are on level 11 and ready to connect with one another and hear one another out." Outpost's secret sauce, he says, isn't just in the, well, boozing. "The fire pit is definitely a very magical scene at the end of the evening, when people are just gathering around and really relaxing. The Bulleit is doing its work and relationships are forming and bonds are created and such." He sees all encounters—learning falconry, say, or mingling among the Airstream fleet—as "wonderful mini-expeditions and explorations."
---
On my final day at Outpost, the vibe at the Verve tent is decidedly groggier. A woman wrapped in a cannabis-themed THC Design blanket recounts the half-dozen types of liquor she drank last night. "I was just in my own world," she says. Another woman in, yes, a felt hat, is gushing over the surprise late-night performance by the EDM DJ Tycho, whom I'd seen the previous afternoon hucking himself from a rope swing into a floating inflatable lounger called a Chillbo Shwaggins.
Outpost is winding down, and so far everyone I've talked to is having a really a good time. But I'm wondering if the show has been a success by either Wolfe's metric (intangibles) or the broader experiential criteria (social media shares and viral-ability). And is the Instagram-ready type of interaction with nature that's encouraged here actually meaningful in the way outdoor excursions traditionally have been?
For Suzann Stone and Justin Seale, co-founders of a new travel apparel company called ArchiTec, the event has been a resounding success. A digital strategist and product developer, respectively, the two met at Burning Man, got married, and started their business. "We're probably not going to make that much vending, but is it worth it to market to influencers?" Stone says they wondered before signing up for Outpost. As it turns out, the media connections they made alone, including a coveted one with the well-known off-roading magazine Overland Journal, were worth the trip. Overall, Stone says, the show has "been really, really great."
Not everyone is as enthralled, and the main issue seems to be the lack of Wi-Fi. "The no-internet is such a problem," one cold brew–guzzling attendee says. "I climbed a tree—oh, can't post a picture. I shot a bow and arrow—oh, can't post a picture. I can't even tell my friends what I'm doing, and they would be valuable to the market." I overhear an experiential marketer reiterating what I've heard, that brands' ROI calculations depend to a degree on internet access. "It's how many people do you bring, plus the social media impressions, which is tough here because you get no service, plus press impressions."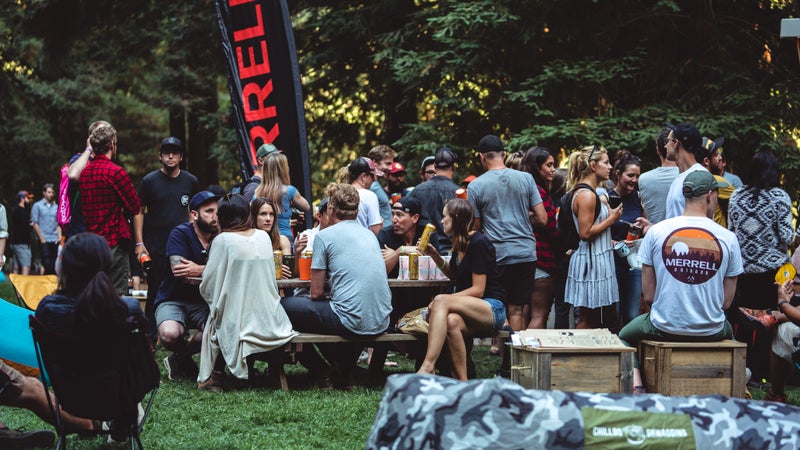 My bunkmate for the weekend, an Instagram influencer named Alison Turner who has amassed a following of 50,000-plus by chronicling van life with her dogs, compares the weekend to a fun mini summer camp. But while she posted to Instagram from Navarro at least once when she came last year, her feed has gone dark this weekend. "I don't have much reception, so I might post stuff after the fact," Turner says. When I look at her Instagram account the following week, and again the following month, the new shots I see are of her (very photogenic) dogs romping at the beach and cuddling in a hammock—not at Navarro. She later tells me she posted several Instagram stories, viewable for 24 hours, and says, in retrospect, that it was "a good thing to unplug in the forest." 
For me, I've met dozens of cool people, added Chillbo to my gift list, and climbed a freaking redwood. Which is to say, the benefits reaped have been both tangible and intangible. I'm no social media powerhouse, so the world—and the brands—aren't suffering from my lack of Instagram activity. Before I leave Navarro, I find myself returning for another rock meditation, this time fully caffeinated and with at least a smidge of additional patience. The stones click together more easily now.
This meditation—water trickling in the nearby creek, a hawk soaring overhead—feels like a necessary respite from the freneticism of the event. It gets me wondering again whether embracing and promoting the outdoor lifestyle with only a slight nod to a more serious, deep connection with the outdoors, other than what's provided by faulty internet and some quiet moments clinking rocks, dilutes and diminishes the classic essence of outdoor recreation. The menu of options here is what I'd call "adventure lite"—glamping, floating in a swimming hole on a Chillbo, and 15 minutes of falconry, say, rather than more serious or immersive outdoor pursuits.
Younger people, Outpost COO Bach says, are already shying away from brands he calls "top of the mountain," by which he means those geared toward "old white dudes climbing Everest," as he puts it. Outpost is all about "accessible adventure," Bach says.
Or is it more about looking the part—and partaking of après beverages?
A few weeks after Navarro, Wolfe explains what went wrong with the internet: There weren't enough nodes in the central meadow, the busiest area. Nevertheless, he says, the response from brands was positive, and most have expressed interest in returning next year. "We believe something transformative happens in the woods, and the idea of having constant connectivity kind of flies in the face of that," Wolfe says. But the realities of growing Outpost's business have sunk in. He said they were still evaluating some of their new experiments—most notably, inviting the public. "We could sell a lot of tickets," he says. "But whether or not that dilutes the experience, we're not certain yet. Making sure we have a significant amount of tickets to give away to people who we know are going to provide a lot of value to the brands is pretty much key to our success." The sure bets he's referring to are journalists and influencers.
When I checked back in with Wolfe last week, he described a varied roster of events for 2019: a huge one in Los Angeles that's free to members of the public, a small one in Manhattan just for industry folks, and Navarro, with a similar mix of industry attendees and the paying public as last year's gathering. In addition to brands, journalists, and influencers, Wolfe is expecting 2,000 to 3,000 members of the public at June's Outpost Los Angeles, which will be held in the Downtown Arts District—a neighborhood as urban as urban gets. "This will be our largest and most ambitious event yet!" proclaims the listing on ticketing site Eventbrite. The future looks to involve more people and less emphasis on nature, overall, and better internet—even at Navarro. "I think it's safe to say there won't be a place where you can't connect with the outside world," Wolfe says of the flagship event. "As much as that breaks my heart, it's just the nature of the beast." 
Lead Photo: Evan B Dudley