Frozen Experiences of a Lifetime: Camp Out in the Cold
The ultimate North American winter bucket list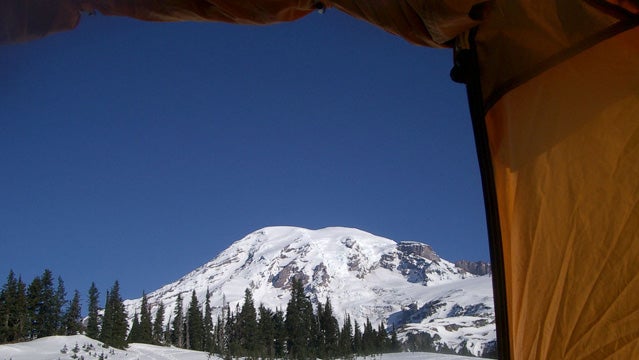 Heading out the door? Read this article on the new Outside+ app available now on iOS devices for members! Download the app.
Winter camping is a rite of passage for cold-weather enthusiasts. And, as Buck Tilton and John Gookin point out in their National Outdoor Leadership School (NOLS) guide to winter camping, it has some clear advantages over the summer variety: no bugs, no bears, and no crowds. It also comes with its own dangers and challenges. Here's Tilton and Gookin with a reminder that we're not really built for extreme cold:
"Even though humans have lived—sometimes flourished—for thousands of years in regions where winter never leaves, they have not had eons to adapt physiologically. Some peoples with long cultural histories of exposure to the cold have grown shorter and chubbier, making it easier to retain body heat. Their cardiovascular systems may send warm blood to the exterior more readily, preventing fingers and toes from freezing. They may have higher-than-normal basal metabolic rates to generate more internal heat, even at rest. But they have yet to grow the dense, insulating fur or blubbery fat of arctic animals. To compensate for this lack of adaptation, humans have had to start using their brains—the only part of the body that allows us not only to exist but to live happily in winter."
Using your brain means knowing what you're getting yourself into—think avalanche preparedness and crevasse rescue skills, if you're in mountain and glacier country—and bringing the right tools. Outside's Gear Guy breaks down his winter camping must-haves.