Jackpot
Nevada may be big and windswept, but don't dare call it empty. An adventure road trip through the Silver State turns up a secret-stash playland of backcountry splendor, high-end diversions, and a horizon that never stops beckoning.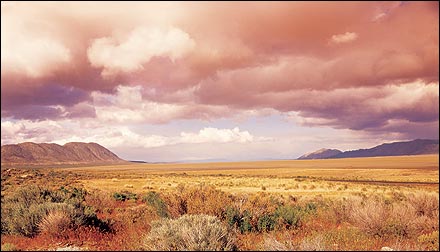 David Maisel
Heading out the door? Read this article on the new Outside+ app available now on iOS devices for members! Download the app.
They say the rain that falls in Nevada stays in Nevada, never reaching the Pacific Ocean. Personally, I didn't even know it rained in this state, but, man, was I wrong. As I sit here at tree line on the rocky shoulders of 13,063-foot Wheeler Peak, Nevada's second-highest mountain, slushy droplets are soaking me mercilessly. I'm OK with it, though. I'm wearing a black trash bag with a hole cut out for my head, borrowed from the nice people at the Great Basin National Park ranger station. It's keeping me pretty cozy, and the views of Snake Valley and Wheeler's own glaciated amphitheater are enthralling. Best of all, there's not another soul around.
Nevada Map
Click here
to view a detailed map of Nevada.
Nevada travel

GHOST WORLD: Totems from a harsh and beautiful highway landscape.
Nevada travel

GHOST WORLD: Totems from a harsh and beautiful highway landscape.
Nevada travel

GHOST WORLD: Totems from a harsh and beautiful highway landscape.
Nevada travel

RARE JEWELS: Near Eureka, a famous 19th-century silver town, with the Diamond Mountains in the background
Nevada travel

BLAST ZONE: An aerial of the bombing range at western Nevada's Fallon Naval Air Station
Nevada travel

LONELY ROAD: An abandoned railroad station near Ruth, Nevada
I didn't realize before I came here that many of Nevada's highest mountain ranges are dripping and fertile, like steep tropical sky islands rising from an arid, sagebrush sea. This particular island is in the Snake Range—in eastern Nevada, near the Utah state line—and it's teeming with plants and animals. I particularly like the bristlecone pines, which I'm spending some quality time with right now. They're the official state tree, and they're fascinating, even spiritually stirring. Rooting themselves in improbably rocky soil, they live up to 5,000 years—making them the oldest living trees on earth. They often appear to be lifeless, with limbs stripped of their branches and their trunks looking like petrified wood. But if you peer closer, there are usually one or two small live branches with green needles. The oldest bristlecone, a tree dubbed Prometheus, lived on this very mountain and was 4,900 years old when it was cut down in 1964 by a graduate student trying to figure out how old it was.
The bristlecone I'm sitting under is multi-trunked, gnarled and twisted. I've chosen it as my special homie and given it a name: Gil, after Gilgamesh, the ancient Babylonian ruler who dreamed of living forever. That's a little corny, I'll admit, but I'm sticking with it. This tree was putting down roots when Jesus got fitted for his first pair of sandals. It deserves a bit of reverence.
Alas, though, I'm going to have to say goodbye to Gil. The rain is turning to snow, and it looks sunny and warm down in the valley. It's time to ditch the trash bag for shorts, sunglasses, and flip-flops.
BARRY LOPEZ HAS WRITTEN that the Great Basin—the topographical area that makes up nearly all of Nevada, plus small slices of Utah and Idaho—"is one of the least novelized, least painted, least eulogized of American landscapes." In other words, I was on my own when it came to finding role models for a long, rambling road trip through Nevada, one that would encompass both its nullity and its undeniable and still-mysterious somethingness.
But that approach works fine, too. In his introduction to Stephen Trimble's The Sagebrush Ocean, a rich natural history of the Great Basin, Lopez also says the only way to really know Nevada is to spend long days driving its highways and hiking its deserts and mountains, letting your imagination go to work on the landscape—and letting the landscape work on you. It helps to apply the same kind of footwork to learning about the state's people, who've been forged by the harsh, exposed rock, endless sagebrush, and green alpine peaks. Cowboy. Gambler. Mormon. Transplanted California hipster or eastern adventure seeker. These and other types bounce around like teenagers crammed into an old pickup as it skitters down a Nevada dirt road, with the bright lights of Las Vegas glowing in the distance.
My vehicle was a late-model Ford Bronco. It ran on unleaded, while I ran on little cans of Starbucks DoubleShot espresso. My main worries during several weeks on the road: not getting any sleep at all, trying to cover too much ground (the state is nearly 111,000 square miles—that's more than 14 New Jerseys), succumbing to the magic-poppies effect that driving through long stretches of desert can induce, and forgetting to fuel up at that last town and running empty 100 miles from the nearest gas station.
In Las Vegas, where I stayed the night before heading out, I spoke to a local—a casino waitress with a tattoo ringing her biceps—who didn't think any of it sounded good. "Me?" she said. "I never stray from Vegas and my boyfriend's party boat on Lake Mead. I have no idea what's out there—and I don't really want to know."
That's one way to look at it, because Nevada is terra incognita, a place where a person with four-wheel drive and sturdy boots can actually explore, seeing and doing things that have never been seen or done before. And since about 90 percent of the state is owned by the federal government, most of Nevada's wonderlands will always be accessible to the motivated explorer.
MY FIRST MORNING, I WAKE UP early and go, zooming south and east past Vegas's identical red-tile-roofed apartment complexes until development yields to the color brown and a matrix of evenly spaced creosote bushes. I veer toward Lake Mead, at 247 square miles the world's largest man-made lake and a favorite spot for college kids gone wild. I shadow the shoreline for about 50 miles, stopping once at an Indian trading post, where I stock up on fireworks. (Hey, everybody's doing it—and besides, I tell myself, a Roman candle might come in handy if I get lost in the desert.)
A few minutes later, I'm staring at a garden of eroded sandstone monoliths, colored every shade of red you can imagine. This is Valley of Fire State Park, and, like an acidhead's dream of Hell, these surreal arches, walls, pinnacles, and domes provide a vivid example of what happens when sand dunes get fossilized, uplifted, tumbled, carved by water and wind, and tinted by iron-oxide-laced groundwater.
I feel like I'm steering the Mars Pathfinder as I park the Bronco and exchange sandals for a pair of Merrells. I head out on a warm-up hike to Mouse's Tank, a catch basin surrounded by rock walls that naturally collect and hold water. I'm amazed by the astounding number of petroglyphs I see. Ancient rock art is found all over the Southwest, but every time I take in an image I haven't seen before—an octopus or a butterfly or something that looks like an airplane—it leaves me in a trancelike state, trying to get inside the mind of the artist who left it.
I think about which totems I would carve: a laptop, hiking boots, Funyuns? I climb up the back side of one of the house-size rocks overlooking the spot and look down at Mouse's Tank, a muddy puddle named for an 1890s Paiute fugitive who hid out here after murdering a couple of miners. Mouse lasted just a few weeks, living off the slimy green water until he left the area, got cornered by the law in Muddy Springs, Nevada, and was shot to death.
On the hike back, I meet a guy from Montana. His dog, Sadie, discovers a rare desert tortoise, but before she can play with it, the tortoise does its disappearing act and Sadie is left holding the bag. When I get back to the car, the sun is setting, and the sandstone looks even redder than it did this afternoon, as if the Great Spirit has been blowing on hot coals.
HOOVER DAM PLUGS the Colorado River like a giant art deco sink stopper, holding back Lake Mead and parceling out just enough water on the other side to create a friendlier, tamer Colorado River. Today I'll kayak that friendlier river, drifting through the great natural spectacle known as the Black Canyon Wilderness Area.
I meet my guide, Shawn Coleman—he's with a company called Boulder City Outfitters—in the sprawling parking lot of the Hacienda Hotel and Casino, where, at 6 a.m., crusty gamblers are still at it from the night before, smoking, drinking, and throwing quarters into the Wheel of Fortune slot machine. Shawn is puffing on a butt himself and clutching a box of still-warm glazed doughnuts. He looks a little round, not at all like your typical hyperfit kayaking guide. But then the Colorado River below the dam is not the frightfest that it is about 200 miles upstream in the Grand Canyon, and Shawn is just fine with that.
"The lazy water lets you see more nature, look for petroglyphs, and hang out in hot springs," he says amiably.
We put in at the bottomless shadow of the dam, where more than a hundred workers lost their lives during construction in the 1930s. The paddling is easy. Sometimes we float right down the middle; sometimes we run our hands on the canyon wall as we quietly slip by. After a few hours, we drag onto a sandbar and explore a steamy man-made cavern called Sauna Cave, which was dug in 1931 as a potential geothermal power plant. This water still weeps from a crystalline back wall, and we sit for a while, taking deep breaths of the soggy, 120-degree air.
After that we paddle some more, the river's 54-degree water dripping on my lap as one arm reaches high to make the stroke and the other stays low. Shawn points at three desert bighorn sheep tiptoeing across a narrow ledge about two-thirds of the way up. We stash our kayaks on a different sandbar and start sloshing up a narrow slot canyon running with 98-degree water. Shawn is like a ballet dancer in his Tevas, scrambling over boulders that lie between us and where he wants to go. I follow him up a boulder and onto a ledge 15 feet above the river. That's when my Tevas fail me and I slide down the wall. I splash into a deep, aqua-blue pool—warmed by geothermal activity deep inside the rock—blinking and spitting out water. Shawn is a good sport, and when he sees me he jumps off the ledge and splashes into the pool, too, saying, "Let's soak here awhile."
The last three miles go fast, and the canyon opens up to a crepuscular dome of sky. Our last stop is a spot called Emerald Cave, where the sun's rays don't reach the water, but the water glows a vivid aquamarine, as if lit from below. Shawn points to the muddy work of cliff swallows on the rock above and to a red-tailed hawk that's angrily castigating a trespassing bird. We about-face and paddle back against the wind to Hoover Dam.
THE NORTH COUNTRY. Sagebrush country. Cow country. Up here, well north of Highway 50—the so-called Loneliest Road in America—cows outnumber humans two to one. At the Cottonwood Guest Ranch, a working cattle outfit and lodge in no-man's-land about 68 miles north of Wells, the stats are more like 200 to 1. It's a good place to be, because how could I hope to get under Nevada's skin without a stint on a ranch?
This morning a cowboy named Mike Murray and I are tracing the icy sparkle of a creek on horseback, on the trail of a big, ornery bull that's gotten himself stuck in some willows and cottonwood saplings. At the base of the rugged Jarbidge Mountains, the Cottonwood Ranch lies in spacious O'Neil Basin, once home to the quick-shooting cattle-rustling O'Neil family. The current owners, the Smiths, play fair, raising 900 head of cattle a year without shooting anybody. At an elevation of 6,200 feet, the ranch is blessed with air that's crisp and cold. The whole mood up north is different, less desperate than in the south, but here, too, they're always praying for rain.
Mike is a lean, solemn cowboy, and, like most real cowboys, he mends fences, brands calves, and drives cattle across pastures of scruffy vegetation. Right now he's barking orders in every direction, but I gather that all he really wants me to do is sit on my horse and block the only escape route the bull has. The serious work is being done by a sprightly black-and-white Border collie named Jessie. He forges through the reeds and nips at the bull's heels.
After a few minutes, Mike arrives back at my side, looking flummoxed because the dog has chased the bull deeper into the weeds.
"Ah, the hell with him," he says, lifting his hat and wiping his brow with the cuff of his sweatshirt. "It's pretty nice out here, isn't it?" he says, without looking around. "Let's come back tomorrow after supper."
BUT THERE ISN'T A TOMORROW. The next morning, I head west on I-80 toward the Ruby Mountains, southeast of Elko, home of the annual Elko Cowboy Poetry Gathering. I've been dreaming about the Rubies for two weeks. Guidebook writers like to call them "the crown jewels" of Nevada's mountain ranges, but that image seems too delicate—they are tall, toothy peaks, with molars and incisors rising out of pine forests and fields of sagebrush. In the winter, these mountains get dumped on by snow storms and are home to some of the best powder skiing in the world, plus a top-notch heli-ski operation.
That night I consume a fabulous Basque-style steak at the renowned Star Restaurant in Elko, a town that still has a large population of the Basques who originally came here to herd sheep. I listen to two grumbling, Wranglers-wearing cowboys at the next table who seem to be at odds with the federal government, referring to the feds, with acrimony, as "they."
I leave the men to their obsessions and drive up Lamoille Canyon until the road ends. I'll take the Ruby Crest Trail to my goal, Liberty Pass, which looks over Ruby Valley to the east and Lamoille Valley to the west.
I begin my hike next to a rushing stream, picking my way through thorny bushes in search of the trail. I find it, and soon I'm climbing up switchbacks on the north side of the canyon. Each successive zigzag gives me a better view of the lush Lamoille Canyon. After passing the Dollar Lakes, I hear the gurgle of a stream and then see Lamoille Lake, a shallow mountain tarn in a glacial bowl, with steep talus slopes cradling it. I'm not in the mood for frigid swimming at 10,000 feet, so I remove my shoes and wade in up to my knees. I've been hiking and mountain biking for two weeks, and the cool water soothes my feet.
After lunch, I start walking again, upward, above tree line, and then the switchbacks kick in. More switchbacks. High above the trees, I get a perfect view of Ruby Dome. Down in Lamoille Canyon, cottonwood trees explode in yellows and golds, and a blanket of pine trees laps at the granite peaks. Gilgamesh would dig a place like this. I never imagined Nevada had this kind of beauty.
OF COURSE, MY WAITRESS FRIEND back in Vegas had a point. There's a time for everything, and at the end of my road trip I decide it's time for the Strip. On my last night in Nevada, I ride the Rio All-Suite Hotel and Casino's elevator up to the top floor, the 51st, to the VooDoo Cafe & Lounge. I gorge on crab cakes, crispy coconut-battered shrimp, and "hellfire" hot wings.
The waiter suggests a VooDoo Blue, a $10 vodka drink, and I tell him to bring me one in a hurry. After dinner, I walk onto the rooftop patio to finish it and catch some air. The desert heat mugs me. A thousand feet up, I see the city, animated by swarms of pinks, blues, yellows, and greens—every bright color you can imagine—with armies of cars and taxies pumping through this weird creation's veins and arteries. The VooDoo Blue is having its promised effect, and I stand there against the railing, soaking in the rays from below.
I think back on all the places I visited—and all the places that I don't have time to tell you about, such as Ash Meadows National Wildlife Refuge and Amargosa Dunes. Nevada is not unknowable, but it is stubborn about revealing itself. My odometer testifies to that: I've driven more than 3,000 miles, eaten countless homegrown steaks, and hiked and mountain-biked hundreds of miles.
My eyes move to the edges of the city, where the lights fizzle out and disappear into blackness. That, I know, is where the coyotes, mountain ranges and basins, petroglyphs, and jackrabbits begin. The term mysterium tremendum pops into my mind, learned from a recorded lecture by climber and philosophy professor Willi Unsoeld, member of the first team of Americans to climb Mount Everest. It refers to the simultaneous feeling of awe and dread one experiences when confronted with the tremendous power of nature or, for some people, God. It might happen when you're facing rapids that are beyond your comfort zone. Or maybe it's a tiny yellow flower peeking through a dark, ice-covered climbing wall thousands of feet off the ground. In my case, it's the entire state of Nevada.
[Cottonwood Ranch] Sixty-five miles north of Wells in the lofty Jarbidge Wilderness, you'll find a working cattle ranch and some leathery souls willing to school you in the art of roping and riding herd. $200/day; 775-752-0871, www.cottonwoodguestranch.com
[Ruby Mountain Helicopter Skiing] Since 1977, RMHS owner Joe Royer has led clients into some of the best and least-known terrain in the lower 48. Though the Rubies top out at just over 11,000 feet, they produce a perfect wintertime combo of powder and bright sun. $3,200/three-day package; 775-753-6867, www.helicopterskiing.com
[South Fork of the Owyhee and the Jarbidge River] Draining northern Nevada's Independence Mountains, these rivers provide two of the most remote weeklong wilderness whitewater trips in the country. About $300/day; River Odysseys West, 800-451-6034, www.rowadventures.com
[Great Basin NP] Nevada's only national park, six hours northeast of Las Vegas, Great Basin is home to bristlecone pines several thousand years old, the limestone stalactites of Lehman Cave, and three alpine lakes near the slopes of 13,063-foot Mount Wheeler. www.nps.gov/grba
[Red Rock Canyon] Fall is the ideal time to grab a guide and head for the sandstone crags 22 miles west of the Las Vegas Strip. The American Alpine Institute offers instruction in sport, trad, top-rope, and lead climbing: $295/day; 360-671-1505, www.aai.cc
[Tahoe Rim Trail] Ringing Lake Tahoe for 165 miles atop ridgelines, through meadows and forests, and along the shore, Lake Tahoe's Rim Trail provides some of the most scenic hiking, mountain biking, and horseback riding in the U.S. www.tahoerimtrail.org
[Black Canyon Wilderness Area] The Colorado River isn't all roiling rapids. Below Hoover Dam, you'll find placid flows, wildlife, and hot springs like those in Gold Strike Canyon. Boulder City Outfitters offers full-day kayak tours. $150; 800-748-3702, www.bouldercityoutfitters.com
Trending on Outside Online