Just Waive Goodbye
With so many novice adventurers filing suit when something goes wrong, outfitters are shielding themselves behind increasingly dense liability forms. What does the mumbo jumbo really mean? We asked a crack team of lawyers.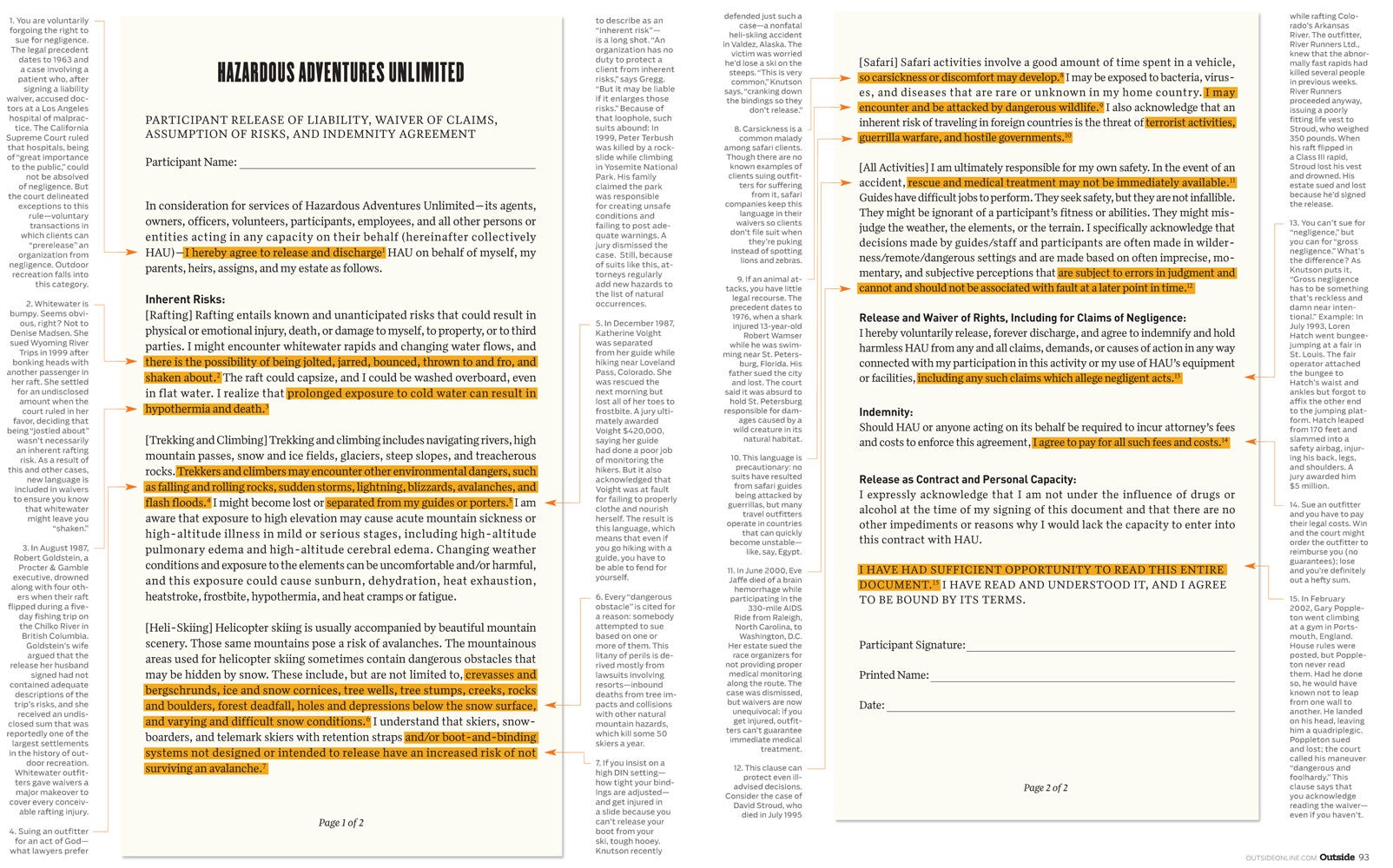 Heading out the door? Read this article on the new Outside+ app available now on iOS devices for members! Download the app.
THE TIME HAS COME. You've saved up for the adventure of a lifetime, and departure is imminent. But before you can raft the Grand Canyon, heli-ski Alaska's Chugach Range, or climb Kilimanjaro, you need to get by a pesky gatekeeper: the liability-release waiver. If you're like most clients, you'll sign without reading a word. But you should know what you're getting into. "It's just like signing a mortgage," says Tracey Knutson, an Anchorage-based attorney who represents outfitters from Alaska to Antarctica. "This is a binding contract." More to the point, it's a binding contract that leaves you powerless. Refuse to sign the waiver and you'll be sent packing with a refund. If you sign, then get hurt and file suit? Good luck—judges toss out about 90 percent of recreation-based lawsuits.

This wasn't always the case. "I recall many large outfits not using waivers in the early seventies," says Reb Gregg, a Houston-based attorney who lectures about recreational liability. So how did things get so contentious? To find out, we constructed an abridged sample waiver using language from the contracts of a few leading outfitters, then dug up the lawsuits that prompted the bombproof legalese. The result is a look at 50 years of ski accidents, shark attacks, rafting mishaps, and negligent guides. Read on—then sign at your own risk.