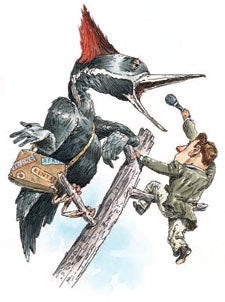 Heading out the door? Read this article on the new Outside+ app available now on iOS devices for members! Download the app.
Until early last year, the ivory-billed woodpecker was presumed extinct—there hadn't been a confirmed sighting of the 20-inch-tall bird, once common in the southeastern United States, since 1944. But in April, after a yearlong hunt involving sophisticated remote sound-recording technology and plenty of neck craning, ornithologists announced that at least one male ivory-bill was indeed living in the Big Woods of Arkansas. Jason Daley recently caught up with the lone woody, who gave his first exclusive interview to Outside.
ivory billed woodpecker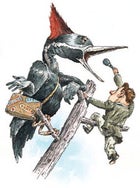 Illustration by John Cuneo
Sixty years is a long time. Where have you been?
I started out hunting poachers in the African bush. Back then they were taking ivory from elephants and walruses. Ivory, ivorybill—it was only logical to think I was next. I formed a paramilitary group—the Ivory Wing—and we took out hunting camps in Tanzania. We did some good. But so much death—somewhere along the way I lost myself.
How did you elude being spotted for so long?
After Africa, I painted my bill black and drifted around Asia with a bunch of magpies. I started practicing Zen, settled my mind a bit, invested in a chain of fast-food chicken restaurants in Beijing. But, c'mon, it's not like I was holed up with Osama—you four-eyed birders couldn't find Heckle and Jeckle if they were crapping on the president.
Why come home now?
I really like the direction America's heading. Market reform, deregulation—a 'pecker can make a killing in a business environment like this. For the U.S. launch of Cap'n 'Pecker's Crispy Chicken Pagoda, I'll be releasing a cover of "Ebony and Ivory" with Usher and touring with Jared, the Subway guy.
Any plans now that you're no longer extinct?
I think I'll run for national symbol. Just look at my beak—it's freakin' majestic. The bald eagle? Give me a break. That guy's a scavenger—is he even endangered anymore?
What about little 'peckers—any in the cards?
Hey, if you know where I can find me a lady 'pecker, do share. It's been a long time since I banged anything besides a tree.