Sponsor Content
15 of the Best Winter Adventures in National Parks
These outings prove there's no such thing as an off-season in our national parks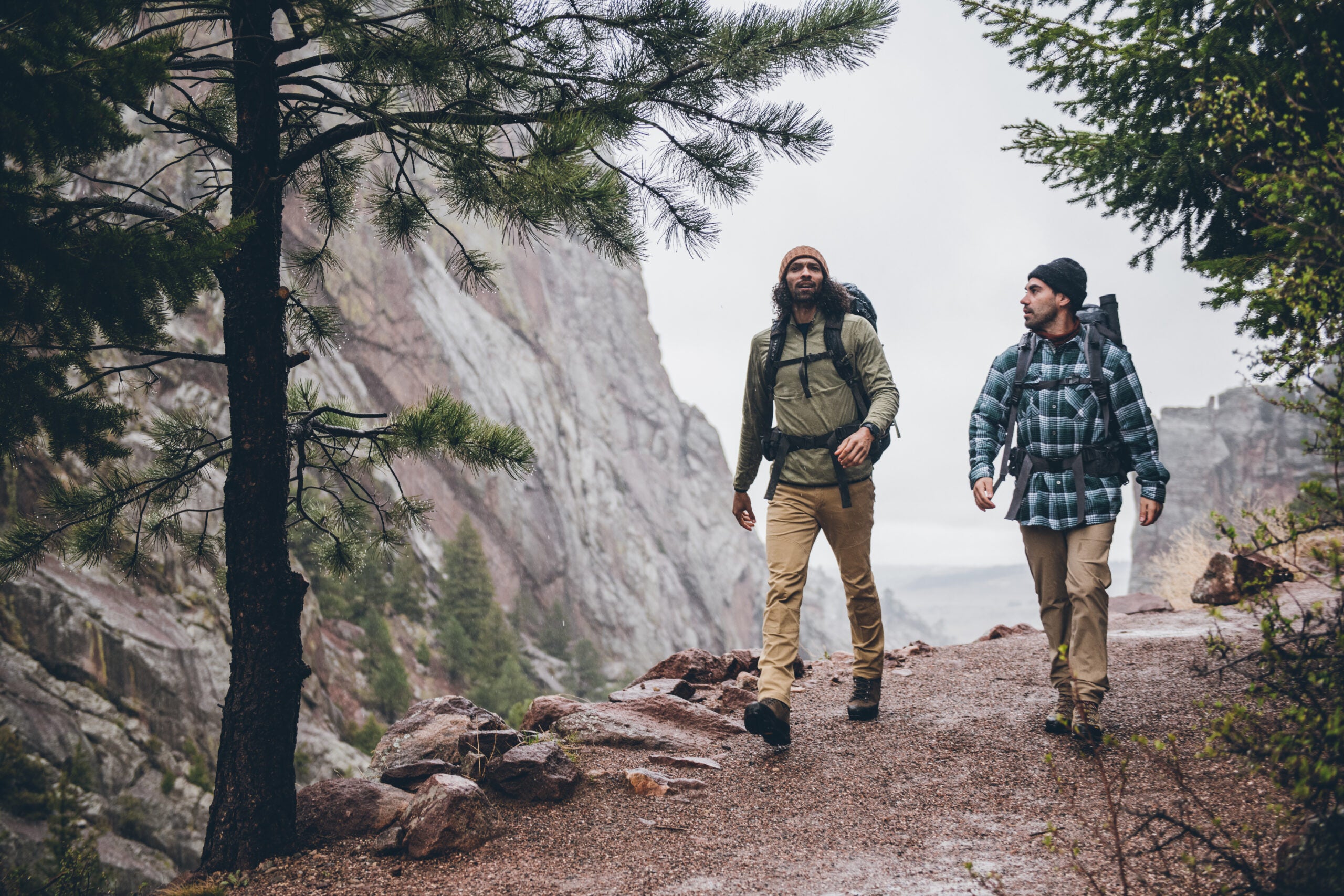 In winter months, visitation at most national parks plummets with the temperatures. That means you're in luck: you'll have some of the most glorious vistas in the world all to yourself, if you're prepared for the weather. Here are some of best snow, ice, and cold-weather activities you can do.
1. Stay Cool in Death Valley
Winter is the best time of year to visit Death Valley, when you can stay out all day without worrying about dangerously high temperatures. You'll want to spend some daylight hours exploring the Mojave Dunes and Badwater Basin, the lowest point in North America at 282 feet below sea level. But nighttime is when the real magic happens. Plan to come during a new moon so you can see the Milky Way as never before.
Essential Gear: Temperatures change quickly in the desert, and even in cooler months the sun can be strong in Death Valley. ATG by Wrangler's Women's Canvas Pant has UPF 50 sun protection and the perfect amount of stretch to keep you nimble as you dash up and down the Mojave Dunes and stylish for dinner in town. Deep front hand pockets keep small essentials accessible and safe.
2. Ice-Skate in Rocky Mountain
Rise early to beat the throng of snowshoers who fill the Bear Lake parking lot, pack a pair of ice skates (and, if you're extra ambitious, a hockey stick and puck), and trek up to the 10,000-foot-high Emerald Lake. Frozen over, Emerald Lake becomes a dreamy ice rink where you might be lucky enough to catch a pickup hockey game.
3. Take a Snow-Coach Tour in Yellowstone
In winter, your best modes of transportation through Yellowstone National Park are snowmobile, skis, snowshoes, and snowcoach—a passenger van crossed with a snowcat. Intrigued by that last one? Book a spot with Wildlife Expeditions for a tour led by experts from the Teton Science School, who will eagerly answer questions about wildlife and science in the park. Almost no one visits in the off-season, so you can easily get a front-row seat to the steaming geyser eruptions.
4. Go Ice-Fishing in Acadia
Bundle up and pack a big insulated bottle of hot chocolate: ice-fishing season in Acadia National Park runs from January through March. In some of the park's larger lakes and ponds, you can find brown, brook, and lake trout, landlocked salmon, white and yellow perch, and a variety of other fish.
Essential Gear: Keep warm even in the face of strong winds and blowing snow with ATG by Wrangler's Men's Whiteside Windcrusher Jacket. This anorak-style jacket has adjustable cuff tabs to seal in warmth and plenty of pockets to keep essentials secure and easily accessible.
5. Sled the Great Sand Dunes
Snow or no snow, you can sled year-round at Great Sand Dunes National Park, where some of the dunes rise more than 700 vertical feet and make for thrilling descents. Bring your own sled for snowy days, or rent a sand-specific sled or sandboard at the nearby Great Sand Dunes Oasis. Cold nights come with clear skies and there's almost no light pollution here, so make a point to stay out after dark and bring your telescope if you have one.
6. Cross-Country Ski in Cuyahoga Valley
The Ohio & Erie Canal was carved in the 1800s to connect Lake Erie to the Ohio River, speeding trade between Ohio and New York, which then fueled westward expansion. The Towpath Trail, a 20-mile stretch of the path where mules pulled canal barges, runs through Cuyahoga Valley National Park and is ideal for cross-country skiers looking for mild terrain. Its many access points mean shuttling is easy.
7. Ski the Tetons
Many of Grand Teton National Park's classic postcard scenes are even prettier when covered in snow and viewed from skis. And in the Tetons, there's something for every kind of skier. Skate and classic skiers can zip along Teton Park Road, which is groomed and closed to cars from November through April. Those who want to earn powder turns can tour to some of the lower 48's most iconic mountain terrain (hire a guide). And for those who want an unforgettable, adrenaline-pumping experience, there's High Mountain Heli-Skiing, which flies in the nearby Palisade, Snake River, and Wyoming ranges.
8. Catch the Northern Lights at Voyageurs
At Voyageurs National Park, which sits along Minnesota's border with Canada, you can see the aurora borealis when conditions align. When the lights are active on a clear night, you can see them from almost anywhere in the park with a good view of the horizon, including the Rainy Lake and Ash River visitor centers. For those who enjoy winter camping, the park has houseboat sites and watercraft-accessible frontcountry campsites open year-round.
Essential Gear: If the weather takes a turn for the worse, stay dry with ATG by Wrangler's Women's Rain Jacket. This affordable outer shell is equipped with plenty of stretch to keep you hiking or paddling forward, and its deep, zippered hand pockets keep your phone and keys secure. Bonus: it's made from recycled materials.
9. Take in the Sunrise at Glacier National Park
Glacier National Park is quiet and serene in winter thanks to a ban on snowmobiles that keeps recreation human-powered. Ski to McDonald Falls, a popular and beginner-friendly four-mile round-trip ski for icy waterfall views. For a more strenuous day with dramatic views of Sinopah Mountain, ski 16 miles round-trip along Two Medicine Road to Two Medicine Lake. Rise early to get there by first light, when the alpenglow casts the peak in shades of pink and purple.
10. Snowshoe to a Hydrothermal Vent in Lassen Volcanic National Park
Yellowstone isn't the only place to find bubbling mud pits in the U.S. At California's lesser-known Lassen Volcanic National Park, there's so much hydrothermal activity that its heat naturally keeps the road clear of snow. From November through April, when conditions are right, you can snowshoe about two miles round-trip to the steam vents and bubbling mud pits of Sulphur Works. Along the way, you'll pass a sledding area with terrain great for the whole family.
11. Take in the Views in Shenandoah National Park
The famous Skyline Drive that snakes along the backbone of Shenandoah National Park is often closed to cars on snowy and icy days—and that's a good thing for visitors willing to arrive on foot. You'll have views of the mountains and Shenandoah Valley nearly all to yourself, and you'll be able to take quiet hikes in the woods along the Appalachian Trail. If you're traveling with your family, the nearby Massanutten ski resort has a tubing hill and an indoor water park that's heated year-round.
12. Try Dogsledding in Denali
Mushing traditions run deep in and around Denali National Park, where Native Alaskans have worked with sled dogs for many generations. Even snowmobiles here can fall victim to temperatures that drop well below zero, but sled dogs are ready to run no matter the conditions, and so park rangers have their own teams to help them patrol the backcountry. You can visit the park's kennels on weekends to learn more, and you can join in on the fun yourself on a guided tour with EarthSong Lodge. EarthSong runs day trips and overnight dogsledding adventures in and around the park.
13. Go for a Desert Snowshoe in Bryce Canyon
Get an almost secret view of the Bryce Canyon Amphitheater by visiting on a snowy day, when stark white snow settles among the bright red rock formations. You can cross-country ski or snowshoe along the canyon rim. For a real treat, enter the lottery for spots on a full-moon snowshoe led by park rangers who can tell you about the area's geology and the animals that live in the park.
14. Explore Ice Caves at Apostle Islands National Lakeshore
When conditions are just right, dreamy ice caves form on the mainland of Wisconsin's Apostle Islands National Lakeshore, creating an otherworldly, impossible-looking scene. You'll have to hike for about two miles on the frozen surface of Lake Superior to get there, so make sure you bundle up. And before you go, check the National Park Service's website for updates about conditions—the caves are open to the public only when it's safe.
15. Find Solitude in Kenai Fjords National Park
Exit Glacier is the only place in Kenai Fjords ever open to cars. But in winter months, even this road closes, becoming an avenue of winter recreation. You can make your own way to the glacier's viewpoints by dogsled, skis, snowshoes, fat bike, or snowmobile, or you can book a spot on Adventure60's seasonal winter shuttle. Experienced mountaineers can venture onward for an 8.2-mile day hike to the Harding Icefield, which stretches for 700 square miles. For proper solitude and an overnight adventure, you can book a night or two in the park's rustic—but heated—cabin with bunk beds for four.
---
The Wrangler®  brand is founded in a connection to the outdoors, rooted in adventure and independence. ATG by Wrangler™ now provides versatile, performance apparel with the intent of making the outdoors accessible to all.