63 Parks Traveler
Channeling Edward Abbey in Arches National Park
View the park's stunning sandstone sculptures. It's our 62 Parks Traveler's 13th stop on her journey to visit every U.S. national park in a year.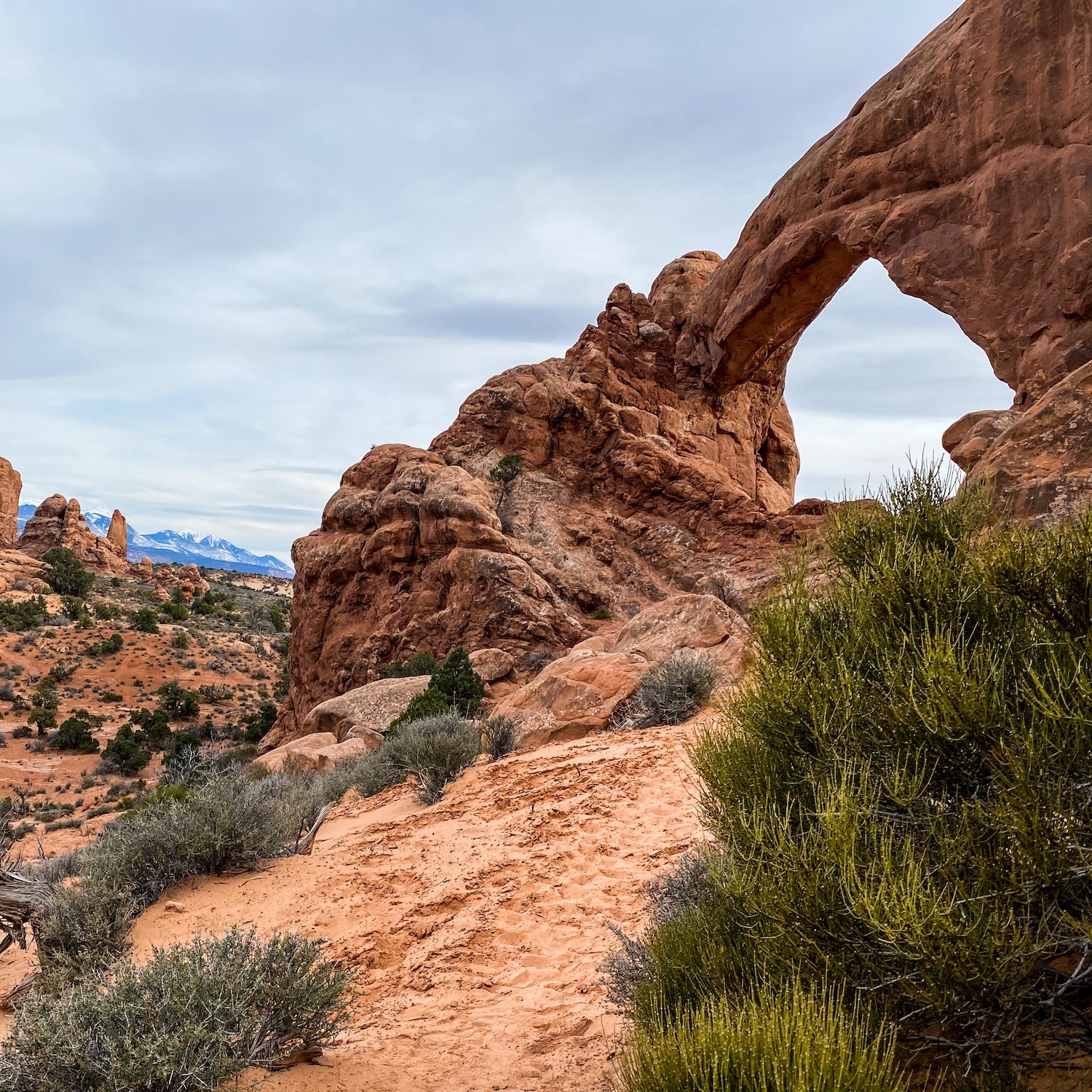 Heading out the door? Read this article on the new Outside+ app available now on iOS devices for members! Download the app.
62 Parks Traveler started with a simple goal: to visit every U.S. national park in one year. Avid backpacker and public-lands nerd Emily Pennington saved up, built out a tiny van to travel and live in, and hit the road. The parks as we know them are rapidly changing, and she wanted to see them before it's too late.
Pennington has returned to traveling and is committed to following CDC guidelines during the COVID-19 pandemic to ensure the safety of herself and others. She's visiting new parks as they open and closely adhering to best safety practices.
---
Desert Solitaire is a book that should pass through the hands of anyone looking to visit Arches National Park. The 1968 tome chronicles Edward Abbey's time as a park ranger when the area was a national monument, just as interstate highways, paved roads, and developed campgrounds began to threaten this once desolate Utah wonderland of rocks. (Though the book has recently come under fire for its callous male perspective, it offers an in-depth look at a wilderness area in flux.)
Like any good, overachieving tourist, I read it from cover to cover in advance of my trip to Arches, but nothing in its 336 pages could have prepared me for what I found when I ventured inside the park.
I arrived before 9 A.M. and was shocked to find that the visitor center's parking lot was already full of cars. Hot damn, I thought to myself, I'd better get a move on. I hopped into my van and boogied over to the end of the main road to hike one of the longest trails in the park—the eight-mile Devils Garden Primitive Loop.
When I got there, I was dismayed to find that this parking area was also already spilling over with vehicles. Families of five were crawling around on nearby boulders, and the incessant buzzing of RV generators sent my nerves to war.
Call me Edward Crabby.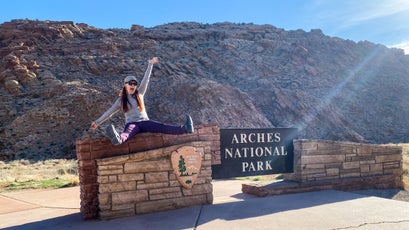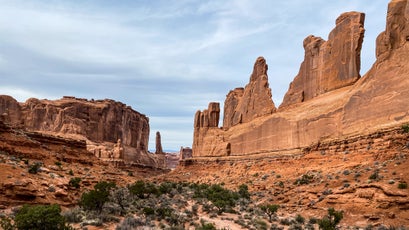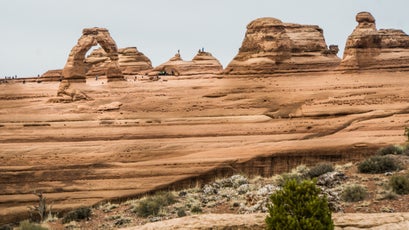 I put my chin up and threw my shoulders back in an attempt to feign confidence. I was determined not to let the crowds get me down. The trail traversed a series of seven massive stone arches, each one the color of burnt clay. The most famous among them is Landscape Arch, the longest arch in North America. I stood beneath the sandstone behemoth, curious how such a thin crust of rock could sustain itself in the shape of a rainbow for centuries. Though visitors swarmed all around me, the arches themselves felt like small miracles in the midst of so much chaos.
When I stepped onto the primitive trail section of the loop, I hoped the rock scrambling and mild exposure would ward off more casual hikers, but such luck never came. Instead, I watched a timid-footed couple anxiously make their way down a series of class 2 sandstone slabs with their children. It made me wince.
A split from my planned itinerary seemed inevitable to soak up the soul of the park. I jumped back into my minivan and drove south, pulling over at a two-mile trail I'd never head of: Park Avenue.
The sun hung low in the sky, bathing the sandstone columns surrounding the trail in amber-hued light. The air was still, crisp, and quiet. "Broooowk!" a raven croaked to my left as it soared across the sky and landed atop one of the massive Courthouse Towers. I followed the trail downhill for a half-mile, watching the sun dip toward the horizon like a deflating balloon.
In order to dodge the usual throngs of people on Delicate Arch Trail, I drove across the park and found a spot for my car near a short side trek up to a lesser known viewpoint of the gravity-defying orange horseshoe. As the sun sank, diffuse clouds filtered the honeyed desert light until the world around me felt like a dream. I perched my tired body on a small rock near half a dozen other people watching the show.
Through my camera's long lens, I could see hundreds of visitors high on the plateau, jockeying for position and climbing around beneath the famous arch. I took a few photos, a deep breath, and smiled, grateful I wasn't one of them.
"Industrial tourism is a threat to the national parks. But the chief victims of the system are the motorized tourists. They are being robbed and robbing themselves. So long as they are unwilling to crawl out of their cars they will not discover the treasures of the national parks and will never escape the stress and turmoil of the urban-suburban complexes which they had hoped, presumably, to leave behind for a while."―Edward Abbey, Desert Solitaire
62 Parks Traveler Arches Info
Size: 76,679 acres
Location: Eastern Utah
Created In: 1929 (national monument), 1971 (national park)
Best For: Hiking, car camping, geology, rock climbing, cycling
When to Go: Spring (35 to 82 degrees) and fall (30 to 88 degrees) boast the best temperatures for exploring the park. Winter (22 to 52 degrees) is also a good time to visit, while the higher mountains are still snowed in. Avoid visiting in the summertime (60 to 110 degrees).
Where to Stay: Adventure Inn, a family-run gem in nearby Moab, is just a seven-minute drive from the park's entrance station. Rooms are affordable, and a free hot breakfast and high-speed internet are included. 
Where to Eat: Antica Forma might have the best pizza in all of Utah. Its chefs rise early to make 200 pounds of homemade mozzarella cheese every morning to toss onto their wood-fired pies.
Mini Adventure: Check out Delicate Arch. While most visitors opt for the three-mile trail to the base of the arch, you could hike to the nearby viewpoint instead and avoid some of the hordes of tourists. The short trail to Lower Delicate Arch Viewpoint is flat and accessible, while the less obstructed upper view involves a steep half-mile climb.
Mega Adventure: Hike the Devils Garden Primitive Loop. Wind through a series of seven notable arches and scramble through narrow sandstone canyons on an eight-mile trail in the heart of the park. Go early to beat the crowds.