63 Parks Traveler
You've Never Seen Sunrises Like Those at Death Valley
Go to this massive California destination for the hiking, but stay for its spectacularly colorful early mornings. It's our 62 Parks Traveler's third stop on her journey to visit every U.S. national park in a year.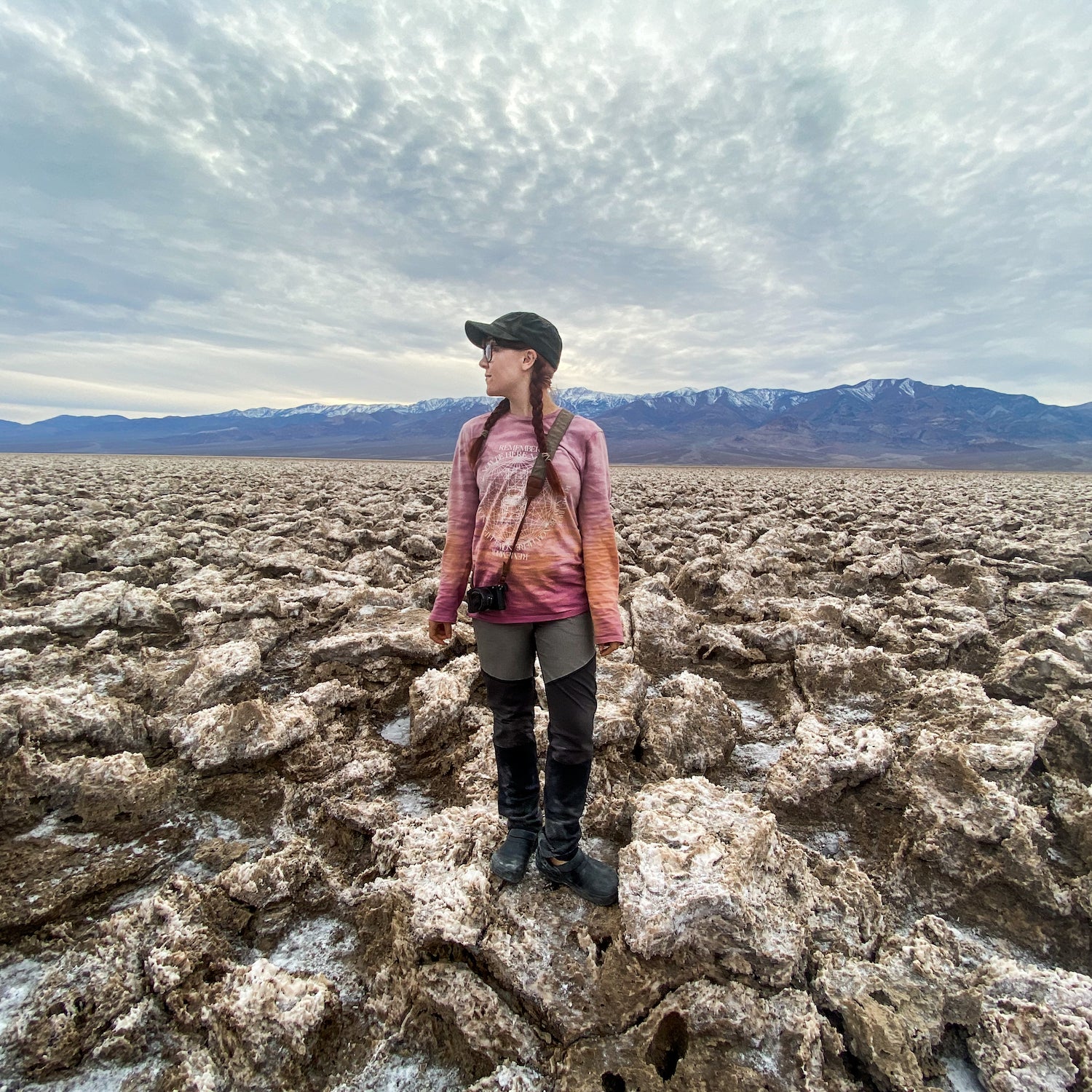 Heading out the door? Read this article on the new Outside+ app available now on iOS devices for members! Download the app.
62 Parks Traveler started with a simple goal: to visit every U.S. national park in one year. Avid backpacker and public-lands nerd Emily Pennington saved up, built out a tiny van to travel and live in, and hit the road. The parks as we know them are rapidly changing, and she wanted to see them before it's too late.
---
Both times I've been to Death Valley, California, I've gotten lost. Big-time. As the largest national park in the lower 48 (by over a million acres), three-million-acre-plus Death Valley can be tricky to navigate. The scale of the bumpy washes and far-flung barren peaks is dizzying.
On my first trip there, in 2017, a friend and I plotted a cross-country course through what looked like five flat miles of desert gravel on the way to a striking breccia canyon. The way in was glorious, with narrow squeezes between rock walls, ocher-colored cliffs, and Class 3 scrambles up dryfalls. Plus, we had the place to ourselves. The way out? Not so much. In our naive attempt to haul ass back to Lulu the Adventure Prius, we overshot a series of huge red-rock berms. We couldn't find the car. Shamefully, we hitchhiked back to the ranger station to get some help.
I'm happy to report that on this year's trip to Death Valley, I fared better—though I still got lost.
I entered the park on the eastern side and rose early to greet the sunrise from Zabriskie Point with about 50 other camera-toting tourists. Watching as the nearest star sprinkled rouge fairy dust all over the colorful badlands, I began to see what the fuss was about. The brilliant pink alpenglow bursting across the tip of Telescope Peak is certainly worth waking up for.
As the day progressed, my partner, Brian, and I wanted to go for a hike, and we noticed a steep, serpentine path cut right along the ridgeline of a nearby rust-tinted mountain range. The trail sign said "Red Cathedral—2.3 miles." It looked perfect.
Up we went, teetering on the edge of an imposing, crumbling mountain face. The trail got sketchier as we hiked, often stretching the definition of the word trail, but there were people ahead of us, so how bad could it be? By the time we got to the end, my heart was pounding from the exposure. I wanted to loop down to Golden Canyon and locate a real trail, and Brian agreed.
We followed the most obvious wash down, skidding through loose scree on our butts when the slope was too steep to walk. "This is kind of fun!" Brian shouted as we scampered down the rocks as quickly as we could manage.
Finally, we could see Badwater Road. It was only a quarter of a mile away, according to my GPS. "We're gonna make it, thank God," I mumbled to myself as I edged toward the end of the wash, only to be greeted by a 500-foot-high rock face. "Shit," I yelped. "We're cliffed out." So we did what any reasonable person would do. We licked our ego wounds and trudged back up the barren wash, backtracking along the sketchy trail toward the car.
Some national parks hold your hand while you amble through verdant meadows and down peaceful woodland trails, taking selfies and feeling at one with the universe. Death Valley is not that park, nor does it want to be. It's a desert wonderland, but one that lets you explore, and fail, at your own risk.
62 Parks Traveler Death Valley Info
Size: 3,373,063 acres
Location: Central California and western Nevada, 130 miles west of Las Vegas, straddling the California-Nevada border
Created In: 1933 (national monument), 1994 (national park)
Best For: Hiking, scrambling, scenic drives, and car camping
When to Go: In the spring (55 to 100 degrees), fall (48 to 107 degrees), or winter (39 to 74 degrees). Avoid the summer months, when temperatures can soar to well over 120 degrees.
Where to Stay: Furnace Creek Campground is centrally located and one of the few in Death Valley that offers some privacy between sites, in the form of small shrubs and mesquite trees. Amenities include flush toilets, picnic tables, fire pits and grills, and full hookups for RVs. Accessible sites are available as well.
Mini Adventure: Visit the Badwater Basin salt flats. At 282 feet below sea level, this unusual geological wonder is the lowest point in North America. Located 19 miles from Furnace Creek, there's a great easy hike that's suitable for those with strollers or wheelchairs. Simply head off the wooden boardwalk and onto the desert floor, and explore for as long as you'd like, taking in the magnificent views of Telescope Peak and the Panamint Mountains.
Mega Adventure: Tour the park's colorful badlands on the Golden Canyon, Gower Gulch, and Badlands Loop. This eight-mile circuit gets hikers up close and personal with some of Death Valley's most striking rock formations.
Worth a Detour: The Amargosa Opera House in Death Valley Junction is just a 30-minute drive from Furnace Creek. It features the life's work of renaissance woman Marta Becket, who painted the entire interior of the venue by hand. Visit on a Saturday evening to catch a live performance in the stunning antique theater, or drop by in the afternoon for a tasty bite at the adjoining café.
Trending on Outside Online