63 Parks Traveler
The Perfect Summer Day in Denali National Park
Mountaineers come to summit this Alaskan park's namesake 20,310-foot peak, the highest in North America. Our 62 Parks columnist set out on a mountain bike to see the stunning terrain and bountiful wildlife during the 36th stop of her quest to visit every national park in the U.S.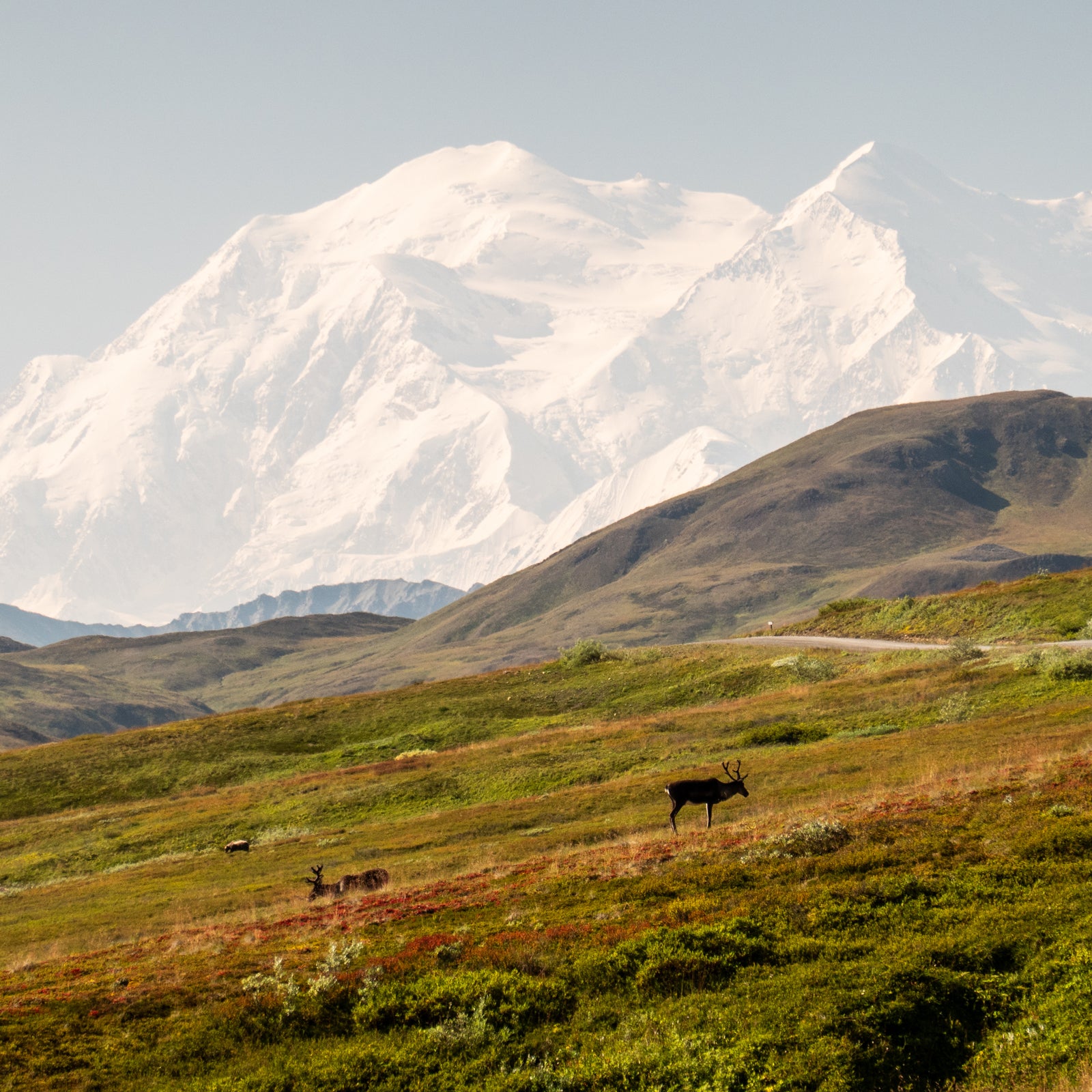 Heading out the door? Read this article on the new Outside+ app available now on iOS devices for members! Download the app.
62 Parks Traveler started with a simple goal: to visit every U.S. national park. Avid backpacker and public-lands nerd Emily Pennington saved up, built out a tiny van to travel and live in, and hit the road, practicing COVID-19 best safety protocols along the way. The parks as we know them are rapidly changing, and she wanted to see them before it's too late.
---
"I wouldn't leave my bike alone in the woods. Bears love bikes," said an older woman in a navy windbreaker sitting next to me at the Teklanika bus stop in Denali National Park. "They do?" I croaked back, positive she was joking. "Oh, sure," she continued cheekily. "They're shiny, they're different, they're colorful, and they have really fun tires that bears can pop!"
It was my first day in Denali, and I was determined to take advantage of the good summer weather, striking out into grizzly country alone on a rented mountain bike. With a loaded bottle of bear spray in my saddlebag, I set off on the park's 92-mile main road, feeling equal parts timid and ferocious as I zoomed down a steep hill and across the finely braided streams of the Teklanika River. Sun poked through intermittent clouds, illuminating rows upon rows of the green Alaska Range that seemed to go on forever. I felt like a girl out of time, both in the world and floating deliriously above it as I rode through the scenery on two wheels.
Accessibility-wise, Denali is a bit of a mixed bag. The main road cuts through the park's center, but only the first 15 paved miles of it can be traversed by private vehicles. (The remainder of the road is gravel.) To venture deeper into the wilderness, visitors must purchase tickets for either a green transit bus that they can hop on and off or a white tour bus with a more fixed, narrated program that's led by a trained naturalist. Travelers who feel particularly anarchic can ride a bike, as I did, and explore the main road for as long as they like.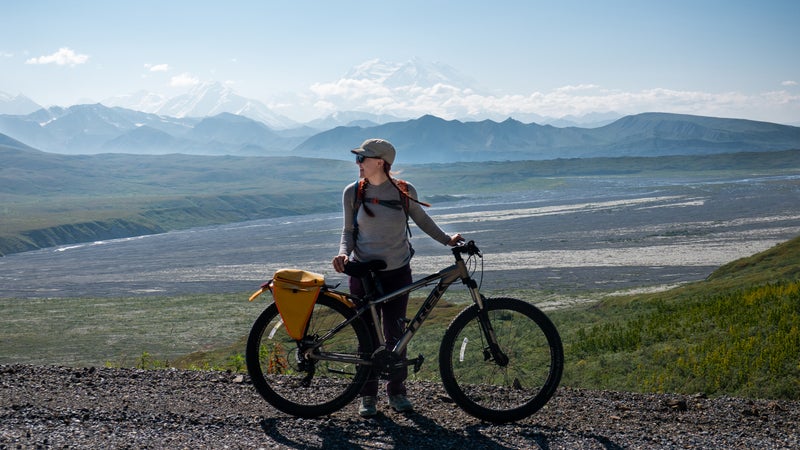 Two miles before reaching the road's 4,000-foot Sable Pass, which you can pedal to the top of, the web of clouds above broke open and a light rain began to fall. I turned around and raced back to my campsite on the Teklanika River, cruising along without a bear in sight.
Eager to experience more than one version of Denali, I purchased a ticket and hopped aboard a transit bus the following morning, sliding my bike into a metal storage rack out front. Within minutes we had devoured the seven mostly uphill miles I'd ridden the previous day. Then it happened.
A few hundred yards from yesterday's turnaround point, a scraggly, blond grizzly was scratching his rump on a concrete guardrail. He turned, looked at us, and cockily strolled right past my window, a mere ten feet from where I sat. Instantly giddy and awestruck, I spent the remainder of the three-hour bus ride scanning the horizon for animals.
The variety was tremendous. A caribou ran in front of our bus and jogged merrily along the roadside for several minutes. Next we watched as a young bull moose eagerly followed a cow through a thicket of willows. As we neared the Eielson Visitor Center, I was struck by the sheer size of a far-off brown bear chomping at blueberry bushes in a desperate attempt to gain weight before winter. Denali is paradise for wildlife lovers.
Once at Eielson, I had an hour to explore before the bus headed home. I pushed off on my bike and coasted down the road into the rugged vastness of the park. Denali, the 20,310-foot peak known as the High One, loomed large to my left as I sped closer and closer toward its glowing white glaciers.
The view of the Alaska Range, the joyous feeling of wind on my cheeks, and a buoyant sensation of wild abandon are forever stitched in my memory as the perfect bookend to a perfect day in the park.
62 Parks Traveler Denali Info
Size: 6,045,153 acres (park and preserve)
Location: Central Alaska, between Anchorage and Fairbanks
Created In: 1917 (national park)
Best For: Wildlife viewing, hiking, bus tours, backpacking, cycling, mountaineering
When to Go: Summer (40 to 67 degrees) and September (30 to 50 degrees) are when the park has the best weather and the road is accessible. During a typical year, ranger-led activities begin on May 15, for those looking to visit early.
Where to Stay: As one of the few Alaska parks accessible via a paved road, Denali is a perfect destination if you've rented a camper van and want to book a site in one of the park's many campgrounds. I loved my experience renting a camper with Northern Nomads, based in Anchorage. It offers everything from tiny-van build-outs to Ram ProMasters that feel like cozy cabins on wheels.
Mini Adventure: Go on a bus tour. Aramark runs a trio of full-day experiences, with knowledgeable guides designed to give travelers a glimpse into the park's incredible history and wildlife. If you're on a budget, the non-narrated transit buses also stop for wildlife and are an excellent way to explore Denali.
Mega Adventure: Bike the park road. Bike Denali is a one-stop shop that rents mountain-bike kits, complete with high-visibility panniers, bear spray, helmets, and more. Pedal around for a single day up Sable Pass or tackle the entire 92-mile stretch with one of its multi-day packages. Cruisers are also available for visitors looking to enjoy the scenic bike paths near the main visitor center.
Lead Photo: Emily Pennington