It's Grizzly-Viewing Season in Katmai National Park 
Katmai, in southern Alaska, is one of the few places where you can safely get up close and personal with a brown bear while it's feeding—a life-list event says our 62 Parks Traveler about the 38th stop on her quest to visit every national park in the U.S.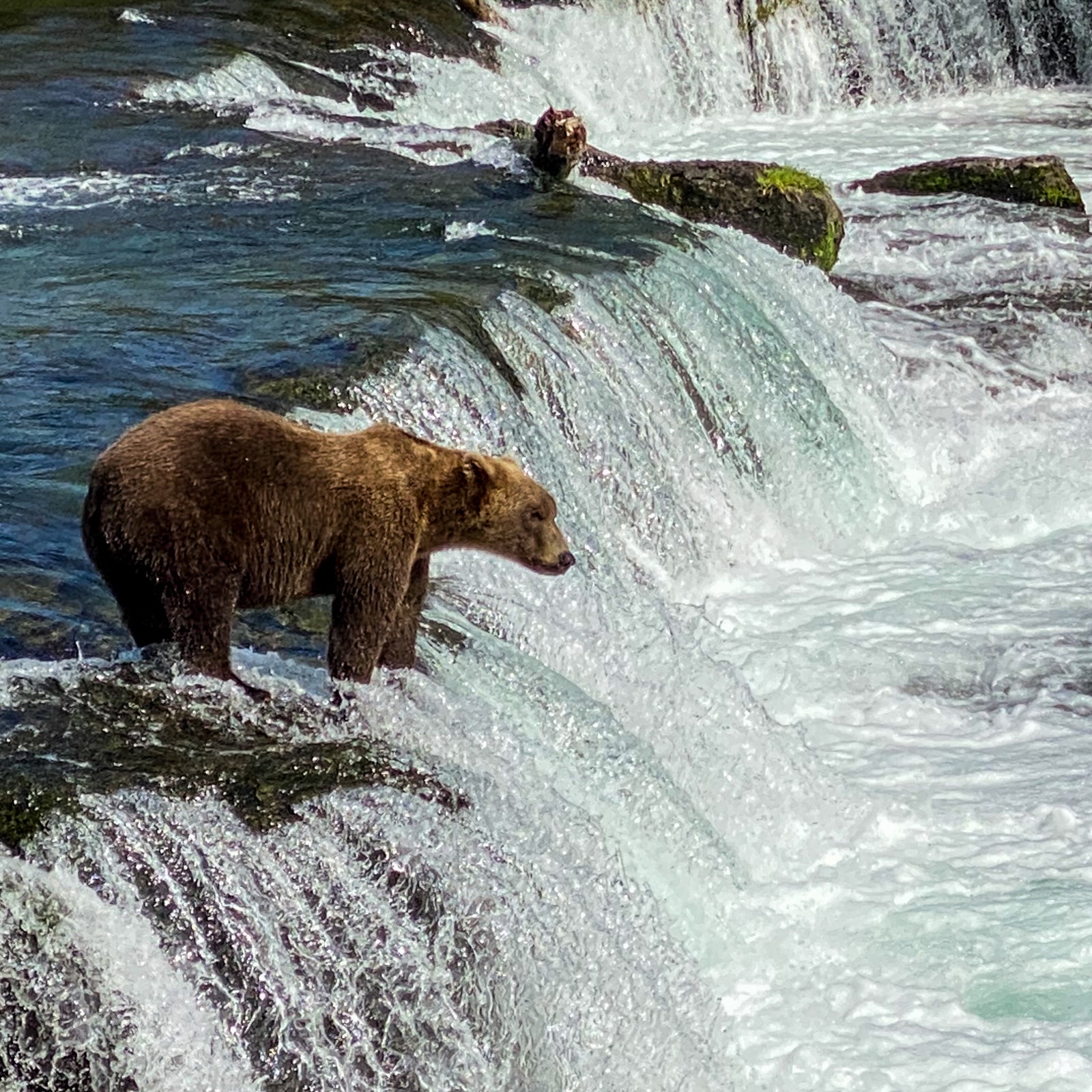 Emily Pennington(Photo)
Heading out the door? Read this article on the new Outside+ app available now on iOS devices for members! Download the app.
62 Parks Traveler started with a simple goal: to visit every U.S. national park. Avid backpacker and public-lands nerd Emily Pennington saved up, built out a tiny van to travel and live in, and hit the road, practicing COVID-19 best safety protocols along the way. The parks as we know them are rapidly changing, and she wanted to see them before it's too late.
---
A sharp, thin sliver of black appeared in the churning foam of the waterfall, and then I saw it. Wriggling through the open air with all the ferocity of a running back at crunch time was a lone salmon, leaping upstream in a valiant effort to spawn. The only thing standing in its way was a huge brown bear perched hungrily atop the falls, eager to end the miles-long journey with a single snap of her jaw.
Katmai National Park, located in southern Alaska, is one of the best places in the world to view brown bears fishing in their natural habitat. From June through October each year, dozens of bears flock to the salmon-rich waters of the area to gorge themselves before winter rears its chilly head and pushes them back into hibernation. The park's Brooks Camp, with its float plane accessible visitor center, campground, and lodge, lies at the center of the action and provides raised wooden viewing platforms where guests can safely observe the bears from an up-close vantage point.
The moment my plane touched down on the glassy water of Naknek Lake, I felt like my heart might burst out of my chest with excitement. I had seen grizzlies in Denali, sure, but never on foot and not this close up. After a brief bear safety orientation led by an enthusiastic park ranger, I dropped my bags at the lodge and set off on the one-mile trail towards the infamous Brooks Falls and the Brooks River viewing platform, clunking a heavy metal door behind me so that no bears could follow as I stepped up onto the first of several raised boardwalks leading to the water.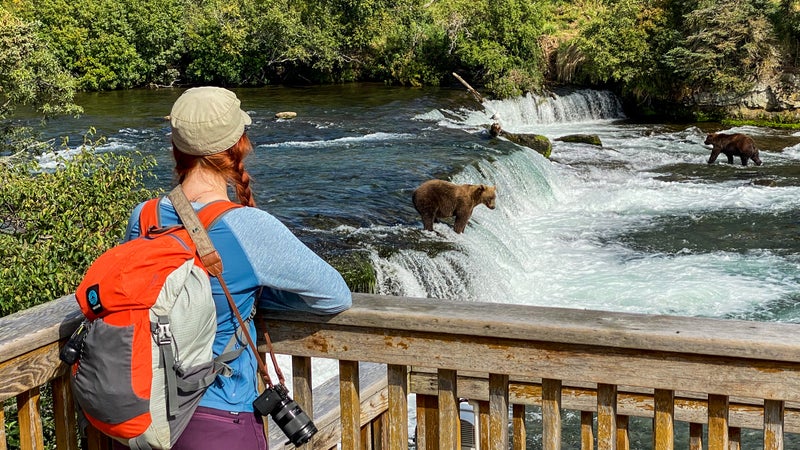 Thousands of salmon swam at a leisurely pace against the current, suspended mid-water like glowing red bread loaves. However, there were no bears around, so I continued upstream toward the Brooks Falls Platform.
When I arrived at the waterfall, I suddenly understood what all the hype was about. Several small clusters of tourists with long-lense cameras stood expectantly watching two brown bears fish in the rushing torrent of water. The scene had all the fervor and tension of a sports match—onlookers audibly gasping each time a set of teeth narrowly missed a swimming salmon. Butterflies in my stomach, I waited and watched, mouth agape, as scores of fish flew by unscathed.
Finally, after an hour of anxious spectating, I saw my first catch. The young adult bear that had been sitting on top of the waterfall for ages sunk her teeth into a fish mid-air, and the crowd let out a loud cheer as though their home team had just won a championship. It was the kind of unifying and awe-inspiring moment that's somehow so rare in city life, yet surprisingly common in the national parks.
If it weren't for the pandemic, I would have giddily high-fived every last one of them.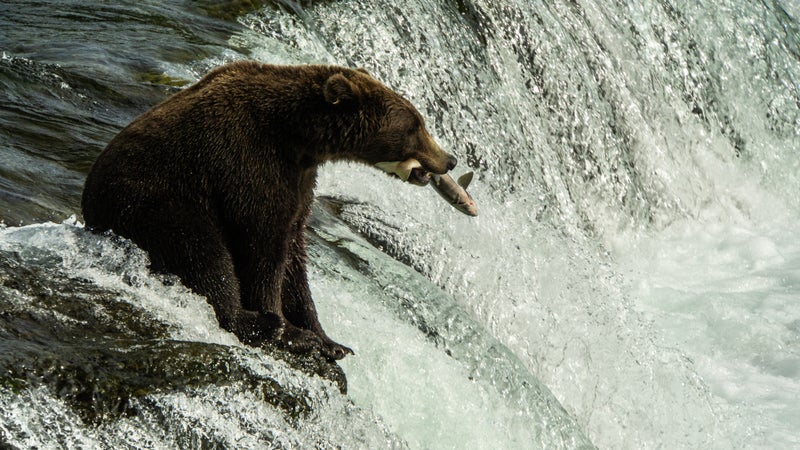 62 Parks Traveler Katmai Info
Size: 4,093,077 acres (national park and preserve)
Location: Southern Alaska, near King Salmon
Created In: 1918 (national monument), 1980 (national park and preserve)
Best For: Wildlife viewing, fishing, volcanology, Native history
When to Go: July (48 to 64 degrees), September (40 to 55 degrees), and October (26 to 42 degrees) are the prime bear viewing months, though a few stick around to fish during August (47 to 62 degrees).
Where to Stay: Brooks Camp is the most accessible section of the park and offers a campground surrounded by electrical fencing to keep bears out, a delicious restaurant, and a rustic lodge complete with hot showers and flushing toilets for overnight visitors. Book early! Both the campground and lodge fill up months in advance.
Mini Adventure: If you've only got one day in the park, take your time on a leisurely stroll across the Brooks River, scoping for animals on the one-mile hike out to Brooks Falls. There, you're almost guaranteed to spot several massive brown bears fishing in the famous waterfall.
Mega Adventure: Stay the night, go fishing, and embark on the Valley of Ten Thousand Smokes tour. Not only is the Brooks River a phenomenal place to fish for rainbow trout, Katmai itself has a fascinating volcanic history, after the largest eruption in the 20th century took place inside the future park's borders in 1912. Today, the NPS offers daily ranger-led tours of this impressive landscape that showcase the history and geology of the area.
Lead Photo: Emily Pennington
Trending on Outside Online