63 Parks Traveler
Camp and Play in White Sands' Gypsum Dune Field
Welcome to America's newest national park, with endless and huge sand dunes to explore. It's our 62 Parks Traveler's fifth stop on her journey to visit every U.S. national park in a year.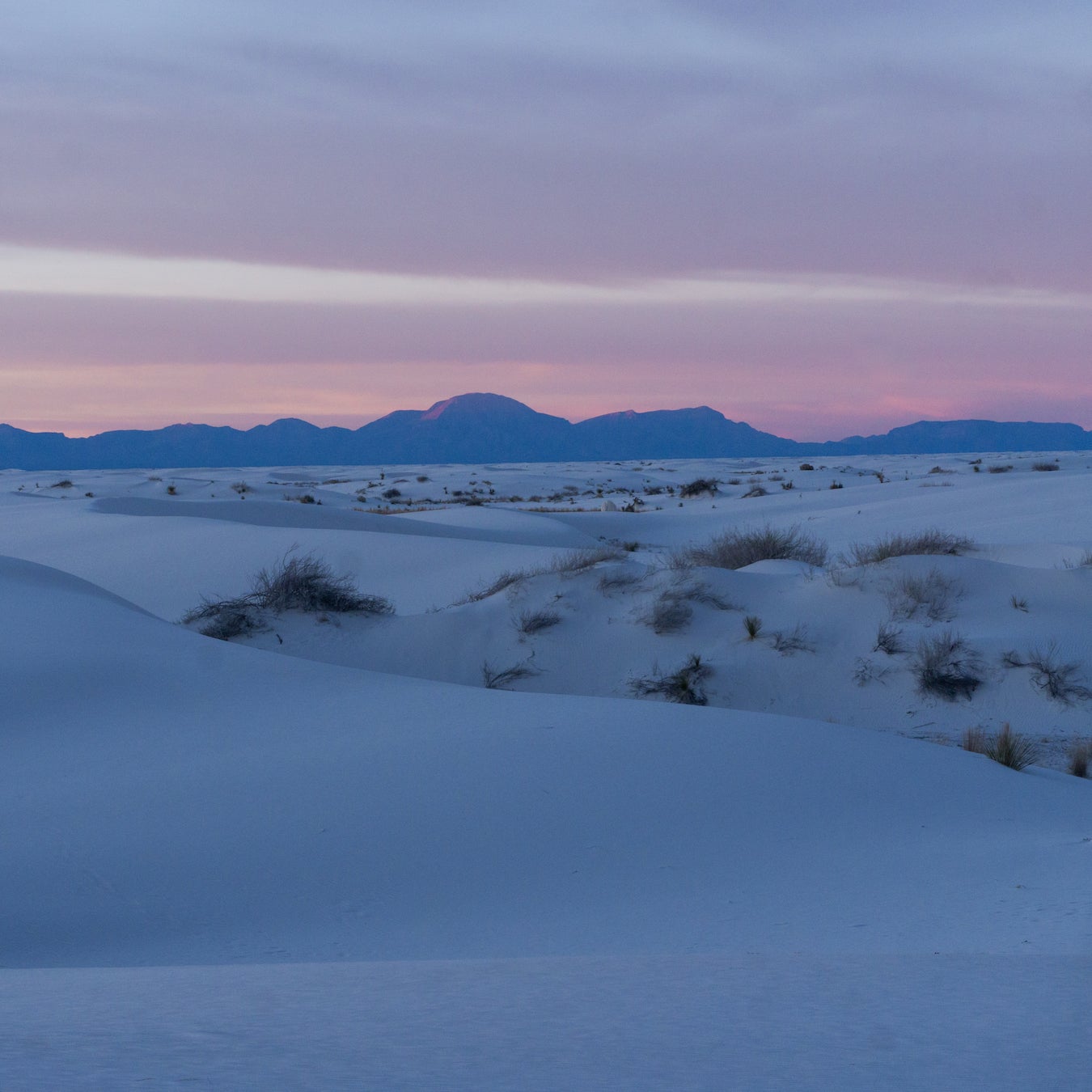 Heading out the door? Read this article on the new Outside+ app available now on iOS devices for members! Download the app.
62 Parks Traveler started with a simple goal: to visit every U.S. national park in one year. Avid backpacker and public-lands nerd Emily Pennington saved up, built out a tiny van to travel and live in, and hit the road. The parks as we know them are rapidly changing, and she wanted to see them before it's too late.
Emily is committed to following CDC guidelines during the COVID-19 pandemic to ensure the safety of herself and others. The column runs on a multi-week delay and will take a hiatus should park restrictions increase. In the meantime, we will continue to post existing content for you to enjoy during this uncertain time.
---
"Have fun, be safe, and don't do anything stupid."
My former roommate used to shout this phrase at me every time I left our apartment in search of a new summit, a date with a stranger, or an ice-cold cup of boba. It still sticks in my head whenever I explore a new place, especially alone.
When I ducked out of Los Angeles on a massive solo road trip around the American Southwest this winter, I took those words with me. They were ringing in my ears like a spiritual mantra as I drove across the missile-testing base that surrounds the entirety of White Sands National Park in New Mexico.
I arrived at the adobe visitor center and commenced with my usual housekeeping—stamping my parks passport, watching the informative short film, and chatting with the rangers to suss out the best trails. This all felt pretty standard, but it wasn't until I drove a few miles past the entrance-fee station that I began to realize what really makes this place special.
White Sands, America's newest national park, is the largest gypsum dune field in the world. It spans an area of 275 square miles and sparkles like fresh snow under the blinding sun. These aren't your average beige-colored dunes; they're a clean, powdery white that plays with the light in outrageous ways as the sun shifts. Driving through, I was itching to get out of the car and frolic in the sand like a little kid, so I parked in a signed lot just off the main road to check out the interpretive Dune Life Nature Trail.
Though a myriad of animals call White Sands home, you're not likely to see any on a daytime stroll through the dunes. Instead, you'll find their ghostly apparitions in the form of tiny footprints skittering across the white gypsum sand. This was true for me as I ambled up and over some of the park's larger dunes on the one-mile loop. The faint X-shaped tracks of roadrunners and the small imprints of kangaroo rats trailed across the eerily silent desert floor as I hiked.
Once back to my van, I sped off to yet another parking area, where I stuffed my backpack full of overnight gear and hit the trail again. Though no car camping is available within the park, White Sands offers ten backcountry campsites that are reached via short hikes ranging in length from about a half-mile to a full mile.
Oftentimes the surest way to absorb the soul of a park is to spend a night away from the roads and tourist attractions. In White Sands, this is absolutely true. I clambered up and down a few dunes, set up my tent, and was free to sit atop the soft gypsum ripples and watch as the sun sank below the horizon.
Sunset is the best time of day here. The blazing dunes are transformed into a soft palette of blush tones, and it feels like someone snuck up behind you and tossed a pair of rose-colored glasses onto your face.
After admiring the last of the dying light, I cooked dinner and quickly retreated to my sleeping bag. By 9 P.M., my entire tent was covered in frost. The night got even colder.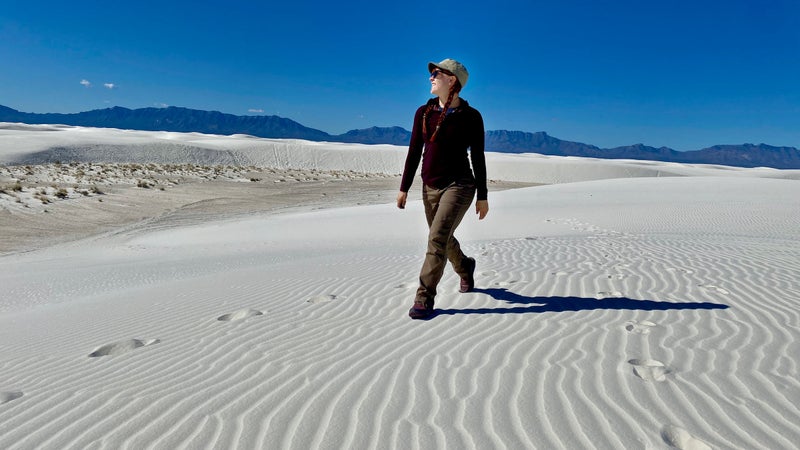 I tossed and turned in a fitful bout of rest and woke up cranky and disoriented, with my sleep sack pulled over my head. I crawled to the edge of my tent, opened the side zipper, and was amazed at what I saw: a series of delicate, gray clouds hung high in the sky and dappled the landscape with diffused light, making the world outside look like an Impressionist painting.
Tired as I was, the morning light was spellbinding, and I felt called to remember my mantra, deliberately asking myself each question with careful attention.
Did I have fun? Yes.
Was I safe? Relatively.
Did I do anything stupid? Nope!
62 Parks Traveler White Sands Info
Size: 148,588 acres
Location: Southern New Mexico
Created In: 1933 (national monument), 2020 (national park)
Best For: Hiking, backpacking, photography, scenic drives, and dune sledding
When to Go: Spring (32 to 88 degrees), fall (29 to 89 degrees), winter (22 to 63 degrees). Avoid visiting in the summer, when average highs reach the upper nineties.
Where to Stay: White Sands offers ten well-spaced backcountry campsites (first come, first served) that are a short hike from the main road. The nearby town of Alamogordo has several private campgrounds for those craving amenities and RV hookups.
Mini Adventure: The Dune Life Nature Trail is a one-mile loop that follows Katie the kit fox across the dune fields via a series of kid-friendly informative signs detailing the creatures that call White Sands home.
Mega Adventure: Go backcountry camping. Experience the magic of sunset from within the dunes and nab some epic photos while you're at it. Each tent site at the park is marked and hidden from view of other campsites, giving visitors plenty of privacy to unwind in nature.
Pet Etiquette: White Sands National Park is one of the few parks that allows dogs on trails and in backcountry camping areas. If you plan on bringing a furry friend, make sure they are on a leash (six feet or shorter) at all times, and practice leave-no-trace principles.
Trending on Outside Online