63 Parks Traveler
I Successfully Escaped Crowds at Zion
From far-flung mesas to rainy weather, our travel columnist managed to avoid the bustle at one of the Utah's most popular hiking destinations. It's our 62 Parks Traveler's 15th stop on her journey to visit every U.S. national park in a year.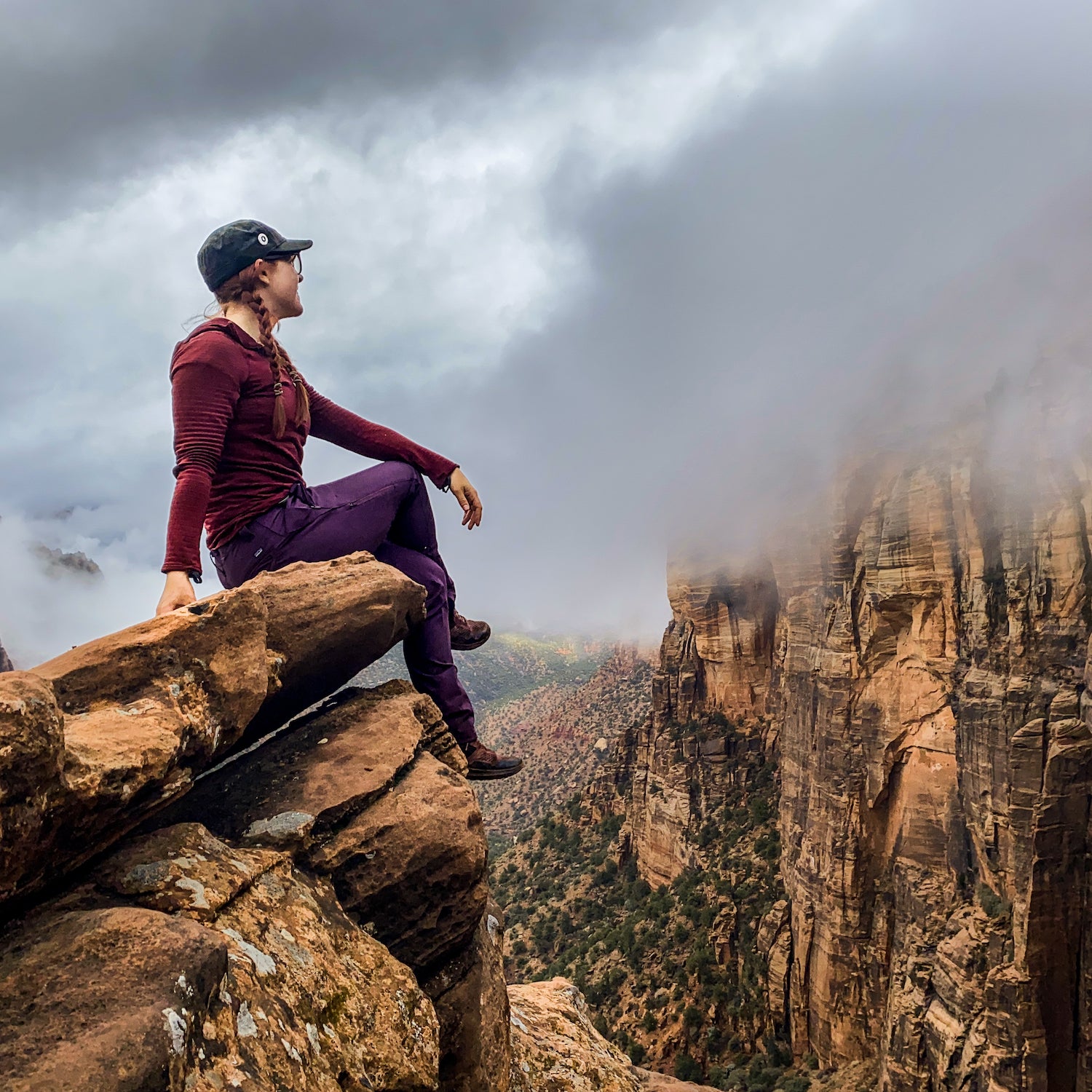 Heading out the door? Read this article on the new Outside+ app available now on iOS devices for members! Download the app.
62 Parks Traveler started with a simple goal: to visit every U.S. national park in one year. Avid backpacker and public lands nerd Emily Pennington saved up, built out a tiny van to travel and live in, and hit the road. The parks as we know them are rapidly changing, and she wanted to see them before it's too late.
Pennington has returned to traveling and is committed to following CDC guidelines during the COVID-19 pandemic to ensure the safety of herself and others. She's visiting new parks as they open and closely adhering to best safety practices.
---
Being the fourth-most-visited national park is a recipe for almost constant crowds in central Zion Canyon. Add to that the fact that most visitors never venture outside the 15-mile-long main strip, and it can feel damn near impossible to find a quiet corner to enjoy the scenery.
And yet, frazzled by weeks of travel and the pandemic, I made it my mission to do just that. 
It was my fourth trip to Zion, and I knew I could lean on past experience to find solitude and avoid large groups. My prior reconnaissance yielded three major guidelines: don't be afraid to hike in mild inclement weather; arrive early for the best parking and empty trails; and when in doubt, take a chance on a trail you've never heard of.
My first stop? Kolob Canyon. Located in the northernmost quadrant of the park, these crumbling fins of thousand-foot-tall sandstone are often overlooked in favor of their more famous neighbors to the south. It was March, and I arrived between bouts of snow flurries, as thin white clouds wafted across the red rocks like a finely crocheted blanket. When I hopped onto the La Verkin Creek Trail with my trusty Garmin InReach clipped to my pack, tiny snowflakes began falling from the sky, and I had miles of lovely orange mud all to myself.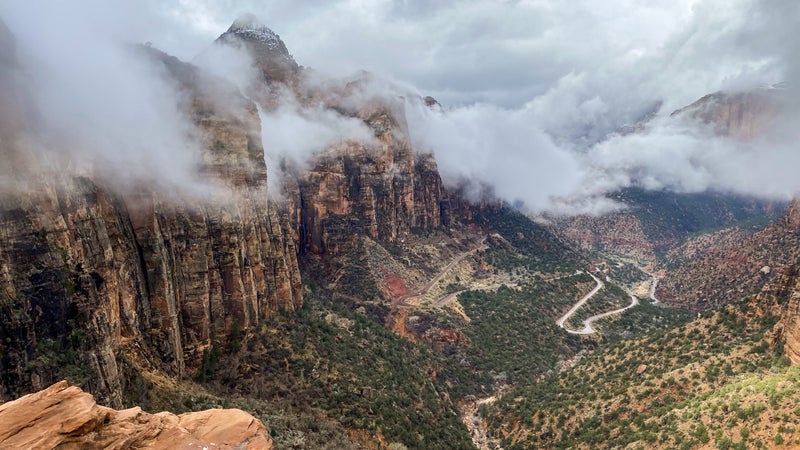 The next morning, the weather forecast predicted rain, and lots of it. Determined to see the park, I donned my thick raincoat and woke before sunrise, driving through the black veil of night as fat droplets pelted my van.
Due to the severely limited number of parking spaces within the park's boundary, it's crucial to arrive early to avoid waiting for a spot or taking the shuttle. (Shuttle tickets cost $1 at the visitor center, but during the pandemic, I want to avoid taking them.) I pulled through the park's metal gates at 8 a.m. and immediately drove to the end of the road, stopping at Temple of Sinawava to embark on the two-mile round-trip Riverside Walk Trail.
This paved pathway is by no means a hidden gem, but in the early morning rain, I was one of very few tourists eager to go for a stroll through the drenched canyon. I marveled at subtle signs of spring's return bursting forth from the rust-hued walls. Hanging gardens catapulted themselves from the rocky gorge high above my head. To a fern, the rain was paradise.
The showers began to clear, and I finished my hike and drove toward Zion's east entrance. With white spiderwebs of clouds in every direction, I found myself taking advantage of innumerable pullouts along the Zion Canyon Scenic Drive, staring slack-jawed at crumbling, monolithic rock formations named after Mormon patriarchs.
Once I had maneuvered my van across the tight, cliff's-edge switchbacks of the Zion-Mount Carmel Highway, it seemed fitting to visit an old favorite in the far-flung eastern corner of the park: Checkerboard Mesa.
My van creaked as I edged it into a small turnout and parked face-to-face with a much larger Sprinter. A voice tumbled out from behind the beast. "Isn't this formation insane, man?"
"This is the weirdest and coolest rock in the whole park," I shouted back. "Why does no one come up here?"
After snapping a few photos, I capped off my trip with a quick jaunt on the remote ten-mile East Rim Trail. The firm crunch of my boots against the snow was the only sound I heard for miles. Snowflakes quietly kissed my eyelashes as they turned brilliant orange waves of sandstone white.
I looked around, sighed, and watched as the thick fog of my breath dissolved into the ether. In this brief moment of solitude, I felt free.
62 Parks Traveler Zion Info
Size: 146,597 acres
Location: Southwestern Utah
Created In: 1909 (Mukuntuweap National Monument), 1919 (Zion National Park)
Best For: Hiking, backpacking, horseback riding, rock climbing, cultural history
When to Go: Spring (36 to 83 degrees) and fall (37 to 91 degrees) provide the best hiking weather, while winter (29 to 57 degrees) brings fewer people and cool weather. The park is scorching in summer months (60 to 110 degrees).
Where to Stay: Visitors on a budget should check out the Days Inn in Hurricane, Utah, where, if you book in advance, rooms go for $37 a night. Just 35 minutes from the park, this affordable gem offers free breakfast and, when the pandemic is over, a hot tub for tired adventurers.
Where to Eat: Zion Canyon Brew Pub is a mellow hangout with live music, great food, and local craft beer.
Mini Adventure: Hike the accessible Riverside Walk. This one-mile (each way) paved trail is the gateway to the famous Zion Narrows and full of hanging gardens, delicate waterfalls, and epic canyon views.
Mega Adventure: Backpack the La Verkin Creek Trail. The park has set aside 13 designated backcountry campsites along the creek; half can be reserved in advance. From here, trekkers can access the towering Kolob Arch and sip their morning coffee with phenomenal views of a remote Navajo sandstone canyon.