63 Parks Traveler
Why Mount Rainier Is the Ideal Park
Even if you don't climb Washington's highest peak, the spectacular views and scenery in Mount Rainier National Park will leave you invigorated, says our 63 Parks columnist of the 42nd stop on her quest to visit every U.S. park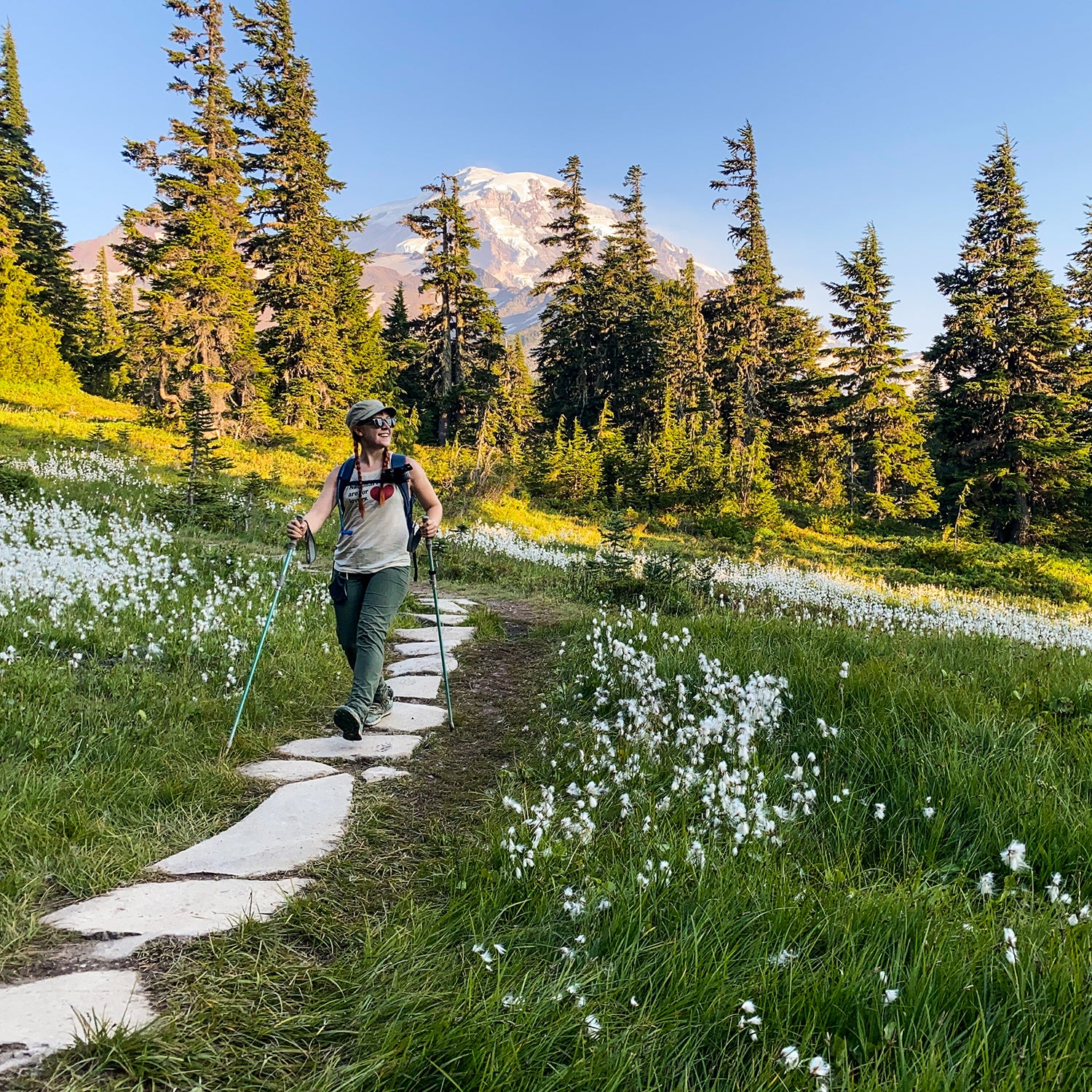 Emily Pennington
Heading out the door? Read this article on the new Outside+ app available now on iOS devices for members! Download the app.
63 Parks Traveler started with a simple goal: to visit every U.S. national park. Avid backpacker and public-lands nerd Emily Pennington saved up, built out a tiny van to travel and live in, and hit the road, practicing COVID-19 best safety protocols along the way. The parks as we know them are rapidly changing, and she wanted to see them before it's too late. Mount Rainier is her 42nd park visit.
---
Mount Rainier stands out like a shining, white beacon against the Seattle skyline. As the tallest peak in the state (at 14,410 feet) and the most glaciated in the lower 48, it flaunts a platonic ideal of what a mountain should look like in any season—rocky, snow-capped, and, most importantly, massive.
I had come to the park wanting to solo backpack a portion of its fabled Wonderland Trail, a 93-mile loop that circumnavigates the peak, but with wildfire smoke bearing down on the Pacific Northwest and the exhaustion of months on the road suddenly hitting me, I knew it was time to slow down. "You can't epic all the time," I thought to myself as I perused a park map in search of more moderate day hikes to fill my visit. Even though my mind wanted to push hard, my body was saying no.
My van, Gizmo, shook violently as I traversed the sixteen-mile washboard road up to Mowich Lake, Rainier hovering like an apparition on the horizon. Donning my pack and trekking poles, I shimmied onto the Spray Park Trail, a six-mile singletrack that promised a waterfall and majestic views. Boots to earth, I began to meander through a forest of hemlock and Douglas fir.
A series of switchbacks left me breathless and drained, and just when I thought I couldn't go on, I rounded a corner and found myself face-to-face with a glorious meadow, full of tufted, white cotton-grass. Mount Rainier glowed bright amber as it popped up from behind a stand of subalpine fir. I took one long, last look before chasing the dying light back downhill through the trees.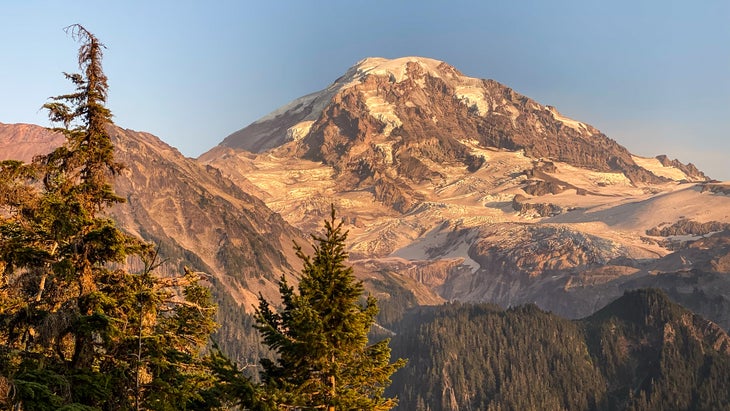 After a chilly night in the van, I rose at six to nab a coveted parking spot at Paradise, one of the park's most popular and view-filled areas. John Muir once called it "the most luxuriant and most extravagantly beautiful of all the alpine gardens I ever beheld in all my mountain-top wanderings," a quote which is emblazoned across the stone steps that visitors ascend as they hike out of the parking lot.
My second day's mission was the 5.5-mile Skyline Trail, and as I started up the paved path, I began to understand what Muir meant. Small signs bearing the names of different wildflowers bordered the walkway, creating a classroom experience while I hiked.
At the trail's apex, Panorama Point, I could make out the staggering hugeness of the Nisqually Glacier as it cracked and flowed down the volcano's slope, as though poured from a giant cement truck and frozen in place. The sheer size of it floored me. Feeling invigorated and giddy, I practically skipped along the downhill slope back to my van, passing a fluffy mountain goat and several marmots on the way.
I capped off the trip with a short meditation at Reflection Lake, one of the park's most photographed spots. Sure, I didn't have an epic, but it didn't matter. I filled my lungs with crisp mountain air and slowly exhaled, feeling stilled and grateful that there's no one right way to see a park.
62 Parks Traveler Mount Rainier Info
Size: 236,381 acres
Location: Western Washington, about two hours from Seattle
Created in: 1899 (national park)
Best For: Hiking, backpacking, mountaineering, snowshoeing, wildflower viewing, car camping
When to Go: Summer (36 to 65 degrees) is the best month for flower gazing, while fall (25 to 58 degrees) boasts great hiking weather as well. Spring (24 to 49 degrees) is still snowy at altitude, while winter (21 to 36 degrees) is perfect for snow play at Paradise.
Where to Stay: Whether you're just landing in SeaTac or coming off a long trail in the park, Cedarbrook Lodge is a surprisingly nature-filled haven with chic rooms, cozy beds, great food, an organic garden, and tantalizing post-hike spa treatments.
Mini Adventure: Hike the Skyline Trail. If you've only got one day in the park, this 5.5-mile trek out of the Paradise area checks all the boxes—big vistas, stunning wildflower displays, and a Polaroid-worthy moment of Mount Rainier hovering above Myrtle Falls.
Mega Adventure: Backpack the Wonderland Trail. Most hikers take 7 to 14 days to complete this beast of a 93-mile trek. It circles Mount Rainier and passes through dozens of breathtaking alpine meadows and forests of fir and hemlock along the way. If you go, plan ahead! The permits are notorious for selling out months in advance.
Lead Photo: Emily Pennington
Trending on Outside Online