The 14 Best State Parks for Hiking in the U.S.
Walk among deep river gorges, glacial mountains, alpine lakes, and vast deserts, all on beautiful under-the-radar public lands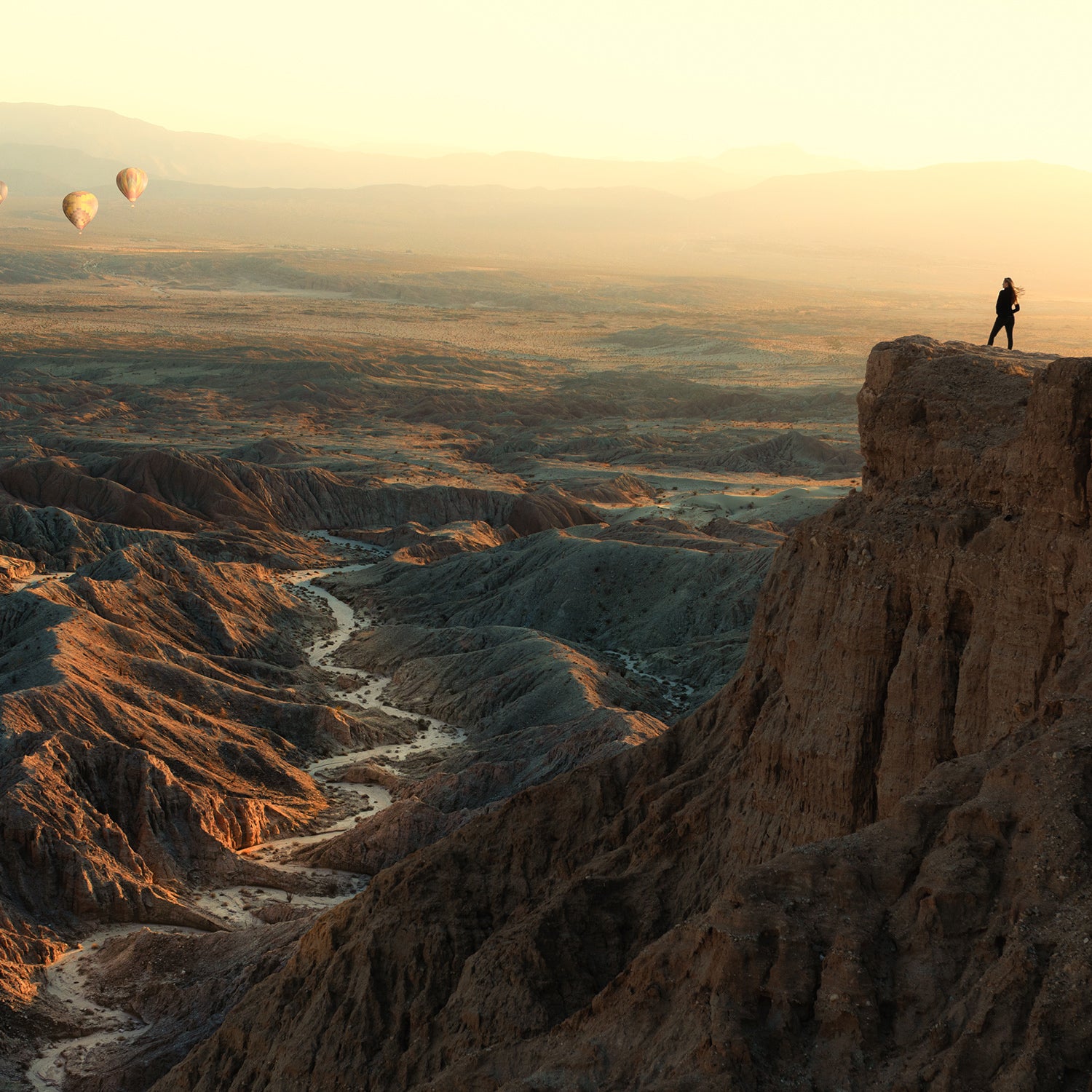 shutterjack/Getty
Heading out the door? Read this article on the new Outside+ app available now on iOS devices for members! Download the app.
First, a confession: I, like many avid hikers I know, have been guilty of viewing state parks as merely the backyard option. Even as I've ticked off visits to nearly half of the 63 national parks, I've only recently come to fully appreciate nature's bounty in state parks.
"The hiking opportunities are virtually endless, and there's an incredible mosaic of experiences in America's state parks," says Lewis Ledford, executive director at the National Association of State Park Directors. Collectively, these protected areas generate a whopping 850 million visits annually, across nearly 7,000 park units, encompassing over 19 million acres.
You might even say that "America's Best Idea"—creating national parks—was a knockoff of state conservation and recreation efforts. The state park system was born in 1862 with California's Yosemite Valley and Mariposa Grove of giant sequoias; it was ten years later that Yellowstone, mostly in Wyoming, became the first national park. Sequoia, in California, and Yosemite were second and third, both in autumn of 1890.
State parks have long protected some of our most prized wild places. Based on buzz from fellow hikers, state park staff picks, and personal experience, here's a short list of great state parks for hiking—and primo hikes there.
1. Letchworth State Park, New York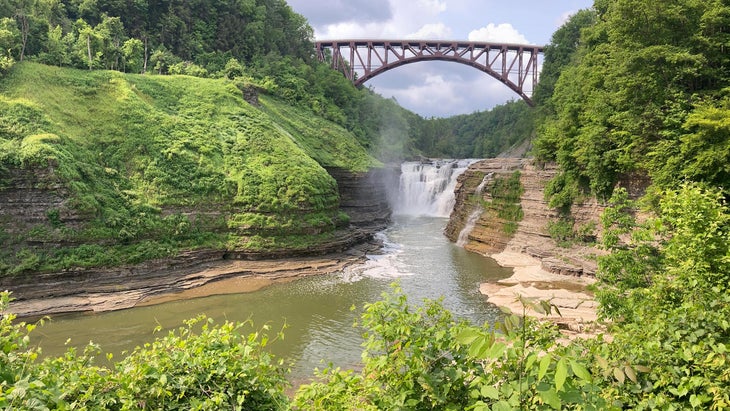 Dubbed the Grand Canyon of the East, 14,000-acre Letchworth State Park delivers the expansive views typical of the West, but in western New York. At the center of this 17-mile park, the Genesee River snakes along hundreds of feet below overlooks like Inspiration Point—right where I found myself on an early morning in June.
I came to Letchworth, which features 66 miles of hiking trails, to see what I'd been missing. I'd been to Niagara Falls, about 80 miles northwest, but previously passed right by this region. The magic of this place was immediately clear, from the way the sunrise makes the canyon glow pink and orange like a living painting to the spectacle of the 107-foot-tall, 300-foot-wide Middle Falls. It's one of three major waterfalls on this stretch of river, and I started hiking down Gorge Trail to see another, Lower Falls, up close.
The trail—and I—briefly flirted with the cliff's edge, 550 vertigo-inducing feet above the Genesee, before meandering down the forested canyon. As I wound along the steeply stepped, mile-long descent to Lower Falls, the river alternated between lazy green ribbons and roaring whitewater. And then Lower Falls, 70 feet tall and as wide as Middle Falls, thundered before me, dropping into a dark green pool fringed by lush vegetation. A bright yellow hot-air balloon cruising high overhead took it all in.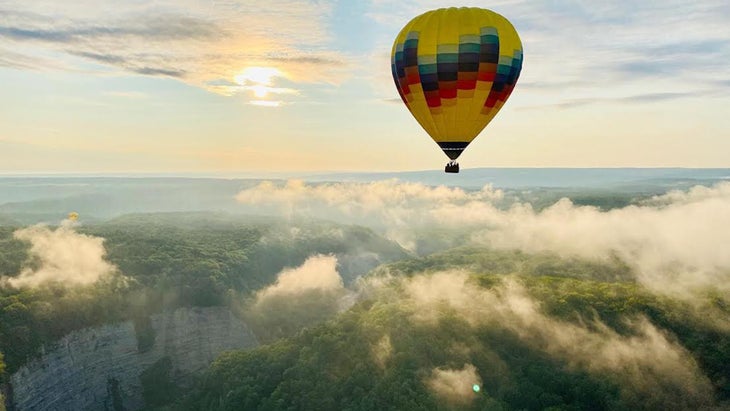 I crossed the river over a stone bridge and followed a trail into the verdant, pine-heavy forest on the gorge's south rim, threading in and out of thickets. There I joined the Portage Trail and eventually the Genesee Greenway trail to glimpse the canyon and Upper Falls through openings in the trees—the way I imagined others did long before the days of roads or infrastructure.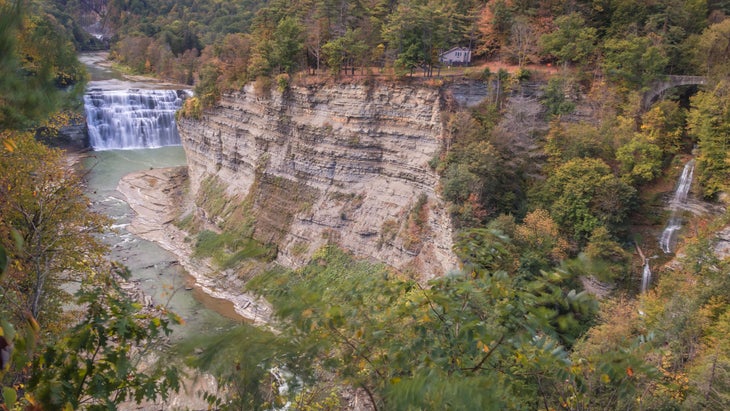 Entrance fee: Vehicle-use entrance fee is $10.
Best time to visit: All year. Summer with its warm temps and fall in its fiery foliage are the most popular seasons. Waterfalls tend to be fullest in the spring, when the rains come, and winter brings solitude.
Best hike: As with the state parks themselves, it's always hard to narrow the list, let alone pick one. But you can't go wrong with a section of the moderate Gorge Trail extending from Middle Falls to Lower Falls, passing Inspiration Point en route.
Distance: Four miles out and back. To extend the hike and find more solitude, connect to the Portage Trail, across the river.
2. Ricketts Glen State Park, Pennsylvania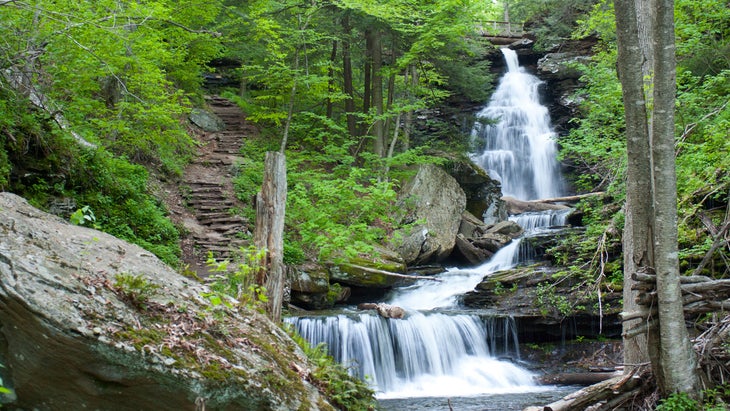 I explored this park years ago with a friend—on a lark, as part of a larger trip that extended to Niagara and east to the Adirondacks—and was blown away by the seven-mile Falls Trail. The hike, with its 21 named waterfalls (and counting, depending on rainfall), is a cascade carnival.
What really got me was how up close and personal—and surprising—the whole experience was. Every twist and turn in the trail revealed something new, hidden until you were on it. One minute I felt as if I was in a trance, drinking in the quiet beauty of a minor 11-foot cascade. In the next, my friend hiked ahead of me to stand at the top of the 94-foot-tall Ganoga Falls, where he was a barely visible stick figure.
Entrance fee: None.
Best time to visit: Any time of year. Spring for the most gushers, or fall for the foliage, when yellow beech trees surround the cascades. Winter or any other off-peak time, such as summer weekdays, lets you avoid crowds.
Best hike: The hike here is the Falls Trail.
Distance: 7.2 miles.
3. Tallulah Gorge State Park, Georgia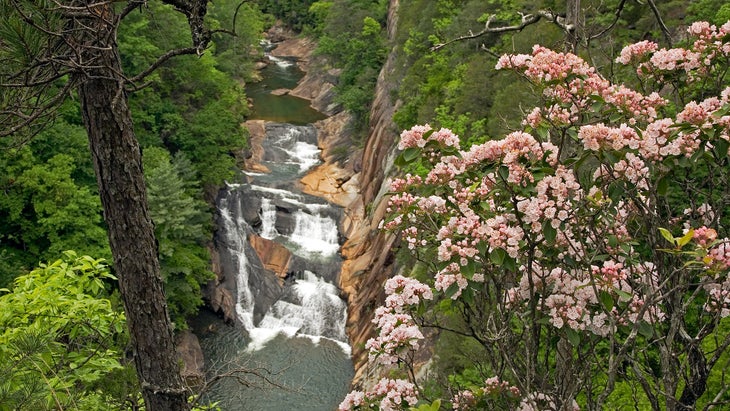 The nearly 100-foot-high Hurricane Falls in Tallulah Gorge State Park is certainly Instagram bait. But to truly experience this park, head straight for the bottom of the gorge via Gorge Floor Trail or Sliding Rock Trail—if you can snag a (free) permit. Only 100 are given out daily. The park regulates that number largely for safety reasons, and the permits are gone about as soon as the visitor center opens at 8 A.M., says West Malenke, a park ranger. So be there around 7:30 A.M., since permits can only be secured on the day of your visit.
Gorge Floor Trail is "very, very strenuous," Malenke says. But it's also a quintessential summer hike, with many park-goers wearing swimsuits under their clothes in anticipation of a dip at the end. You'll descend 540 stairs, cross a suspension bridge, and forge the Tallulah River at the base of Hurricane Falls, jumping from rock to rock and wading through the water and boulders to reach Sliding Rock, also known as Bridal Veil Falls. "That is the only place in the river that we allow people to swim," Malenke says. "You can actually slide down the waterfall into the pool at the bottom."
Entrance fee: $5 per vehicle, which covers parking.
Best time to visit: Summer if you plan to get wet, spring for wildflowers and to see the river at its peak, and fall for generally mild weather.
Best hike: The Gorge Floor and Sliding Rock Trails take you right into the center of it all on a physically demanding loop from the gorge's north rim. Once you've reached Sliding Rock, you can return the way you came or cross the river and head straight up a section of the Sliding Rock Trail that gains 800 feet of elevation in about 1,200 feet.
"Basically, what I would tell people is this is the toughest quarter-mile hike you'll ever do in your life," Malenke says.
Distance: The loop is three miles. Don't want to go that deep in the gorge? You can hike flat trails, cross suspension bridges, and check out all the wildflowers—from trillium, asters, and violets to coneflowers and possibly a rare orchid—along the rim of the gorge.
4. Anza-Borrego Desert State Park, California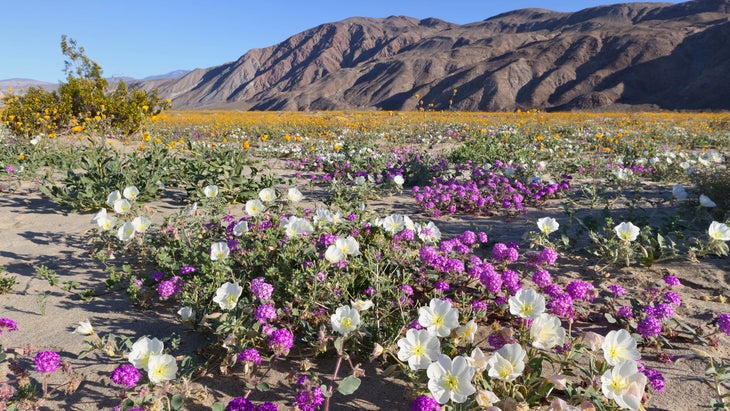 Although many state parks are smaller than their federal counterparts, there are monsters in this group as well.
At 585,930 acres, Anza-Borrego Desert State Park is the largest of California's state parks and one of the biggest in the country. It invites hikers into the mountains, slot canyons, palm groves, and wildflower meadows, and its diverse habitat is home to everything from bighorn sheep and jackrabbits to the chuckwalla (a rotund lizard) and red-diamond rattlesnake.
Entrance fee: $10 per vehicle per day.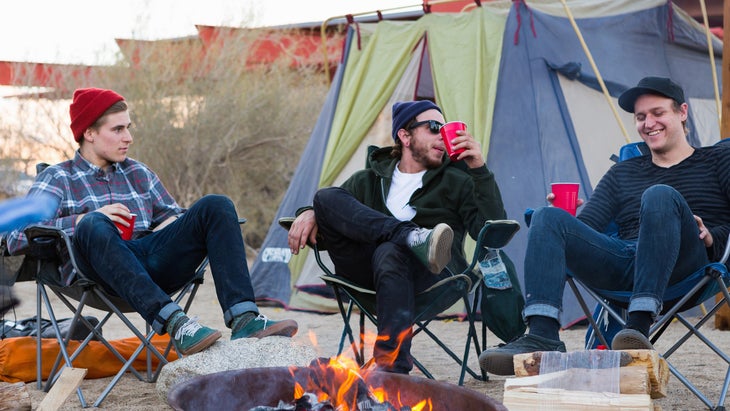 Best time to visit: Late winter for the mild temperatures and wildflowers, which peak around the last week of February and the first two weeks of March.
Best hike: To check out seasonal wildflowers and see a rare palm oasis where groundwater has been forced close to the earth's surface by the rock underneath it, you can't beat Borrego Palm Canyon Loop.
Distance: About three miles.
5. Kachemak Bay State Park and State Wilderness Park, Alaska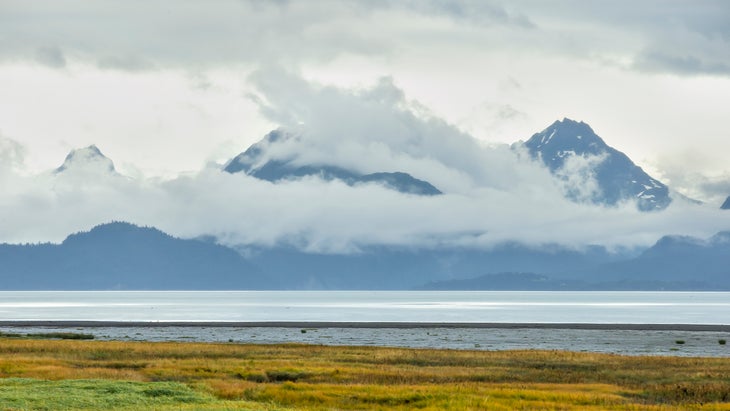 The first state park in Alaska is also one of the biggest in the country, boasting some 400,000 acres. No roads lead to this one; it can only be reached by chartered plane or boat or water taxi from Homer.
While people are scarce, the unspoiled wilderness is a habitat for everything from sea otters and whales to black bears and wolves. The pebbly coastline and undisturbed pine forests rise to 4,000-foot glacial peaks, with the Harding Icefield exemplifying the primordial nature of this accessible (by Alaska standards) park on the Kenai Peninsula.
Entrance fee: None.
Best time to visit: Summer for ease of travel and to avoid the snow and cold.
Best hike: Take the Grewingk Glacier Lake Trail to see its eponymous glacier and lake. Optional short spur trails offer additional great views of the glacier and surrounding peaks. Keep an eye on the treetops for bald eagles.
Distance: It's 6.4 miles out and back. (Further information here.)
6. Big Bend Ranch State Park, Texas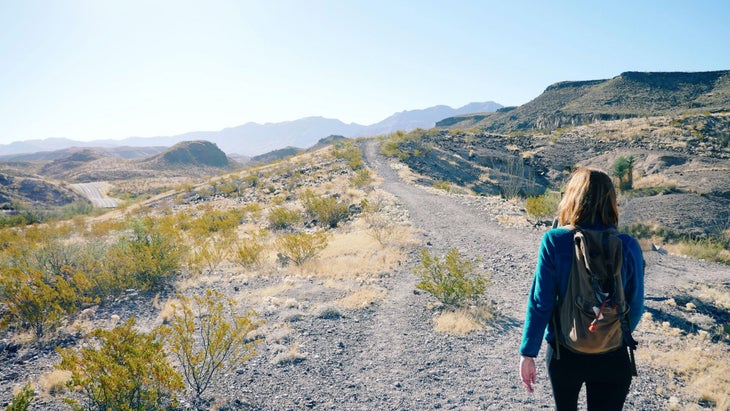 It kind of goes without saying that Texas would have a massive state park, and this one—the state's largest—covers 311,000 acres of high desert. Located about 100 miles east of Big Bend National Park, the state park encompasses the rugged mountains and steep canyons along the U.S. side of the Rio Grande, as well as the Chihuahuan Desert.
Entrance fee: $5 per person year-round; free for visitors age 12 and under.
Best time to visit: Spring, when temperatures are moderate, is perfect. Summertime temperatures can be dangerously hot, rising to more than 100 degrees before noon and reaching as high as 130. Always carry loads of extra water, and avoid or reduce activity from late morning through the afternoon.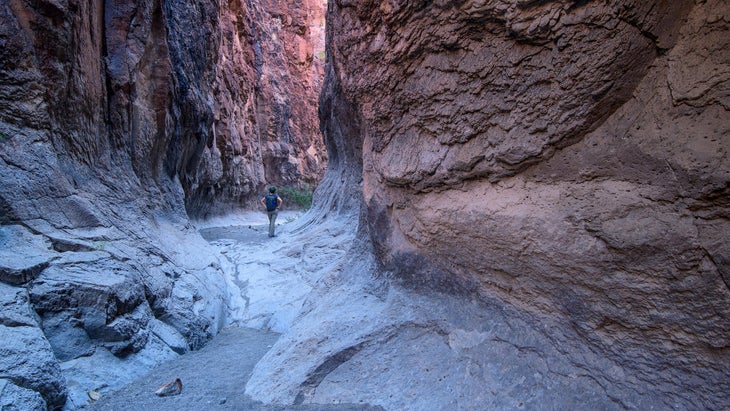 Best hike: The Fresno West Rim Overlook Trail heads to the edge of Fresno Canyon and offers vistas of the Flatirons of the Solitario (similar to their counterpart in Boulder, Colorado, but more desolate). The views are seemingly endless, providing a sense of scale that might otherwise be difficult to appreciate in this vast landscape. See more hikes here.
Distance: Five miles out and back.
7. State Forest State Park, Colorado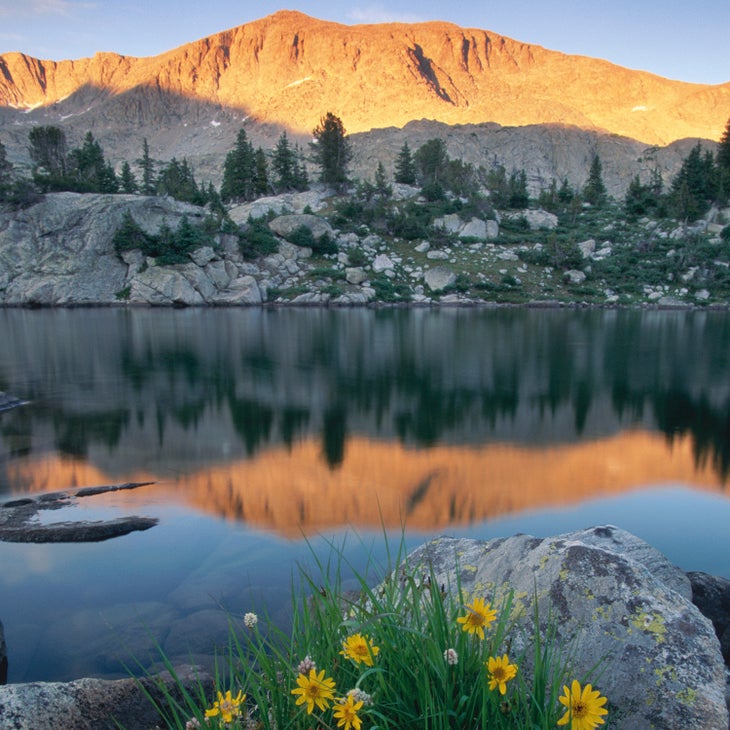 Need any more proof that it's possible to experience max wilderness at a state park? Look no further than this blandly named, 71,000-acre diamond in the rough next to Rocky Mountain National Park.
"It is my favorite place, and I feel it's still a hidden gem that people don't actually know about," says Rachael Gonzales, a spokesperson for Colorado Parks and Wildlife.
Along with jagged peaks, alpine lakes, and other classic Colorado scenery, hikers have a great shot at seeing moose. (The nearby town of Walden claims to be the Moose Viewing Capital of Colorado.) Gonzales estimates she's been to State Forest about two dozen times and encountered moose all but once.
Entrance fee: $10 for a daily vehicle pass.
Best time to visit: Summer for the most reliably snow-free hiking; fall for the foliage, when aspen leaves turn golden yellow; and winter for deep solitude. Just be prepared for anything, as the weather here changes fast.
Best hike: The American Lakes Trail, which takes in high-alpine lakes, wildflowers in summer, Continental Divide views, and the chance of a moose sighting en route to the Michigan Lakes.
Distance: Seven miles total out and back. If you want to go even further, you can cross the State Forest border into Rocky Mountain National Park.
8. Kodachrome Basin State Park, Utah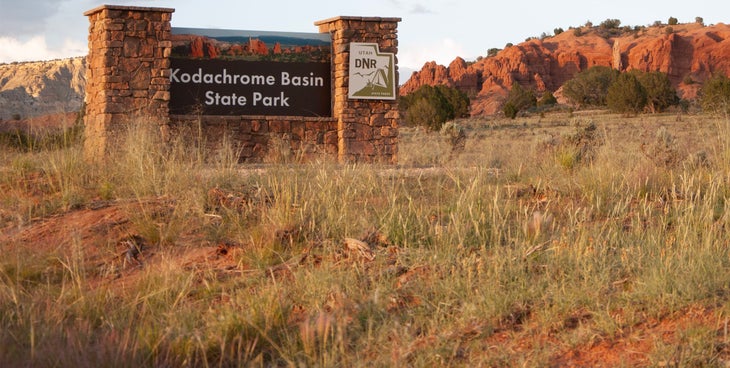 Kodachrome Basin State Park holds its own against the five national parks in Utah. Named by the National Geographic Society after the color-reversal film, the rocky landscape is tinged in the red, brown, yellow, and pink of the Southwest palette. Dozens of sandstone spires, or sand pipes, reach skyward.
The park offers 15 miles of trails for all fitness and experience levels, an accessible sample of the hiking you'll find in the southern half of the state.
Entrance fee: $8 per day per vehicle.
Best time to visit: Spring and fall for moderate temperatures.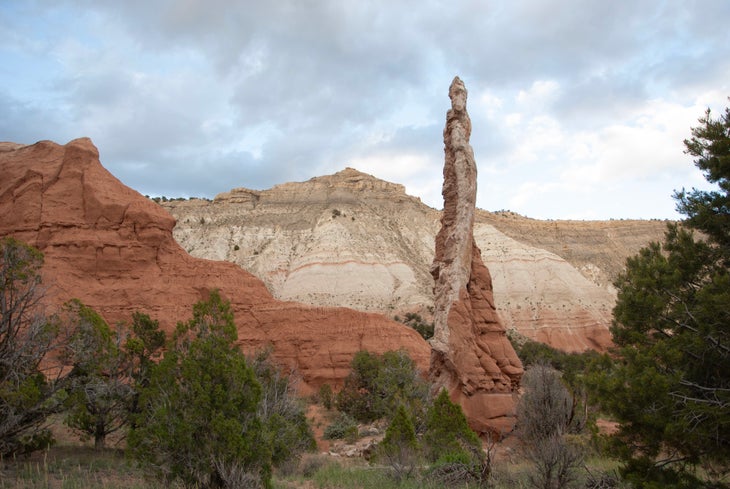 Best hike: The Panorama Trail to Cool Cave Loop offers a glimpse of the best of this 3,500-acre park, from red cliffs to Kodachrome's ubiquitous sand pipes, plus big desert views with a backdrop of Bryce Canyon National Park.
Distance: Six miles for the full loop.
9. Castle Rocks State Park, Idaho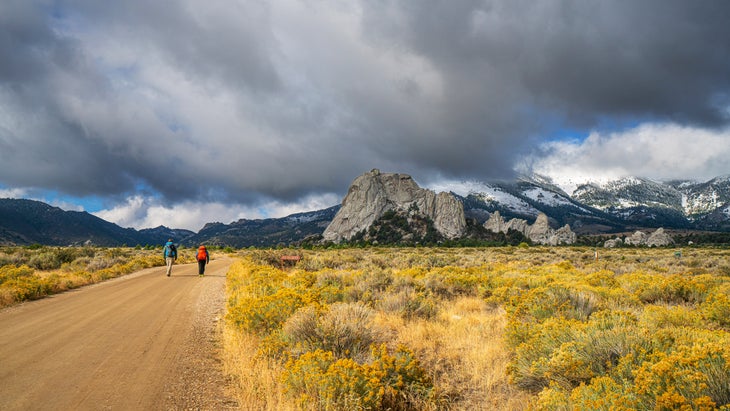 With its ancient rock formations and cliffs that attract top climbers, this mountainous park has much to offer hikers as well.
Desert meadows come alive when wildflowers bloom in the spring and summer, and the state's largest piñon pine forest provides cover for many resident animals, including moose, coyotes, mountain lions, and mule deer. In a relatively small area—some 2,000 acres—Castle Rocks showcases much of Idaho's wild side, which is sometimes overlooked in favor of the iconic national parks in neighboring states.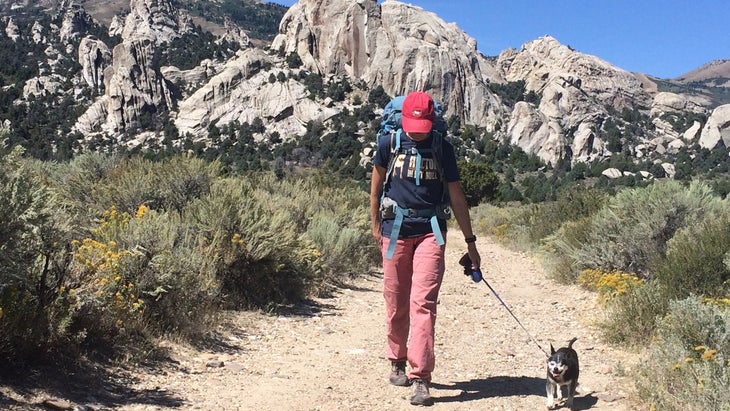 Entrance fee: $7 per vehicle.
Best time to visit: Summer, spring (but check the weather, as it can still be windy and wet well into this season).
Best hike: Castle Rocks Trail encircles the park and eponymous geological area with craggy granite formations that jut upward from the desert floor. Hikers share this multi-use loop with mountain bikers as well as climbers.
Distance: About five miles.
10. Tettegouche State Park, Minnesota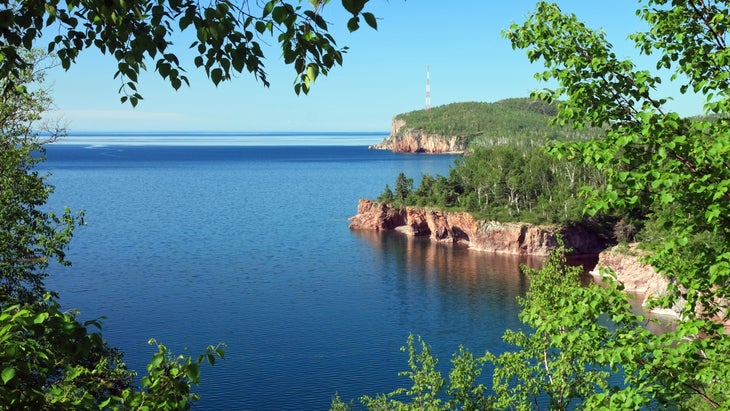 The world's largest freshwater lake—Superior—collides with boreal forest in Tettegouche State Park (pronounced tettah-goosh or tettah-gooch, depending on who you talk to), a rugged landscape designed for hikers.
The park has 23 miles of hiking trails, including the 310-mile Superior Hiking Trail, which follows ridgelines that overlook the lake. One of the best things about it is there are no trafficked roads to these expansive vistas—to top out on its cliffs or reach one of a half-dozen interior lakes, you'll have to hoof it.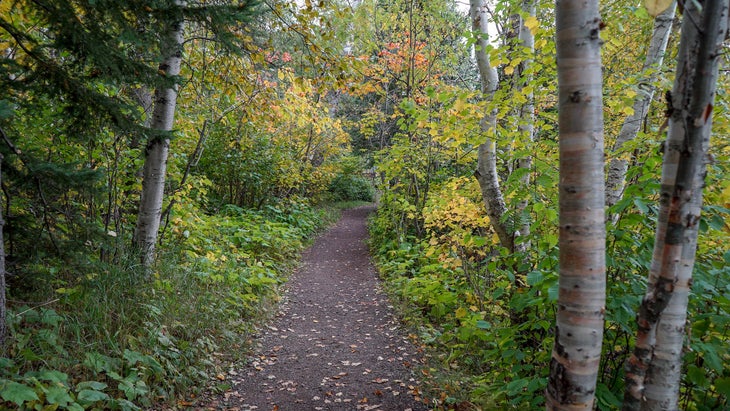 Entrance fee: A daily vehicle permit costs $7.
Best time to visit: Summer for reliably warm weather. Although the area can get busy this time of year, the farther you hike, the fewer people you'll see—a solid plan in just about any state or national park.
Best hike: Options abound. The park's interpretive naturalist, Kurt Mead, suggests starting out on Tettegouche Lake Loop, which circles the interior lakes, then hiking a connector trail to 1,286-foot Mount Baldy on the return trip, a combined loop of about nine miles.
"That's going to give you really beautiful inland overlooks, as well as a stunning 360-degree panoramic overview of Lake Superior and the surrounding area," he says.
11. Mount Tamalpais State Park, California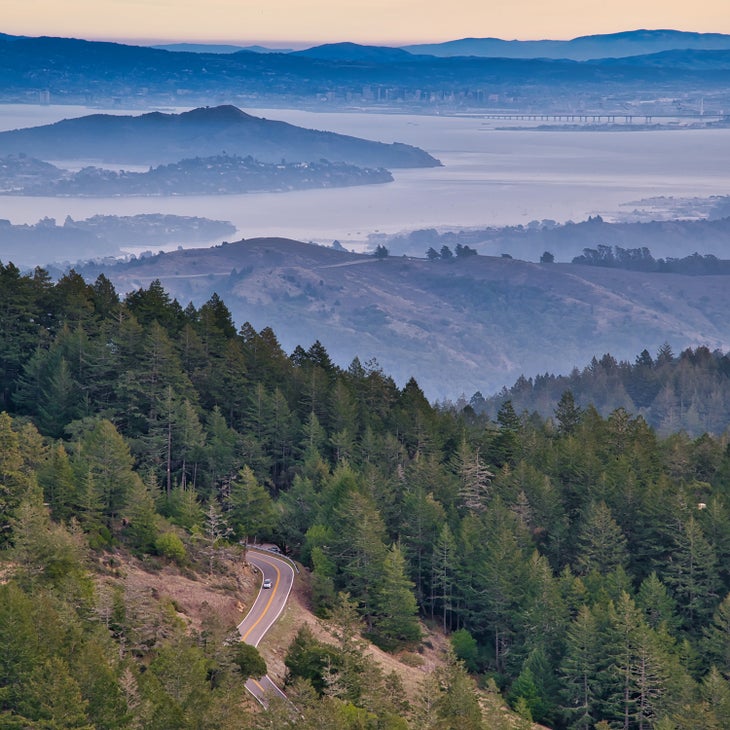 Rustic glamor, redwoods, meadows, and panoramic bay and Golden Gate Bridge views—you'll find it all here. Even in California, which has more state parks (and national parks, too) than any other, this park is a standout.
Entrance fee: There's no main-entrance fee, but you will pay to park in certain areas like East Peak ($8).
Best time to visit: Year-round.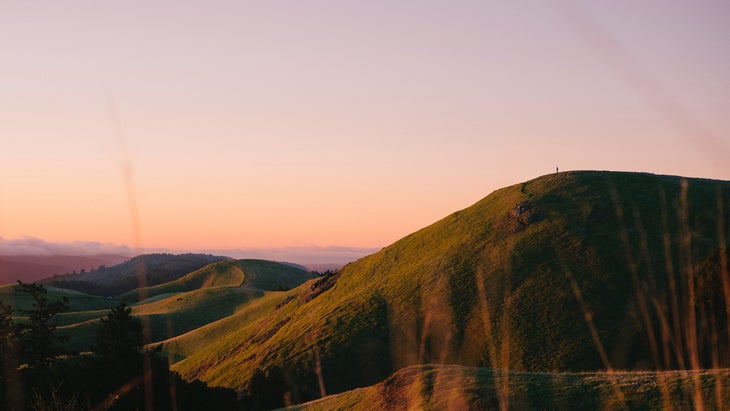 Best hike:  A combination of three—the Dipsea Trail, Steep Ravine Trail, and Matt Davis Loop—starts in the town of Stinson Beach and makes it way through lush canyons, past waterfalls, and into groves of the world's tallest trees while rising high above the Pacific Ocean on Mount Tam.
Distance: 6.7 miles.
12. Petit Jean State Park, Arkansas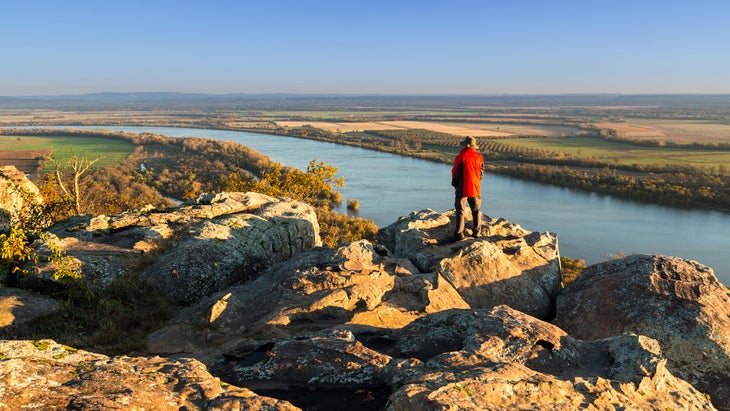 Overlooking the Arkansas River, this state park offers a bounty of big views, bluffs, and Native rock art, while paying homage to a troubled past.
Intersecting the park is the Trail of Tears National Historic Trail, which today comprises 2,200 miles of land and water routes and commemorates the journey that Indigenous people from 1830 to 1850 were forced to take from their lands in the Southeast to present-day Oklahoma. En route, the Cherokee and other tribes were led past the mesa of Petit Jean Mountain, 1,120 feet at its highest point, on which the state park is located. Part of their route is visible from Stout's Point.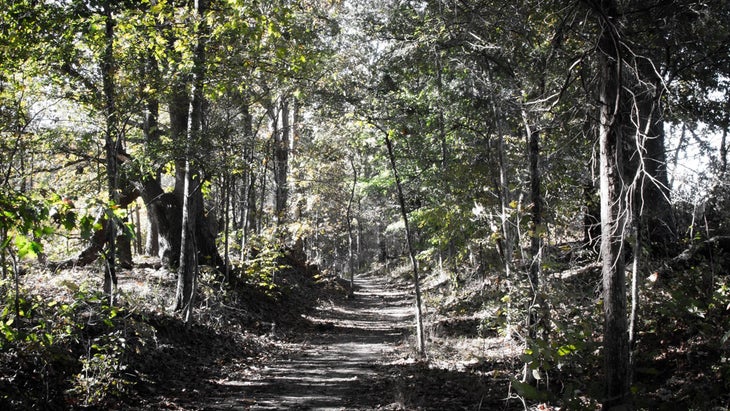 In addition to learning more about where the historic trail passes through Arkansas state parks and various national parks, you can head out on trails that wind through forests and meadows and up Petit Jean Mountain, passing water features like the 95-foot-tall Cedar Falls (reached via Cedar Falls Trail).
Entrance fee: None.
Best time to visit: Fall, when the temperatures cool and the leaves turn, which typically happens mid- to late October or early November.
Best hike: After checking out the Trail of Tears, try the Winthrop P. Rockefeller Boy Scout Trail. The full Boy Scout Trail loop includes segments of the Cedar Falls Trail, the Bear Cave Trail (a natural shelter formed by huge sandstone boulders), and the Seven Hollows Trail (a path through small canyons and past natural stone arches and featuring pictographs).
Distance: 12 miles.
13. Smith Rock State Park, Oregon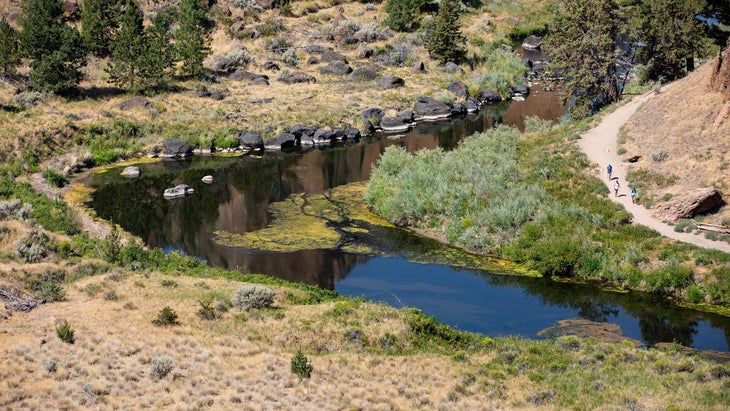 Climbers from all over the world flock to the sheer faces of Smith Rock, a 600-foot-tall cliff system on a 3,200-foot ridge overlooking a bend in the aptly named Crooked River. But non-climbers, too, can access incredible views at the 650-acre state park; it packs a vertical punch with rocky spires and deep river canyons frequented by hikers, kayakers, and other adventure-seekers.
Entrance fee: A day-use fee of $5 is required to park at Smith Rock year-round.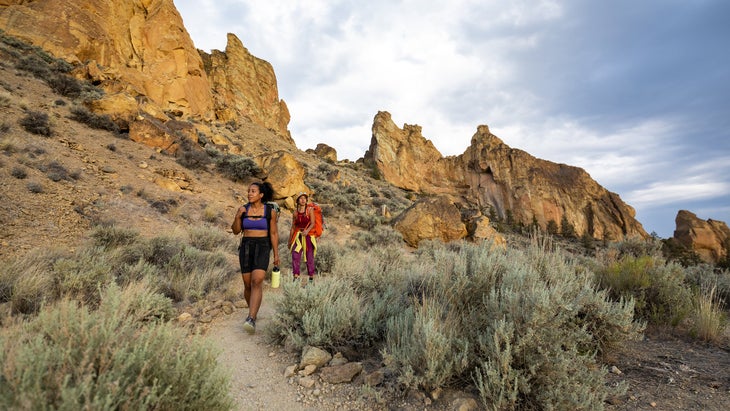 Best time to visit: Spring and fall for relatively stable weather and moderate temperatures.
Best hike: The Misery Ridge and River Trail charges up 600 feet, traversing the airy ridge for views of the sweeping Crooked River Gorge below.
Distance: 3.5 miles.
14. Hocking Hills State Park, Ohio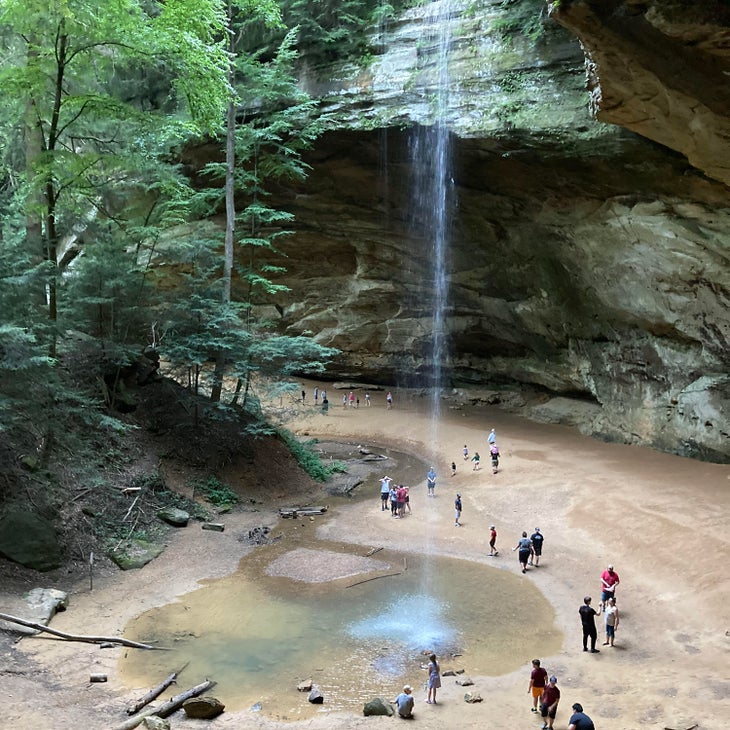 I suggested Hocking Hills as a destination for my family, and took my children to meet up with my parents, my siblings and their kids last June because it was the most-visited state park in Ohio. I figured it had to be good, though I'd done minimal research. Even after we arrived and set out to explore, I still had no idea what was around the first bend.
Then we crossed a stone bridge and dropped immediately into a basin ringed by sandstone cliffs. They perfectly framed the 20-foot Upper Falls and its turquoise pool—as if we'd found a Caribbean oasis in the heart of the Midwest! Enthralled, we all pushed ahead to see what lie around the next bend, and the next, and then the one after that, in the Old Man's Cave hiking area.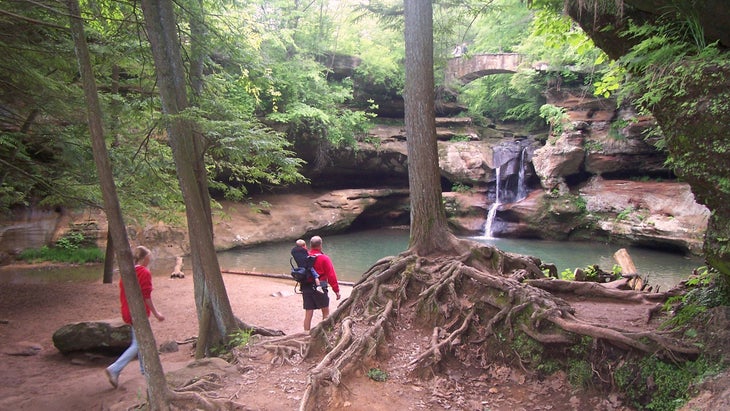 The delights just kept coming, though we'd barely scratched the surface of the 2,356-acre park, which is cut by 59 miles of hiking trails. Within it is a portion of Ohio's 1,440-mile Buckeye Trail, which circles the whole state. The park trails at Hocking Hills twist through cavernous stream beds, past more waterfalls, around and into caves, and through hollows, and then stretch out over rolling hardwood-covered hills.
Entrance fee: None.
Best time to visit: Year-round. You can't beat the winter solitude, and I'd withstand the summer heat just to visit this area again. But of course spring can be cooler (if rainy sometimes), and fall offers bug-free hiking and leaf-peeping.
Best hike: The Grandma Gatewood Trail starts at Upper Falls and connects the Old Man's Cave hiking area to Cedar Falls and then Ash Cave, the largest recess cave in the state.
Distance: Six miles.
Honorable Mentions
Many other deserving state parks didn't make this list. Those include Baxter in Maine and Custer in South Dakota, which got the close-up treatment in another Outside story, plus many others across the U.S. and close to my home (like my favorite Indiana state park, Turkey Run). The hiking options go on and on—like the trails themselves—no matter which agency manages the land.
Michael Schroeder has hiked, backpacked, and camped on a variety of U.S. public lands from Maine to California and Alaska, including state parks across his home state of Indiana. He's learned that one state or national park, forest, or other public land is often just a gateway into another.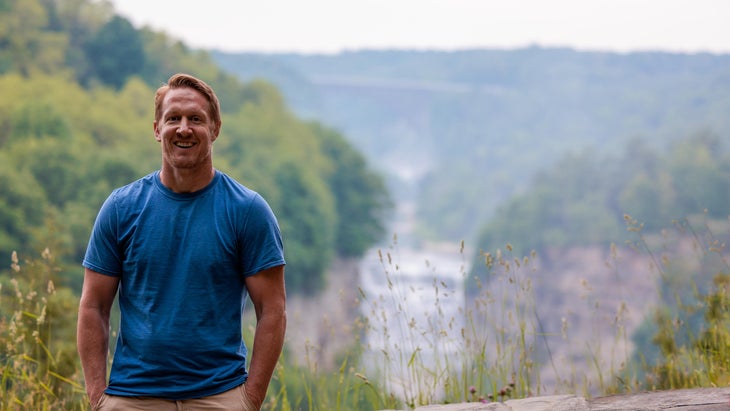 Lead Photo: shutterjack/Getty
Trending on Outside Online