President Biden Just Created Two New National Monuments
One of the world's largest Joshua tree forests is now federally protected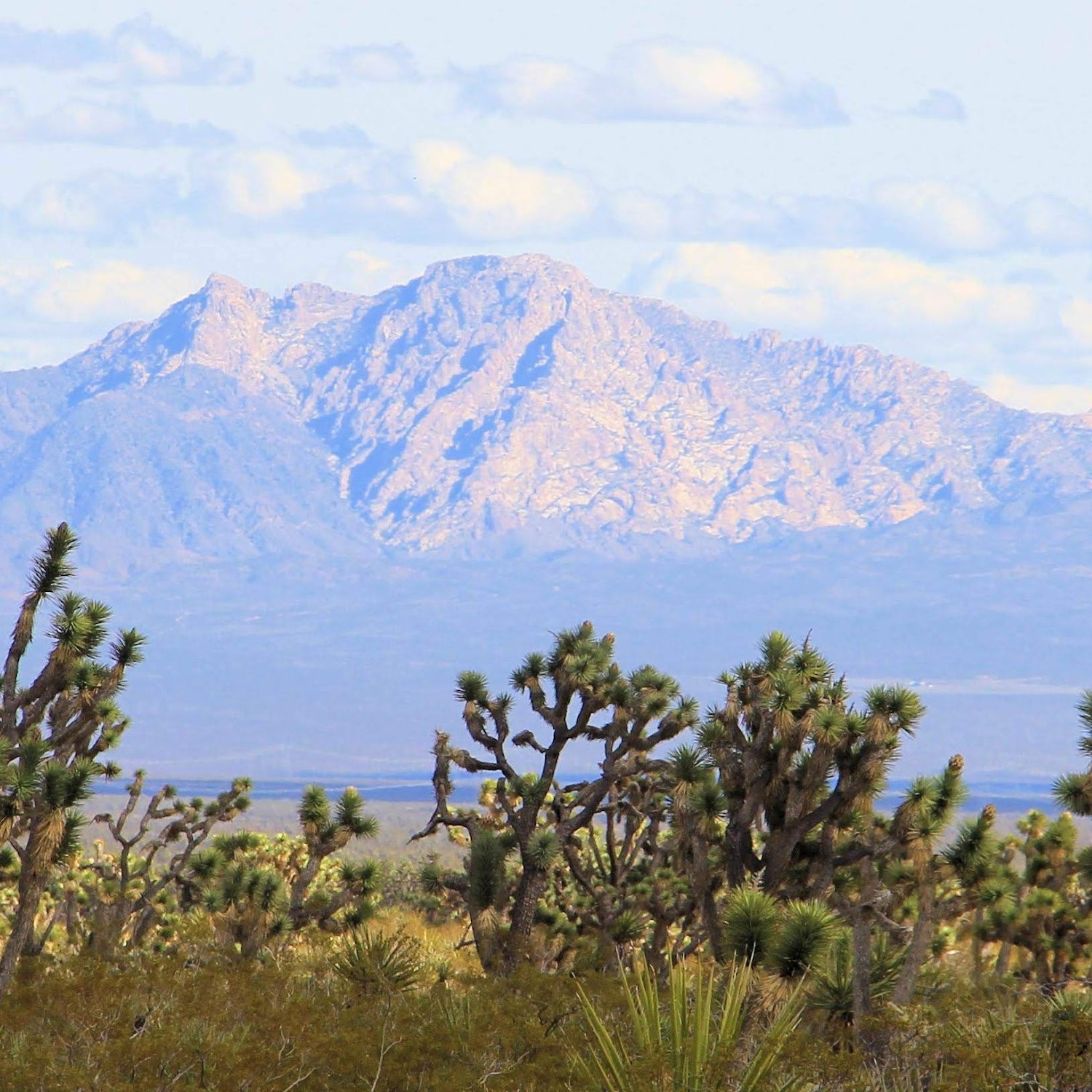 Alan O'Neill
Heading out the door? Read this article on the new Outside+ app available now on iOS devices for members! Download the app.
President Joe Biden designated two new national monuments on Tuesday, March 21: Avi Kwa Ame in southern Nevada, and Castner Range in west Texas. The decision shields more than half a million acres of land from development.
The president will also direct the Secretary of Commerce, Gina M. Raimondo, to consider making 777,000 square miles around the Pacific Remote Islands, which are located southwest of Hawaii, a National Marine Sanctuary. 
"Our country's natural treasures define our identity as a nation. They're a birthright we have to pass down to generation after generation," Biden said at the White House Conservation in Action Summit on Tuesday.
Located 80 miles south of Las Vegas, Avi Kwa Ame National Monument encompasses 506,814 acres, and includes the 5,963-foot Ava Kwa Ame (Spirit Mountain). Home to one of the world's largest Joshua tree forests, the national monument links the Mojave Desert, in California, with the Lake Mead National Recreation Area, as well as other protected areas to the east near the Colorado River. 
Avi Kwa Ame is sacred ground for the Mojave, Chemehuevi, and some Southern Paiute people, and holds cultural significance for nearly a dozen other tribal nations. The Fort Mojave Indian Tribe has been petitioning the U.S. government to protect the area for more than two decades.
"It's always been a priority of the tribe for as long as I can remember because it's so important to our creation story," said Shan Lewis, vice chairman of the Fort Mojave Indian Tribe, in a January 2022 interview with Nevada Current. "I've heard stories from my elders about fighting for the protection of the area for many, many years before me. It's been a lot longer than people realize."
Castner Range, located just outside El Paso, Texas, covers 6,672 acres of high-desert mountains and makes up the southern component of the Franklin Mountain range. It was a training and testing site for the U.S. Army during World War II, the Korean War, and the Vietnam War, before closing in 1966.
"The local El Paso community cherishes the Franklin Mountains for their natural and ecological features. Castner Range remains an area of high biodiversity for desert species in America, including spring blooms of the Mexican Poppy," the White House said in a statement. "Along with creosote brush vegetation, it provides important habitat to wildlife that call Castner Range home, including the American peregrine falcon, Golden eagle, mountain plover, Texas horned lizard, Black-tailed prairie dog, Baird's swallow, and the Western burrowing owl."
President Biden's latest conservation efforts come as his administration faces criticism for approving a 30-year ConocoPhillips Willow oil drilling project in Alaska. The massive $8 billion extraction will be one of the largest of its kind on U.S. soil, and is sharply opposed by environmentalists and some Alaska Native communities, The Guardian reports.
During a press conference on Monday, White House press secretary Karine Jean-Pierre was asked whether the administration was sending mixed signals on environmental issues.
Jean-Pierre said the Willow decision was made due to legal constraints, as ConocoPhillips has the right to drill in that area.
The conservation summit is "about building on the president's historic climate and conservation record," Jean-Pierre said.
Lead Photo: Alan O'Neill
Trending on Outside Online