63 Parks Traveler
I Went to Everglades National Park, and All I Got Was This Close-Up Selfie with a 'Gator
But seriously: at this popular South Florida park, come for the large reptiles, but stay for the subtropical scenery, varied birdlife, and all-out airboat rides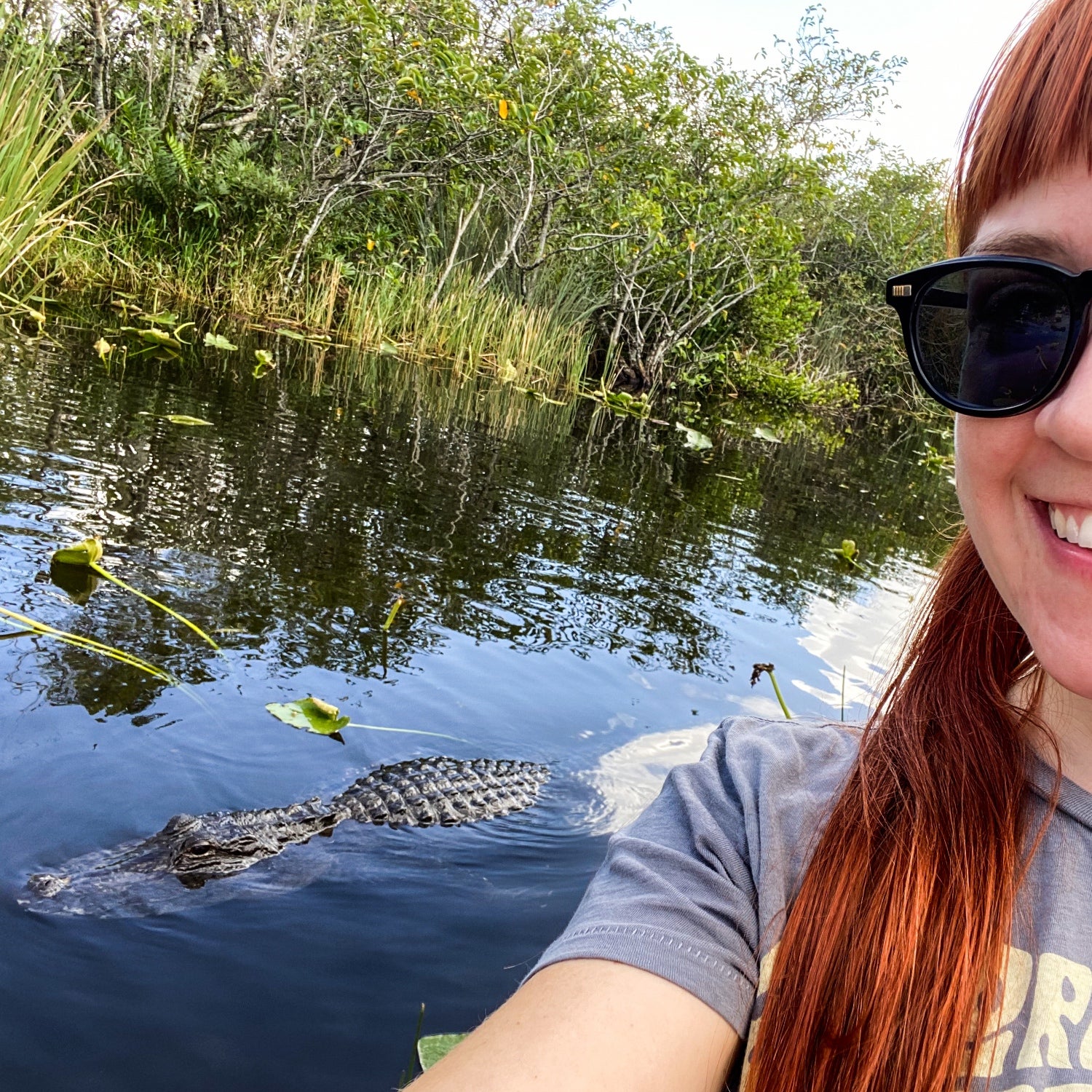 Heading out the door? Read this article on the new Outside+ app available now on iOS devices for members! Download the app.
63 Parks Traveler started with a simple goal: to visit every U.S. national park. Avid backpacker and public-lands nerd Emily Pennington saved up, built out a tiny van to travel and live in, and hit the road, practicing COVID-19 best safety protocols along the way. The parks as we know them are rapidly changing, and she wanted to see them before it's too late. The Everglades is her 54th park visit.
---
A visit to Florida's Everglades can feel like a trip back in time. For one thing, the national park, located just a 45-minute drive from the oceanfront sprawl of cosmopolitan Miami, is strange in that it's basically a river of grass that looks as it did hundreds of thousands of years ago, only now it's kept intact by an elaborate series of levees controlling the area's water flow. Add to that the fact that the park's most notorious resident, the alligator, has remained virtually unchanged since the Miocene, roughly eight million years ago, and you've got a recipe for continually asking yourself, "What epoch is it now?"
Eager to start on a high note, I began my journey at Gator Park. A touristic thrum of excited families boarding airboats rippled through the gift shop as I grabbed my ticket and was ushered onto a metal dingy with an enormous fan jutting from its back. "Here, you're going to need these," murmured the boat's captain as he tossed me a packet of earplugs. Not 30 seconds later, we were off.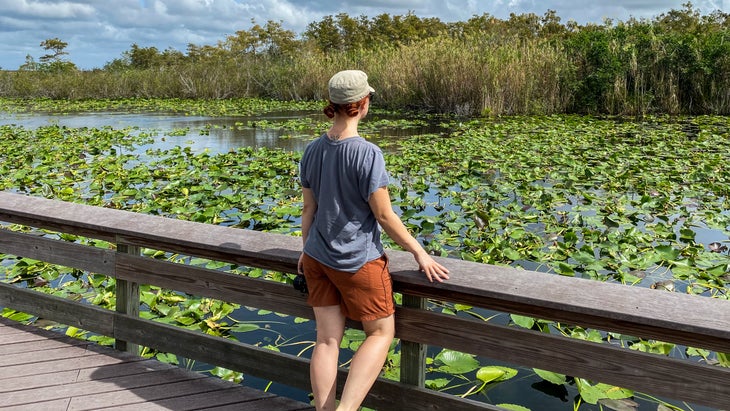 The vessel roared into being, moving swiftly across immense stretches of saw grass slough—a sensation more akin to flying than floating—as the sticky South Florida air propelled us deep into the park's wilderness. Our captain cut the motor, and the air went still and silent. A pair of great egrets flapped their wings and coasted near the water's surface. To my right, an anhinga gulped down a large fish. The incomprehensible expanse of reeds emerging from brackish water was teeming with birdlife.
This quiet victory was not lost on me. In the early 1900s, the Everglades were besieged by enterprising humans. By that time, an attempt to drain the vast marshlands covering southern Florida was well underway, with dredging efforts transforming millions of acres of wetlands into agricultural tracts. Ancestral tribes like the Seminole and the Miccosukee were driven out. Meanwhile, in the Northeast, plumed ladies' hats were in style, so hunters set out to strike it rich by killing thousands of this region's many endemic birds to harvest their feathers.
When the Everglades first became a park, in 1947, it was due in large part to fierce conservationists like Marjory Stoneman Douglas, who had the foresight to rally against officials for disrupting the natural ecosystem and eliminating the life-giving sheet flow of fresh water across the slough. Now, sea-level rise due to climate change threatens the area on all sides, with delicate plants and animals, some of which are only found in South Florida, affected by increased salinization of groundwater and the soils above.
After another cacophonous buzz from our boat's fan, and a few minutes' trip across the slow-moving waterway, we came to a sudden halt in a dense corridor of gently swaying saw grass. A female alligator materialized and swam right up to us, hovering just three feet away from my expectant grin.
She was beautiful and enormous, with a timeless stare belying the fact that she lives in an increasingly modern world. The last of the dinosaurs, I thought to myself as I trembled between fear and excitement.
For a moment, nothing else existed. The two of us bobbed along in the water unblinking, unsure of the year, unsure of the century.
63 Parks Traveler Everglades Info
Size: 1,542,526 acres
Location: Southwestern Florida
Created In: 1947 (national park)
Best For: Birding, short hikes, car camping, boating, wildlife
When to Go: Due to its tropical climate, this region has a wet season and a dry season. The dry season (November to April) enjoys cooler temperatures (55 to 86 degrees) and better conditions for hiking and boating. The wet season (May to October) can bring hurricanes, flooding, and hot summer temperatures (66 to 93 degrees).
Where to Stay: The Flamingo Campground, deep in the southern corner of the park, offers a chance to spot manatees, crocodiles, alligators, and rare birds near the Flamingo Marina, which is less than a mile from camp. If you'd rather explore the Everglades without roughing it, Miami has a wealth of luxe hotels less than an hour away, like the Hilton Bentley South Beach.
Mini Adventure: Take an airboat tour. The folks at Gator Park are one of very few concessionaires permitted to operate inside Everglades National Park, and each of its tours includes admission to an educational wildlife show after you've soared across the park's saw grass slough, searching for ancient reptiles.
Mega Adventure: Go backcountry camping. Though a vast marshland devoid of mountains and valleys might sound like an odd choice for off-the-beaten-path exploration, the Everglades are home to an abundance of wilderness canoe trails and chikees, raised wooden platforms (with outhouses) that boaters use to pitch their tents above water. At night you can gaze up at the stars from your own little slice of the tropics.
Lead Photo: Emily Pennington