National Parks After Dark: 12 Best Things to Do
Adventures in national parks don't end at sundown. We've found the best ways to explore after dark, from seeing the Northern Lights to Yooperlite hunting.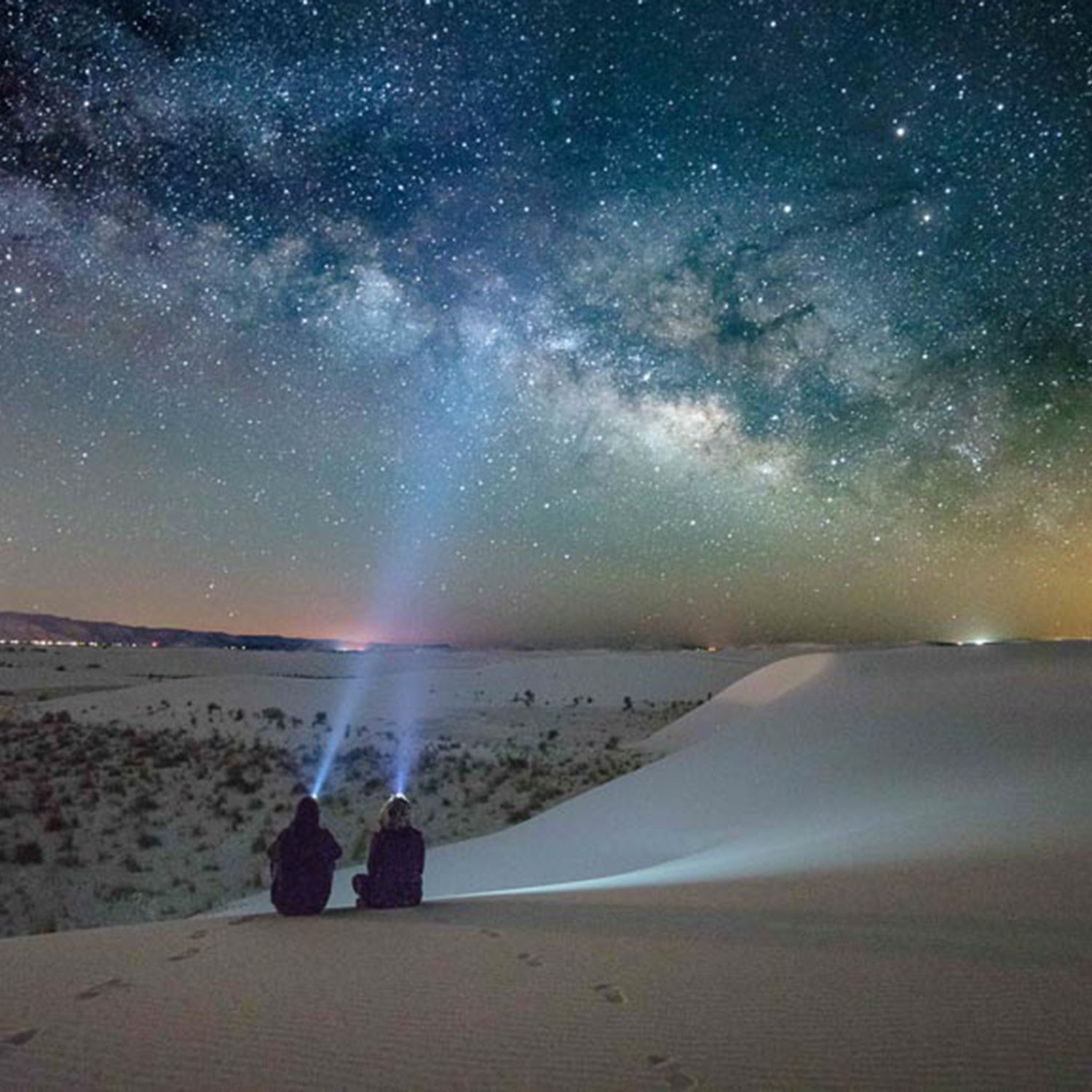 Nicole Smoot/The Adventures of Nicole
Heading out the door? Read this article on the new Outside+ app available now on iOS devices for members! Download the app.
In early June three years ago, waiting in line for a table at Flyers Bar and Grill on a marina in St. Croix, I looked on in amazement as a group of kayakers gathered at the waterfront for a tour. Watching them paddle off into the dusk, I wondered what was so interesting that people would skip dinner in exchange for insect bites and navigating barely visible waters. Bioluminescence was not yet a word in my vocabulary.
I've since warmed right up to nighttime sights outdoors, having witnessed the Northern Lights dancing in Iceland or the Milky Way above a remote cabin in New Hampshire. While I had begun experimenting with astrophotography during a 2018 trip to Virgin Islands National Park, these once haphazard sessions have now become a full-fledged hobby.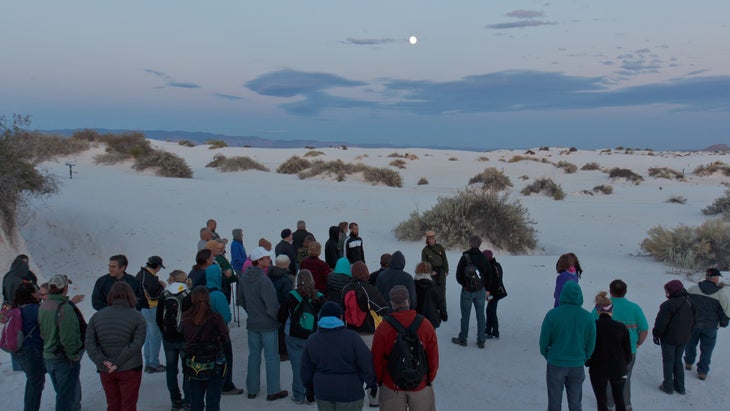 If my growing fascination with the natural world after sundown has taught me anything, it's that the night sky offers endless adventure. Our national and state parks and other organizations are working to protect dark skies and host events to engage people of all ages and abilities to see nighttime landscapes, nocturnal critters, and to stargaze and contemplate UFOs.
The park nighttime activities below offer curious minds a chance to explore moonlit paths and bays that glow.
1. Stargazing and UFOs
Trade an evening of Netflix for a chance to gaze at galaxies and be reminded that, like those stars above you, earth is just a tiny dot. The big question is: could it really be the only life-supporting dot?
Learn About the Cosmos—and UFOs—at Joshua Tree National Park, California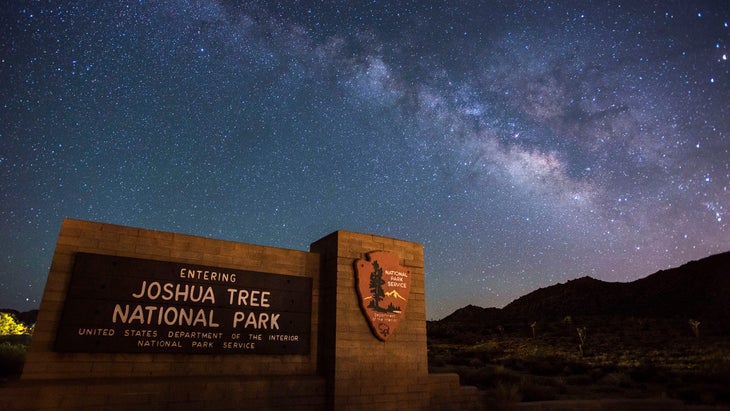 There's a lot to marvel about in Joshua Tree National Park, known for its lunar landscapes and energy vortices. Located in the Morongo Basin, a hotbed for claims of UFO sightings, and a certified International Dark Sky Park site, Joshua Tree regularly attracts stargazers and truth seekers. In fact, it's the 2013 birthplace of the annual Contact in the Desert Conference, the "Woodstock of UFO conferences," which draws thousands of attendees.
Though the conference has since moved to Indian Wells, California, you can still seek signs of extraterrestrial life while in Joshua Tree by joining a 90-minute Stargazing and UFO Tour run by Addicted2Wonder ($150) using Gen 3 military-grade night-vision binoculars. This technology delivers an even more captivating stargazing experience than is available to the naked eye, so you can see stars, nebulas, planets, and distant galaxies in a way that far surpasses what was observable even to our ancestors gazing at pitch-black skies a thousand years ago.
Attend a Star Party at Glacier National Park, Montana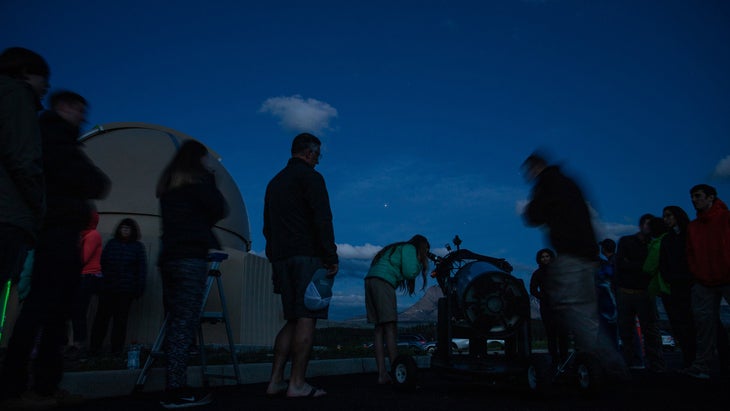 Far from the brightness of big cities, Glacier is a go-to destination for visitors who not only want to see the Milky Way but also the elusive northern lights, visible any time of year but especially September through April. Also an International Dark Sky Park, Glacier embraces its role as a steward of the night sky. Events like Logan Pass Star Parties are held every year to make visitors aware of the ecological and cultural importance of dark skies, offering a chance to gaze at our galaxies through high-powered telescopes while learning about the solar system from park rangers, astronomers, and members of the Big Sky Astronomy Club.
Star parties are held on select summer nights from 10 P.M. until midnight and cost $5 per vehicle (in addition to the park entrance fee). Unable to attend? See the above link for other astronomy programs in the park throughout the year.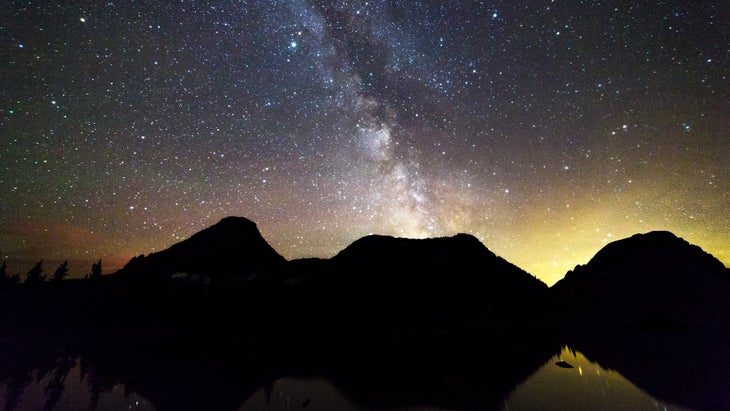 2. Bioluminescence
If you don't believe in magic, you've never witnessed the blue-green glow of microorganisms in a dark saltwater bay.
Paddle a See-Through Kayak in the Salt River Bay, St. Croix, U.S. Virgin Islands
Enjoy one of nature's most wondrous displays with a glass-bottom kayak tour of one of St. Croix's bioluminescent bays. Salt River Bay National Historic Site and Ecological Preserve, which for two millennia served as an entry point for Indigenous people and colonizers, is home to one of just seven full-time bioluminescent bays in the world. Sea Thru Kayaks' tour ($55) sets out at dusk and heads about three-quarters of a mile past the mangroves to Salt River Bay, where kayakers paddle around in amazement, watching as the water disturbance triggers a chemical reaction in plankton known as dinoflagellates, which light up beneath them. Children ages eight and up (who must be accompanied by an adult) are welcome to explore these rare ecosystems. No prior kayaking experience is necessary.
Paddle the Magical Waters of Castine Harbor, Maine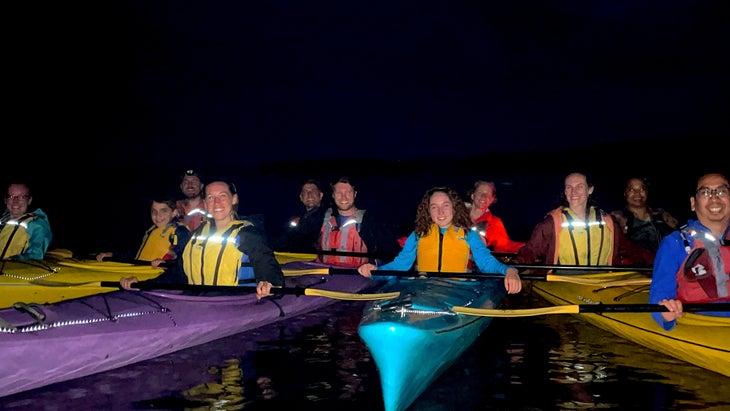 Combine time in the quaint seaside town of Castine with an epic evening adventure exploring what local tour operator Castine Kayak Adventures refers to as a "floating planetarium"—a bioluminescent bay located just one hour from Acadia National Park. These waters—located between the Penobscot and Bagaduce waterways—are off the radar for most tourists, and offer an awe-inspiring glow, thanks to the nutrient-rich silt floor of Castine Harbor.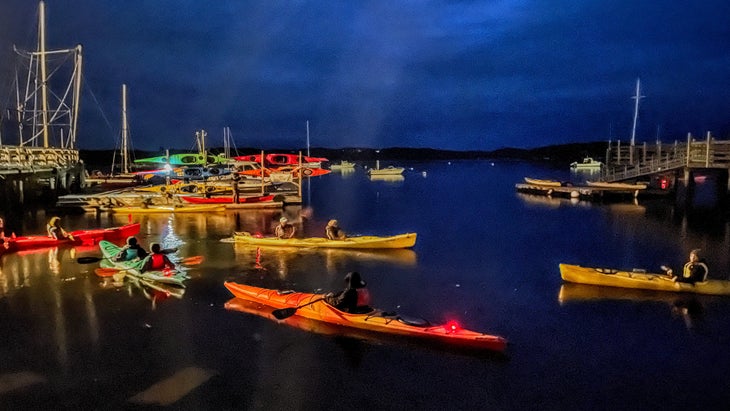 An hour after sundown, visitors can join Castine Kayak Adventures on a tour ($90) that leaves from the harbor to watch these waters come to life. Children ages ten and older are welcome (and must be accompanied by an adult), and prior kayaking experience is recommended as tidal currents can be strong. For first-timers, the company offers a day-and-night kayak package ($155) from May through mid-October for those who would prefer to learn paddling basics in the daylight.
Note: To protect these fragile ecosystems for future generations, participants are asked to avoid the use of bug spray, deodorant, perfume, or sunscreen out of an abundance of caution, as they often contain harmful chemicals that kill the bioluminescence.
3. Night Hikes
Whether you're interested in a moonlit stroll or one in the darkness of the new moon, exploring at night affords a different experience of landscape viewss.
Follow the Ram Head Trail in Virgin Islands National Park, St. John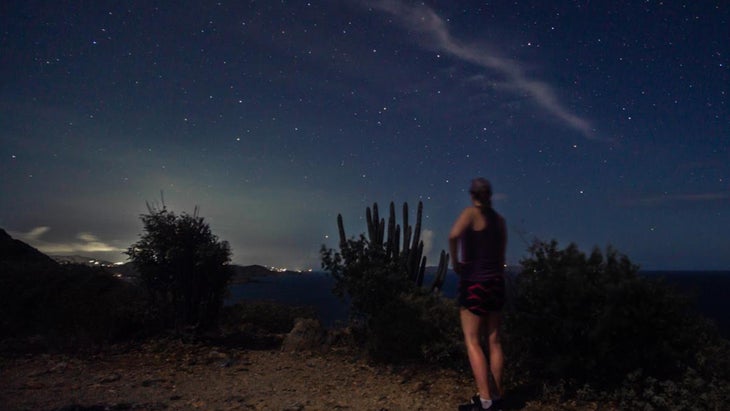 This 2.3-mile out-and-back trail on a peninsula in Virgin Islands National Park covers mostly exposed terrain, with the sound of crashing waves. You'll have expansive views across sea and sky as you approach the Ram Head, a rocky abutment at the trail terminus, to watch the moonrise over the endless horizon. This hike is self-guided and does not require prior registration, so take extra precautions. The peninsula has some small rocky cliffs, so stay on the trail, bring a headlamp or flashlight, and consider a daytime familiarization hike.
Hike Under the Full Moon in White Sands National Park, New Mexico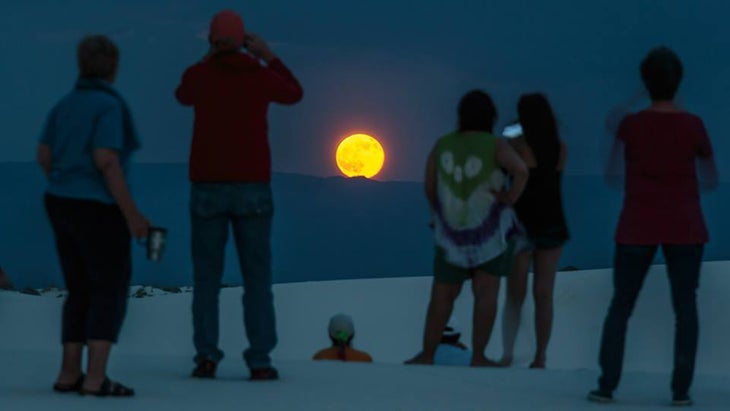 This monthly ranger-led hike shows off the park's famous white sands illuminated under the light of the moon. Hikers cast shadows onto the bright landscape as they follow the 1.3-long, moderately difficult Dune Life Nature Trail loop, an adventure that can last up to two hours round trip. The path is initially flat but then ascends up the steep sand dunes—a boost in difficulty eased by listening to the guide's tales about the park. Guests must preregister, and ticket sales open up two months before each scheduled hike. Cost is $8 (or $4 for children under 15), not including the park-entry fee.
Hike Under the New Moon in the Valley of Fire, Nevada
Valley of Fire State Park offers monthly guided or self-guided new-moon hikes (see the guided events here, although hikes may not be published until about a week ahead, or check Facebook) on a rotating array of trails. Located an hour northeast of Las Vegas, the park's red-rock landscapes are obscured at night, but the setting offers a reprieve from the bright lights of the Strip in exchange for a wander under the Milky Way. Hikes start at 6:30 P.M. and distances range from one to two and a half miles. These excursions are family-friendly and open to all ages. A red-light flashlight is suggested to safely navigate the trails without impairing your night vision, and expect to pay a $15 park fee ($10 for Nevada residents).
See Twilight in Shenandoah National Park, Virginia
This guided three-hour mountaintop amble through Shenandoah National Park's Big Meadow sets out at the golden hour and ends under the stars. Watch the colors of sunset erupt across the sky as an expert guide identifies signs of wildlife and points out seasonal plants. Twilight hikes ($25) run from May through August and are scheduled in advance. Each covers about one mile round trip, with frequent stops for discussions of unique flora and fauna. All ages and abilities are welcome. Preregistration is required, and the fee does not include park admission.
Stay safe on nighttime hikes with Gaia GPS maps for Ram Head Trail, White Sands, and Valley of Fire (recent excursions include Fire Wave and White Domes Loop).
4. Nighttime Nature Tours
Discover creatures that roam the night and other wonders that otherwise lie hidden.
Tour El Yunque Rainforest, Puerto Rico
While many visitors to the island are heading out for dinner and drinks to wrap the day, the nocturnal residents of the El Yunque Rainforest are only just starting up. For the richest wildlife experience here, visit in the evening, as 60 percent of its inhabitants are nocturnal. A guided evening walk with El Yunque Tours ($55) departs close to sunset and ends just after dark. With expert help, you'll be able to identify various species of tree frogs, glimpse screech owls, and see scorpions and tarantulas just before they scurry into the shadows. Expect to be out for two and a half hours and cover minimal ground (about three-quarters of a mile out-and-back).
Go Yooperlite Hunting in the Upper Peninsula, Michigan
What in the world is a Yooperlite, and why should you care? Two words: glowing rocks.  Discovered by Erik Rintamaki in 2017, Yooperlites are syenite rocks rich in the fluorescent mineral sodalite, which causes them to glow neon shades of orange and yellow at night when subjected to UV light. No two rocks are the same. Some are merely speckled with the luminescent mineral, while others display brilliant patterns or emit an all-over radiance. Rintamaki offers tours on select dates from July through October along Lake Superior to hunt for Yooperlites, which you otherwise might overlook as eemingly ordinary gray rocks.
Watch Synchronous Fireflies at Great Smoky Mountains National Park, Tennessee and North Carolina
These magical summertime creatures come in a variety of species, some of which even have the ability to synchronize their flashing patterns. One of the few viewing spots on earth to observe synchronous fireflies is Great Smoky Mountains National Park in the Elkmont area near the Little River and Jakes Creek Trailheads, which are temporarily closed off to ordinary visitation. An annual lottery is held in April for permits for people in 960 cars over eight nights to witness the only American species of synchronous firefly during its brief annual appearance. The lottery costs $1 and allows applicants to select two potential viewing dates. Those people selected are automatically charged $24 and assigned a specific evening to view the fireflies between late May and mid-June.
Search for Scorpions in Maricopa County, Arizona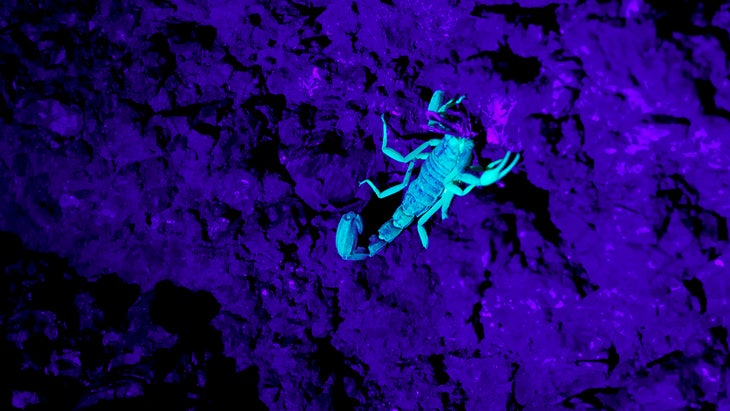 Scorpions are known as fearsome, venomous creatures to avoid. So it might come as a surprise that various parks around this county, which contains the state capital of Phoenix, hold summertime events where families can go looking for the pincered predators. Sound unsettling? Rest assured that scorpions are far more likely to run from humans than sting them, and that people are unlikely to die from scorpion venom.
To take part in these outings, join rangers at Lost Dutchman State Park, in Apache Junction, or McDowell Mountain Regional Park, in Fountain Hills, on select summer nights ($5). Bring your own flashlight to illuminate the path, as well as a black light to spot the tiny scorpions scurrying through the dirt (the UV light gives them a fluorescent green glow). To find an upcoming scorpion hunt, check the Lost Dutchman State Park Facebook page, or head to the Maricopa County Regional Parks events page and select the Animals filter on the events calendar.
Author Bio: Always a lover of quiet and fresh evening air, Theresa McKinney (see Fueled by Wanderlust) has a growing appreciation for the night sky. In annual trips to Virgin Islands National Park, she has expanded her adventure repertoire from snorkeling and hiking to include late-night astrophotography sessions and pitch-black beach walks. On her second visit to Iceland, she proudly achieved her bucket-list goal of seeing the northern lights.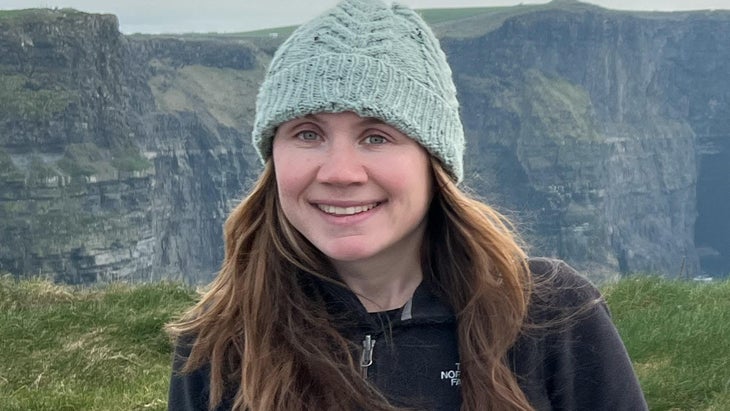 Lead Photo: Nicole Smoot/The Adventures of Nicole
Trending on Outside Online