Six National Parks That Are Better in Fall
Some of the most popular national-park sites come alive this season, offering vibrant hikes, cool camping weather, and amazing wildlife spotting
Heading out the door? Read this article on the new Outside+ app available now on iOS devices for members! Download the app.
The benefits of a national-park trip in the fall don't stop at crisp temperatures and smaller crowds—fall foliage gives classic landscapes a makeover. Whether you're exploring just one park or road-tripping through many, we've collected tips on six sites that take on a new look this season, from the country's newest national park, in West Virginia, to the ancient forests of the Rockies, Appalachia, and Northeast. Find out where to stay and what to do below, with a link to our comprehensive guide of each.
Shenandoah National Park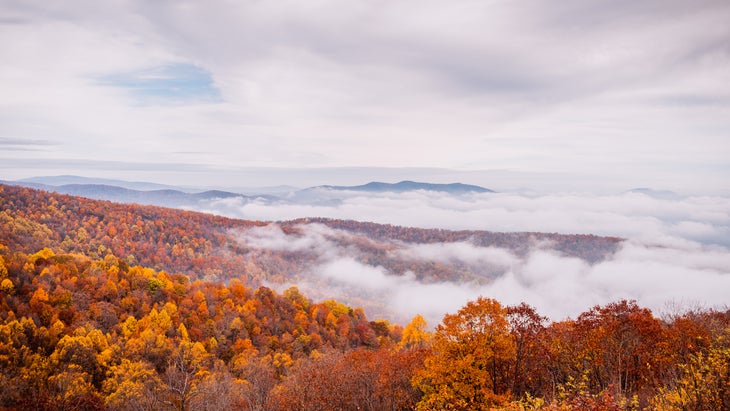 If Shenandoah is famous for one thing, it's fall foliage. The park's thick and lush hardwood canopy goes full Technicolor in October, attracting thousands of leaf peepers looking for Instagram gold. Given the short drive from Washington, D.C., and Baltimore, Shenandoah is especially busy on weekends, so expect traffic on Skyline Drive, as well as packed campgrounds and lodges.
That's not to say you should avoid the park during the fall. The natural show of color is spectacular, and the temperatures are mild (highs in the mid-sixties, lows in the forties), but skip a congested driving tour and instead seek solace in the backcountry. One option is the RipRap Trail, a nine-mile loop past waterfalls and rocky outcroppings that gets you deep into that vibrant canopy. And check the park's fall-color alerts before you go, so you know when peak foliage hits. —Graham Averill
Find our full guide here.
Great Smoky Mountains National Park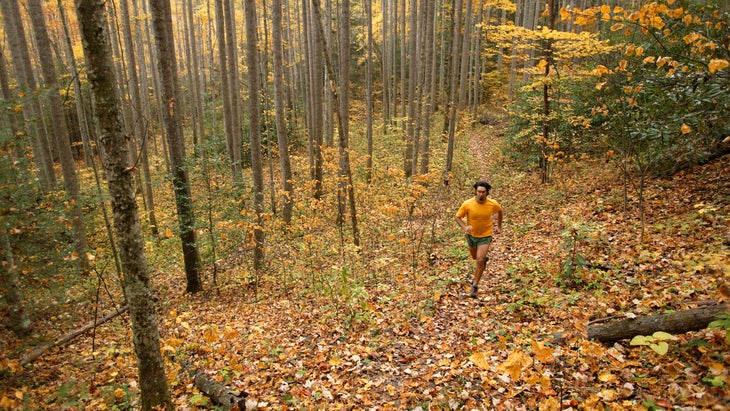 When cooler temperatures arrive, you'll spot more elk and bears in the valleys (and usually don't have to leave the car to see them). Head to the remote Cataloochee Valley for likely sightings of elk and out to Cades Cove for the bears, though be aware that a trip to the former can be an hours-long, bumper-to-bumper 11-mile drive. The park is also known for its foliage, so opt for a trail that cuts through old-growth, hardwood forest, like the Albright Grove Loop off the eight-mile Maddron Bald Trail and the six-mile Low Gap Trail up to Mount Cammerer and back.
The park and its backcountry sites are open year-round, although the off-season, which runs from late October through May, closes seven of the park's ten developed campgrounds; Cades Cove on the Tennessee side and Smokemont in North Carolina stay open. After the tail end of a typically humid August, this season is the driest with the least rainfall. —Neil Norman
Find our full guide here.
Rocky Mountain National Park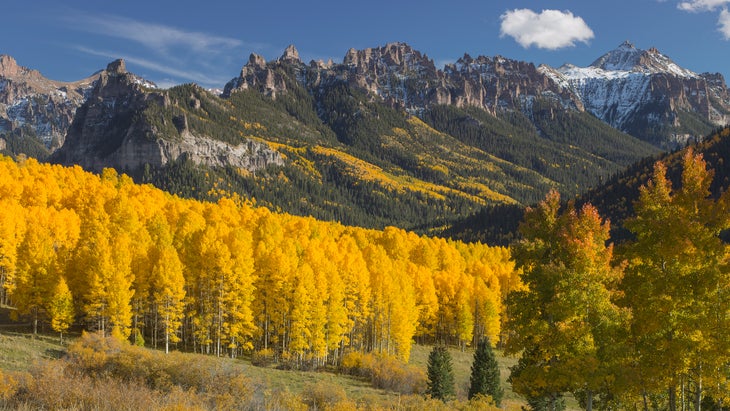 You could argue that the months of September and October are the best time to visit this park, especially if you can swing a midweek trip when the majority of potential visitors are working or in school. Temperatures are mild during the day, reaching the high fifties, and the aspens begin changing in the middle of September. That magical show is only matched by the elk rut—when large males start fighting and bugling for the affection of females—which commences in September and carries on into October at the Horseshoe Park area at dawn and dusk.
There are five frontcountry campgrounds (from $30): Aspenglen, Glacier Basin, and Moraine Park fill up well in advance (make reservations up to six months prior to your date), while the Longs Peak and Timber Creek campgrounds are first come, first served. If fall's colder temperatures make you yearn for a bed and electricity (no shame in that), you'll need to look outside the park. On the Grand Lake side, Colorado Cabin Adventures has a handful of log lodgings on the North Fork of the Colorado River (from $160). In Estes Park, there are plenty of stand-alone cabins and cottages for rent, including Solitude Cabins, a collection of 30 properties scattered across nine acres (from $275). —G.A.
Find our full guide here.
Acadia National Park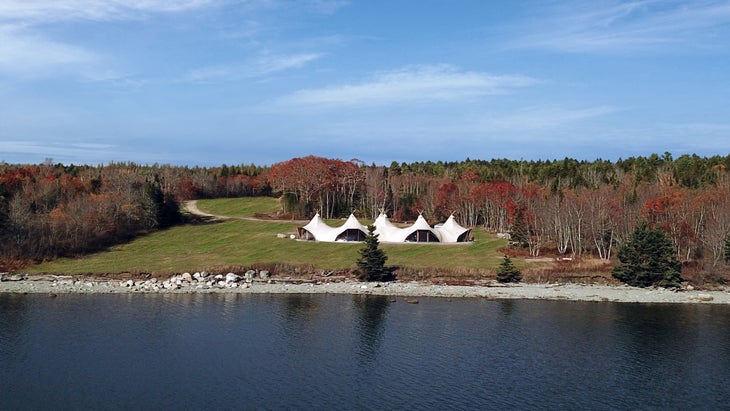 The first half of September in Acadia is summer without the bugs, humidity, and fog—just lots of sun and clear blue skies, with temperatures in the low seventies. The excellent, though cooler, weather continues for several weeks as the foliage turns crimson, gold, and orange, reaching its peak in early to mid-October. The fiery colors are mirrored in the waters of Eagle Lake, Long Pond, and Jordan Pond, and are best experienced by kayak. Maine's weekly fall-foliage report keeps tabs on the changing colors statewide.
Four campgrounds, open spring through fall, provide the only overnight accommodations within the park. The Blackwoods and Seawall campgrounds feature a total of 483 sites for primitive, drive-up, and group tenting and unserviced RV camping (from $22). Acadia's newest campground, Schoodic Woods, has spiffy amenities like a 100-seat amphitheater and the widest range of camping options, including RV sites with electricity and water (from $22). The Duck Harbor campground on Isle au Haut has five lean-to shelters ($20); advance reservations are a must. —Virginia M. Wright
Find our full guide here.
New River Gorge National Park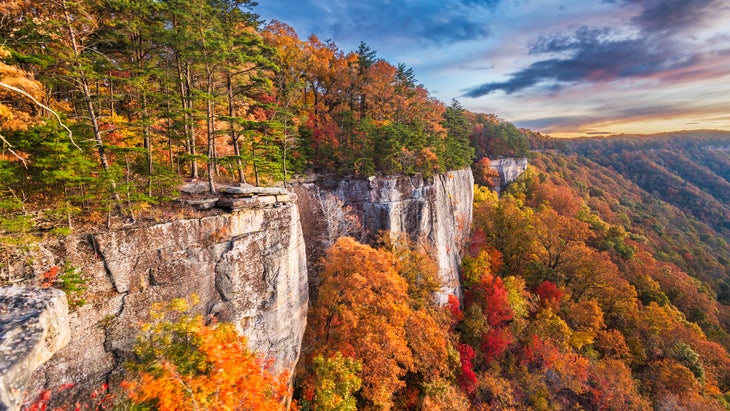 Ranging from 70 to 40 degrees, the temperatures here come fall are perfect for climbing and mountain biking, and a couple of key events punctuate the season. Bridge Day, which takes place in the middle of October as the hardwood canopy's foliage peaks, brings hundreds of BASE jumpers to the area, where they can legally jump off the 876-foot-tall New River Gorge Bridge, the world's second-longest arch bridge, parachuting into the canyon below.
For many paddlers, Gauley Season is the highlight of the year, as water is released from the dam on Summersville Lake for several weekends in a row through October, resulting in Class V rapids along the Gauley River. While there's some primitive camping inside the park boundaries, most visitors choose one of the privately owned campgrounds or "resorts" that sit adjacent to the park proper. ACE Adventure Resort occupies 1,500 acres 12 miles south of the visitor center and has its own trail system for hiking and mountain biking, four lakes, and a private beach where rafting trips launch. Choose from campsites to cliffside chalets (campsites start at $15, chalets start at $399). —G.A.
Find our full guide here.
Grand Teton National Park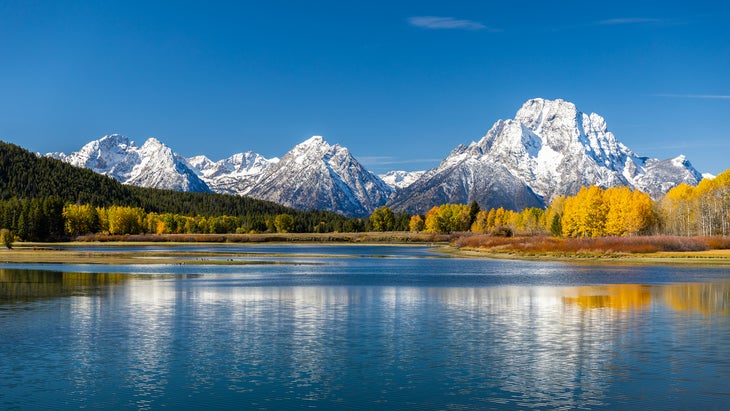 Fall is my favorite season in the Tetons. Yes, the wildflowers are gone, but so too are the hordes. Also, have you ever heard an elk bugle? It's an otherworldly sound. One of my favorite things to do is to grab a sandwich and a bottle of wine at Dornan's, a restaurant just outside the park's Moose entrance, and head to the historic Bar BC Ranch, which was Jackson Hole's second dude ranch when it opened in 1912, for a bugling concert. Bull elk often hang out near the Snake River here.
While it's possible there will be new snow at the park's higher altitudes, most hikes and backpacking itineraries are doable into October. Expect daytime temperatures between the fifties and seventies, with most nights in the twenties or thirties. —Dina Mishev
Find our full guide here.
Lead Photo: Getty Images/iStockphoto