63 Parks Traveler
How to Stay Safe as National Parks Reopen
Thirty-nine out of 62 park units have begun phased reopening. Several others never closed for the pandemic. Here's how to stay safe if you visit them.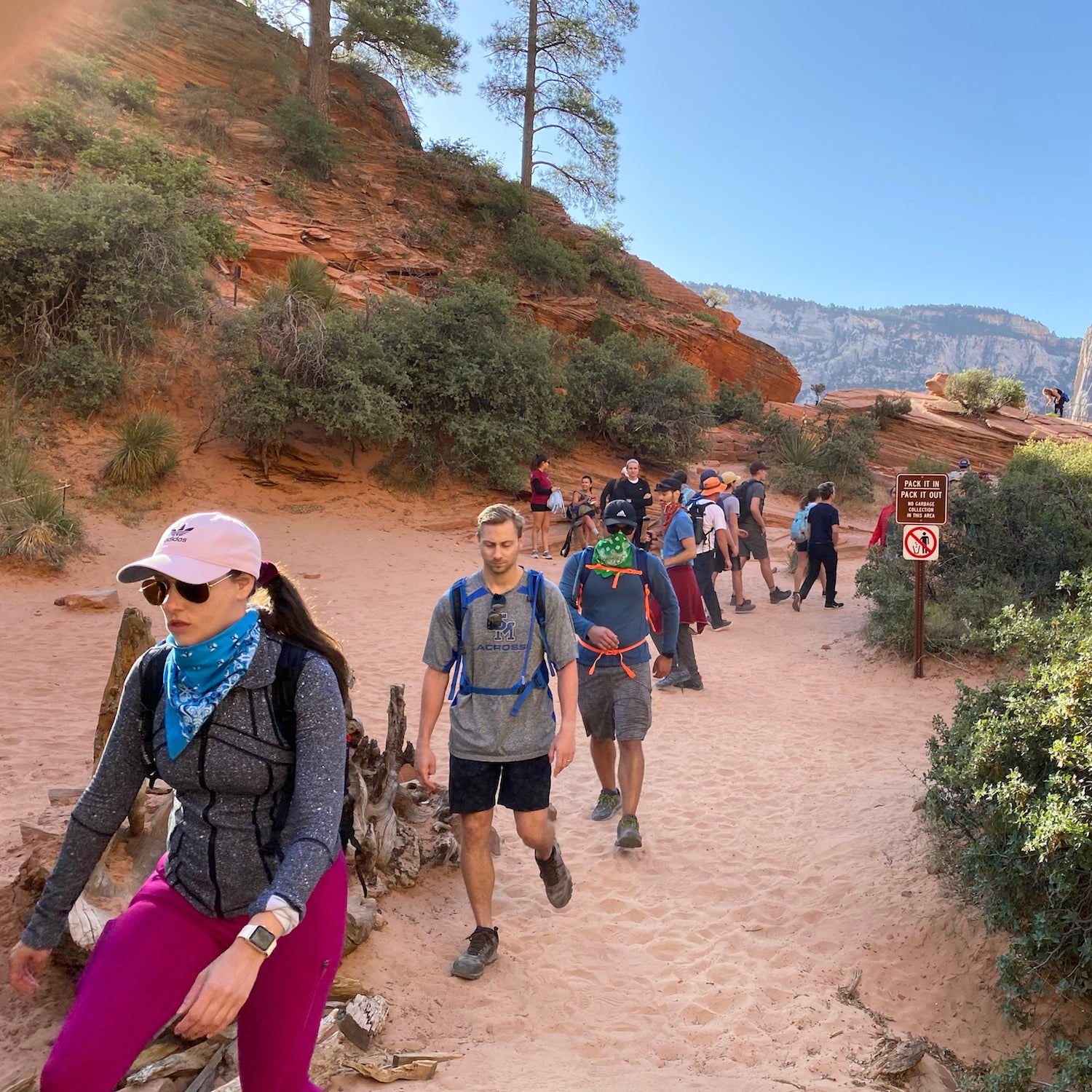 Heading out the door? Read this article on the new Outside+ app available now on iOS devices for members! Download the app.
62 Parks Traveler started with a simple goal: to visit every U.S. national park in one year. Avid backpacker and public lands nerd Emily Pennington saved up, built out a tiny van to travel and live in, and hit the road. The parks as we know them are rapidly changing, and she wanted to see them before it's too late.
Pennington has returned to traveling and is committed to following CDC guidelines during the COVID-19 pandemic to ensure the safety of herself and others. She's visiting new parks as they open and closely adhering to best safety practices.
---
On the morning of Saturday, May 23, I woke in darkness and rushed onto Highway 9 to be one of the first cars allowed to enter Zion National Park at 6 A.M. An hour later, the gates to the scenic drive were shut.
"We're turning cars around," a park ranger told me after I'd entered. "They have to park in the much larger visitor center lot and walk in if they want to come."
Just ten days prior, Zion opened its gates after being shuttered for nearly two months due to COVID-19. At first glance, limiting vehicle parking seems like an excellent strategy for crowd control on Memorial Day weekend, one of the busiest of the year for outdoor spaces. People willing to wake up early get rewarded with the best spots and more solitude on favorite trails. Easy.
That was my experience on the ground during the first part of my visit as I entered Zion and set off on the West Rim Trail toward Angels Landing, one of the most popular trails in the country. Few hikers were wearing masks (or even a bandana to pull up when passing others), but there weren't enough people on the trails to cause alarm.
Though I personally am an advocate for face coverings in crowded places, I found it simple to step off the path and maintain a distance of six feet from fellow trail goers. The only big groups I saw were gathered at popular selfie-taking lookouts, and even then, they were easily avoided.
In contrast, on a typical Memorial Day weekend, the Angels Landing Trail can see over 800 visitors in a single day. In 2019, over 86,000 tourists visited the park over the course of the long weekend. "My shift started at 8 A.M. last year, and by 9, there was an hour to an hour and a half wait just to start the West Rim Trail," said a ranger guarding the adjacent Grotto parking area. "We stationed another ranger up at the cables, and there was another one- to 1.5-hour wait to start the cables section," he said.
Many parks have recently implemented a similar strategy to mitigate crowds. Redwood National Park is keeping all trails open while closing parking lots in an effort to encourage bike-in traffic and locals-only hiking. The Grand Canyon opted for a limited entry window over the holiday weekend, opening most South Rim trails and viewpoints to cars that entered between 4 A.M and 10 A.M. only. At press time, 39 out of 62 park units had begun phased reopenings, while several others never closed for the pandemic.
Though Zion's reopening strategy of canceling shuttles, limiting parking, stocking up on soap and sanitizer for restrooms, and opening for day use only was working perfectly during morning hours, come afternoon I saw a different story.
Once parking filled up along Zion's most popular scenic drive area, tourists forced to park at the visitor center or in nearby Springdale, were flocking in by the thousands. Mask-free families and large groups of friends from all over the country were road-walking an additional three miles (each way), in full sun just to get to the first available trailhead. Many I saw were only carrying a single bottle of water to split amongst Mom, Dad, and children.
"We postponed my 40th birthday trip from April," said an unmasked woman, who flew in her family from Texas to visit Utah's parks for a week. "A lot of people in the airport weren't keeping their masks on, but we weren't too worried."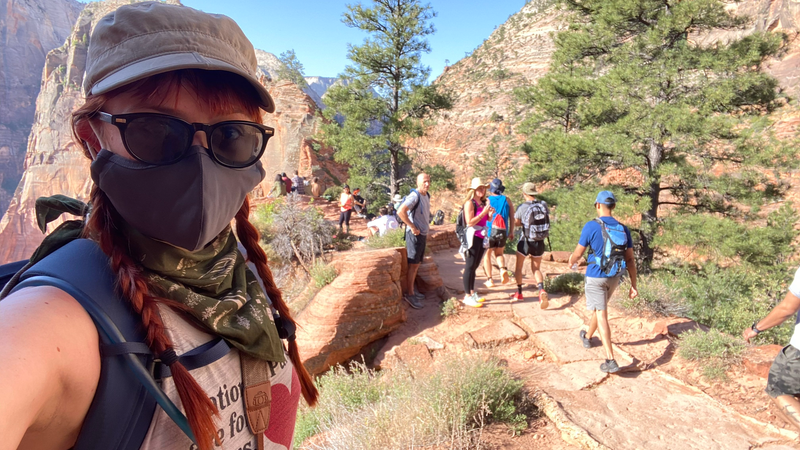 While each park's strategies for reopening vary widely from day use only, to backcountry only, to timed-entry windows, there are a few NPS safety guidelines that remain clear across the board: maintain a distance of at least six feet from others, wash or sanitize hands frequently, and sneeze or cough into your elbow. Face coverings are generally not required but are strongly encouraged inside buildings, restrooms, and in crowded spaces.
Katie Suleta, a senior epidemiologist and research manager at the nonprofit health care company Colorado Access, suggested these five tips for outdoor recreating as parks begin to open back up:
Have several plans. Make sure that you aren't contributing to the overcrowding problem by having alternative plans ready before you leave home. Many places (like Colorado state parks) have capacity updates that visitors can check before heading out.
Be conservative. We don't want to be straining resources in areas that are already strapped by needing a rescue and taking up a hospital bed. Save the climbing project for when an accident won't create such a burden on our health care system.
Always carry a first-aid kit. This is a good time to update it with pandemic-specific supplies, like gloves, an extra mask, and extra hand sanitizer.
Always carry a mask. There are some places with a lot of different trails but only one parking lot, which means all trails converge and funnel into that one area. There is a decent chance that you'll end up closer to people than you'd like to be, so make sure that you have a mask with you.
Always carry hand sanitizer. People used to give me strange looks because I clip a small bottle of hand sanitizer onto my climbing bag and have for years. It used to signal me as paranoid, but to me, it just signals good hygiene.
Look, I get it. We're all sick of being stuck indoors. Parks are reopening, and many of us are itching to get back out there. But the choices we make over the next month will determine if and how the parks remain open. The value of research, preparation, and self-reliance has never been more important so that we can minimize our impact on the trails we explore and the communities we pass through to get to them.