The Best National-Park Badges, Maps, and Souvenirs You Can Only Get by Visiting
As frequent national-park visitors know, the Park Service offers coveted passport stamps, maps, and badges. Here's how to get them.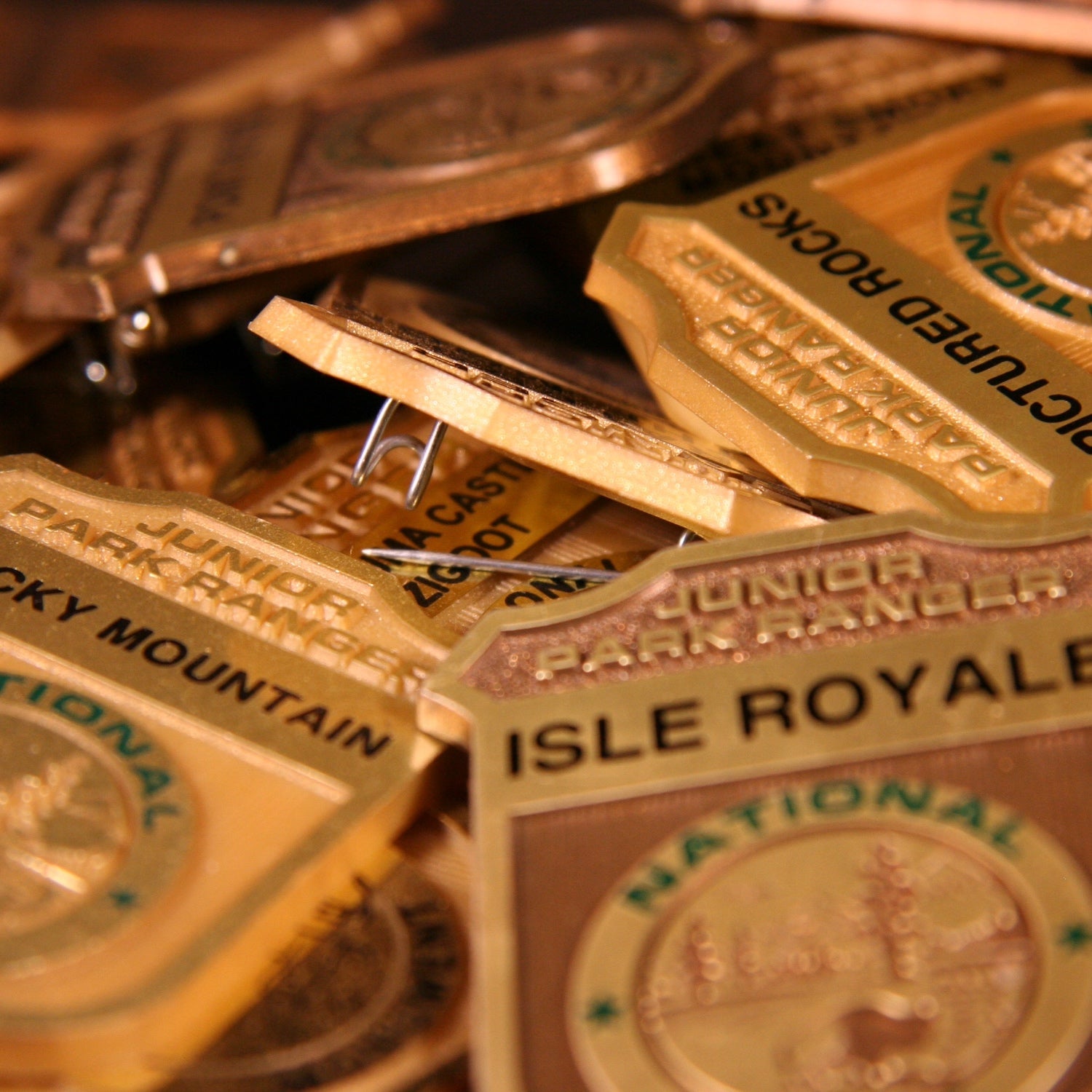 Heading out the door? Read this article on the new Outside+ app available now on iOS devices for members! Download the app.
Visiting a national park is its own reward, but there's nothing like snagging a token you can reminisce over. Plus, collections of NPS paraphernalia are a great way to notch how many parks you've been to. Of course, LNT best practices mean you should leave that rock where you found it, but luckily park visitor centers have fun badge programs, awesome maps, and plenty of other souvenirs to choose from. Here are some fan favorites.
NPS Passport Stamps
Cost: $13
Each park visitors' center has its own unique passport stamp, which includes the date. You can stamp your very own National Parks passport book or find one you like better on sites like Etsy. Because the stamp changes every day, the only way to get the real deal is to head on in and ink it in person.
Emily Pennington, Outside writer and author of the upcoming book Feral, has visited 62 out of the 63 national parks and makes it a point to collect a stamp at every visit. "It was a great way to make sure I not only went to each visitor center, but also read some park history, talked to a ranger, and looked at a map," she says.
Some of the most coveted are reserved for the truly dedicated: travel 7.5 miles by foot or mule to the bottom of the Grand Canyon to earn a stamp from Phantom Ranch.
Park Maps
Cost: Free
Don't sleep on the free maps available at national parks. They're chock full of useful information on wildlife, hiking trails, and park history, and they make great mementos. You can download the official park maps in advance, but if you want a hard copy, get one from the visitor's center.
Pennington grabs them from every park she visits. "I still have all of my maps on my bookshelf to this day," she says
Golda Israel, a nurse who's been to dozens of national parks, says she keeps the park maps, too. She likes that they're free and easily available. "I can always look at the map to see the locations of this trail or that overlook or viewpoint," Israel says.
Pressed Pennies
Cost: From 50 Cents
Pressed-coin machines are available at many of the most popular national parks, including Yosemite, Sequoia, and Acadia, to name a few. Select from a handful of designs, turn the crank a few times, and out comes a flat, oblong, newly decorated penny. Put them in a coin collecting book or display board.
Junior Ranger Badges
Cost: Free
The Junior Ranger program is aimed at five- to 13-year-olds, though anyone can participate. Would-be Junior Rangers complete a series of activities unique to the park or park unit they're in, and then turn in their completed assignments to the local park ranger, who swears them in and gives them a wooden badge.
The activities are engaging and usually take about an hour to work through. For example, at Fort Frederica National Monument on St. Simons Island in Georgia, Junior Rangers run errands as a courier in the 1700s. They're also given a working spyglass to look out for incoming Spanish ships and a compass to chart out cannon ranges from the ruins of the fort over the Frederica river.
But they're not just for kids. "I love the Junior Ranger program because it is an invitation to make our parks experience hands-on and educational," says outdoor advocate and homesteader Katie Boué, who has completed more than 20. "There's nothing quite like being prompted to get on a trail and find a specific type of plant or rock. You become closer and more connected to your surroundings."
Nearly every park and national monument has a junior ranger program, but you can confirm before you visit at the NPS website. While some aspects of the program went online during the pandemic, in-person visits are still the only way to receive a wooden badge.
Entrance Photos
Cost: Free
The classic entrance sign shot is a repeatable format that looks great strung together in a video, and you don't have to be a talented photographer to pull it off. Most entrance signs are accessible by car, so people of all abilities can reach them.
Pennington says she "became obsessive" about taking entrance photos once the COVID pandemic temporarily paused passport stamps. In addition to her park maps, entrance photos are another easy remembrance for park superfan Israel, too, who otherwise makes sure not to take any items from parks.
If entrance photos aren't your thing—let's face it, they're not always the most interesting of vistas—try putting your own spin on the idea. That's what outdoor activist Mikah Meyer did on his three-year trip to every national park unit. "I wasn't sure what that different consistent photo would be at first, but my journey taught me the complete lack of LGBTQ+ representation in the outdoors industry and culture," Meyer says.
So he started taking a picture of himself with the rainbow flag in front of each park's most iconic locations."I was able to communicate that here was someone from the queer community, proudly enjoying nature and the world famous locations from our national parks," says Meyer.
Whatever souvenir you choose, just remember to make sure it's something you really want. Pennington says she tries to keep her choices practical and recommends everyone "just do a quick gut check to make sure it's not something that'll end up in a trash bin a year later."