The Ultimate Guide to Sequoia and Kings Canyon National Parks
Sparkling alpine lakes, the highest point in the continental U.S., and 800-plus miles of breathtaking hiking trails: Sequoia and Kings Canyon in the Sierra Nevada are far more than home to the biggest trees on the planet.
Heading out the door? Read this article on the new Outside+ app available now on iOS devices for members! Download the app.
Sequoia and Kings Canyon are the first national parks I visited as an adult; the place where I took my first backpacking trip, saw my first bear, and summited my first fourteener. They're where I spent two weeks trekking the John Muir Trail (or Nüümü Poyo, Paiute for the Peoples Trail). Most of all, they're the parks that made me chuck my comfortable desk-job future and live in a van for a year, in 2020, on a wild quest to visit every national park.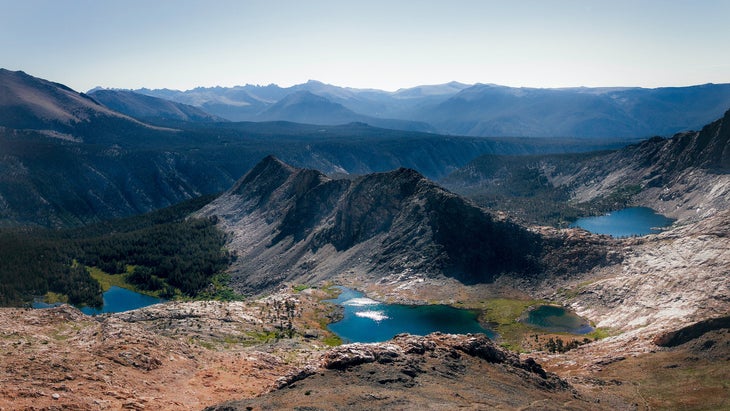 For the last seven years, I've split my time between the smog-choked metropolis of Los Angeles and the towering granite peaks of this Sierra Nevada haven, exploring miles of remote trails, wrapping my arms around giant sequoias, and dipping into dozens of alpine lakes. Apart from my love of sleeping in the dirt above 10,000 feet, these are also two of the most popular (and most beautiful) parks in the country.
Sequoia and Kings Canyon National Parks are technically two separate units but essentially treated as one big park, having been jointly managed by the National Park Service since 1943. They boast many of the same natural features–groves of enormous sequoias, shimmering alpine lakes, and the saw-toothed granite peaks that John Muir called the "Range of Light." But while Sequoia offers access to more roads, more of the trees it is named for, and the tallest peak in the lower 48, Mount Whitney, Kings Canyon is largely designated as a wilderness park, with few paved byways and backpacking opportunities galore.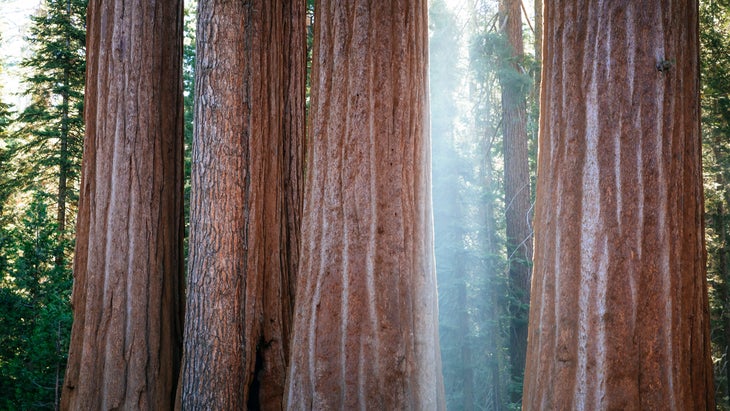 Though Sequoia is celebrated as the nation's second-oldest national park (signed into being by President Benjamin Harrison in 1890, 18 years after Yellowstone National Park was established), human history predates the area's designation by thousands of years. Sequoia and Kings Canyon are the homelands of the Yokuts, Mono (Monache), Tübatulabal, Paiute, and Western Shoshone, and the actions that initially set aside and preserved both parks for contemporary generations to enjoy often carried the brutal side effect of displacing their original inhabitants. At Hospital Rock, visitors can explore what was once a vibrant community of 500 and see interpretive exhibits detailing brilliant red pictographs, bedrock mortars, and obsidian artifacts. These days, 15 federally recognized Tribes continue to steward the lands within Sequoia and Kings Canyon.
Below:
What You Need to Know Before Visiting Sequoia and Kings Canyon National Parks

How to Get Here

The Best Time of Year to Visit

Where to Stay in the Parks

The Best Adventures in the Parks

The Best Places to Eat and Drink Near the Parks

If You Have Time for a Detour

How to be a Conscious Visitor
What You Need to Know Before Visiting Sequoia and Kings Canyon National Parks
Dress for success … and safety
At 13,135 feet, Sequoia and Kings Canyon have the largest vertical relief of any protected area in the continental United States. The park's highest point, Mount Whitney, sits at a lofty elevation of 14,505 feet, while their lowest point, the Middle Fork of the Kaweah River, is just 1,370 feet. Travelers to the parks should plan to navigate a wide variety of temperatures and weather, sometimes in the same day, depending on which areas they visit. The foothills, characterized by oak woodlands and chaparral scrub, are often 20 to 30 degrees warmer than the Giant Forest and Mineral King areas. Snow tends to linger above 10,000 feet well into the summer months, so come prepared with microspikes and trekking poles for a late-spring jaunt.
Ditch the devices
Except for the areas immediately surrounding Foothills Visitor Center and Kings Canyon Visitor Center, these remote parks have virtually no cell service. The NPS encourages visitors to use paper maps for driving and, before arriving, to download the Sequoia and Kings Canyon mobile app for area maps, services and trail information, and audio tours.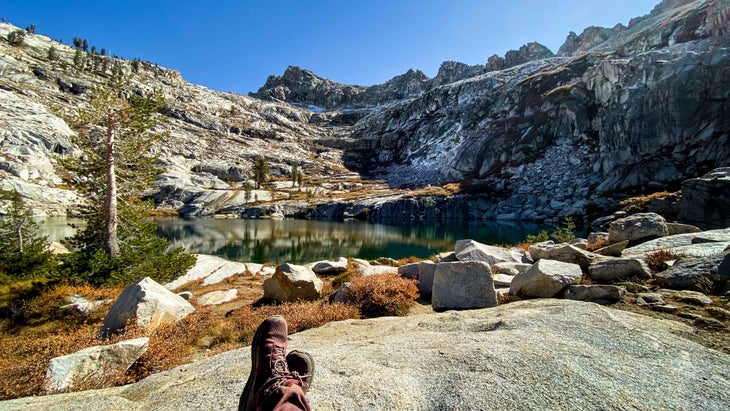 Make plans for your pup
Like most national parks out west, Sequoia and Kings Canyon aren't very dog friendly. Pets are prohibited on trails and only permitted outside of vehicles on paved roads or in parking lots, campgrounds, and picnic areas. Plus, there are throngs of black bears within the park's boundaries, making it a potentially dangerous place for your furry friend. If you're visiting the area and itching to get outside with your pupper, nearby Sequoia National Forest is pet friendly.
Fill up before you drive up
There are no gas stations or repair shops within Sequoia and Kings Canyon. The closest spots to fill up beforehand are along Highway 198 in Three Rivers, at Hume Lake Market near Kings Canyon, and, if you're coming from the north, at Stony Creek Lodge (closed in the winter). Sequoia also operates a free shuttle in the summer to help conserve gas and the coveted parking spots in the most high-traffic areas.
With great effort comes great reward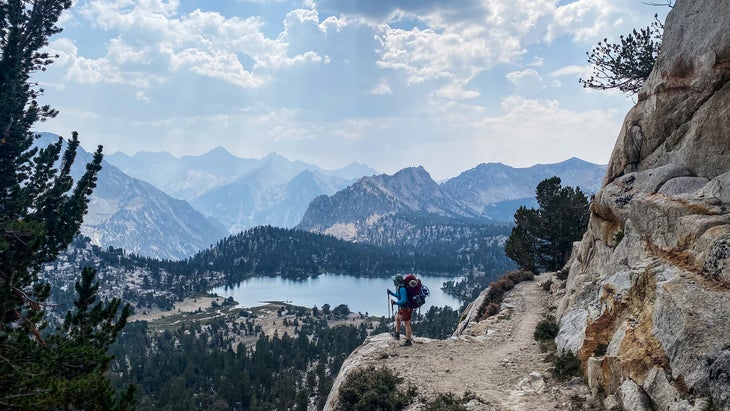 Most of Sequoia and Kings Canyon's "must see" sites are accessible by car and a few wheelchair-friendly trails, but visitors who are fit and experienced enough to explore the backcountry will uncover a myriad of hidden gems, like remote groves of giant trees, free from summer crowds. Some of my most memorable moments in nature, period, have been on long, leg-busting hikes to places like Hamilton Lake and Redwood Meadow, both of which can only be accessed via an overnight trip or a very hearty day hike.
How to Get to Sequoia and Kings Canyon National Parks
Sequoia and Kings Canyon are located in central California, smack dab in the middle of the largest contiguous wilderness in the state. They aren't the kind of park you can reach easily for a quick afternoon visit, unless you live in nearby Fresno or Visalia.
The closest two commercial airports are the Fresno Yosemite International Airport and the Visalia Municipal Airport. From those, travelers can rent cars and drive into the parks or utilize the City of Visalia's V-Line to link up with the Visalia Transit Center and hop onto a Sequoia Shuttle (summer only). Greyhound and Amtrak both offer service to the area, but with transfers at the Visalia Transit Center.
Unless you're looking to Hulk-out and backpack many miles into the parks from the Eastern Sierra off Highway 395, you'll probably drive in from the west via Highway 198 into Sequoia or take Highway 180 into Kings Canyon. The parks only offer three entrance stations–Ash Mountain, Big Stump, and Lookout Point–which access vastly different areas (Sequoia, Kings Canyon, and Mineral King, respectively).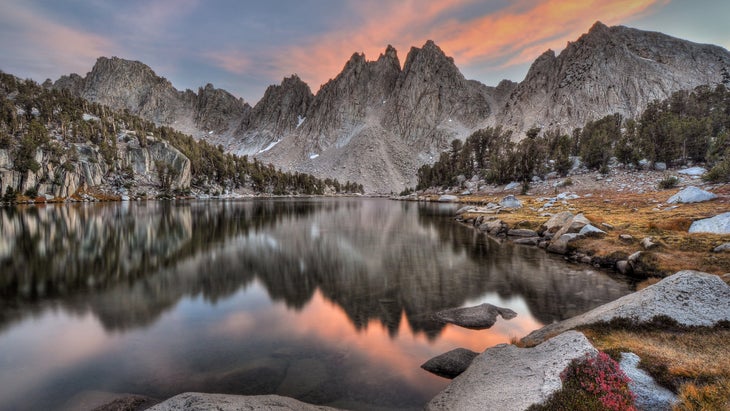 On Highway 198 into Sequoia, you can take a scenic cruise along massive Lake Kaweah before grabbing gas and snacks in woodsy Three Rivers and continuing to the Foothills and Giant Forest areas via Ash Mountain, or instead veer right onto a narrow, twisty road and pass through Lookout Point to reach Mineral King. Kings Canyon travelers will take Highway 180 from Fresno, enter at Big Stump, and steer past Grant Grove before winding through jaw-droppingly narrow ravines and along stunning river views all the way to Cedar Grove and the aptly named Roads End.
The Best Time of Year to Visit Sequoia and Kings Canyon National Parks
Winter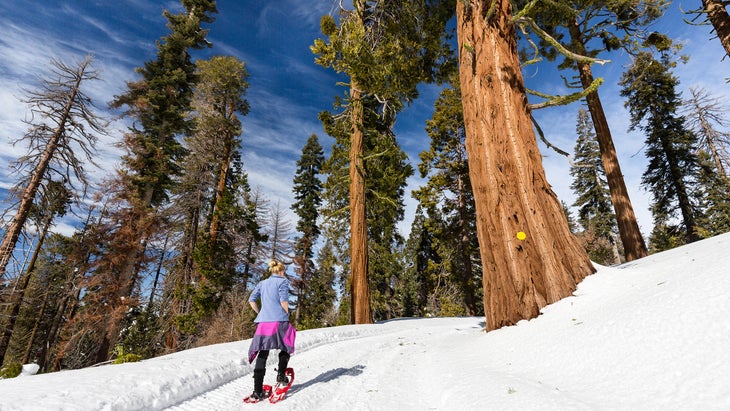 There's something utterly spellbinding about the sight of the fuzzy red bark of a sequoia tree against a backdrop of fresh white snow. Generals Highway (the main artery through Sequoia National Park) is plowed in winter months, making it relatively easy to access some of the most popular areas (like Giant Forest, Wolverton, and Lodgepole) all year. In Kings Canyon, travelers can visit "The Nation's Christmas Tree" in Grant Grove. More remote areas of the park, like Cedar Grove and Mineral King, close until April and May, respectively. Snow chains are often required in the park in winter, as mountain storms can strike with little warning. Snowshoers and cross-country skiers (gear can be rented at Wuksachi Lodge and Grant Grove Market) can crunch through designated trails at Grant Grove and Giant Forest or spend a full day trekking to Crescent Meadow or the Pear Lake Winter Hut. Best of all? You'll likely have the place to yourself.
Spring
Electric yellow fiddlenecks, delicate pink manzanitas, and wavyleaf castilleja (paintbrush) blossom across the parks' foothills in spring, and with a fury of fresh snowmelt from the High Sierra, the reopening (typically at the end of April) of Highway 180 to Roads End means it's an epic time to go waterfall chasing in Kings Canyon. An easy, family-friendly stroll will bring you to Roaring River Falls, right off the road, but mega-hikers might want to set aside a full day to reach the powerful Mist Falls and marvel at The Sphinx while they're at it. With more consolidated snow than in winter, spring is also the time that experienced mountaineers start climbing the parks' many alpine routes, though most classics are accessed from the Eastern Sierra side. Experienced guiding services, like Peter Croft's Sierra Mountain Guides and Sierra Mountain Center, are a great way to properly introduce yourself to the High Sierra.
Summer
Let's not beat around the bush­­–June through August, with the snow gone, is high season for every national park and wilderness area in the Sierra Nevada. Mineral King usually reopens the Wednesday before Memorial Day, and much of Sequoia and Kings Canyon lies above 6,000 feet, making summer prime time for overnight backpacking, high-altitude hiking, and peak bagging. I tend to avoid the Moro Rock and Giant Forest summertime chaos in favor of long, sunny overnight trips like Timber Gap and the Big Five-Little Five Lakes Loop.
Fall
If the wildfire smoke cooperates, fall can be the perfect time to visit Sequoia and Kings Canyon. Kids are back in school, so there are fewer people; most park roads are open until November; trails remain snow-free; and stream crossings are a cinch. Cooler conditions up high make for excellent, grippy rock-climbing conditions, and stargazing aficionados won't want to miss Sequoia Parks Conservancy's annual autumn Dark Sky Festival. 
Where to Stay in Sequoia and Kings Canyon National Parks
Camping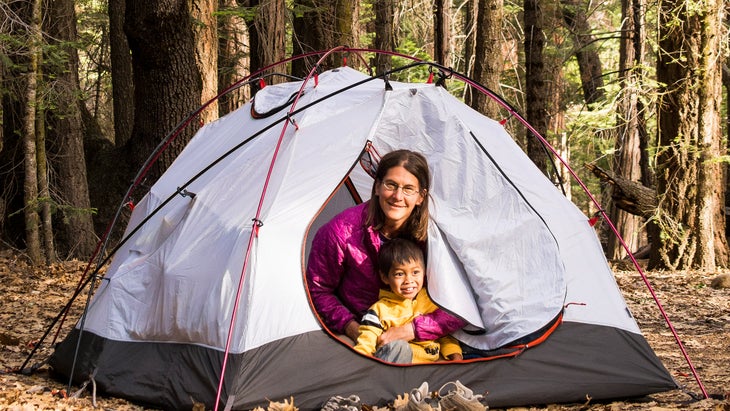 There are a total of fourteen—yes, fourteen—campgrounds within the boundaries of Sequoia and Kings Canyon.
These three campgrounds are open year round.
South Fork
Potwisha
Azalea
As opposed to the process in many parks, visitors may only make reservations up to 30 days in advance, beginning at 7 A.M. PST. Book sites (from $22) via Recreation.gov.
With such a treasure trove of campgrounds, picking the perfect one might feel like a chore, but the parks offer this handy map to help you choose a site close to the trails and trees you plan on visiting.
Though it books up quickly, Lodgepole has long been one of my favorites, with its towering pines, cool nighttime temps, and proximity to the Giant Forest.
In Kings Canyon, Sentinel sits at the edge of the South Fork of the Kings River under shady stands of fragrant evergreens.
For those with commitment issues, South Fork is the only campground in the parks that's exclusively first-come, first-served (from $6).
Hotels
Wuksachi Lodge (from $190), named after a band of Western Mono (Monache) Native Americans, is the beating heart of Sequoia and Kings Canyon's in-park lodging, and open year-round. Though you won't find in-room WiFi here (the property is more woodsy-chic parkitecture than luxury), the hotel is set in an ideal location at the center of both parks, and comes complete with a restaurant and easy access to hiking trails.
Kings Canyon, on the other hand, offers a few different lodging options, from the storybook-style Grant Grove Cabins (from $100), to the forest haven of John Muir Lodge (from $158), to remote Cedar Grove Lodge near Road's End (from $169).
Bearpaw High Sierra Camp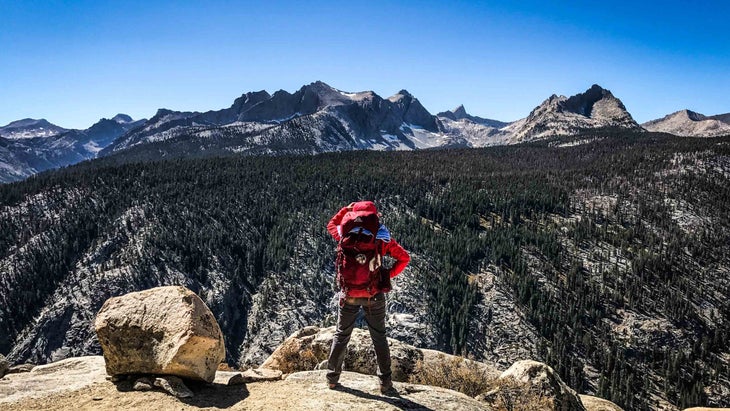 When I first saw the view from Bearpaw High Sierra Camp, I cried. Situated 11.5 miles into the High Sierra Trail at the precipice of the Great Western Divide, this wilderness outpost is one of those magical, only-in-the-parks places, with soul-stirring panoramas of granite domes, snow-capped peaks, and Valhalla. More glamping than camping, it offers the wonders of backpacking with the glory of hot showers. Though not open for the 2023 season due to a water-infrastructure overhaul, Bearpaw typically takes reservations 366 days in advance, and it's well worth the extra effort of planning ahead.
The Best Adventures in Sequoia and Kings Canyon National Parks
Sightseeing
I get it; not everyone's idea of a good time is a 42-mile backpacking trip through bear country. Thankfully, many of the most awe-inspiring sights of Sequoia and Kings Canyon can be reached by car or a short stroll. If you're entering via Highway 198, you'll climb through the foothills along Generals Highway to gorgeous views of Kaweah Canyon and an opportunity to stop and check out the pictographs at Hospital Rock. The road continues past Amphitheater Point and its striking vistas of the Moro Rock dome, and swerves surprisingly close to a pair of colossal giant sequoias on the way to Giant Forest. Get out and stretch your legs on the accessible 0.75-mile Big Trees Trail and the one-mile (round-trip) to marvel at the General Sherman Tree, the largest in the world.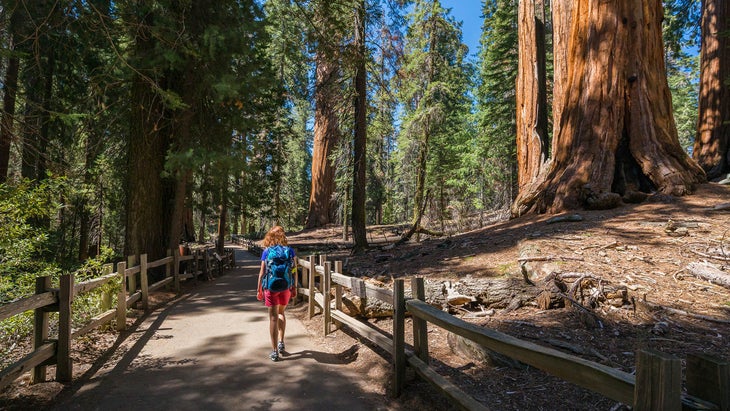 Spring through fall, Generals Highway is open between the parks, and you can continue through groves of towering conifers, pulling off to gawk at a sliver of the snow-dusted High Sierra from Kings Canyon Overlook. At Grant Grove, stop to check out one of the best-preserved groves of giant sequoias on the planet, then continue onto Highway 180 through a craggy canyon so steep it'll make your head spin. Cool off in the shade and spray at Roaring River Falls and, if you've got another hike in you, you will be glad you tackled the easy 1.5-mile loop around Zumwalt Meadow, which showcases Kings Canyon's colorful tapestry of wildflowers below imposing granite walls. Adventurers coming from the north can do this itinerary in reverse.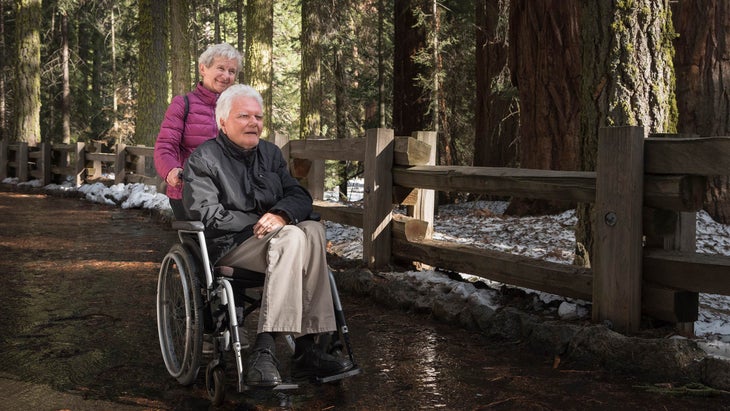 Day Hiking
Sequoia and Kings Canyon offer a tally of over 800 miles of trails. Most visitors come for the trees, and yes, first-timers should absolutely make a beeline for them on favorites like the three-mile Congress Trail and the 0.3-mile General Grant Tree Trail. For a more serene, off-the-beaten-path experience with these ancients (some of which live to be over 3,000 years old), try the 1.5-mile journey along North Grove Loop or the four-mile out-and-back to Muir Grove.
Still, most of the park is non-sequoia-centric landmass.
For incredible views of the High Sierra, break a sweat on the steep staircase up Moro Rock or…
Better yet, climb a less-trampled granite dome on the 4.4-mile trail up Big Baldy.
Summit fever? Tromp past wind-ravaged foxtail pines on the 13.7-mile hike to the top of Alta Peak, where, on a clear day, you can see Mount Whitney.
For me, summertime always means feverishly looking at maps of the Sierra Nevada, finding a random splotch of blue, and scouring Google for the best trails to whatever alpine lake I just spotted. Some of my favorite day hikes to chilly mountain tarns are the strenuous 12-mile out-and-back to Pear Lake and the 8.4-mile trek up to Lower Monarch Lake.
Fishing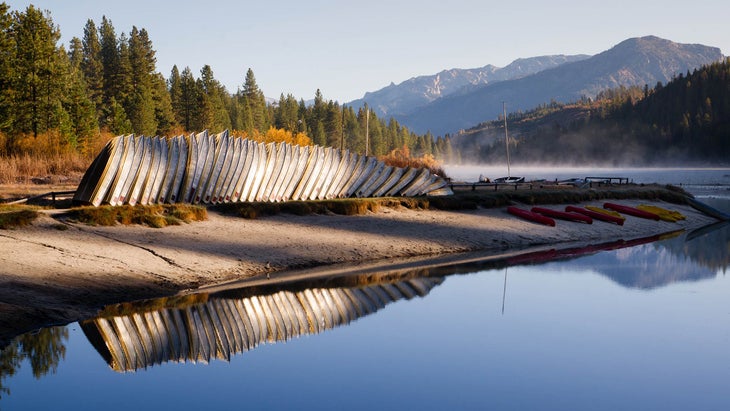 Most rivers, lakes, and streams within Sequoia and Kings Canyon allow anglers, provided you have a valid California fishing license. Licenses might not always be available at in-park markets, so it's best to bring one with you or purchase at nearby Hume Lake Visitor Center. Some of the top spots to cast a line are at the South Fork of the Kings River and scenic Bubbs Creek, though the remote alpine lakes of Mineral King provide excellent access to (non-native) brook and rainbow trout. Fishing season and daily bag limit are the same as general State of California fishing regulations.
Backpacking
Sequoia and Kings Canyon are a feast for any serious backpacker. A massive chunk of the John Muir Trail cuts through the parks' high-altitude backcountry, and several similarly gorgeous multi-day loops can be made out of the hundreds of miles of hiking trails that crisscross the region. A grueling, sleepless backpacking trip (my first) that peaked with a sherbet-tinted sunrise view of the Great Western Divide was my gateway drug to falling in love with the national parks and dirtbaggery as a lifestyle.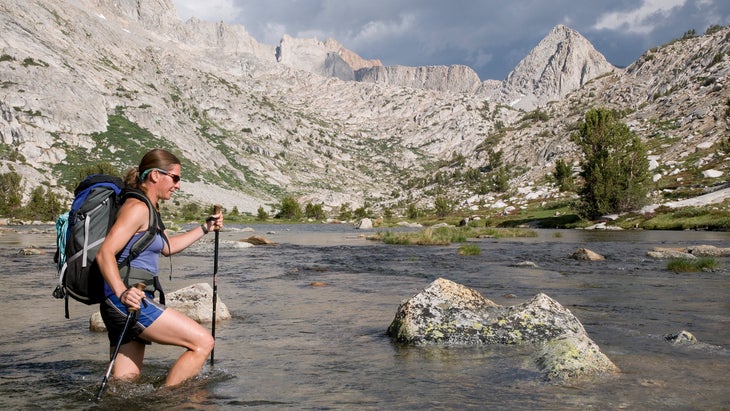 Backpacking in these parks doesn't have to mean committing to a 223-mile trek that takes most people three weeks.
For newer overnight hikers (and people who prefer lounging at camp to slogging through miles), a moderate six-mile trip (each way) along the Lakes Trail offers delightful amphitheaters of saber-toothed granite and the opportunity to cool off in an icy alpine tarn. (There's even a backcountry pit toilet at Pear Lake.)
In the more remote (and less crowded) Mineral King, the six-mile (one way) path to Franklin Lakes climbs past fields of crimson columbine and bright purple lupine to the base of Florence Peak.
Sequoia and Kings Canyon also offer phenomenal opportunities for multi-day backpacking across some of the most breathtaking scenery in the country. Aside from the aforementioned John Muir Trail, the lesser-known 72-mile High Sierra Trail offers hikers who can't finagle three weeks off work a similarly stunning week-long trek.
And, if you're an alpine-lakes addict, it doesn't get much better than the 42-mile Rae Lakes Loop.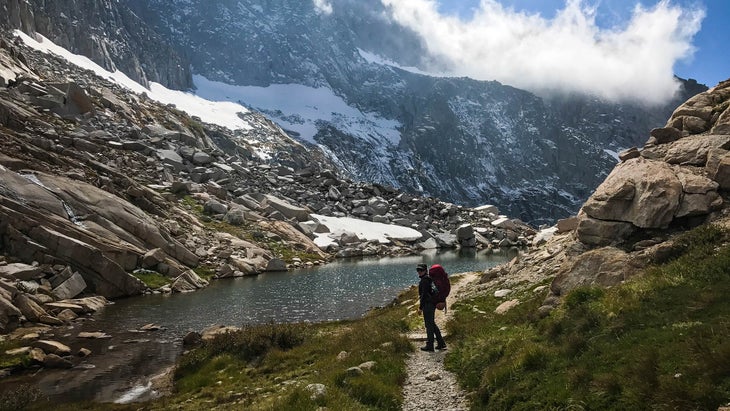 Anxious about hiking alone or want to sharpen your backcountry skills? Wildland Trekking offers guided backpacking trips to some of the most spectacular sites in the parks.
Climbing and Mountaineering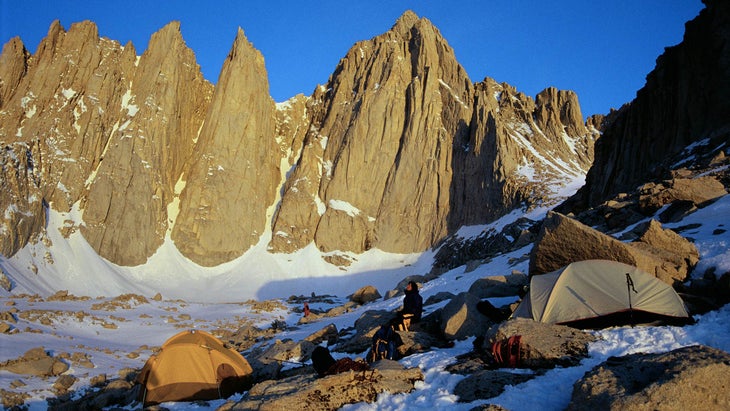 Though the granite here is not as accessible as in Yosemite Valley, Sequoia and Kings Canyon are home to similarly great quality rock, if you're willing to hike, and are heaps less crowded than the Valley. The easiest-to-reach vertical granite can be found at popular Moro Rock, but an eight-mile hike in along Bubbs Creek in Kings Canyon to Charlotte Dome will wow climbers with 1,500-foot multipitch routes at 10,000 feet.
Sequoia and Kings Canyon together possess most of the highest peaks in California. Given these mountains' central location, opportunities—for climbs ranging from the remote fourteener Mount Tyndall to more easy-access summits like Mount Silliman—abound for peak baggers of all skill levels.
Snow Sports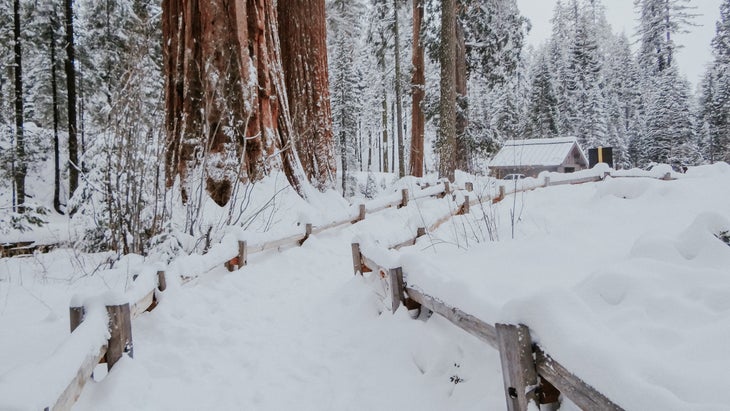 Sure, Sequoia and Kings Canyon receive their fair share of fluffy white stuff once wintertime hits, but opportunities for traipsing around are a bit more rustic than in more developed parks like Yosemite.
The parks boast three designated snowplay areas for little ones to make snow angels, organize elaborate snowball fights, and fling themselves down hillsides in sleds and tubes. In Sequoia, head to the end of Wolverton Road to access, you guessed it, the Wolverton Snowplay Area. In Kings Canyon, Grant Grove offers two spots for tubing and sledding: Columbine and Big Stump.
When the roads are plowed and Wuksachi Lodge and Grant Grove Market are open, winter visitors can rent snowshoes and cross-country skis and purchase snowplay gear with relative ease. Both Giant Forest and Grant Grove offer ski trails through stands of majestic giant sequoias, but the parks request that visitors purchase paper maps of the routes before setting out.
One of the best-kept secrets in Sequoia National Park is the Pear Lake Winter Hut, which is, as of autumn 2022, undergoing repairs after the KNP Complex Wildfire and slated to reopen for the 2023/2024 season. For the reasonable sum of $50 per person, per night, skiers and snowshoers can saunter across six miles of High Sierra terrain to arrive at a rustic, vintage shelter with ten bunks, a wood pellet-heating stove, and a composting toilet (reservations required, per link above).
Stargazing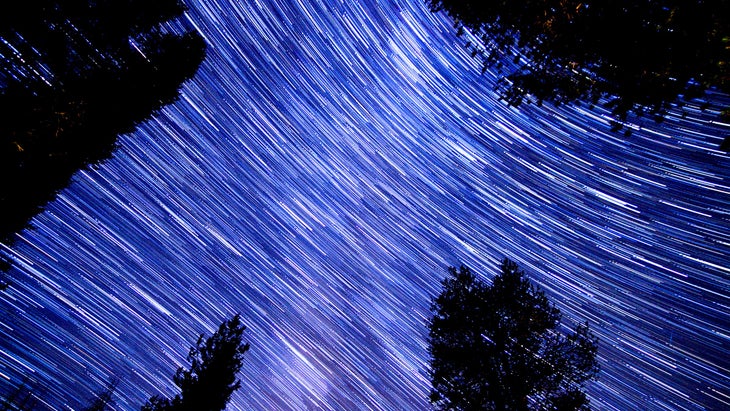 The first time I ever saw the Milky Way was on my first backpacking trip, in Sequoia. The night skies in these parks are nothing short of enchanting, a humbling reminder that we are a speck on a speck. The Sequoia Parks Conservancy hosts a family-friendly "Wonders of the Night Sky" program throughout the year, but if you're serious about stargazing, check out the annual Dark Sky Festival, held each autumn. Pro tip: visit in mid-August for a chance to catch the Perseid meteor shower.
The Best Places to Eat and Drink Near Sequoia and Kings Canyon National Parks
Though as of fall 2022, the parks' indoor dining is still paused due to COVID, hungry hikers have a bevy of options, from the casual sandwiches-and-salads vibe of Cedar Grove Grill to the floor-to-ceiling views at the more elevated Peaks Restaurant.
I'm a big fan of the Wuksachi Pizza Deck, and Lodgepole Café is excellent for grab-and-go picnic provisions or satisfying your burger fix (there's even a vegan option).
When indoor dining reopens, I'm going to be all over the recently redesigned Grant Grove Restaurant, which just refreshed its menu with a focus on locally sourced organic ingredients.
Outside the parks, I love watching the sun dip low beyond the Kaweah River from the porch at River View Grill and Bar in Three Rivers, which serves up local craft beers from Brewbakers.
For healthy lunch fare for meat-lovers, vegans, and the gluten-averse alike, there's Sierra Subs and Salads.
And, after a long, sweaty day of hiking in Sequoia, I always make a quick pit stop at Reimer's Candy and Gifts for an indulgent milkshake or scoop of homemade ice cream.
If You Have Time for a Detour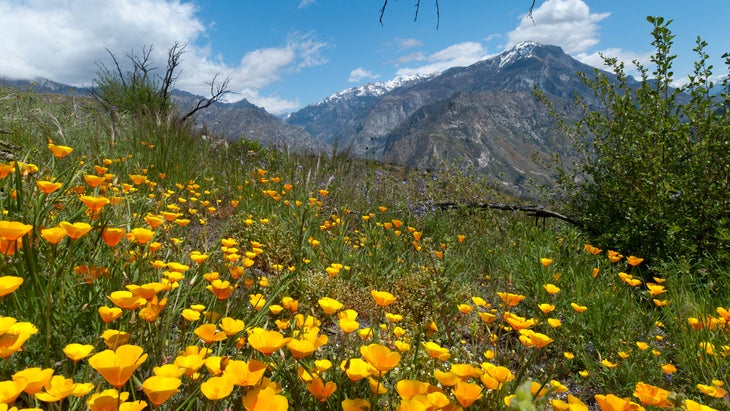 Though Sequoia and Kings Canyon are surrounded by miles of developed farmland to the west, there are various local options for travelers seeking to roam outside the parks. If you're exploring with your pup in tow, the neighboring dog-friendly Sequoia National Forest is a wonderland of wooded hikes (including a few to massive sequoia trees). Likewise, Jennie Lakes Wilderness, a subdivision of the national forest, is a stellar dog-friendly hub for hiking to pristine alpine lakes (and fee-free backpacking trips).
Every spring, the mighty Kaweah River practically roars through the tiny town of Three Rivers with a torrent of fresh snowmelt. Southern and Central California aren't usually hailed by whitewater enthusiasts, but outfitters like Mountain Descents and Kaweah Whitewater Adventures offer some of the closest class III and IV rapids to cities like Fresno, Los Angeles, and San Diego.
While Crystal Cave is still closed as of autumn 2022, due to impacts from the KNP Complex Wildfire, Boyden Cavern, located right outside Kings Canyon, serves up all the drippy, melted jellyfish-style rock formations you'd want from a cave tour, starting at $16.
How to Be a Conscious Visitor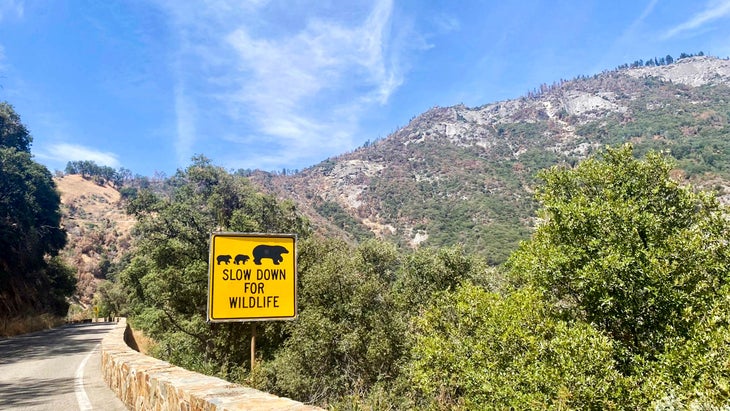 Wildlife
Spoiler alert: there are black bears in Sequoia and Kings Canyon. Lots of them. One of them nearly ruined my dinner on a girls' trip to Kings Canyon two years ago. Proper storage is required in both parks for all food and smellables, as human-habituated bears that gain access to our trash and snacks often become aggressive and have to be put down. Bear spray is illegal in these parks, so put your food away before embarking on a day hike and learn what to do if you encounter a black bear.
More than any parks I've visited, Sequoia and Kings have a robust array of bear boxes at trailheads, campgrounds, and even along popular backcountry trails. If you're not trekking to one of the many sites with bear-boxes, bear canisters are highly recommended and, in most cases, required when overnight backpacking. They're available to rent at most park visitor centers.
After rebounding from near-extinction, peregrine falcons can once again be seen in the parks, which is excellent news. The bad news is that this means rock climbing on Moro Rock from April through August is banned due to nesting activity, and bird-protection closures to climbers are becoming more common in recent years.
Fire safety
Last, if you've been paying attention to the headlines, you've likely seen that nearly 20 percent of the world's giant sequoias have burned in the last few years. Fire restrictions in both Sequoia and Kings Canyon are being implemented earlier and earlier, and they are serious business. Check current conditions before heading out and, if you're not camping in a site with a manmade firepit, consider that climate change is wreaking havoc on our national parks, and you may want to do without.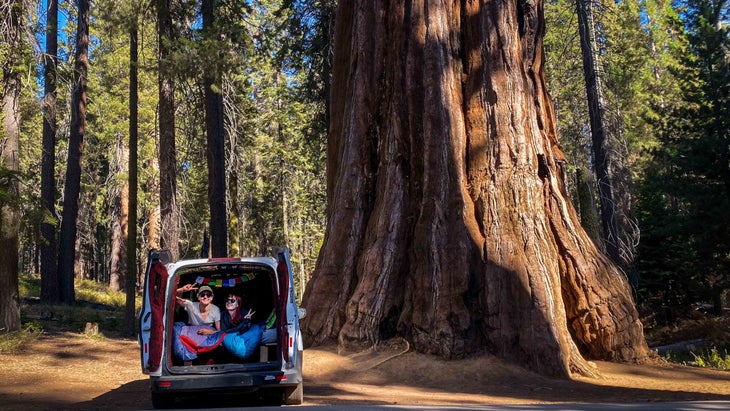 Emily Pennington is a freelance adventure journalist based in Los Angeles. Her work has appeared in The New York Times, The Guardian, and Condé Nast Traveler, to name a few. To date, she has visited 62 U.S. national parks (with only American Samoa National Park to go), but she has spent more time, by far, in Sequoia and Kings Canyon, as a continual visitor over seven years. Her upcoming book, Feral: Losing Myself and Finding My Way in America's National Parks, about the parks journey, is due out in February (Little A/Amazon Publishing).
Lead Photo: Jens Karlsson/Getty