Traverse Colorado's Maroon Bells
But don't worry, we've stacked the deck in your favor. Welcome to Expedition Planning 101. Your assignment: Read the tips on gear, first aid, and food; pick one of our five ready-to-roll itineraries; and then get out the door. Just remember to be humble—Ma Nature won't be intimidated by your trash-talking buddies.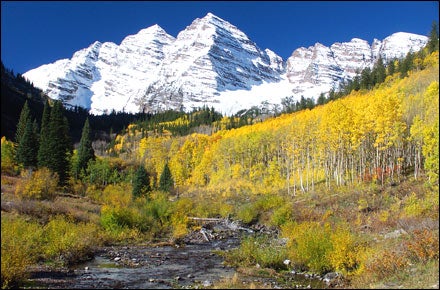 Heading out the door? Read this article on the new Outside+ app available now on iOS devices for members! Download the app.
TRIP #1
Pro Tip: Gregg Treinish
(1) Gold Bond is good for your feet and your undercarriage.
(2) Name each campsite and mark down the GPS coordinates so you can plug them into Google Earth when you get home.
Map

Traverse Colorado's Maroon Bells


DURATION
: 4–5 days

THE PLAN
: You've seen the jagged Maroon Bells reflected in Maroon Lake in a thousand postcards. Hike the 28-mile Four Pass Loop around the twin fourteeners, however, and you'll see them from angles the day-hiking crowd misses out on. Start by leaving your car at Maroon Lake ($10 fee), just ten miles south of Aspen, and trek a mile southwest to Crater Lake. Be warned: All the passes on the route are above 12,000 feet, so tackle the loop clockwise, knocking out two—West Maroon and Frigid Air—in one ten-mile push on the first day. You'll sleep well that night. On day two, enjoy 40-foot-high King Falls, in Fravert Basin, before heading up the steep Trail Rider Pass. Camp that night at Snowmass Lake, where you can land eager cutthroat trout (try a woolly bugger) for breakfast. And when you finally get to the top of Buckskin Pass, don't forget to look over your shoulder for a stunning view of Snowmass Mountain and Capitol Peak.

ESSENTIALS
: A copy of Trails Illustrated's Maroon Bells map ($12; rei.com). Tip: Call the Aspen Ranger District for trail conditions before you leave home (970-925-3445) and stock up on supplies in Glenwood Springs.

PREREQUISITES
: Some experience at altitudes above 10,000 feet, moderate fitness; you should be able to jog five miles without stopping before trying the whole circuit.

WHEN TO GO
: Mid-September, after the mosquitoes and blackflies have died down and before the swarms of tourists descend to see the aspens change color.
Kayak Washington's San Juan Islands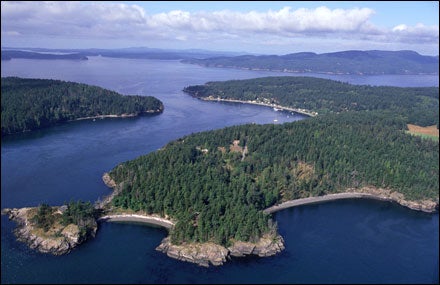 Pro Tip: Ray Zahab
(1) Pick friends you can lean on and trust, because some days you're going to feel good and some days you're going to feel like crap.
(2) Expect your expedition or trip to cost 10 to 20 percent more than you anticipated.

Map of Washington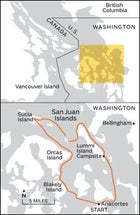 TRIP #2

Kayak Washington's San Juan Islands


DURATION
: 4–5 days

THE PLAN
: Vancouver Island buffers the big waves, but the San Juans' strong tidal currents, vast open channels, and 55-degree water offer plenty of adventure for experienced paddlers. The reward: pods of breaching orcas, hikes among limestone formations, and campsites on gravel beaches and atop cliffs. Start at Anacortes and hug the coast of Guemes Island on your way to Lummi Island's Cascadia Marine Trail campsite, an isolated spot with a breathtaking view of Mount Baker. Over the next few days, keep on the calmer bay side and paddle around Lummi to Clark Island. Be sure to check out the sandstone cliffs of Matia Island or, if you're feeling ambitious, the popular sandy beaches of Sucia Island. Either way, stay at the campsite on Doe Island—a small, forgotten state park known for its private coves—before crossing three-mile-wide Rosario Strait and finishing back in Anacortes.

ESSENTIALS
: Rent from Sea Kayak Shop (five days, $290; seakayakshop.com), in Anacortes. Pick up Waterproof Charts' #43 ($27), the Current Atlas for Juan de Fuca Strait to Strait of Georgia ($30), and Washburne's Tables 2009 ($7). All are available at local stores.

PREREQUISITES
: Solid coastal kayaking experience and the ability to read nautical charts. Need schooling? Kayak Academy, 20 minutes east of Seattle, offers a five-day training camp (from $950; kayakacademy.com).

WHEN TO GO
: September. After Labor Day, the pleasure yachts disappear, but it still feels like summer.
Paddle Maine's Allagash River
Pro Tip: Julie Angus
Bring your pantyhose. Nylons can be used as a tourniquet, carrying bag, or strapping—and, of course, for Friday-night parties
Allagash River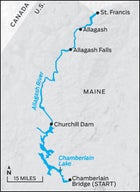 TRIP #3

Paddle Maine's Allagash River

DURATION:
10 days

THE PLAN:
Round up a few good buddies and float 93 miles along the white-spruce-lined shores of Maine's Allagash Wilderness Waterway. The river is less a single torrent than a series of interconnected lakes and sloughs, so go slow and quote Thoreau—every story about this river does. Pick designated campsites about ten miles apart. Be sure to stay on Pillsbury Island and explore the—here it comes—"exceedingly wild and desolate" old-growth forest nearby, where Thoreau camped in 1857. The best Class II+ whitewater comes directly below Churchill Dam; less experienced paddlers can pay $10 for the park rangers to shuttle gear around the rapids. About 12 miles from the end, there's 40-foot Allagash Falls, with a 150-yard portage. In St. Francis, hire Norm L'Italien (207-834-6118) to run your shuttle. His drivers know the roads (and the stories), and Norm rents gear and canoes as well.

ESSENTIALS:
Copy of Thoreau's The Maine Woods; Maps 12 and 13 of the Northern Forest Canoe Trail ($10 each; northernforestcanoetrail.org).

PREREQUISITES:
Class II canoe skills, camping experience.

WHEN TO GO:
Early September, when it's still warm and the river is almost empty.
Hike Alaska's Brooks Range
TRIP #4
Hike Alaska's Brooks Range

DURATION:
10–12 days

THE PLAN:
If you want to get off the beaten path, go someplace that doesn't have paths. Or roads. Or practically any people. At 7.5 million acres, Alaska's Gates of the Arctic National Park is ten times the size of Yosemite but has one-three-hundredth the visitors. After flying from Fairbanks to Coldfoot, hire a bush plane ($800; flycoyote.com) to drop you on the north fork of the Koyukuk River, in the shadows of Frigid Crags and Boreal Mountain, the actual Gates of the Arctic. From there, hike 45 miles through fire-colored tundra and grizzly-and-caribou country over Ernie Pass, to the town of Anaktuvuk Pass (pop. 250), which has a ranger station and an airstrip ($1,045 back to Coldfoot). With no trails, how you get there is between you, some arctic grayling, and your map. Depending on the time of year, it's a toss-up whether bear spray and canisters or head-to-toe bug netting is more essential for safety.

ESSENTIALS
: No permits are necessary, but these things are: Trails Illustrated's Gates of the Arctic map ($12; rei.com) and either an Iridium satellite phone or VHF line-of-sight radio, which is the best bet for reaching passing pilots.

PREREQUISITES:
Solid navigational skills, strong legs, extensive camping experience.

WHEN TO GO
: Early August, post–bug hell, pre–winter chill. The tundra will be changing color, and you might see herds of thousands of caribou.
Explore Arizona's Paria Canyon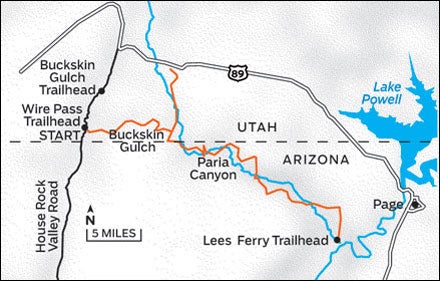 TRIP #5

Explore Arizona's Paria Canyon
DURATION:
4–5 days

THE PLAN:
Canyoneering does not have to equal rappelling in wetsuits. The Paria River Canyon, a tributary of the Colorado River, is almost entirely flat, meaning you can focus on its brilliantly colored, two-hundred-foot-plus walls, hanging fern and orchid gardens, and finding the next beautiful, cottonwood-shaded campsite. Plan for at least four days to cover the 50 miles, which leaves time to peek into dozens of side canyons—especially Wrather Canyon and Slide Rock Arch, which is just upstream of Paria's entrance through Buckskin Gulch. There are other ways in, but none is as spectacular as Buckskin: This 16-mile slot canyon averages 15 to 40 feet wide and has more than enough tight squeezes and spooky light to live up to its reputation as one of the Southwest's most impressive geological wonders. Start by 7 A.M., pay close attention to the weather (flash floods, especially common in the fall, can be deadly), and pack your trekking poles (to depth-gauge the muck) and a reliable backup filter for the gritty water. Start (and end) with lots of liquids: There are numerous springs in the heart of the canyon, but both Buckskin and the last 12 miles of Paria hold only runoff.

ESSENTIALS:
Only 20 people per day can enter Paria, so apply four months ahead of time for a BLM permit (blm.gov/az), and get a copy of Hiking and Exploring the Paria River ($12; kelseyguidebooks.com). Our advice: Start at Wire Pass trailhead, finish at Lees Ferry, and hire End of the Trail Shuttles (928-355-2252).

PREREQUISITES:
Moderate hiking and camping experience.

WHEN TO GO:
April or May, when the springs are still running, the weather is still cool, and the cacti are blooming.
Wilderness Wisdom
Things to know before you leave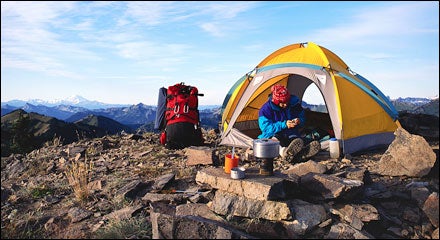 Backcountry ER

Get Schooled. Most veteran adventurers have at least a 70-hour Wilderness First Responder course ($500–$900) under their belts from Wilderness Medical Institute (nols.edu/wmi), SOLO (soloschools.com), or Wilderness Medical Associates (wildmed.com).
Get Packed. For shorter trips, our favorite mobile ER is Adventure Medical Kits' Ultralight .9 ($35; adventuremedicalkits.com). Longer trip, lots of people? Consider their Comprehensive kit ($190).
Get Info. Before any trip, members need to share details on significant health issues like allergies or daily medications. Someone in your group allergic to bee stings? Better have an EpiPen.
Get Help. Self-rescue is always your best first option, but if you need to be evacuated, knowing ahead of time how to reach the nearest emergency responders could literally be a lifesaver.
What You should (and shouldn't) Carry

Redundancy is a virtue. If you can't fix a particular piece of gear or live without it, bring a spare.
Iodine pills make water taste like, well, iodine: pack them as a backup. Our favourite filter is MSR's Hyperflow ($100; msrgear.com). For light, fast purification, try SteriPen's JourneyLCD ($90; steripen.com)—just bring extra batteries. A basic polyethylene tarp (from $3.50; rei.com), plus the ability to tie a bowline and a slipknot, equals an easy, dry cooking/chilling space. Duct tape is good. A #16 blunt-point plastic/canvas needle and some #69 bonded nylon thread is better. And Gear Aid's Backcountry Repair Kit, with everything from SeamGrip to cord locks, is best ($28; rei.com). The only thing more versatile than Buff's (dorky but practical) ployester headwear ($20; buffwear.com) or a cotton bandanna? A silk scarf. Use one as a sun shield or neck wrap, to clean your camera lenses, or even as a tablecolth. Consider renting: LowerGear.com offers everything from bear canisters ($17/week) to GPS units ($32) to tents (from $29).
Food and Drink

You need more energy than you do at home—at least 2,500 calories per person per day. Energy bars are for quick fixes and emergencies. Cheese, salami, dried fruit, dark chocolate—that's lunch. Bake. Cast-iron Dutch ovens like GSI Outdoors' Hard Anodized model ($110; gsioutdoors.com) are heavy, but nothing distributes heat as evenly. Discard all original containers. Powders go pre-measured into sandwich bags, stuffed into freezer bags. Liquids, like olive oil, go in reusable plastic bottles. No cream in your coffee is better than powdered anything in your coffee. And no coffee maker is simpler than the BrewMug ($20; brewmug.com). When selecting your menu, don't think food pyramid; think taste and texture: sweet, salty, crunchy, and chewy. Discover boxed wine(especially Black Box Wines, from $22; blackboxwines.com). The collapsible bladder, removed from the box, packs brilliantly.
The Voice of Dissent

Doug Peacock—the model for Ed Abbey's Monkey Wrench Gang antihero, George Hayduke—tells you how to get lost, go deep, and have a real adventure.
"Don't just bang down the trail thinking about your girlfriend or your stock portfolio. Go like another animal. All of a sudden you're part of an ancient system again: You stop, listen more often, scent the wind. And after four or five days, something happens. You're part of the original landscape, a far older, more faded world."
"If you're comfortable with yourself, go solo. Solitude is the deepest well I know, and it's your right to drink from it. Forget all the risk-free literature you read from the BLM or the Park Service or anybody else that's covering their ass legally. And no GPS devices; the opportunity to get lost on today's planet is a privilege."
Should I Rent a Sat Phone?

If you'll need to actually speak to someone (like your shuttle driver) and you're heading someplace especially remote (like Alaska), yes. Iridium has the best coverage in North America, and its 9505A is built to military specs ($40/week, plus airtime; satellitephonestore.com). Otherwise, buy SPOT's Satellite Messenger ($100/year for basic features; findmespot.com), a slightly more sophisticated (but significantly more versatile) version of a personal locator beacon. The OK button lets you upload daily GPS coordinates so people can track your progress; HELP asks friends and family for assistance and sends them your location; and 911 sends a distress e-mail to the closest emergency responders.