The Best Wildlife Viewing in National Parks
On these expert-led trips, you'll spot the National Park System's wildest residents, from mysterious wolves to fat bears. Pro tip: the bioluminescent fireflies are pretty cool, too.
Heading out the door? Read this article on the new Outside+ app available now on iOS devices for members! Download the app.
Seeing animals is one of the most enriching parts of any national park experience, and there are countless ways to admire local fauna respectfully. Yet, as we learn year after year and accident after accident, not everyone follows responsible wildlife travel rules. Like keep your distance, and never touch, feed, or harass an animal, to name a few.
One of the best ways to see the park system's coolest critters safely? Join a guided tour. From research-driven safaris in Yellowstone to ranger-led birding trips in Big Bend, here are 11 of the top wildlife experiences in national parks. Don't forget to pack those binoculars.
Check Out the Bats
Carlsbad Caverns National Park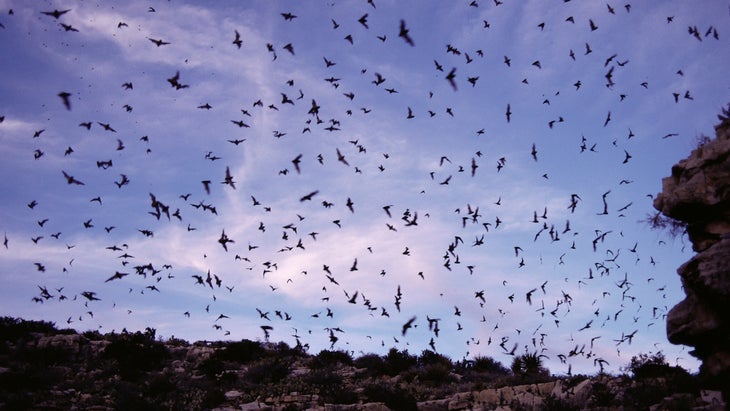 From late May through October, New Mexico's Carlsbad Caverns welcomes wildlife lovers with a unique national park night: the Bat Flight Program, where thousands of bats swarm the night sky. The free event begins in the evening, with ranger-led narration about the science behind the spectacle. During the program, visitors watch the park's large colony of Brazilian free-tailed bats exit the caverns to hunt for insects. The event takes place in the Bat Flight Amphitheater near the park's Natural Entrance. Park entrance is $15.
Take a North American Safari
Yellowstone National Park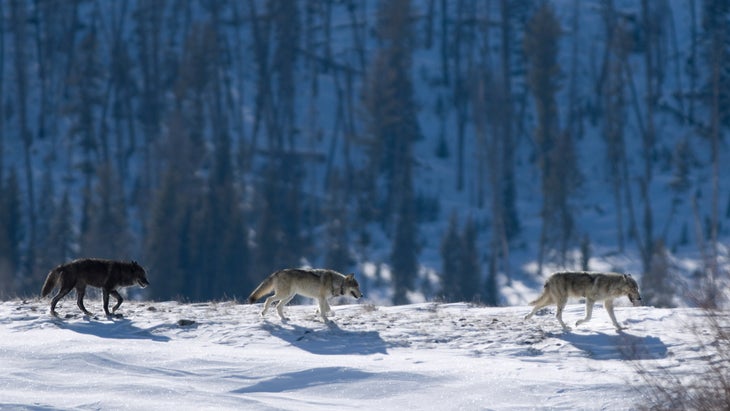 Come for world-renowned geysers, stay for the mind-blowing animal sightings. Yellowstone National Park has the lower 48 states' largest concentration of mammals, including bighorn sheep, bison, moose, wolves, mountain lions, and grizzly bears. An expert-led summer or winter safari provides the best way to enjoy the park's biodiverse flora and fauna, and you can help those tourism dollars go even further by booking a private wildlife tour (from $710 a day) with an educator from Yellowstone Forever, the park's nonprofit arm. Yellowstone Forever funds critical conservation projects, including the internationally acclaimed Yellowstone Wolf Project, a decades-old initiative to study and monitor the park's wolf populations.
Join a Moosewatch Expedition
Isle Royale National Park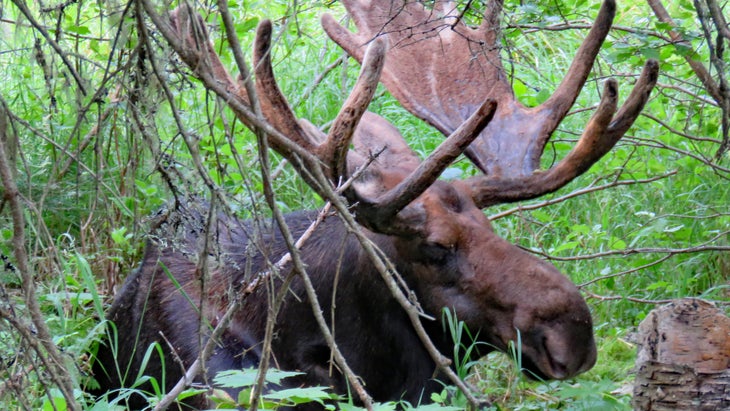 Few travelers experience the rugged beauty of Isle Royale National Park, the least-visited national park in the lower 48 states, and even fewer partake in its lesser-known wildlife program: Moosewatch Expeditions. This citizen-science expedition sends intrepid, fit travelers up, down, and all around the Lake Superior island on the hunt for moose bones. It's part of the park's moose-wolf study, the world's longest-running predator-prey study. Researchers have been studying the ebb-and-flow relationship between the island's wolves and moose since 1958, and moose bones are critical. Bones help scientists reconstruct the moose population and understand how the environment affects the animals. You'll more than likely see live moose as well, but not wolves—the guides purposely try to avoid disturbing them. Moosewatch Expeditions run through the Isle Royale Institute. Expedition sign-ups open in late fall; the cost is a $450 tax-deductible donation, plus the fee of getting there (starts at $70 via Ranger III boat, plus a daily entrance fee of $7 per person).
Admire Synchronous Fireflies
Great Smoky Mountains National Park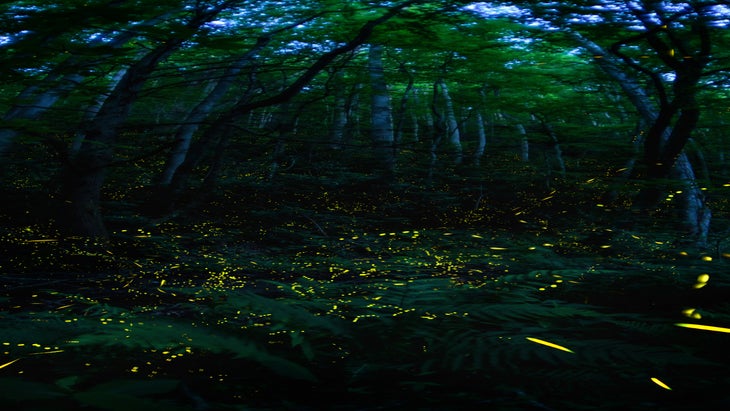 Sparkling fireflies are synonymous with summer, and Great Smoky Mountains National Park (GSMNP) has a lot of them—think tens of thousands. In late spring, these bioluminescent fireflies twinkle in tandem during GSMNP's annual Synchronous Firefly extravaganza, which typically runs from late May to early June. The ticketed event draws thousands of nature enthusiasts to the evening shows; it takes place near Elkmont campground. Attendance is limited to minimize disturbance to the fireflies; passes are awarded via a lottery system, with a $1 lottery application fee and successful permits at $24.
Watch Fat Bears
Katmai National Park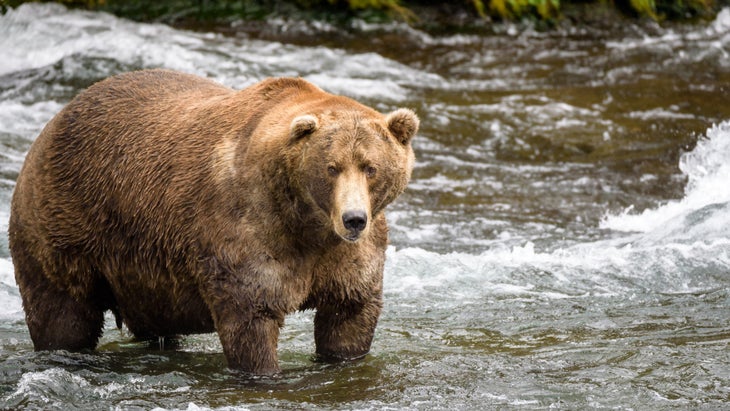 It wouldn't be an Outside national-parks wildlife list without our beloved Fat Bear Week, the October competition that's become the animal kingdom's March Madness. Katmai National Park, home to thousands of brown bears, celebrates the behemoths as they beef up for winter hibernation. It's an online battle, where fans compare the bears' physiques from early summer (at their skinniest) to post-salmon feasts (their plumpest), taking into account the animal's history and challenges of survival. To be clear, this isn't fat shaming. It's encouragement. Fat is what keeps these brown bears healthy through the winter. For a firsthand experience, travel to Katmai and watch the revelry at Brooks Camp, which has four viewing platforms along the river. The best bear viewing is in July and September, according to the National Park Service. The far flung park requires air or boat transit; no entrance fee is required.
Visit Alaska Bear Camp
Lake Clark National Park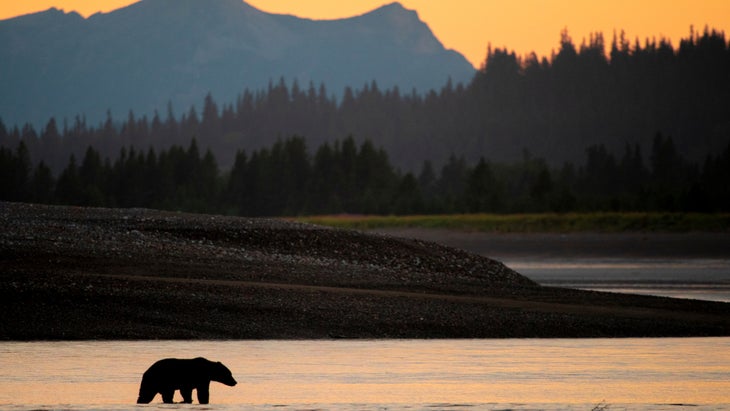 Craving a low-crowd bear adventure? Check out World Wildlife Fund partner Natural Habitat Adventures' newest digs. In summer 2022, the ecotourism company debuted a new way to admire these beloved Alaskan animals: Alaska Bear Camp. Just getting to the camp, located on a private strip of land in far-flung Lake Clark National Park, is an adventure. It requires a bush plane across Cook Inlet before reaching the mountain-flanked and sustainable camp, where remote wildlife-viewing opportunities such as observation decks and naturalist-led walks await. The camp provides a critical economic incentive to protect this critical bear habit from the ever-present threats of mining. The property accommodates just 14 guests; trip prices start at $4,900 for five days.
Try Birding Texas-Style
Big Bend National Park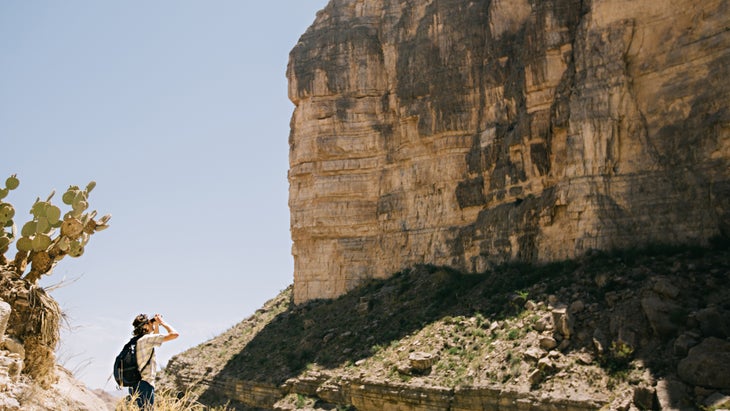 With more than 450 avian species, Big Bend National Park offers one of the country's most celebrated birding locales. Some birds stay year-round, others migrate through the park, which marks the western migration limit for many eastern species, and the eastern limit for many western species, according to Visit Big Bend. The park's far-south location also makes it ideal for spotting rare birds not seen in other states, such as the elusive Colima warbler. Join a ranger-led excursion to learn from the experts who know these birds best. For a DIY tour, use Visit Big Bend's birding checklist. Park entrance fee is $30 per vehicle.
Dive to See Marine Life
Dry Tortugas National Park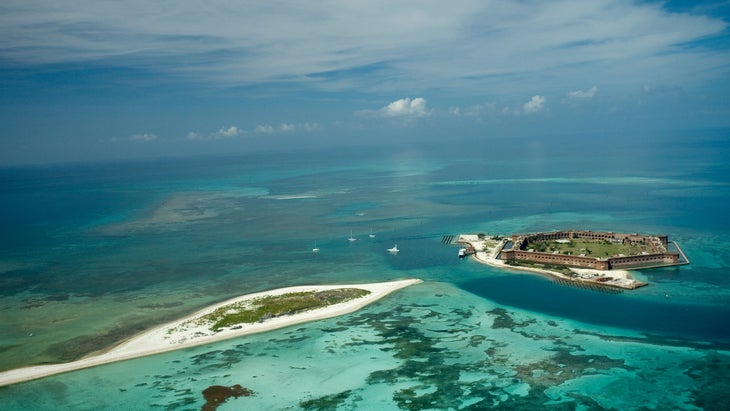 Less than one percent of Dry Tortugas National Park is dry ground, which means an underwater tour is a top way to experience this remote getaway. Dry Tortugas sits along the Florida Keys' reef system, with the perfect location for admiring the tropical region's rich biodiversity. Dive sites abound, but the Windjammer wreck, home to the 200-pound jewfish, is by far the most famous. Finz Dive Center has one of few permits for Dry Tortugas diving, with outings to the park's Garden Key, Loggerhead Key, and Windjammer. Snorkel options are also available. Finz Dive Center's two-tank dives start at $165, with private 10-hour Tortugas tours available for $2,700. Dry Tortugas entrance fee is $15 per person.
Spot Whales and Dolphins
Channel Islands National Park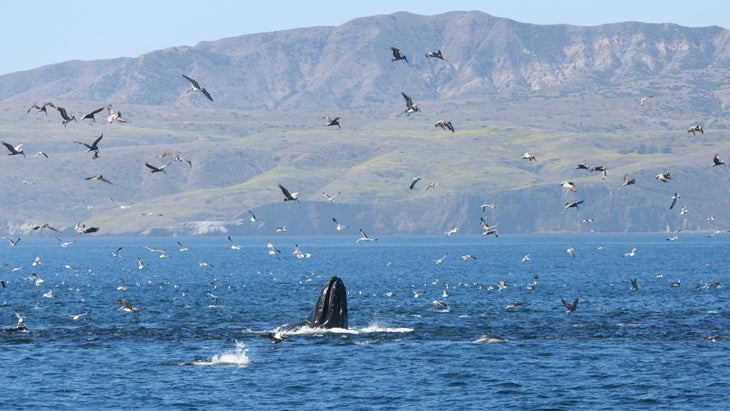 Getting to Channel Islands National Park via the Island Packers ferry is a whale-watching tour within itself. That's because the islands surrounding this southern California park are home to roughly one-third of the whale, dolphin, and porpoise species in the world. This includes 27 different species, from humpback, orca, and blue whales to bottlenose dolphins and Dall's porpoise. You can spot many of these majestic creatures on the trip across the Santa Barbara Channel from Ventura to the Channel Islands, or you can set out specifically to see these cetaceans with a fauna-focused cruise via park concessionaire Island Packers. The year-round Island Wildlife Cruises run for $42 per person, which includes a 3.5-hour animal-focused excursion through the Santa Barbara Channel, Channel Islands National Marine Sanctuary, and Channel Islands National Park.
Snorkel with Sea Turtles
Virgin Islands National Park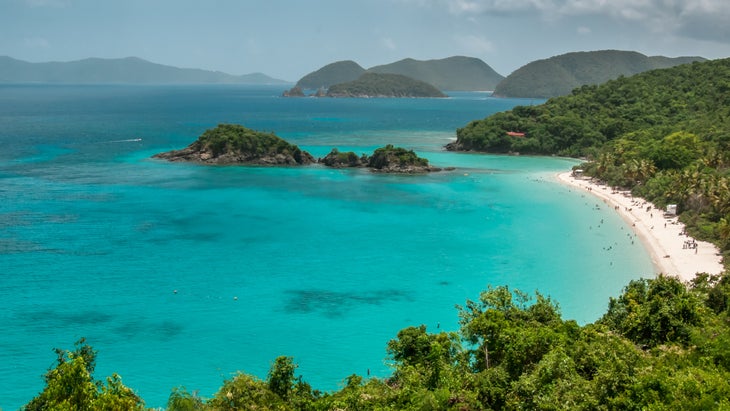 Sandy beaches, mangrove shorelines, and rich corals make Virgin Islands National Park a must-visit for nature lovers. It offers arguably the NPS' best snorkeling potential, with the chance to see sea turtles, corals, fish, and even octopus at Maho Bay on St. John's north shore. Woman-owned outfitter Virgin Islands Ecotours offers full-day snorkel trips to Maho Beach alongside standup paddleboard or kayaking outings for $89 per person. Add on a VI Ecotours hiking excursion for land-based fun on St. John; trips start at $85. No park entrance fee is required.
Kayak Among Gators
Everglades National Park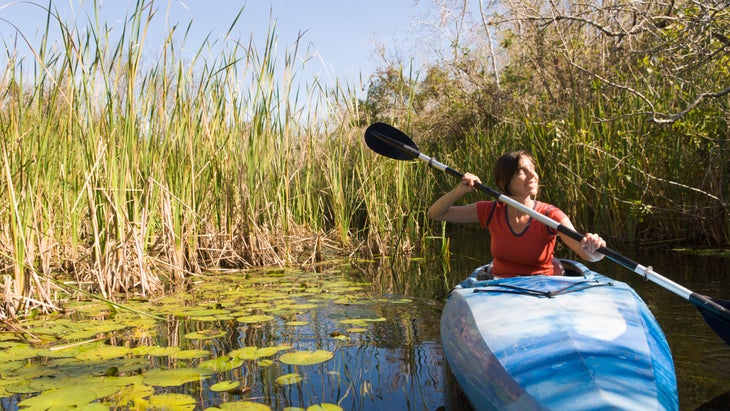 Paddle deep into Florida's biodiverse Everglades National Park on an adventurous kayak tour. The park itself has nine habitats, from hardwood hammocks to pinelands and mangroves. This dense flora attracts an array of fauna, including 360 different bird species from eagles to osprey, plus show-stoppers like the American alligator. Jenny's Eco Everglades Wilderness Tours, owned by former U.S. park ranger and trained naturalist Jennifer Walls, leads immersive and low-impact kayak tours through the mangroves, with bird and gator sightings along the way. Prices for three-hour kayak tours start at $139 per person, with a limit of five guests.
Editor's note: As of press time, many regions in Florida are still recovering from the devastating effects of Hurricane Ian. Please check with the state's local national parks' offices, including the Everglades and Dry Tortugas, about conditions before traveling there.
Lead Photo: Arthur Morris/Getty