Yellowstone Roads Will Soon Be 93 Percent Open. That Doesn't Mean We Can Forget the Flood.
The Park Service is moving quickly to reopen most of the park in time for the July Fourth weekend, but the historic flood changed Yellowstone forever
Heading out the door? Read this article on the new Outside+ app available now on iOS devices for members! Download the app.
In June, Nathan Varley, co-owner of the guiding business Yellowstone Wolf Tracker, had plans to meet a group from North Carolina. "We were going to do wildlife watching, hopefully find some bulls and bears in Lamar Valley," he said. Varley was in Gardiner, Montana, on the northern edge of Yellowstone National Park, while the visitors were about 55 miles to the east in Cooke City. But after driving to their respective entrances before dawn and being turned away, they realized they couldn't get into the park to join up.
"There must be some mudslides," Varley recalled thinking. "There must be some debris in the road."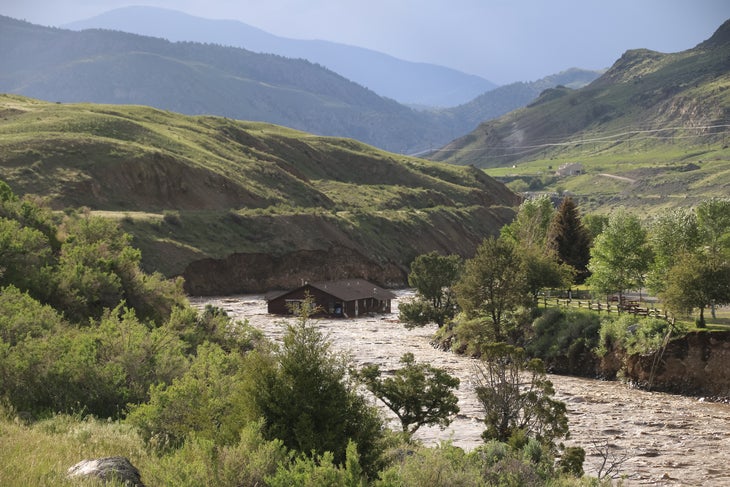 Varley, 53, moved to Yellowstone with his family in 1972 and has spent many seasons working in and around the park. His parents were park rangers. He has fought wildfires in Yellowstone, helped with wolf restoration, and worked as a seasonal park employee. But it wasn't until later in the day that the magnitude of what Yellowstone was experiencing hit. "Oh, our operations are suspended, potentially for the rest of the year—or years to come," Varley said.
The historic flooding, caused by unprecedented rainfall and snowmelt, swept away chunks of road, caused mudslides, downed trees, and took out bridges. The damage rippled through communities near the park. Steve Iobst, who spent over four decades working for the National Park Service (NPS) before retiring as deputy superintendent of Yellowstone in 2016, was in Driggs, Idaho. Iobst isn't "a social media guy," he said, but his wife showed him a video of the Carbella Bridge on the Yellowstone River. The 104-year-old bridge was a favorite spot for local kids, who jumped from its platform into the river. Now the bridge had collapsed, the churning brown water carrying away its trusses. He also saw footage of the canyon from Mammoth to Gardiner and a five-mile stretch of road that he'd driven "hundreds, if not maybe a thousand times." He'd dealt with landslides on that road before, closures lasting a few hours to about a day. But now, whole sections of the tarmac were missing. As the news rolled in, "it was kind of hard to fathom the amount of destruction," he said.
Since then, Yellowstone has worked with alacrity to get up and running: The southern loop, which reaches Old Faithful, is already open to visitors. And the northern loop is set to reopen on Saturday, meaning 93 percent of roadways will be accessible, according to the NPS. But park officials will need to rebuild the permanent road into Yellowstone from Gardiner to Mammoth, likely in a different place. Tim Hudson, who worked as chief of maintenance at Yellowstone for 20 years, said that the road was always at risk.
"I've had rocks hit my windshield many times," he said. But Hudson sees the flooding as an opportunity to look for a long-term solution. In the meantime, there is an old dirt road into the park that the NPS is improving, but it isn't open for visitors to drive yet. And visitors won't be able to enter the park from Cooke City, or drive through Lamar Valley, until later in the season at the earliest.
For many people, the flooding hit close to home: on social media, photos of surging water sat alongside memories of our summer vacations. But while the flood interrupted some vacations, visitors can now have a memorable time in the park this summer (over 25 yards away from bison). And ultimately, tourists leave, while those who work and live around the park stay. When Iobst heard about the flooding, his mind went to the park's employees and their families.
"Life is going to be different this winter; life is going to be different next year. We're talking about long-term recovery," he said. The Montana Free Press reported that many in Gardiner are "wondering whether the town can survive" economically until the new road is ready for visitors. (But the fact that things are opening up tomorrow in the northern loop "is a good sign," Varley said on Friday.)
Just as Gardiner and other gateway towns depend on Yellowstone, Yellowstone depends on them. Take laundry for hotels and cabins. Towels, sheets, tablecloths: "It came right down the road from Mammoth to Gardiner," where the laundry facility is based, Iobst said. (Xanterra Travel Collection did not respond to an emailed request for comment about how they're handling laundry now; some lodges are open, but Mammoth Hotel is closed.) Hudson also thought of the line that took sewage down the hill from Mammoth to Gardiner. A sewer line "was compromised in the early days following the flood but that has been remedied," a Yellowstone National Park spokesperson wrote in an email, noting that "further assessment and work need to be done, which is in progress."
As park employees and the surrounding communities focus on rebuilding, welcoming tourists this season, and enduring to the next, others hope the larger environmental picture isn't lost.
Stephanie Kodish, the National Park Conservation Association's senior director and counsel for clean air and climate programs, said we need to ensure there are ample, increased resources and staff to support communities and the park service in Yellowstone. But "that cannot occur in isolation," she said. Rather, she noted, "Congress needs to work as fast as possible in order to pass comprehensive climate legislation." NPCA conducted a poll in January of about 2,000 adults and found that the vast majority of Republicans and Democrats say climate change is negatively impacting national parks.
Wes Martel, senior Wind River conservation associate for the nonprofit Greater Yellowstone Coalition and a member of the Eastern Shoshone tribe, saw this as a reminder to protect our surroundings. When "you start thinking, as a human, you're more powerful than nature, we get wake up calls every once in a while," he said.
"Human lives are being impacted very dramatically today, and you hate to see that," he added. "How did we get here? I hope people can think about that and understand that. And where do we want to be in fifty years? A hundred years? Or even ten years? How do we want our surroundings to look?"
In looking ahead to protecting and preserving the park, he pointed out that 49 Native American tribes have ancestral affiliation to Yellowstone. "We are still here, and we need to make sure Indigenous voices are always part of the discussion because we took care of those areas for centuries, and they took care of us," he said.
As visitors return to much of the park this weekend, it may be possible to continue as though little has changed. But for those closest to Yellowstone, the story of the flood continues. Black bears, wolves, and bighorn sheep pass through Lamar Valley unseen. The Boiling River, a natural hot-spring that locals frequent, is closed until further notice. And "we lost that precious little cabin," Varley said of the Lower Blacktail Patrol Cabin, which was built in 1925.
My cousin previously lived in Gardiner as a park service employee. I have a childhood photo with her in front of that cabin. Its log walls look too sturdy to wash away.
Many people look at the natural landscape in Yellowstone and see it as immutable or pristine, Varley said. But what he}s learned over the past five decades is that "it's changing all the time. You have to embrace the change."
"Sometimes the changes are subtle and slow, and sometimes they're just immediate and catastrophic," Varley added. The visitors from North Carolina, he said, felt lucky to have gotten out when they did.
Lead Photo: Gina Riquier, Flickr