11 Yoga Festivals You Need to Know About
There's learning, connecting with self and others, and did we mention dance parties?
Getty
Heading out the door? Read this article on the new Outside+ app available now on iOS devices for members! Download the app.
If you've been to a yoga festival, you know the hum that takes place. Everywhere you look, there's activity. Attendees are unrolling their mats on the grass, lecturers are offering insights, vendors are sharing artisanal wares, and food trucks are dishing out their creations. As the sun goes down, the live music becomes louder and the learning shifts to dancing. It's an unparalleled experience.
In recent years, yoga festivals have evolved to appeal to those of all experience levels and interests. Some focus on traditional practices while others are more new age-y and "glittery." Whether you're just starting yoga or are years into your practice, there is a festival that will vibe with you.
Although each yoga festival has its own distinct personality, they all share the common threads of connection, presence, and celebration. The following list explores 11 annual yoga festivals along with some of the history and highlights of each.
11 Yoga Festivals You Need to Know About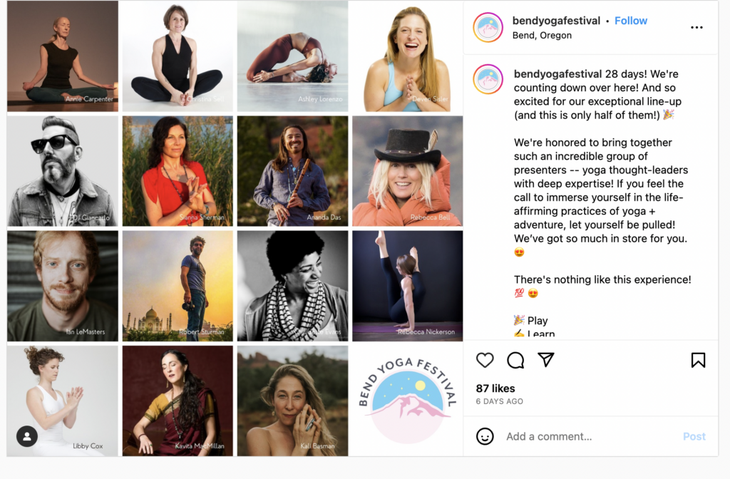 1. Bend Yoga Festival
Bend, Oregon | June 8-11, 2023
Explore the majesty of the Cascade Mountains at Bend Yoga Festival. Situated in the beautiful mountain town of Bend, Oregon, this festival features a focused mix of world-class presenters, wellness sessions, and outdoor adventures.
This year, the Bend Yoga Festival moves to Riverbend Park, offering direct access to the flowing Deschutes River, stunning mountain views, and more than 15,000 square feet of lawn. During the festival, attendees can explore nearby natural attractions, such as the lava caves and Smith Rock State Park. Join a guided hike to the top of Smith Rock, followed by a yoga practice and local brew tasting, or take to the river in an open paddle class.
Throughout the weekend, you can join international and locally loved presenters including Sianna Sherman and Annie Carpenter for afternoon yoga sessions at participating local yoga studios, all within walking distance of the main venue. You can also schedule your own yoga photo shoot with acclaimed photographer Robert Sturman. Lodging isn't included, so you'll want to find a stay at a local Airbnb, campsite, or hotel.
2. Telluride Yoga Fest
Telluride, Colorado | June 22-25, 2023
For a fully immersive yoga experience, the Telluride Yoga Festival is not to be missed. The four-day event offers more than 100 classes, including yoga, meditation, music, hiking, wellness talks, and social gatherings. The event takes place amid the intimate setting of a small village nestled at the base of the Telluride Mountains, surrounded by rugged peaks, mountain air, and crisp blue skies.
Start your day with a mountain-top meditation, hike the fan-favorite Jud Wiebe memorial trail, practice standup paddleboard (SUP) yoga on Elk Lake, or simply sleep-in. With its new campus in Mountain Village,  connected to the historic Town of Telluride via a free gondola, the festival provides a unique gathering that's entirely removed from the hubbub of everyday life. The festival has hosted some of the most well-seasoned yoga teachers, including Kia Miller, Sally Kempton, Hawah, Scott Blossom, and Noah Maze.
Telluride offers a selection of hotels, condos, and private residences that cater to every budget.
3. LoveShinePlay
Asheville, North Carolina | July 20-23, 2023
The LoveShinePlay Festival, formerly known as the Asheville Yoga Festival, is a four-day event held in downtown Asheville, North Carolina. The festival offers an expansive schedule that includes more than 70 styles of offerings, including Bhakti and anatomy, Kundalini and Yin, and everything in between.
Asheville is considered the wellness capital of the South, and the festival takes advantage of its surroundings, allowing attendees to expand their knowledge and practice in the heart of the Blue Ridge Mountains. Throughout the weekend, attendees can experience lectures on practical astrology, Ayurvedic yoga classes, "yin yoga and story time," plus classes and concerts from DJ Drez and MC Yogi.
Classes are dispersed around Asheville in hotels, community centers, and outdoor stages, all walkable from the marketplace. The central hub for the festival, the marketplace features 60-plus hand-selected vendors offering high-quality wellness products. You'll also find food trucks, free community events, and outdoor spaces to rest.
LoveShinePlay started in 2016 as the Asheville Yoga Festival and has since grown to include partnerships with Lululemon and Yoloha. In 2024, the festival will expand and offer a similar incarnation in Charleston.
4. OM Festival
Manchester, Vermont | July 26-30, 2023
Dance, flow, and play your way to wellness at the annual OM Festival, a summerfest held on 150-plus mountainside acres overlooking the Battenkill River. Also known as the Vermont Yoga Festival, it offers five days of yoga, meditation, dance, and flow arts classes where festival-goers can flow, play, and groove.
The OM Festival combines natural beauty and historic charm. Classes take place in a 200-year-old barn on the expansive private grounds and in the perfectly coiffed meditation garden. At night, the festival comes alive with music and embodiment celebrations, including kirtan, bhakti yoga, and ecstatic dance DJs.
Most guests stay on-site, either at The West Mountain Inn, the hub of the festival, or camp in a private field or alongside the river (river camp sites are limited and sell out quickly). Those staying at the inn can expect romantic, antique-y rooms, mountain views, and farm-fresh dining.
5. Soul Circus
Elmore, UK | August 17-20, 2023
Soul Circus somehow manages to be both healthy and hedonistic. And somehow it works. Spearheaded by the charismatic founders, Roman and Ella Wroath, Soul Circus is a holistic yoga, arts, and music festival set in the rural countryside of Cotswold, United Kingdom. The combination of yoga asana, wellness workshops, and live music is undeniably more glittery wellness rave than traditional yoga festival. With its world-renowned DJs and afterparties that last until 2 am, Soul Circus wants to help you tune in and let loose.
By day, stretch out in yoga tents dotted along the countryside or join sought-after yoga instructors and wellness practitioners in any of the 300-plus wellness sessions, including cacao ceremonies, astral projection, lucid dreaming, and ecstatic dance. It's a chance to indulge your woo-woo side.
As the light fades, the festival takes on an entirely different vibe. DJs set the skies alight with exhilarating music and dance. Those who need a reset after a marathon dance session can settle into a wood-fired hot tub or sauna at the on-site Soul Spa, which also offers daytime holistic therapy sessions.
Soul Circus is an undoubtedly energetic and unique yoga experience.
6. Dirty South Yoga Festival
Atlanta, Georgia | August 25-27, 2023
The Dirty South Yoga Festival, held at the end of August, is a homegrown celebration that's all about promoting community and mindfulness in a way that embraces the "rough around the edges" energy of the South.
Founded in 2013 by a group of Atlanta-based yoga teachers, Dirty South Yoga arose from a need for authentic connection in the wellness community. The group cites the Zen Buddhist Monk Thich Nhat Hanh and his famous saying "No mud, no lotus" as a foundational inspiration and will be the first to admit they're not prim and proper. They regularly practice falling and try to show up to themselves, their practice, and each other as best they can.
The festival takes place at The Loudermilk Conference Center in downtown Atlanta, where participants can revel in an entire weekend of workshops, classes, and activities. Founder Jessica Murphy has said she knows what it's like to long for connection in the yoga world, and with Dirty South Yoga, she hopes to provide a place of support, guidance, and friendship. It's yoga, real and raw.
7. Mammoth Yoga Festival
Mammoth Lakes, California | September 14-17, 2023
Mammoth Yoga Festival is a getaway for those seeking adventure, growth, and connection in California's Sierra Nevada Mountains. Every September, it offers "yoga and meditation for every body, every age, and every ability," making it accessible to all who wish to make the pilgrimage.
Whether you're a curious beginner or a yoga teacher seeking to expand your understanding of how to share the practice, Mammoth Festival shares an array of classes to help you develop your practice. Anyone can attend early morning sessions on creative yoga sequencing, the power of cueing, and decolonizing yoga. And every night, the Vendor Village Market lights up with performances from mystically-minded musicians, which included Trevor Hall, DJ Taz Rashid, and Cas Haley in recent years.
Weekend asana and meditation classes from teachers such as Hannah Muse and Eric Paskel will help you settle a restless spirit and immerse yourself in the present. Also, presentations from yoga and health institutions such as Mammoth Hospital and the work trade and job opportunity website, Yoga Trade, allow instructors to diversify their teaching tools beyond advanced asana. The festival is recognized as an approved Continuing Education Provider by the National Academy of Sports Medicine, making it an excellent opportunity for yoga and fitness professionals to gain needed continuing education credits.
8. Lamu Yoga Festival
Lamu Island, Kenya | October 25-29, 2023
From sunrise yoga sessions on pristine beaches to moonlit meditations beneath the stars, Lamu Yoga Festival emphasizes total, undisturbed bliss. This celebration of yoga, culture, and tranquility happens in the coastal region of Kenya and immerses in a world of serenity, culture, and mindful exploration.
Yoga, breathwork, and meditation are taught at a dozen unique venues and studios. Discover the allure of Lamu Old Town, a UNESCO World Heritage Site, with its charming architecture and captivating history. With no cars in sight and donkeys and boats instead dotting the landscape, the scene creates a true escape from the everyday. Experience the local culture and traditions through an awe-inspiring opening ceremony on the beach, a traditional Kenyan dinner, a scenic sailing trip, and a mesmerizing bonfire to close your journey.
9. International Yoga Festival
Banks of Ganges River, India | March 2024
A week-long celebration of yoga and meditation, the International Yoga Festival in Rishikesh, India, attracts thousands of people from around the world to the birthplace of yoga. Nestled among the Himalayas on the banks of the holy River Ganga, the festival takes place at Parmarth Niketan Ashram, one of the largest interfaith yoga institutions in India. It's a tranquil environment where participants can connect with themselves and their spiritual practice.
The aim of the International Yoga Festival is to "expand global consciousness and bring healing back to the planet, one person at a time." In support of that, it hosts some of the greatest teachers from both eastern and western lineages of yoga, making it an ideal pilgrimage for dedicated students looking to connect with the origins of the practice.
The extensive schedule includes a mind-boggling array of activities, from early morning kundalini sadhana to evening kirtan and everything in between, including asana classes and dharma talks. It regularly draws more than 2000 participants from 80 countries, offering a unique opportunity to come together and share in the transformative power of yoga. The festival's emphasis on the origins of the practice is a testament to yoga's enduring spirit, influence, and ability to unite people in the pursuit of growth and well-being.
10. Sedona Yoga Festival
Sedona, Arizona | April 2024
Many believe that certain locations on the planet experience a higher vibrational energy than others. With its seven vortices, or energy centers, Sedona is one of those places. The Sedona Yoga Festival, now in its tenth year, draws on this enigmatic energy to foster community and spiritual growth.
Billed as a "consciousness evolution conference," the festival boasts an impressive roster of speakers and rich coursework and continues to be a pioneer of large-scale mindful events in the United States. Workshops and immersions take place amid Sedona's mystical landscape and world-class performing arts facilities and offer opportunities to explore all eight limbs of yoga.
Attendees can gather in the mornings for a communal ceremony before dispersing into lectures or desert excursions. There are more than 100 sessions to choose from, including yoga practices amid the red rocks. Evenings feature keynote addresses from top-tier spiritual minds, lectures, sacred chanting sessions, and live entertainment.
11. BaliSpirit
Ubud, Bali | May 2024
If practicing yoga in Bali is your dream, the BaliSpirit Festival in Ubud may be the ultimate destination. Held annually at the Yoga Barn Ubud, this three-day "spirit festival" encompasses yoga, dance, martial arts, breathwork, personal development, and more, making it a catalyst for transformation.
A magnet for conscious travelers and spiritual seekers, BaliSpirit has grown considerably since it was founded in 2008, bringing economic growth and evolution to the town of Ubud. Held in a traditional Balinese open-air venue surrounded by wildlife and flanked by a sacred river, the fest offers a unique opportunity for attendees to connect with themselves, others, and the surroundings.
The holistic approach of the festival is reflected in its more than 150 workshops representing different styles of yoga (including Hatha, Yin, Anusara, and Ashtanga) as well as other types of movement (Capoeira, Qi Gong, Silat, Poi, Laughter, and hula hooping). Each night ends with a musical lineup of global performers, creating an intimate concert experience leading to deeper connections and sacred celebration.
About Our Contributor
Sierra is a writer, yogi, and music lover living in the Pacific Northwest. She's been practicing yoga for nearly a decade & got certified to teach in 2018. She writes and teaches all about connection: connection to the body, to nature, and to the universal love that holds us together. She's also the author of Your Year of Magic, a moon magic journal and witchy workbook.
For free yoga and witchy wisdom, find Sierra at thelocalmystic.com, on Instagram @thelocalmystic, and on YouTube.
Lead Photo: Getty
Trending on Outside Online