Sponsor Content: Columbia
Hike in the Great Wide Open
These five destinations deserve a spot on your western U.S. bucket list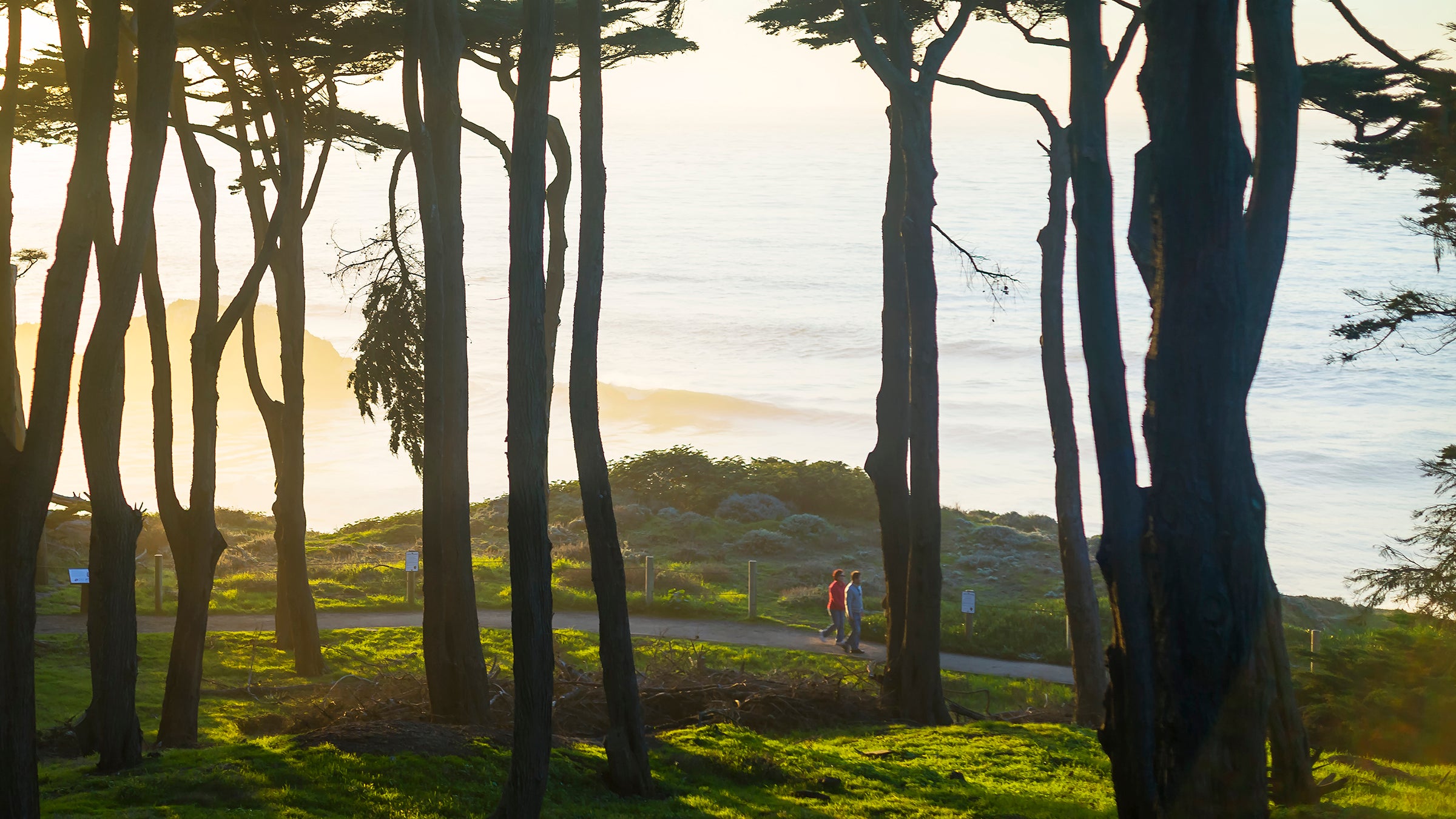 Getty Images
Is the west best? Just maybe. With an embarrassment of riches in routes that offer breathtaking views and challenging terrain, there's something for every hiker out here. From alpine peaks to unforgettable seaside trails, the diversity of routes astounds. Find your new favorite path—whether it's in your backyard or out of town.
San Francisco
Light and Fast: The 3.4-mile Land's End Trail (pictured above) has killer coastal views and a diverse landscape that make it one of the Bay Area's most-loved loops. Beginning at the Land's End Lookout, you'll navigate through cypress and eucalyptus groves, passing by the historic Sutro Baths ruins. Even if you're gassed, stunning views of the Golden Gate Bridge and Pacific Ocean make the wind feel like it's at your back—even when it isn't. 


Deep and Wild: A truly epic route worthy of any hiker's bucket list, the Dipsea Trail is a challenging 9.7-mile out-and-back that's home to the oldest trail race in the U.S. The trail features a mix of steep hills, stairs, and scenic views of the Pacific Ocean and Marin County as it wends from Mill Valley to Stinson Beach. After passing through redwood forests plus open meadows and crossing over creeks, you'll arrive at the famed "Dipsea Steps," a series of over 600 steps leading down to Stinson's white sand. 
Quick and Close: In a COVID-era experiment that thankfully continues, a 3.8-mile stretch of road in Ocean Beach called "The Great Highway" is closed to cars from Friday at noon to Monday at 6 a.m., becoming a welcome promenade. If you're nearby on a weekend, make use of it for a breezy beachside stroll—minus the sand in your shoes. If you're without a car, take a bus: MUNI route 7 will get you there. 
Phoenix
Moderate Miles: A more rugged and challenging trail in the Superstition Mountains, the Peralta Canyon Trail covers 6.2 miles while gaining 1,800 feet. You'll pass by impressive rock formations, including the famous Weaver's Needle, and will be rewarded with breathtaking views of the desert landscape. Research conditions in advance, and watch for snakes. 
Steep and Spicy: Got grit? Test it at the Mount Baldy Loop, which covers approximately 16 miles with a total elevation gain of over 5,500 feet. Start at the Baldy Saddle Trailhead and ascend to the summit of Mount Baldy before descending via the East Baldy Trail. You'll encounter steep and technical terrain, including rocky ridgelines and switchbacks. Even at max effort, you'll appreciate the views of the surrounding mountains and valleys that are well worth the drive. Bring water and research conditions beforehand. 
Quick and Close: Don't have the time to venture outside of the town? The Papago Park Double Butte Loop Trail offers a quick hit of nature if you and your legs need it. The mixed dirt-and-paved trail covers approximately 3 miles with an elevation gain of around 200 feet. You'll take in scenic views of the city skyline, unique rock formations, and desert flora and fauna. Too easy? Combine the Butte Loop and other trails within the park for a longer challenge.
Los Angeles 
Light and Fast: If you enjoy hikes with an embarrassment of sweepingly beautiful views, Solstice Canyon near Malibu is the call. The trail covers a distance of 6.5 miles and features a mix of jaw-dropping coastal and mountain panoramas. While you take in the sights, your feet will power you to a manageable elevation gain of over 1,600 feet. Keep your eyes peeled for the ruins of several mansions. 
Steep and Spicy: Ready to get extreme? A hike to the top of Mount Baldy via the Devil's Backbone trail will provide. The challenging trail covers 14 miles out-and-back, while gaining over 4,000 feet. On this bucket-list route, you'll encounter steep inclines, rocky terrain, and narrow paths toward the summit of Baldy, the highest peak in the San Gabriel Mountains. For your efforts you'll be gifted breathtaking views of the surrounding peaks and the Los Angeles basin below. 
Quick and Close: If you haven't done the Griffith Observatory Trail, it's time to check it off your list. The trail covers just over 2.5 miles with a total elevation gain of approximately 500 feet, offering timeless L.A. views of the iconic Griffith Observatory, the city, and the surrounding hills. Without leaving town, you'll sweat while seeing some beautiful natural scenery—something you can't do inside a hotel gym. Take the DASH Observatory/Los Feliz route to get there by bus.  
San Diego
Light and Fast: Like many well-trafficked trails in the West, the Mount Woodson Trail doesn't disappoint. This challenging 7.5-mile out-and-back takes hikers to the top of Mount Woodson, offering stunning views of the surrounding mountains, Lake Poway, and the Pacific. Bring water: Along with the steep inclines and rocky terrain you'll find that there's little to no shade for much of the trail. Don't miss Potato Chip Rock, a unique formation that juts out from the mountain. Pack a snack, too, in case the landmark makes you hungry.  
Deep and Wild: Need a hike that delivers a sense of accomplishment? Try the steep climb up to the 6,512-foot summit of Cuyamaca Peak. The Cuyamaca Peak via Azalea Glen Loop offers plenty of challenge and beauty in its 7.7 miles. The terrain is rugged and varies from rocky switchbacks to smooth singletrack, and features both dense pine forests and exposed rock scrambles. Expect to see deer, wild turkeys, and the occasional runner or hiker.
Quick and Close: If you're looking for a convenient escape within city limits, the Balboa Park Trails provide over 65 miles of interconnected trails so you can customize a route suited for your desired mileage and time availability. You'll enjoy scenic views of the city, as well as picturesque gardens and Spanish colonial-style architecture throughout the park. Keep your eyes peeled for mature and rare trees. If you still have energy to burn, check out the San Diego Natural History Museum (the Nat), also located in the park.
Seattle
Light and Fast: The Rattlesnake Ledge Trail provides a perfect option for trying to thread the "challenging yet accessible" needle. The trail is a 4-mile round trip with a 1,160-foot elevation gain, centered around an epic view of Rattlesnake Lake. Expect rocky outcroppings, switchbacks, and plenty of local wildlife—including other hikers. This trail is popular for a reason. 
Deep and Wild: If you're feeling your oats, head for the Mailbox Peak Trail, which gains over 4,000 feet over its 5.2-mile stretch, one-way. You'll curse the steep inclines and rugged terrain, but love the eye candy of the surrounding mountains and forests, including the iconic mailbox at the summit. Yes, it's a real mailbox—not a rock shaped like one. This isn't an easy go: Bring water, check the weather, and research recent conditions. 
No Time: The Discovery Park Loop checks off a bunch of boxes. For those without the luxury of time, this 2.8-miler provides "just the hits," from cool tree tunnels to truly stunning views of the Olympic Mountains and Puget Sound. The terrain is mostly flat, with some small hills, so your eyes might get a more challenging workout than your legs. But the trail's easy access from downtown Seattle makes it a must-do if you're looking for a quick, scenic hike.
---
Columbia has been creating innovative apparel, footwear, accessories and equipment for outdoor enthusiasts since 1938. Columbia has become a leading global brand by channeling the company's passion for the outdoors and innovative spirit into technologies and performance products. To learn more, please visit  columbia.com.
Lead Photo: Getty Images
Trending on Outside Online