Indefinitely Wild
Kilimanjaro's Getting the Internet—and That's a Good Thing
If you don't want your phone to ring, just turn it off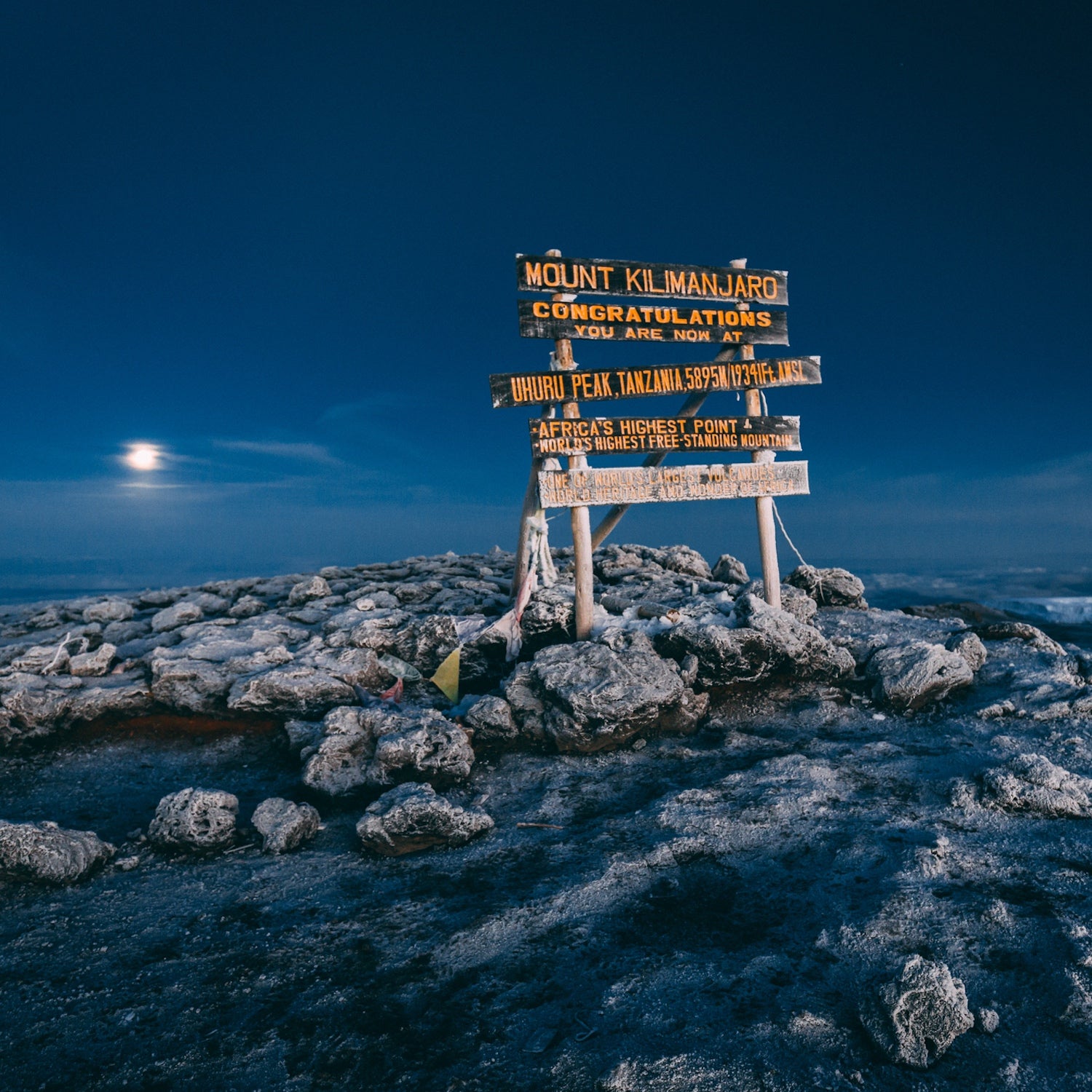 Ke Zhang, Getty
Heading out the door? Read this article on the new Outside+ app available now on iOS devices for members! Download the app.
On August 16, Tanzania's tourism department launched broadband internet service on Kilimanjaro. Cue the handwringing. People don't fly all the way to Tanzania, and spend $2,500 or more on a guided hike, just to listen to their phones buzz, am I right? 
Every time there's news of high-speed internet, or even cell phone service, reaching remote areas—U.S. national parks or Everest, to name a couple—people are quick to complain about the spread of modern connectivity to hitherto unconnected places. Those complaints are invalid. 
If you're the kind of person who likes whining about connectivity reaching new places, you'd better start warming up your complaint muscles. By the end of next year, Starlink will bring high-speed internet to pretty much every part of pretty much every country. And the open ocean, too. It's easier to list countries that won't be served by Starlink by the end of 2023 than ones that will: Russia, Syria, Iran, Venezuela, Afghanistan, and China. And China already has widespread access to its own, very censored, version of the internet. 
Besides, complaining about internet connectivity reaching rural places comes from a place of obscene privilege. 
The comments on this Instagram post are indicative of the types of attitudes Outside readers have about expanded access to the internet in rural and remote areas.
"People who praise this service fail to see that they diminish the very experience they are seeking," writes Andy Bloedorn.
Roselynn Ressa asks, "Isn't the whole idea of getting outside to be in nature and unconnected?
"I'm really shocked that we are allowing corporate America's greed and brainwashing to infiltrate even the outdoor community that claims to be all about preserving remote wilderness," says Matthew Saville.
I've recently been using Starlink to take high-speed internet to formerly unserved places.  One place that now has internet, thanks to Starlink, is a family cabin located on the Blackfeet Indian Reservation in northern Montana (my wife's family is Blackfeet). And thanks to the technology, we've been able to spend a little more time there, even when it overlaps with work. I can research articles and handle large files with ease, even while my wife conducts virtual sessions with clients of her therapy practice.
That's a very privileged example of the flexibility remote access to the internet can give two people who have the means to enjoy it. To many of our neighbors on the reservation, access to the internet is not a luxury. According to a study conducted between 2014 and 2018, only 51 percent of households in the Blackfeet Nation had access to broadband internet. Only 60 percent owned a computer. And that's hampered everything from economic development to access to education to healthcare. Native News tells the story of one of our neighbors who has to choose between attending high school and helping his family raise cattle. An operator of a local tour guide service and cafe has been unable to collect payment from customers when her unreliable and painfully slow rural internet service goes out.
Data backs up those anecdotes globally. The World Bank estimates that a ten-percent expansion in access to broadband can lead to a 1.21 percent increase in Gross Domestic Product in developed economies like ours, and a 1.38 percent increase in developing countries. And there is room for that growth. Even here in the United States, 30 percent of people living in rural areas do not have access to internet that reaches download speeds of 25 Megabits per second. In Tanzania, where Kilimanjaro is located, only two percent of people in 2020 had internet connections exceeding 250 Kilobits per second. 
A report from the Center for American Progress explains day-to-day impacts of this limited access. In 2020, at the height of the pandemic, 67 percent of American workers in non-metropolitan areas were unable to telework. In 2019, 18.7 percent of American households were "underbanked," meaning they were reliant on predatory institutions like payday lenders and check cashing services rather than actual banks, not because they didn't have accounts at those banks, but because they didn't have the internet access required to use them. 
Those inequities caused by lack of access to the internet exacerbate underlying inequalities. That same CAP report found that American children living in rural areas were twice as likely to lack access to the Internet necessary for remote learning compared to children living in cities and suburbs. Where only ten percent of white families in this country lack high-speed internet at home, that number grows to 15 percent for nonwhite families. Over 20 percent of homes making under $25,000 annually lack high speed internet. That number is under five percent for households earning $100,000 or more per year. 
What does all this have to do with internet access in outdoor playgrounds? Often, the places that privileged people treat as vacation or activity destinations are places others call home. That's true for the Blackfeet Nation, up on the eastern side of Glacier National Park, and it's true for Kilimanjaro, where 1.8 million people live within sight of the mountain. 
But what about you, and your precious time outdoors? If you don't want your phone to ring, just turn it off. 
Lead Photo: Ke Zhang, Getty