Why National Parks Keep Flooding This Summer
Yellowstone and Death Valley. Now Joshua Tree. What the hell is going on in our national parks?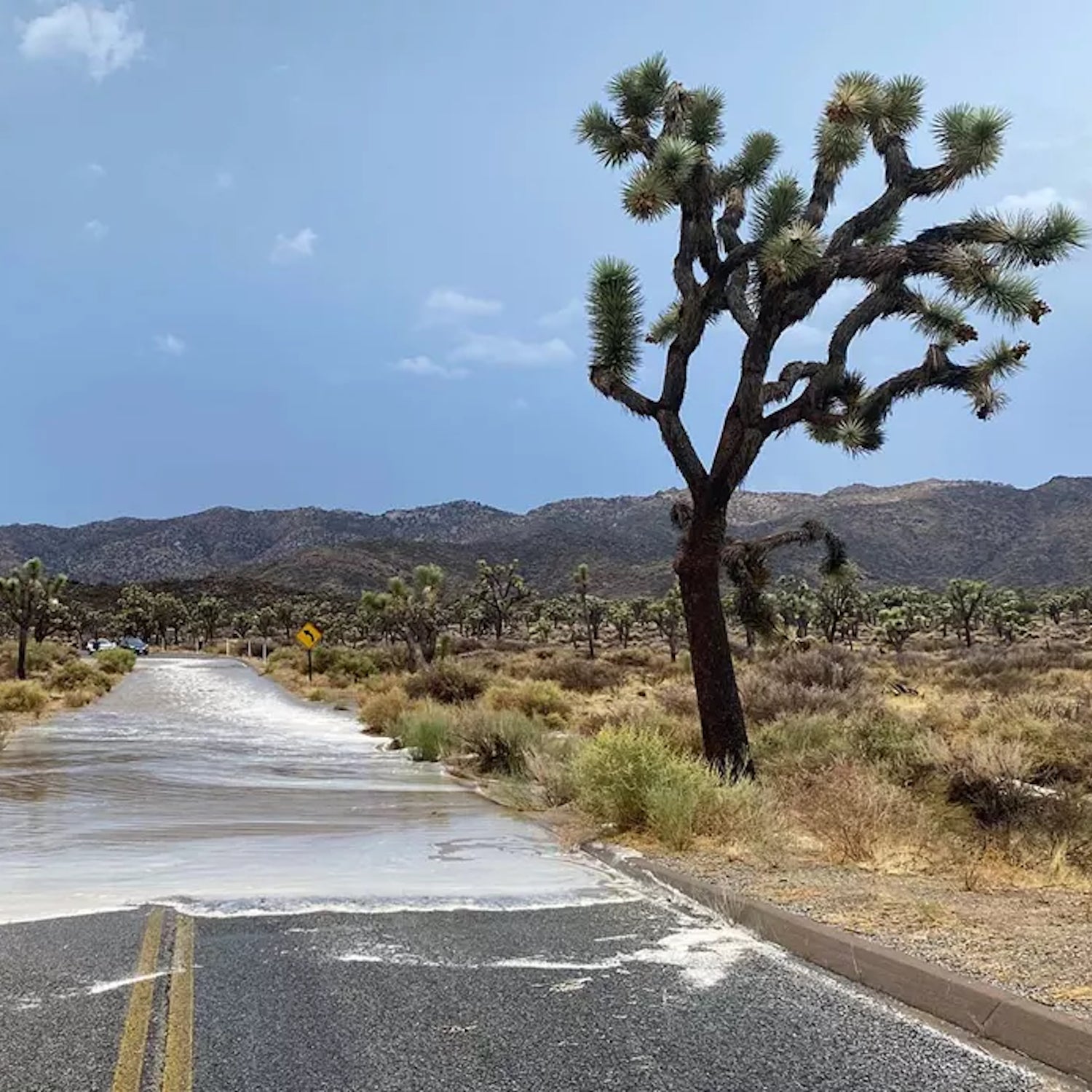 Heading out the door? Read this article on the new Outside+ app available now on iOS devices for members! Download the app.
On August 8, Joshua Tree National Park announced that its southern entrance, as well as a five-mile stretch of Pinto Basin Road, between Porcupine Wash and Turkey Flats, was closed due to severe flooding caused by monsoonal rains. Vehicles were damaged. Visitors had to be evacuated. Though the roads were cleared and reopened just two days later, the devastating images of floodwaters raging across familiar park byways have become an all too common sight this summer.
The same day, Death Valley announced that CA State Route 190, a major artery into the park, will remain closed to traffic from the Trona/Wildrose Junction through Death Valley Junction until at least August 17. After experiencing a 1,000-year rain event last week in which 1.46 inches of rain—roughly 75 percent of the annual average—fell in just three hours, the park was forced to close for several days as nearly 1,000 visitors were stranded by powerful flash floods.
In June, images of catastrophic flooding in Yellowstone dominated headlines as the world's first national park shuttered its entrances, worked to repair damaged roadways, and evacuated over 10,000 tourists. The park's north and northeast entrance stations remain closed to this day.
It all begs the question–what the hell is going on in the national parks this summer?
According to NASA, scientists have been predicting for years that climate change would increase extreme rainfall events, with once-rare weather becoming more frequent as the atmosphere heats up. Warmer air temperatures increase evaporation and are physically able to hold more water vapor than cooler temps, meaning that the severity of flooding events is likely to increase as the earth gets hotter.
A 2021 study published in Nature stated that climate change is likely to exacerbate the intensity and frequency of fluvial flooding events (floods localized to river basins and their surrounding areas). In addition, coastal flooding is expected to increase as melting glaciers and warming waters contribute to sea level rise.
While it may seem counterintuitive at first glance, the American West is already experiencing the paradoxical effects of too much fire followed by too much water, a runaway process that can increase the destructive nature of these floods. Wildfires destroy forests and the brush that surrounds them, which weakens the soil structure and makes it less absorbent when heavy rain occurs.
In the past two weeks alone, the U.S. has experienced four "1,000-year" flood events (in St. Louis, eastern Kentucky, southern Illinois, and Death Valley). This doesn't mean that the level of rainfall observed will only happen once in a thousand years, but rather that in any given year, the chance of an event occurring is 0.1 percent.
It's a concerning pattern that has led to historic destruction in the parks in recent years. Though June's media coverage mostly centered on the catastrophic flooding in Yellowstone, Glacier National Park was also forced to close popular trails, including the path to Avalanche Lake, as flooding and debris impacted the Northern Rockies. Mount Rainier closed Grove of the Patriarchs last November, after flooding caused significant damage to the area's suspension bridge, and Acadia cut access to ten miles of carriage roads last June, following a severe rainstorm.
Last year, in an interview with Outside, Abby Wines, a spokesperson for Death Valley, said that in the 16 years she had worked for the park, she'd already experienced a number of abnormal weather events. "Nine of the ten hottest summers in the history of Death Valley have been in the past 15 years," she said.
If what was once a 1,000-year rarity is set to become the new normal, our public lands will need billions in increased funding to help mitigate the effects of increasingly extreme weather on America's best idea.
Lead Photo: Anna Marini, NPS