I Thought I Was a Lifelong New Yorker, but Found Happiness in Reno
Sometimes the grass really is greener in a new place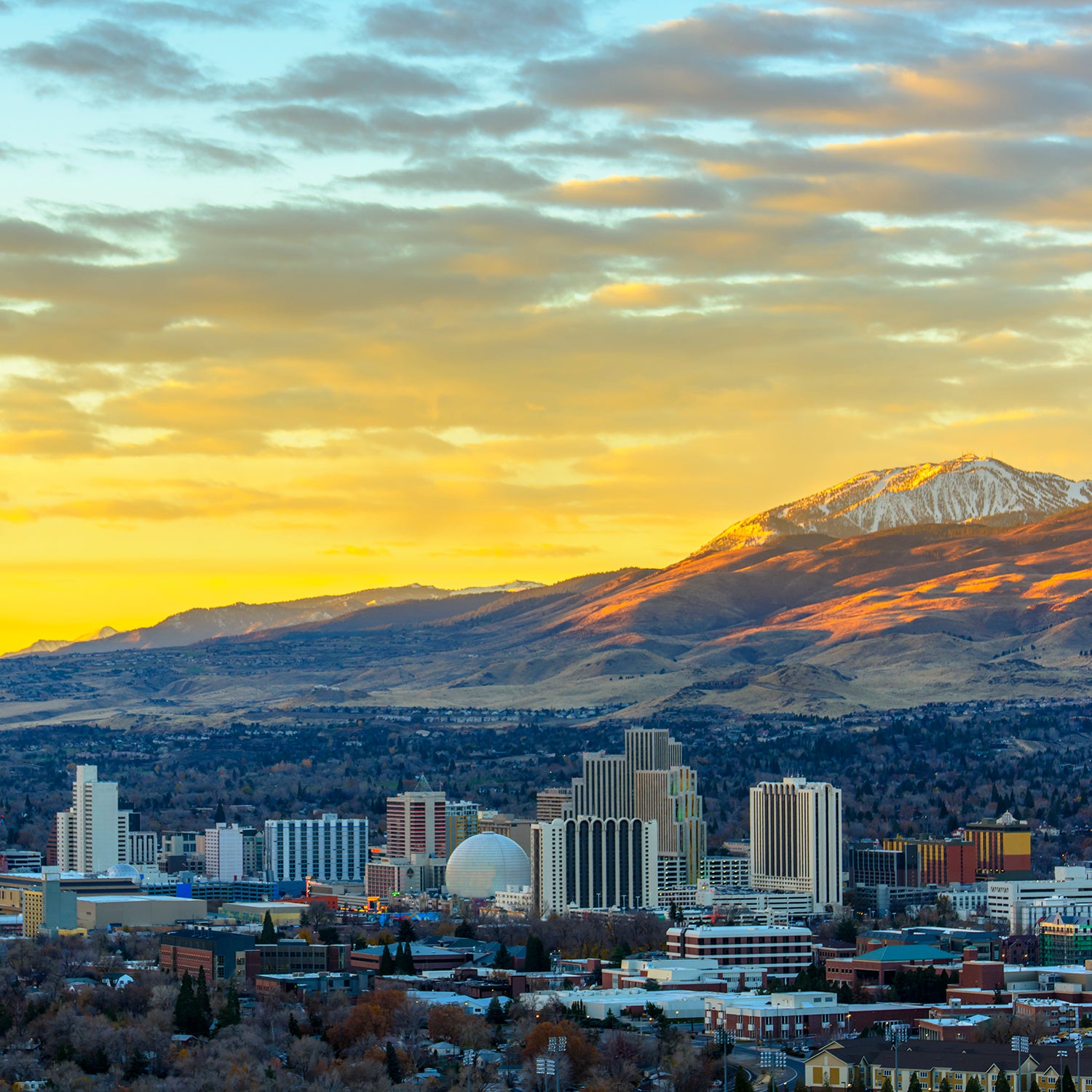 4kodiak/iStock
Heading out the door? Read this article on the new Outside+ app available now on iOS devices for members! Download the app.
I was hiking along a dusty trail on the outskirts of Reno, Nevada, surrounded by rocks and desert shrubs, when a lizard scurried along a rock and then froze, in classic lizard fashion. He was notably plump for a small reptile, and the end of his tail was missing, blackened. Now, I see my fair share of lizards— it's one of the many great things about living in this part of the country—but this fellow was extra special because I had happened upon him the week before, blackened tail and all. I smiled at him, and wished him the best with regenerating his tail. I had moved to Reno almost nine months prior, during the height of the pandemic, and finally, I had made my first new friend.
I was one of at least 30 million Americans who moved during the pandemic, and among that cohort, my choice to leave New York City was particularly popular. Our migration has changed some places so much that they are now called "Zoom towns," and the consequences haven't always been pretty. The Lake Tahoe area has seen an unprecedented housing boom, with newcomers mostly hailing from the Bay Area. Real estate prices have increased by upwards of 15 percent, and locals began to grow increasingly anxious about "Aspenification of Tahoe," according to a recent Outside story detailing the changing demographics of the area.
I didn't mean to be part of a trend, and my move wasn't made to fulfill some long-held dream of leaving the city. I've been a freelancer for six years, and could have theoretically left New York long ago. But losing my most lucrative work during the pandemic made my city life more untenable than ever, and seeing the world change so quickly in lockdown also spurred a fundamental rethinking of my identity, helping me understand the connection between my happiness and where I lived.
Six years ago, if you were to tell me that I would be living in northern Nevada, hiking almost every day, spending my weekends kayaking on Lake Tahoe or swimming in the Truckee River, and making friends with lizards, I would have said, "No way. That's not who I am." I was born and raised in Manhattan, and being in New York forever felt like my destiny. As a certified city girl, my experiences with nature were alien and scary. Whenever my family would visit Sydney—my mother is Australian—I seldom went in the ocean. The waves and the tides freaked me out. I worried about getting salt water in my eyes and mouth or even drowning, and I hated getting my hair wet, since it would dry all wild and frizzy. As my mom and sister enjoyed splashing around in the Pacific Ocean, I would lie on a towel in the sand, reading a book, waiting to do the next thing.
After I graduated from college in Ohio, I didn't seriously consider moving anywhere except back to New York. It was the only home I had ever known, and it was where I thought I needed to be if I wanted to become a professional writer. I immediately bought into the bourgeois idea that the more successful I became, the better I would feel. My life revolved around doing work, looking at the computer, and getting drunk. Things seemed objectively good, but the depression and anxiety I struggled with since childhood cast a shadow over everything. I lived in a city of many millions, I had access to a relentless stream of things to do and people to see, and still, my life felt narrow.
Two things happened in 2016 that helped me inch closer to happiness: I quit drinking and I fell in love. Getting sober gave me the opportunity to figure out what I actually liked to do. I took up baking and cooking, and I started going outside. My newfound affection for the outdoors was spurred by my boyfriend moving in with me. He grew up in the lush forests of Oregon, and though he was excited about all New York had to offer, he still ached for his old life, full of hiking and cycling and greenery. At his urging, we began exploring the city on our bikes. We started small: checking out the park by our local sewage treatment plant, a surprisingly charming nook of a place that actually smelled OK compared to the rest of the city. Sitting on a bench among the trees and looking out at the creek separating Brooklyn and Queens in silence was a new feeling for me, an exercise in calming my overactive, anxious mind.
I started wondering if there could be a future for me in the wilderness, or at the very least, the suburbs.
On the weekends, we'd take the train into Long Island or up the Hudson River, searching for less urban outdoor activities. I started wondering if there could be a future for me in the wilderness, or at the very least, the suburbs. I often thought about a line in the 1981 film My Dinner With Andre, where the titular character describes New York as a prison "built by the inmates themselves, and the inmates are the guards, and they have this pride about this thing they've built…" so everyone loses sight of the fact that they're imprisoned in the first place.
Then the pandemic hit, and I couldn't deny that I was quite literally imprisoned in my overpriced apartment. But I also smelled freedom. All the excuses I had made for needing to live in the city had disappeared overnight, and I began to seriously reconsider all these unspoken rules I had been adhering to my whole adult life: my worth is measured by money and professional success. I must live in a major metropolitan area to achieve it. Prioritize work above all. What if life is actually much more simple than that? I asked myself. What if the most important thing is going outside every day and cooking dinner for the person I love most in the world?
My grand exit from New York City fell into place pretty quickly. Our lease was up in June 2020, and our landlord wanted to raise our rent. We didn't know where we wanted to go, but the West was calling. We considered Hawaii (too far) and Oregon (too dreary). "What about Reno?" I said one night in May. It was cheap, it was beautiful, and we had taken a relaxing vacation there and to Lake Tahoe in 2017.
It was a bit random and certainly impulsive. We risked a mid-pandemic trip, careful to remain perpetually masked and doused in hand sanitizer, to find an apartment and make sure we liked it. Reno felt as right as a place could feel in the midst of a global health crisis. It helped that the flashing lights of the slot machines in the casino hotel we stayed in upon our arrival reminded me just enough of Times Square. I felt more excitement than fear, and had a hunch that living here would help me know myself in a new way. My boyfriend and I understood that we were lucky to have jobs that we could do anywhere in the world, and we were grateful to take advantage of the new precedent of office-free working.
Our first months in Reno weren't exactly smooth sailing. We didn't know a soul and neither of us knew how to drive. At the beginning, my outdoor life consisted of biking to the nearest grocery store every other day, and hitting up the one trailhead within walking distance of our apartment, which snaked around a dusty, rocky hill. I began to get in touch with this beautiful desert that is now my home through the window of a beat-up Toyota during my weekly driving lessons. Then the pandemic got worse, and we again found ourselves trapped inside our apartment. This time, though, our apartment was bigger, our rent was affordable, and if we walked down the street, we could see the most magnificent view of the Sierra Nevada mountains. There were some kinks to work out, but for the first time in my life, I was out of New York for good and I had no regrets. I was saving over a thousand dollars a month on rent and other living expenses. I was no longer pressured to hustle for freelance assignments. I was confident in my ability to carve out my own path.
After I finally got my driver's license in December, the life I'd imagined for us in Reno—with weekend drives to the lake and daily hikes in the desert—became a reality. We have three good trailheads ten minutes away from our apartment, and even better ones 15 to 30 minutes away. We can get to Lake Tahoe in about 45 minutes, but part of the fun is the drive itself, a twisty part of I-80 that goes up the mountains and through gorgeous pine trees. Sure, I miss the great bagels, sushi, and pizza that New York has to offer, and I miss my family and friends, but I like it here. Reno, which was named one of Outside's Best Places to Live in 2019, provides me with seemingly infinite ways to be in nature—something I didn't know I needed until quite recently.
There's tons of scientific research about the psychological benefits of being outdoors. Multiple studies have compared the dispositions of people who had just taken a walk in the forest with those who walked in a city center and found that the forest walkers had lower heart rates, better moods, and less anxiety than those who walked in the city. But I didn't actually understand what this meant for me personally until I started experiencing it on a regular basis. Being outside lessens my anxiety because it allows me to let go of myself. When I'm on a hike, I'm not looking at my phone—half the time I don't have service anyways—and I'm not thinking about the news and what is or isn't going on with my career. Instead, I'm keeping an eye out for any new animals (recent sightings include a rattlesnake, a few marmots, some adorable little chipmunks, and a horny toad). Maybe I'm listening to the rush of the Truckee River. There's a good chance I'm chatting with my boyfriend about what Ronald Reagan's favorite reality show would be if he were still alive. Whatever profound or deeply silly thing I'm thinking or talking about when I'm outdoors is beside the point. The important thing is that every day I have reprieve from my internal monologue, that grating negative self-talk, and the millions of small anxieties I'm plagued by. The regularity of these moments is what makes life here so satisfying. It goes beyond the fleeting tranquility achieved by taking a vacation to a beautiful place.
It's not that moving out of the big city made my life totally idyllic or my depression suddenly go away. I've gone from having a community of loved ones to just one person I can rely on, and besides the fat lizard, I haven't made any friends—though I hope to soon. Living in Reno has, however, taught me a lot of wonderful things about myself: that I have the freedom to go wherever I want to, and I never have to feel stuck in a single place; that nature needs to be a part of my everyday, not just something I can only access on vacations; that work is not life, and career success has little to do with fulfillment. I now know that I love to swim, that I can overcome my longtime fear of cold water, and that I actually do not care about getting my hair wet, no matter how frizzy it gets when it dries.
Lead Photo: 4kodiak/iStock
Trending on Outside Online