The Public Lands Instagram Blacklist
An online environmental vigilante plans to publish a blacklist of influencers who trample flowers and deface nature for clicks. Some say it's bullying.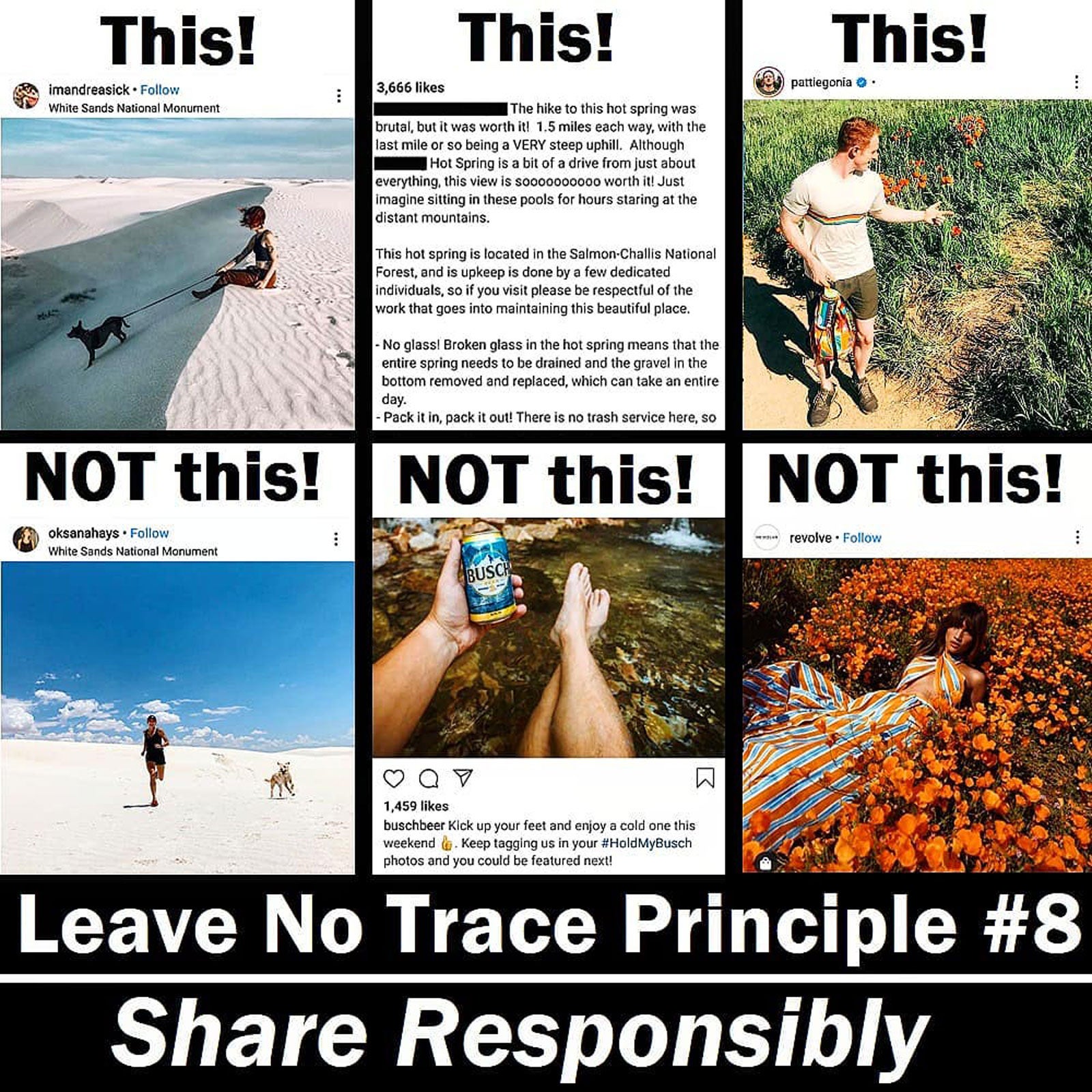 Heading out the door? Read this article on the new Outside+ app available now on iOS devices for members! Download the app.
When the founder of the Instagram account Public Lands Hate You first began calling out influencers for their bad habits online, he did not anticipate how many friends—and adversaries—he'd make along the way.
Frustrated by the things he saw on some hikes with his friends, the 31-year-old engineer, who goes under the alias of Steve, created the Instagram account to show how people will trample flowers on public lands, wander off designated trails, and use drones where they're not allowed—sometimes simply out of a lack of outdoors knowledge but often to also promote products or take photos that would be popular with an influencer's audience.
The photos he puts up, many of which feature prominent nature Instagrammers, have hit a widespread nerve. The account's audience has grown to more than 60,000 followers and set off a movement of online environmental vigilantes. A post and a caustic remark from Steve can send thousands rushing to the offender's photo. Their comments range from gentle reminders to stay on the trail to strongly worded admonitions and barfing emoticons or, like one user wrote beneath a photo of nutritionist Jaclyn Zarp pulling out some flowers with the roots, comments hoping her "corpse will add nutrients to the soil."
Often the online shaming works. After TacomaBeast posted a photo of its videographer carving his name into a rock at Utah's Kane Creek Canyon near Moab, company owner Mateo Ianotti apologized and pledged to raise $10,000 for an environmental nonprofit organization. Perfume company Skylar once canceled a partnership with an influencer who left a designated trail to promote its products.
But this type of online advocacy does not always go over well. After seeing several influencers refuse to take down photos that demonstrate inappropriate actions and then turn off the comments on their posts, Steve is preparing to take things one step further and launch a blacklist of influencers who continue to display "environmentally destructive behavior" in national parks for the brands that sponsor them.
The list will be published online on the website Public Lands Hate You sometime in the coming months. While Steve will not personally send it to individual corporations, he wants it to come up when companies search for themselves.
"A lot of people act like they're the only one on these lands, so they can do whatever they want," he told Outside. 
Even though Steve does not want the list to be called a blacklist, it would effectively function as one. Titled the Bad Influencer List, it's going to include the names of influencers who, according to Steve, routinely commit bad outdoor behavior and then disregard posts asking them to stop. 
Steve says he has no problem with those who make mistakes when they go outdoors—he just wants people to enjoy public lands and learn responsible outdoor behavior. But he also feels that those who have large followings and make sponsorship money from photos of themselves in nature have an increased responsibility to not espouse actions that are either dangerous or environmentally destructive, particularly at a time when a single post from a popular influencer can send thousands to a rural destination like Southern California's Lake Elsinore. (The city had to temporarily close off access to its poppy festival after an influx of Instagram-derived visitors flooded the area last March.)
"It's not going to say that these are terrible people, but it is going to lay out the facts so that companies can look at it before deciding if it's somebody that they really want to work with," Steve said.
While the Public Lands Hate You founder sees the list as an attempt to "step up and do what we can to help protect places," some feel that his callouts are too drastic and encourage harassment. Katie Boué, an online consultant who works with various environmental-advocacy groups, has seen her friend and prominent outdoors influencer Brianna Madia temporarily deactivate her social-media account after Public Lands Hate You followers started leaving comments by the dozens over two photos—one of her holding a snake and the other of her taking a dog off a leash.
"Providing a space for people to yell and scream and say extremely derogatory and inappropriate things to strangers on the internet is not going to help out public lands in any way," said Boué, adding that the account's followers will often relentlessly shower a user with abuse for relatively minor mistakes.
"A lot of people act like they're the only one on these lands, so they can do whatever they want," Steve said.
While Steve has repeatedly condemned and discouraged any form of harassment online, the account's growing follower base has made it more difficult to control. Similar to how influencers have the power to send people to see a park or a field, a callout on the Public Lands Hate You account can send thousands of people to a single user's account.
After critics pointed this out, Steve began trying to counterbalance the callouts with educational posts about how to display environmentally friendly behavior. Over the past couple of months, he's been publishing posts with Leave No Trace principles, encouraging people not to leave behind litter, to put out campfires, and to avoid approaching wildlife.
That said, Leave No Trace has started to distance itself from the account. It refunded a donation that Steve made, prevented him from joining the board as a community partner, and, on September 16, released a statement saying that it does not condone any shaming or social-media harassment done in its name.
"One of the strengths of the Leave No Trace message is that people can use it to meet their needs for a multitude of environments and audiences," executive director Dana Watts told Outside in an email. "Using Leave No Trace to shame and bully people is counter to the spirit of the Leave No Trace movement and mission and, for that, we do not condone this use."
In the end, the disagreement comes down to whether it's ever OK to get militaristic for the sake of protecting the environment. Steve insists that so long as national parks and other public lands are under a state of crisis due to poor visitor habits and a lack of government funding, there is a place to call out behavior that leaves fields trampled or natural rock formations defaced. The blacklist is, to him, necessary, because education will never go as far as public accountability.
"Some harmful, illegal behavior on our public lands is so egregious, and the people who engage in it are so ignorant and unapologetic, that calling out their behavior is a great way to bring awareness to the issue, educate others, and show that there is an entire community that finds this kind behavior unacceptable," he says.
Lead Photo: Public Lands Hate You/Instagram